Summer's more agreeable weather conditions mean a rise in the number of boats leaving the Libyan coast to travel to Europe via the world's deadliest sea migration route in the Mediterranean. The lack of state-run rescue operations means civilian organisations are currently saving the lives of hundreds who embark on this journey for a better life, but their resources to continue this work are running out, which could see hundreds of people dying at sea.
"The people we have rescued tell us about how they have suffered violence and torture. They experienced sexual violence, and have been raped. And this is not an exception. Unfortunately, these are stories we hear during every mission."
Juan Matías Gil works for Médecins Sans Frontières (MSF) Search and Rescue on its ship, Geo Barents, which, since June 27, rescued 1,045 people from boats in distress during three missions. Every day, he is confronted with the dangers that migrants face when fleeing to Europe. He knows more than most how fatal a total lack of search-and-rescue vessels in the central Mediterranean will be.
'Completely overwhelmed'
"Our ship can normally carry 300 people, but there are now 500 adults, mostly men, and 159 children on board, including 129 unaccompanied minors," he told The Brussels Times last week. On board were also five babies. The youngest is 24 days old.
"We continued to receive reports of boats in distress that were not being answered, and were spotting boats in distress ourselves, which we have a legal obligation to rescue, meaning we keep going over capacity," Gil said.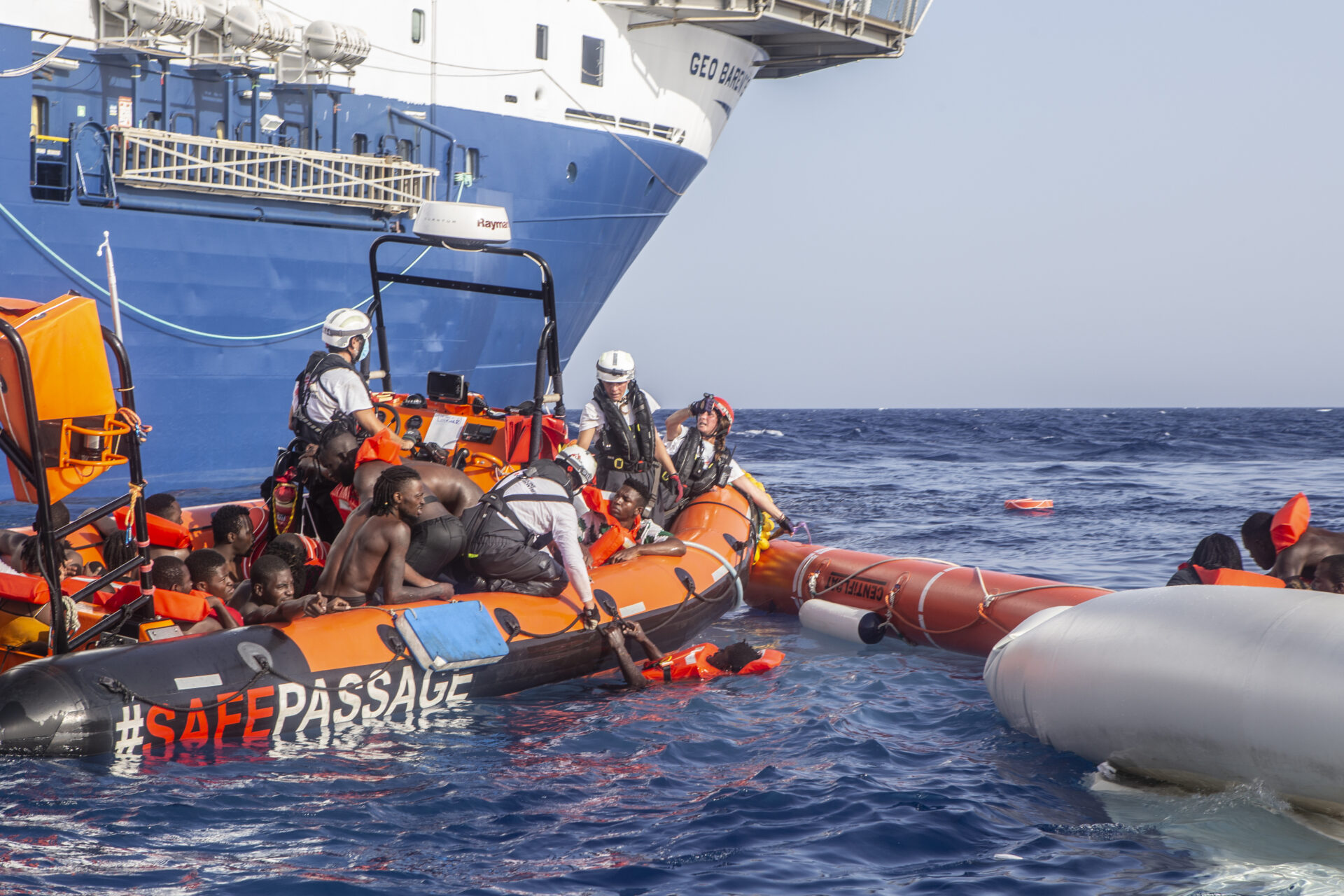 Almost all people were dehydrated when they came on board the Geo Barents, while many also suffered second or third-degree burns as a result of the salty water and the fuel leakages mixing on the boats, which can leave lifelong scars, as reported by i.news.
Neglecting human rights
People from 20 different nationalities have been rescued in the latest missions by the Geo Barents, with most coming from Bangladesh, Eritrea, Syria, and Egypt, and almost all having faced some form of human rights abuse.
"After going through the terrible experiences they have faced, they should all have the right to seek asylum in the first country where they disembark," Gil said.
More than ten requests were put out by the Geo Barents to the Italian authorities, asking for a place where the ship can dock and where survivors can disembark safely, of which nine went without response. Finally, on Friday, the survivors were able to disembark at Taranto in southern Italy.
Another part of the problem is how, in this case, and under EU law, migrants become the responsibility of the Italian government under the EU Dublin regulation, which requires asylum requests to be processed by the first country of an individual's disembarkation.
Italy and other southern European countries have criticised the Dublin regulation for putting a disproportionate strain on the southern regions of the EU, who often have limited resources to receive them.
EU joining Libyan forces
While rescue organisations follow the principles of maritime law and request coordination for their operations, the Libyan maritime authorities almost never respond, and when they do, they tend to send survivors back to Libya, which the United Nations says cannot be considered a safe place as many migrants are kept in detention centres where they systematically face abuse.
A report in February 2020 by the Brussels office of the Heinrich Böll Foundation claimed that EU member states, in particular Italy, are violating the international law of the sea by returning, directly or indirectly, illegal migrants in distress in the Mediterranean Sea to countries that cannot be considered as places of safety.
In compliance with the Refugee Convention (the principle of non-refoulment), which states that no one can be returned to a place where they run a real risk of being subjected to torture, inhumane or degrading treatment or punishment or where their life is in danger, civilian organisations do not take people they rescued back to Libya.
"Most people we have saved say they would rather die at sea than go back to Libya," Gil said.
While all EU Member States signed this international convention and should therefore comply with it, from what civilian organisations have seen, this is not the case in practice. Even worse, the bloc seems to actively be working against this principle.
The only active European operation in the central Mediterranean is run by Frontex, the union's Border and Coast Guard Agency, of which the former director resigned following reports of being involved in illegal "pushbacks" of migrants.
A recent report from Human Rights Watch now uncovered that an EU drone operated by Malta is helping Libyan forces intercept boats carrying migrants in the Mediterranean to haul these people back to arbitrary detention.
The drone, which Frontex claims is to aid rescue, reportedly detects boats leaving the Libyan coast, and hands this information to the Libyan coastguard.
These reports were confirmed by people working on civilian organisation rescue ships, who said that, despite ships that can assist being in the area when a dramatic situation is going on, they are not being alerted. "It seems Europeans are doing the surveillance and the Libyans are the ones rescuing," one person said.
Lack of resources to continue rescue missions
According to another organisation saving migrants at sea, SOS Mediterranee, a day at sea on board the ship costs €14,000. This money is all funded by donations.
Civilian organisations have now warned that they do not have the resources to make up for the lethal lack of state-led search and rescue fleets given the rise in the number of emergencies at sea, and have called on the EU and the Member States to replace the donation-based system with an official, state-led mechanism and a clear mandate that focuses on saving lives and avoiding death at sea.
The disappearance of these fleets will likely see many more people die or disappear at sea, or being intercepted and taken back to Libya, re-entering the vicious cycle of abuse in detention centres.
Related News
According to Gil, the current system is reinforcing the trafficking capacity of the smugglers, rather than preventing migration to Europe.
"These people will try to escape again and return to human smuggling organisations." While some years ago they would only have one client and one trip, now they have one client and are receiving money for them to try this escape three, four, sometimes seven times.
"These people will try to escape again and return to human trafficking organisations and the cycle of violence."
While some years ago they would only have one client and one trip, now they have one client and are receiving money for them to try this escape three, four, sometimes seven times. This means that, instead of curbing this business, the policy is instead increasing the profit these smugglers that are running the illegal business are earning.