The greenhouse gases emitted by the European Union's economy remain below pre-Covid levels but have risen in the previous two years as economic activity returns to near-normal levels.
EU greenhouse gas emissions during the first quarter of the year totalled 1029 million tonnes of CO2-equivalents (CO2-eq) – a 7% and 6% increase compared with the same quarter of 2020 and 2021, the latest figures from Eurostat showed on Tuesday.
While these levels are below those prior to the pandemic (in the first quarter of 2019, the EU economy emitted 1035 million tonnes of CO2-equivalent), they show that the EU economy is not doing enough to lower greenhouse gas emissions, largely made up of carbon dioxide (CO2), methane (CH4), nitrous oxide (N2O) and fluorinated gases.
Related News
Eurostat put the increase down to the economic rebound after the sharp decrease in activity and confirmed that the improvements seen in recent years are largely due to the lockdowns when economic activity was severely impacted.
Households account for most emissions
Households were responsible for most greenhouse gas emissions (24%) remaining at 2021 levels. However, all sectors increased greenhouse gas emissions since last year, including electricity, gas supply (21% of all emissions) and manufacturing (20%), agriculture (12%) and transportation and storage (10%).
The greatest increases were recorded in transportation and storage (+21%), once again reflecting the rebound of the EU's economy, as well as mining (+15%) and construction (+11%).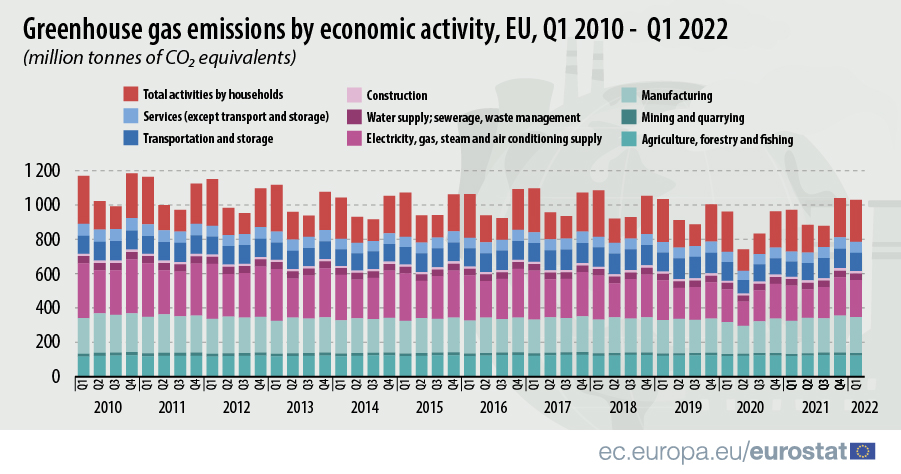 The increase in emissions was spread fairly evenly across EU Member States. "The Netherlands (-9%) and Finland (-1%) were the only Member States that registered a decrease in emissions in the first quarter of 2022 compared with the first quarter of 2021," Eurostat noted.
The EU Climate Law aims to reduce greenhouse gas emissions by 55% by 2030 and acheive climate neutrality by 2050. However, the levels recorded in the last decade (excluding 2020 and 2021) show that the situation has remained largely the same.
The hike in energy prices is also driving people back to more polluting alternatives, such as wood-burning and burning coal.