For the first time since March, the European price for natural gas exceeded the €300 per megawatt-hour (MWh) mark during trading on Wednesday evening due to fears that Russia will further cut gas supplied to the EU.
While the price exceeded the €300 threshold during the trading, it closed at €292.15/MWh – a new record at the closing bell and about €23 higher than the previous record of €276.75 on Monday.
The leading Dutch price for natural gas, the TTF-future of the exchange company Intercontinental Exchange (ICE), was jumping around €300 at the end of the trading day, but eventually dropped a few euros below the mark for delivery in September.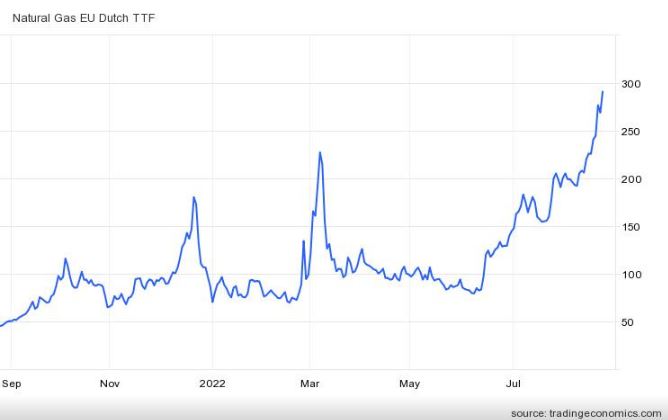 The Russian state-owned gas company Gazprom announced last week that the Nord Stream pipeline will be closed for three days at the end of this month, because of maintenance.
However, traders fear that Russia will use the new closure of Nord Stream as an opportunity to further reduce gas supplies to Germany in retaliation for Western sanctions over the Russian invasion of Ukraine. In recent months, Gazprom already reduced the flow of gas through this key pipeline under the Baltic Sea to one-fifth of its maximum capacity.
On 7 March, the gas price peaked at €345/MWh during trading, but fell to €227 at the close of trading the same day.