The EU faces significant embarrassment after one of the European Parliament's main groups shared details about Ukrainian President Volodymyr Zelenskyy's rumoured trip to Brussels on Thursday.
On Monday, Italian media began circulating reports that Zelenskyy was planning to visit Brussels on Thursday. Subsequently, the European People's Party (EPP) – one of the European Parliament's two main groups and the party of the Parliament's current President, Roberta Metsola – tweeted: "We look forward to welcoming you to Brussels, Mr President @ZelenskyyUa."
The tweet was quickly deleted but was captured in a screenshot by Politico, while rumours of Zelenskyy's trip continued to be widely circulated by news outlets and on social media.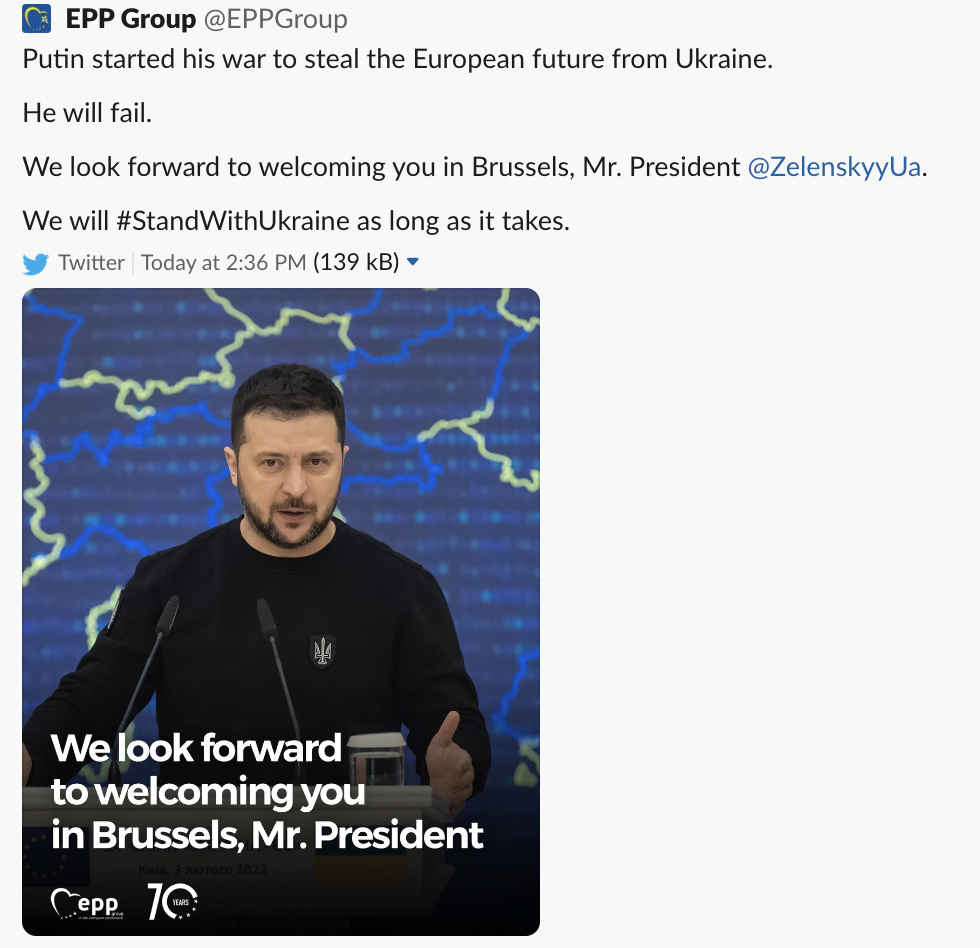 Speaking to The Guardian, a spokesperson for the European Council President, Charles Michel, neither confirmed nor denied the visit, but added that "there is an open invitation to President Zelenskyy to visit Brussels."
Contacted by The Brussels Times, a spokesperson for Metsola refused to offer any comment.
Zelenksyy was in London on Wednesday to meet King Charles III and British Prime Minister Rishi Sunak, while travelling to Paris in the evening to meet French President Emmanuel Marcon and German Chancellor Olaf Scholz – also proving that both political establishment were better at keeping the visit confidential than the so-called Brussels bubble.
The news comes at a particularly embarrassing time for both the European Parliament, as well as for Metsola personally. The Parliament is currently mired in a corruption scandal involving the Governments of Morocco and Qatar, while Metsola was recently embroiled in another scandal involving previously unreported gifts and sponsored trips.
Related News
Zelenskyy's rumoured visit also comes after a Ukraine-EU Summit held in Kyiv last Friday, during which European Commission President Ursula von der Leyen announced a tenth round of sanctions on Russia and additional military support for Ukraine.
Since Russia's invasion, the EU has provided €50 billion in direct support to Ukraine, including €12 billion in military aid.
Meanwhile, Zelenskyy arrived in the UK on Wednesday morning: his third foreign trip since the invasion launched its full-scale invasion of Ukraine on 24 February last year, after journeys to the US and Poland shortly before Christmas.