Activists from Extinction Rebellion (XR) protested this morning at the headquarters of the francophone liberal party Mouvement Réformateur (MR) in Saint-Gilles, calling out the Ministry of Agriculture over the continued "exemptions for bee-killing pesticides," reported Bruzz.
MR's HQ was targeted because the Ministry of Agriculture is headed by the party's Denis Ducarme since 2017. With their operation, the activists criticised Belgium's use of pesticides despite the fact they are "banned by the EU because of their high toxicity to pollinating insects.
Extinction Rebellion's action has drawn attention to the francophone liberal party's overseeing of the Ministry of Agriculture – where it has been making too many "emergency authorisations" in order to keep employing toxic pesticides.
The protesters, disguised as bees, also dumped a giant dead bee in a pile of beet pulp in front of the party's office. "Beet farming is one of the most important production sectors in our country and is very pesticide-intensive," one of the protesters told Bruzz.
"Every year, at the request of the Belgian Ministry of Agriculture, the European Union issues the same authorisations for the same pollinator-killing pesticides," said an Extinction Rebellion spokesperson.
"In other words, by declaring common periodic phenomena such as aphid invasions as 'emergencies', our government, much of the agricultural sector is circumventing the ban so that these resources continue to be used."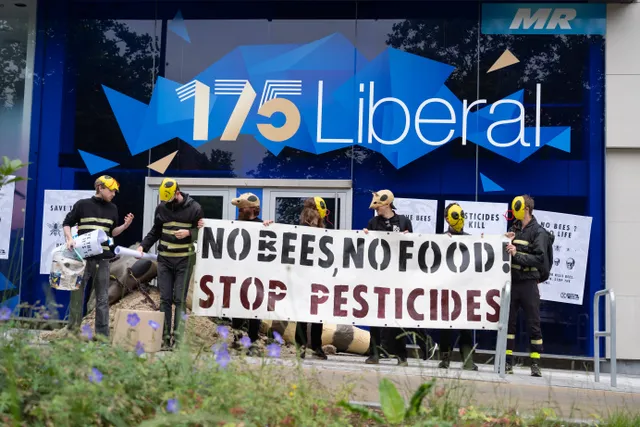 Extinction Rebellion is urging the Belgian Government to "immediately stop issuing emergency authorisations for pesticides banned by the European Union" and start and fast transition towards more sustainable agriculture.
Harmful effects of pesticides
Pesticides are substances used to destroy insects or organisms harmful to cultivating plants. While pesticides can stimulate growth in crops, there are also adverse effects due to toxicity in pesticides which harms humans, causes soil pollution and contaminates surface and groundwater.
Related News
While Mouvement Réformateur positions itself as on the side of farmers in its 2019 agricultural programme, the party also proposes finding alternatives to pesticides in Belgium's agricultural practices.
Measures are being considered towards more sustainable farming. MEPs on Wednesday will vote on key aspects on the EU's Fit for 55 initiative, which is legislation to make the EU carbon neutral by 2050.