Under-diagnosis of HIV in Europe means that hundreds of thousands of infected people are not getting the care they need according to a new report released jointly by the WHO Regional Office for Europe and the European Centre for Disease Prevention and Control (ECDC), ahead of World AIDS Day on 1 December.
The report shows that since at least 2018 and through 2021 more people were infected with HIV in the European Region (53 countries in Europe and Central Asia) than had been diagnosed. Only in 2021, there were ca 107,000 newly diagnosed HIV infections in the Region, including 17,000 from countries in the European Union/European Economic Area (EU/EEA).
Among newly diagnosed in 2021, tests showed that just over half had likely been living with undiagnosed HIV for up to eight or 10 years.
In EU/EEA there were slightly more diagnoses than HIV infections during the last decade, indicating that the number of people living with undiagnosed HIV is likely decreasing in many of those countries. Still an estimated 13 % living with HIV in the EU/EEA remains undiagnosed.
Over the course of the last four decades, over 2.3 million people have been diagnosed and reported as living with HIV in the WHO European Region. Nearly 590,000 of them were people in the EU/EEA.
Heterosexual transmission has decreased substantially in the EU/EEA and the West in recent years, particularly among women, as has the number of cases due to sex between men in selected countries in the EU/EEA and the West. While transmission through injecting drug use has declined steadily since 2012, it remains high in the East.
"We should all be deeply concerned by the data on HIV testing, treatment and care in Europe and central Asia. Continuing, widespread stigma around HIV is deterring people from getting tested and is steering us dangerously off course from meeting our 2030 goal of ending AIDS," said Dr Hans Henri P. Kluge, WHO Regional Director for Europe.
"If we are to deliver on our promise, we must make access to HIV services equitable. We must work together to make sure that no one feels afraid of getting tested, nor shame, despair or isolation about their status," he added.
"In the absence of regular HIV testing for those most at risk, there can be a long period of time between HIV infection and diagnosis," explained Dr Andrea Ammon, ECDC Director, at a virtual press conference (30 November).
Those diagnosed with HIV live happily for many years but often face stigma, ECDC explained. If diagnosed late, they run higher risks of severe illness and even death. It is also not good for public health, as untreated positive individuals can unknowingly pass on HIV to their sexual partners. ECDC estimates the number of people with transmissible levels of virus at more than one third of all people living with HIV (PLHIV).
The report concludes that there is a crucial need for the rapid scale-up of HIV testing, given the negative impact of the COVID-19 pandemic on testing services in the European Region. Clinical and public health surveillance resources were overstretched during the pandemic, leading to many countries struggling to test and report new HIV infections.
New strategies are required to improve early diagnosis and make more people aware of their infection by expanding diversified and user-friendly approaches to HIV testing, according to the report. Under-diagnosis and under-reporting mean late HIV diagnosis remains a major challenge in the European Region.
Achieving the goals to eliminate AIDS
Dr Ammon, the ECDC Director, stressed that the aim is to achieve the health-related sustainable development goal on eliminating AIDS by 2030 and she was optimistic about achieving it. She also referred to UNAIDs 90-90-90 targets relating to diagnoses, treatment and viral load suppression by 2020.
The good news is that the EU/EEA as whole achieved two of the three 90-90-90 targets by 2020: 88% of people living with HIV were diagnosed, 93% diagnosed started treatment and 91% of those on treatment were virally suppressed (reduction of the amount of HIV in the blood by antiretroviral medication).
However, the picture is mixed and progress by country is uneven. Some countries in the central and eastern parts of the European Region are lagging behind despite the existence of good programs, summarized Anastasia Pharris, principal expert at ECDC on infectious diseases. "Prevention is key and there is guidance on how to do it".
The following table shows those countries that have achieved the 90 % target relating to diagnoses (green colour), those within 10 % of meeting the target (blue colour) and those more than 10 % of meeting the target (yellow colour). At the lowest end, around 50%, are Montenegro and Hungary.
Figure: Percentage of all people living with HIV who know their status in 47 countries of Europe and Central Asia, reported in 2021, source ECDC report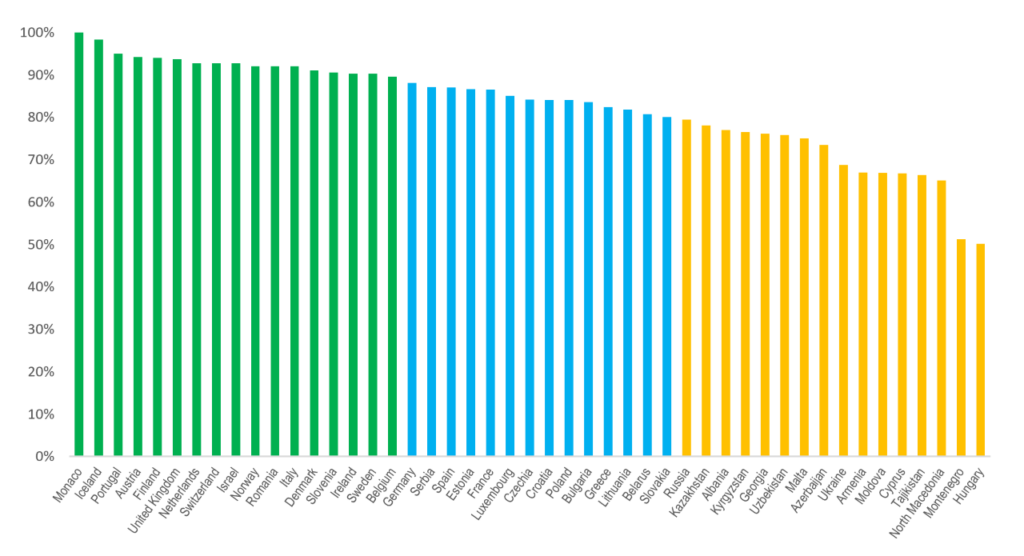 In all, 22 of 40 reporting countries (Belarus, Belgium, Croatia, Czechia, Denmark, Finland, France, Germany, Georgia, Iceland, Ireland, Monaco, the Netherlands, Norway, Portugal, Russia, Slovenia, Spain, Sweden, Switzerland, Ukraine and the United Kingdom) have achieved the third of the UNAIDS targets: 90% of PLHIV who are on treatment are virally suppressed.
The Brussels Times