Young people in Flanders are satisfied with their lives overall, however, they are feeling more nervous, moody and unhappy than before. In general, girls and older adolescents are having a harder time.
Both the mental and physical well-being of young people is declining in Flanders, according to the results of a four-yearly survey of more than 20,000 11 to 18-year-olds in the region. These findings are in line with the negative trend highlighted by the last survey in 2018.
"Young people report more physical and psychological complaints than in 2018. So the negative trend we already saw in the last study continues and was presumably reinforced by the impact of Covid-19 on adolescents' lives," lead researcher Dr Maxim Dierckens said.
The report also confirms earlier signs from Flemish emergency services helping young people as well as research conducted on a national level, Hilde Crevits, Flemish Minister for Welfare, Public Health and Family, said.
"Fortunately, the vast majority of young people continue to rate their overall condition as healthy, but this report also confirms what we already feared: the pandemic is leaving an impact on the mental and physical wellbeing of our young people."
Girls and older adolescents suffer most
Across the board, more young people complained about their mental health, with almost 30% feeling moody and one-third feeling nervous several times a week, both up by almost 10% since 2018.
"The increasing percentage of young people struggling with nervousness is particularly striking," Dr Dierckens said. Meanwhile, one in five indicated feeling unhappy several times a week, and one-third of youngsters repeatedly struggled to sleep. Worryingly, researchers also noted a sharp increase in suicidal thoughts and in the number of young people who have tried to harm themselves.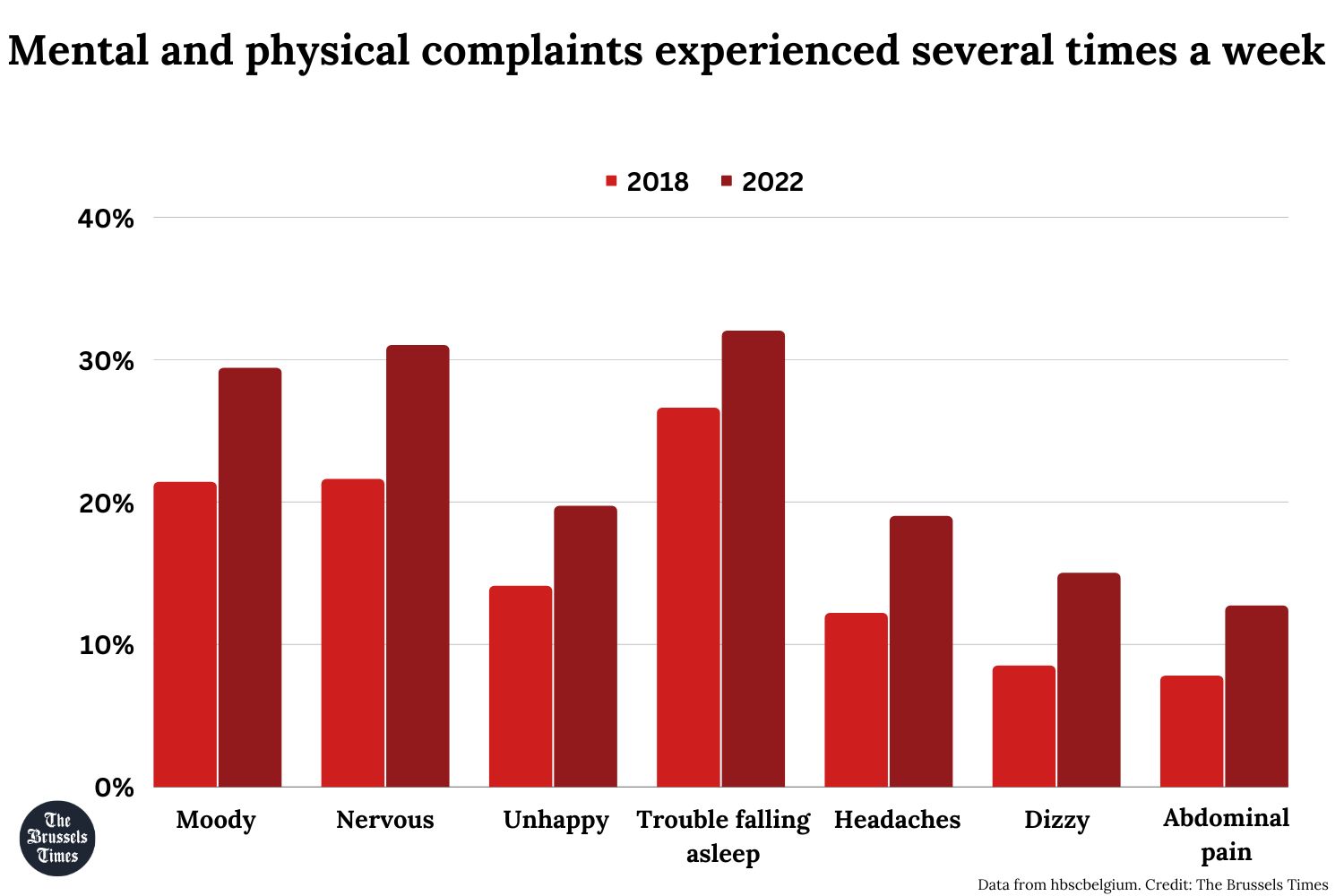 For all these categories, older adolescents also have more complaints than younger teenagers, while girls are significantly more likely to report these complaints than boys.
"For example, 40% of girls say they feel nervous compared to about 20% of boys. Suicidal thoughts and sleep problems are also more common among girls," Dr Dierckens stressed, adding that they are also more likely to feel unhappy and lonely. A gap also emerges depending on the form of education.
International trend
The number of complaints regarding their physical well-being is increasing as well: one in five experiences headaches several times a week (up from 12.2%), while 15% felt dizziness several times a week (8.5% in 2018).
"In line with the mental and social well-being results, the boys also scored better on physical well-being compared to the girls. And here, too, we see that physical well-being was better among the youngest age group and worse among the older age groups," Dr Dierckens said.
Related News
The report was published as part of an international study, and while the results of many other countries are not yet available, researchers do see the same trends in the reports of other countries such as Finland, the Netherlands and Estonia, Dierckens explained.
Crevits stressed that there are initiatives underway to strengthen the resilience of young people. "Physical and mental well-being are linked. So promoting healthy eating and physical activity also helps mental health. Of course, you cannot reverse such a broad international trend in the short term; it requires attention from the whole of society," she concluded.