Brussels-born filmmaker Marc-Henri Wajnberg has just completed, I am Chance, his third documentary movie about children living on the streets of the Congolese capital Kinshasa.
She is 15 years old. At times, her furrowed brow makes her look like an old woman. At others, her infectious laugh is that of a child. Chancelvie is the title character of I am Chance, a documentary set in Kinshasa, the chaotic capital of the Democratic Republic of the Congo. She has lived on the streets since she was eight and is the leader of a gang of girls as young as 12. Strutting around the city, she steals and turns tricks to survive. At night, she sleeps on cardboard, while a baby grows inside her belly.
I am Chance, out in cinemas now, is Belgian director Marc-Henri Wajnberg's third in a trilogy about its street kids. Wajnberg has been in and out of Kinshasa for the last ten years and he says this latest film conveys the way he experiences this disorderly, crazy megapolis and its famously exuberant population. "You love or you hate it, but it breathes like New York," he says. "I love the energy, the noise, the music, the people talking to each other all the time, the car horns."
His film does not judge or take sides. It blends in. Hints at the colonial past are present but subtle. It was while making a TV documentary about musicians for Arte Web that he heard about Kinshasa's street kids, of whom there are an estimated 35,000. Some are orphans, others war victims from Kivu and elsewhere. Yet others have been kicked out of their homes by a parent's new partner and accused of witchcraft. They cannot read or write and live in clans according to the rules of the street. They are known as "phaseurs", the homeless children.
The first of Wajnberg's three films, Kinshasa Kids, made in 2012, was a fiction about boys forming a ragamuffin band. It was followed by Kinshasa Now, another fiction filmed in virtual reality about a boy accused of witchcraft. The film was premiered at the 2020 Venice Biennale, and toured four cities in the Congo, showing in centres for street kids, schools and cultural spaces to gobsmacked audiences wearing special headsets that gave them the illusion of really being there. Screened in 45 festivals, Kinshasa Now has won 15 prizes and been shown in more than a hundred cities around the world.
That Wajnberg keeps coming back to Kinshasa is testimony to the city's compelling chaos. "Everything is terribly badly organised, and yet somehow everything works," he says. "You can always eat and you can always get everywhere. The Congolese are masters of the art of resourcefulness, 'la débrouille'."
The street as theatre
I am Chance starts with Chancelvie's early pregnancy and ends after the birth of her baby boy (Wajnberg paid for it to take place in a clinic). Two other girls he follows have, like Chancelvie, been victims of sexual and other violence, as have all the street kids. Yet they would rather stay outside than go to one of the 150 specialised centres where they would be protected and given a chance at a better, safer life. They see the street as offering them freedom rather than the imprisonment of beds and curfews. Needless to say, their life expectancy is short, an average of 25 years. They die of malaria, venereal disease or acts of violence.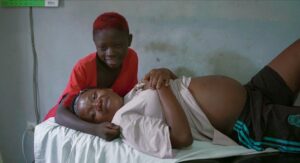 And yet their beauty, their vitality and joie de vivre is life-affirming. Shekinah, a solemn 12-year-old, knows how to read and write a little. She is Chancelvie's protégé and apprentice, and says she wants to study law at university. By the film's end, her face has been slashed by a razor blade, and she cherishes her scar with pride. Dodo, the third girl is a lanky 14-year-old, whose mother also lived in the streets, and who advises Shekinah to enjoy the sex to make it bearable.
Over the six months Wajnberg spent filming in 2020, he gathered 200-300 hours of film. It took him nine months to edit the image and sound, and translate Lingala, the language they speak. "It was an enormous amount of work. Just translating from the girls' street Lingala was a mammoth job. They have their own words. Then we had to streamline the cacophony of noise, voices and music," he says.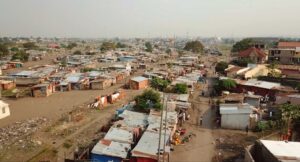 He deliberately excluded some scenes he had shot because they were too violent. The film is tough enough as it is. "And I wanted to show the girls' strength and resilience, their solidarity," he says.
Wajnberg, originally from Brussels, has a track record of prize-winning movies, some fiction and others documentary. He first made his name with 1,200 comic shorts, the Claps, which he directed, produced and acted in. He sold these as fillers to television stations around the world. His documentary films range from characters like the Soviet Jewish photographer Yevgeny Khaldei and the Brazilian architect Oscar Niemeyer in his 93rd year.
A lone white face
Not all his experiences have been pleasant, although he does not dwell on the difficult moments. Instead, he prefers talking about his long walks crisscrossing the city's least Europeanised quarters, where he never meets another white face. He's visited these neighbourhoods so many times that people call out "Marc-Henri!", even when he is riding on the back seat of a scooter wearing sunglasses and a Covid mask, as happened recently.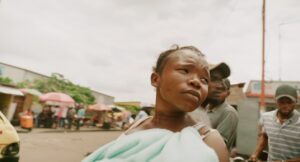 His base when filming I am Chance was with the artists' collective, Ndaku la vie est belle, which features in the film. They occupy a big space where dancers, musicians and visual artists work and perform. In the film, they design robotic costumes out of discarded mobile phones and parade the streets while the girls act as barkers to earn some money.
Wajnberg's team of two Congolese cameramen was unobtrusive, the only way he could have made such a film. And no matter how well he planned the next day's work, it never happened that way. The girls would not turn up when they were meant to, and Wajnberg would have to spend hours seeking them out in their usual haunts. He rented a room where they could sleep during the shoot - partly for practical reasons, partly for their comfort - but they never slept there.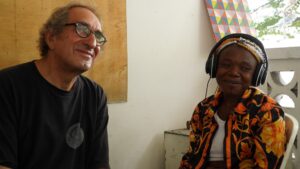 Wajnberg paid the children he worked with a little money every day, fed them, bought clothes for them, and took care of any medical bills. Thanks to him, all the boys in Kinshasa Kids and Kinshasa Now are off the streets. Some are back with their families, one is now a pastry chef and another sings in a band. He has not been as successful with the girls because they were older and more mature, and so less willing to accept the centres' rules. Instead, he's become a regular user of Western Union, wiring money to the girls and the artists for a room, any emergency, and contributing money to help keep the centres afloat.
I am Chance was co-produced by the French Community of Belgium, along with other Belgian institutions and sponsors. It premiered in early May in a Belgian festival, before its release in several cinemas, and has now sold to four local television stations. It is only at the start of its career. "I would like to see it touring festivals, including in Africa, to make people aware of the plight of these kids," Wajnberg says. "And I want to convince the Congolese presidency to see it."