What are the most delicious foods, refreshing drinks, coolest cafés and swankiest restaurants in Brussels at the moment? Here are some of the best.
Bouboule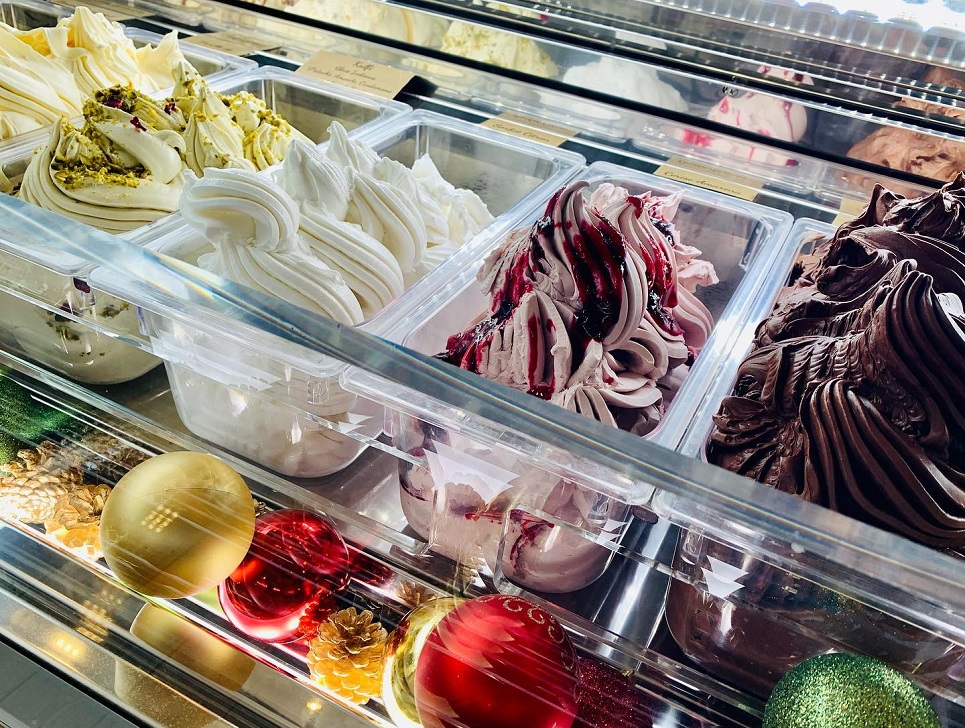 When summer comes, it's good to know where to buy great ice-creams. We all have our classics (Capoue, Zizi, Le Framboisier doré, Gaston, I Monelli, Pierre Marcolini…). Since Comus & Gasterea shut its doors, we needed a bit more variety. And then came Bouboule, an ice-cream maker from the foodie area around the Rue de Tongres, which refreshes a bit the offer on display.
Jimmy Patte, a cameraman at RTL, made a life change a few years ago. After an apprenticeship at an ice-cream maker in Hasselt, where he lived, he then moved to Antwerp to focus on Italian ice-creams before opening his shop in Brussels in June 2021.
The success was immediate: kids love his 18 flavours (nice permanent) on display, especially his signature São Tomé cocoa sorbet and his kulfi, made of pistachio, toasted almonds, rose water and cardamom, which won the second prize at the Gelato Festival in Ghent last year. His ingredients all come from Italy except chocolate and fruits, which are local and seasonal. He has 50 recipes in his books, enough to keep you busy for a few visits.
His small shop only serves takeaway although you can try to find a seat outside on his terrace (17 seats!) or inside (four seats!!!). If you plan to stay a bit longer, grab a hot (coffee, tea) or a cold drink (homemade lemonade, fruit juice, Smile Kombucha, Ritchie soda) or even an alcoholic one (Silly beer, wine by the glass, cocktail or spirit). Coupes glacées (two or three scoops) are also available as well as ice-cream boxes by the litre (€14).
Bouboule Avenue Albert Elisabeth 31, 1200 Woluwe-Saint-Lambert bouboule.be
La Cafèt' du Parc de Roodebeek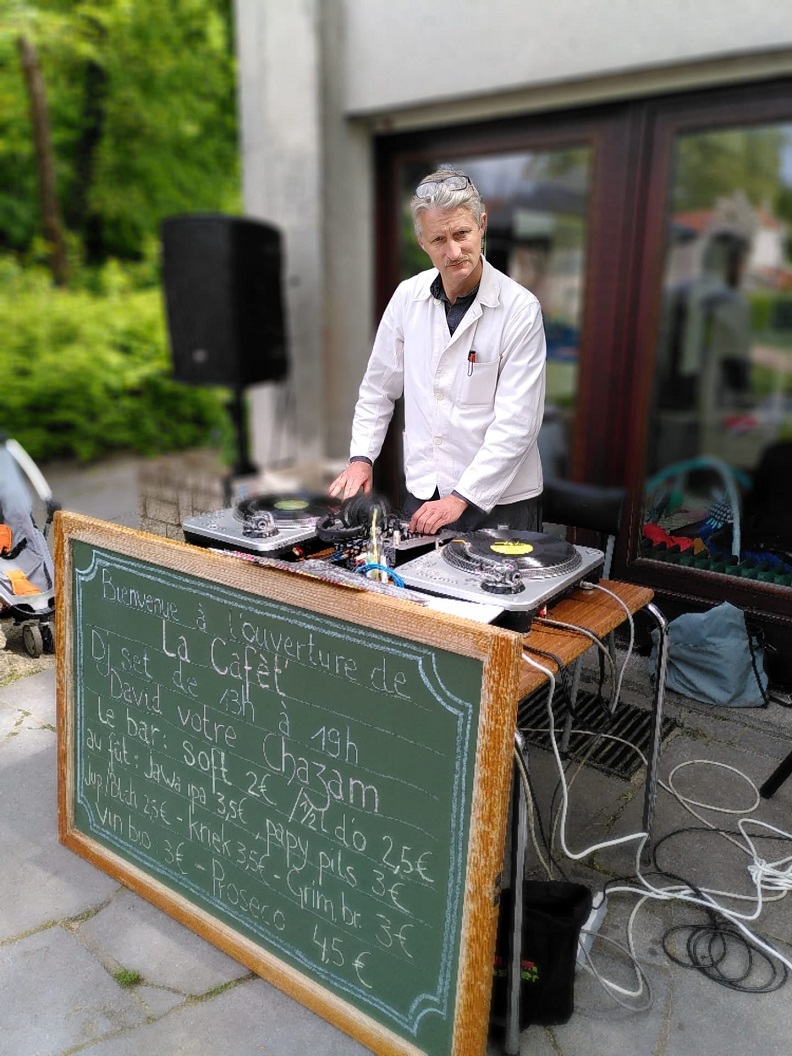 Instead of featuring another rooftop in the town centre, let's think about our soon-out-of-school kids this summer. La Cafèt' has the perfect combination of terrace, park and bouncy castle, with food and drinks for kids and their parents. Michel, a former waiter at the Fin de Siècle restaurant on Rue des Chartreux, decided to go for the real thing after graduating from cooking school CERIA in Brussels. He'll be your host at this low-cost café, near the little zoo of the Parc de Roodebeek.
We visited the Cafèt' only a fortnight after its opening: the food is meant to please kids, so don't expect too many veggies. Instead, you'll have homemade mac 'n cheese, bolo (spaghetti Bolognese Belgian style) and croque-monsieur. A gazpacho is making its way to the menu and hopefully some refreshing Caesar salad. Desserts currently include various sundaes and milkshakes, while Michel has promised to introduce some waffles.
The drinks for kids include a delicious homemade lemonade. Adults can choose among a selection of organic wines by the glass and a bottle of prosecco from wineshop Antidotes near Flagey. And apart from four bottled beers, there are two local draft beers from En Stoemelings: Jawa and Papy van de Pils, both very refreshing! Everything is reasonably priced, especially the half-portions of food for the kids at less than €5.
While their parents enjoy their seats outside with a vintage Formica table or a deck chair, kids can either play for free in the bouncy castle or inside in the little plastic house on the wide sofas, where they can also colour, read children's books or play with second-hand toys. Older kids can enjoy a ping pong table as well. And they'll have plenty of space because this was formerly a cafeteria used by the local social service to organise regular meals for elderly people in the commune. La Cafèt' is also open for kids' birthday parties on booking. This hidden gem will be opened until mid-November. Kid-friendly places are so rare in Brussels that we are happy to share this secret address book with readers.
La Cafèt' park entry opposite Chaussée de Roodebeek 307, 1200 Woluwe-Saint-Lambert
Louis van't Hooghof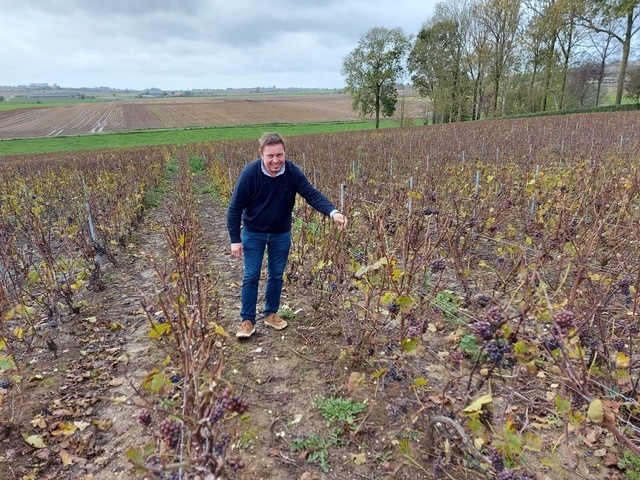 Belgium has made its way to the European wine map with its high-quality sparkling wines. Its soil is linked to the Paris Basin, and today it shares a climate enjoyed by the Champagne region some 20 years ago: for sparkling wines, Belgian winemakers even use the same varieties as Champagne. So it should not come as a surprise that a winemaker from Champagne came to the Heuvelland wine region in West Flanders, near the French border, to plant a pinot noir vineyard.
The 't Hooghof ("the upper courtyard") on the hillside of the Kemmelberg is only 1.5 hectares and the soil is a sandy clay with iron grime. Winemaker Thierry Niziolek, from the Champagne house Louis Déhu in Venteuil, makes an astonishing sparkling. He cultivates carefully, hand-harvesting in small crates, with low-pressure extraction, and vinification in the cellar near the vineyard in stainless steel vats and 15-month ageing in bottles.
The 't Hooghof sugar content of 6.5g/l is at the lowest range from brut sparklings, although the wine feels richer than expected, balanced by some tension. The foam is abundant, and the surprisingly fresh palate is of white fruit (pear and quince) and some pomelo, then a bliss of raspberry. When more exposed to air, it expresses toasty notes and brioche on a long mineral finish. Great in aperitif, it pairs well with seafood and raw fish. The price of this blanc de noirs (white wine from a red grape) is one of a good Champagne (€27 or so) but with such finesse, who could tell the difference? Probably Belgium's best sparkling wine.
On sale at: Wine-not Rue du Collège 39, 1050 Ixelles
La Cave du Cinquantenaire Avenue de Cortenbergh 93, 1000 Brussels
Upper Wine Avenue du Prince Héritier 2, 1200 Woluwe-Saint-Lambert
Les Caves d'Alex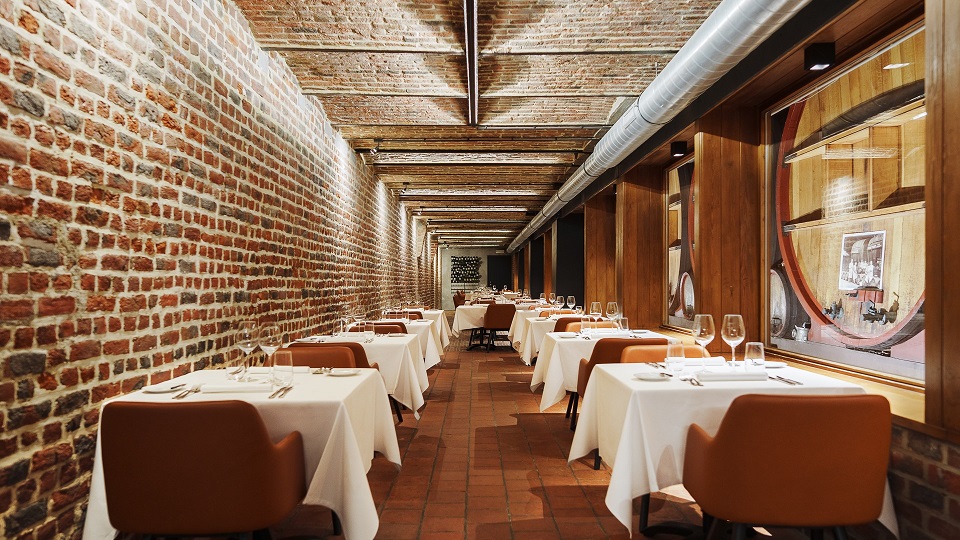 After a couple of years in a small soulless slot near the Place Lux, Les Caves d'Alex has upgraded with a jaw-dropping cellar formerly called Les Foudres. It was named after these huge wooden vats of tens of thousands of litres where wine was aged.
If you eat inside, you will indeed eat next to a huge glass window with a view of these gigantic wooden vats on one side and an old brick wall on the other. Perfect to impress your business guests or your date. And, when the weather allows it, you can also eat in the 1,000+ sqm garden, a haven of peace in the busy area of Gare d'Etterbeek, with its lawn, pond, fountain, century-old beech tree, magnolia and Japanese cherry tree - all very unusual for a Brussels restaurant!
Now let's talk about food and wine, because that is the main draw for diners at Les Caves d'Alex. The forte of the place is meat, beef meat. You can either order matured prime rib, 1kg or so for two people at around €12-14/100g means more than €100 of meat. The restaurant proposes three to four varieties of matured meat depending on the beef type and degree of fat in the meat. The length of maturation is usually the same: 25-40 days.
It's heaven for meat lovers! For both matured and fresh meat, it's worth the price – and you live only once. Other meat dishes, besides tenderloin, rib eye and tomahawk, include a knife-cut tartare which enhances the blood and cow flavours of this delicacy. All meat dishes come with great homemade sauces and fries. If you choose the matured meat, skip the excellent starters as it will be too much.
For those who don't come for beef meat, you have offal (sweetbread) or tasty fish fillet as plan B. Apart from a cheese selection from the best cheesemonger in town (Julien Hazard), desserts are classic but perfect.
To accompany your meal, you have the choice between 450 wines - the wine list is a book, like in starred restaurants. If you can't afford a Côte Rotie from Jamet at just €1,000, don't worry, you'll find another wine that suits your budget. Tip: as in all premium cellars, choose one of the least expensive wines, it will be great value for money. The bar is small but full of hidden gems in rums and whiskeys. Alex (the chef) and Hugues (the sommelier) are on hand to deliver an unforgettable experience.
Les caves d'Alex Rue Eugène Cattoir 14, 1050 Ixelles, lescavesdalex.be