The tiny house movement, the trend towards very small homes and a simpler, less cluttered lifestyle, has now reached Belgium.
Big is not always beautiful. While many people would not choose to live in a place little bigger than a prison cell, others cannot get enough of small spaces. As house prices spiral and people struggle to get on the property ladder, the tiny house movement has grown.
Tiny houses first emerged in the United States in the 1990s as a reaction against building big, flashy homes as status symbols. Also dubbed shoebox houses or dog kennel homes, they embrace a simpler approach to life: less clutter, more flexibility – and it's relatively cheap. Plus, some of the most innovative design solutions can sprout from constrained conditions.
The trend has now reached Europe, and even Belgium is catching on. "The difference with the US is that here in Europe, tiny houses are really tiny," says Marc Reydams, co-founder of Hellow, a cooperative from Overijse which builds tiny houses for and with its customers and aims to become a low-tech hotspot in Belgium.
Tiny houses, Reydams says, are "a very popular fantasy", boosted by the Netflix series Tiny House Nation and 'cabin porn' on Pinterest and Instagram. However, he brushes off the image of the middle-aged urban employees concerned with nature (the so-called 'bobos', in French) who aspire to gentrify the countryside by living with more simplicity. "Our clients are all kinds of people. Bobos, yes, but also young couples who cannot afford a flat or single retired people who have to move house."
Reydams says the tiny house boom is being driven by a new focus on the essential things in life: only buying and keeping things that make sense. "It's radical: you cannot afford to have more things when you live in 20 square metres," he explains. "And you have to get out there, to be more connected with your environment because inside a tiny house, there's no place to hide."
Home sweet home
For many owners, downsizing to a tiny house is about living differently. And for some of them, it starts with building from scratch.
This was the case with Olivier, a handyman who now lives in his own tiny house in a wood (he asked us not to give his full name). After the first Covid lockdown, he wanted to "live in a healthier way, fulfil my dreams, give priority to human relationships and be close to nature. I wanted a different rhythm of time and light, amidst the wildlife. I wanted a slow life." But he didn't want to depend on a mortgage. "I'm also concerned about electro-smog," he adds. A tiny house it would be.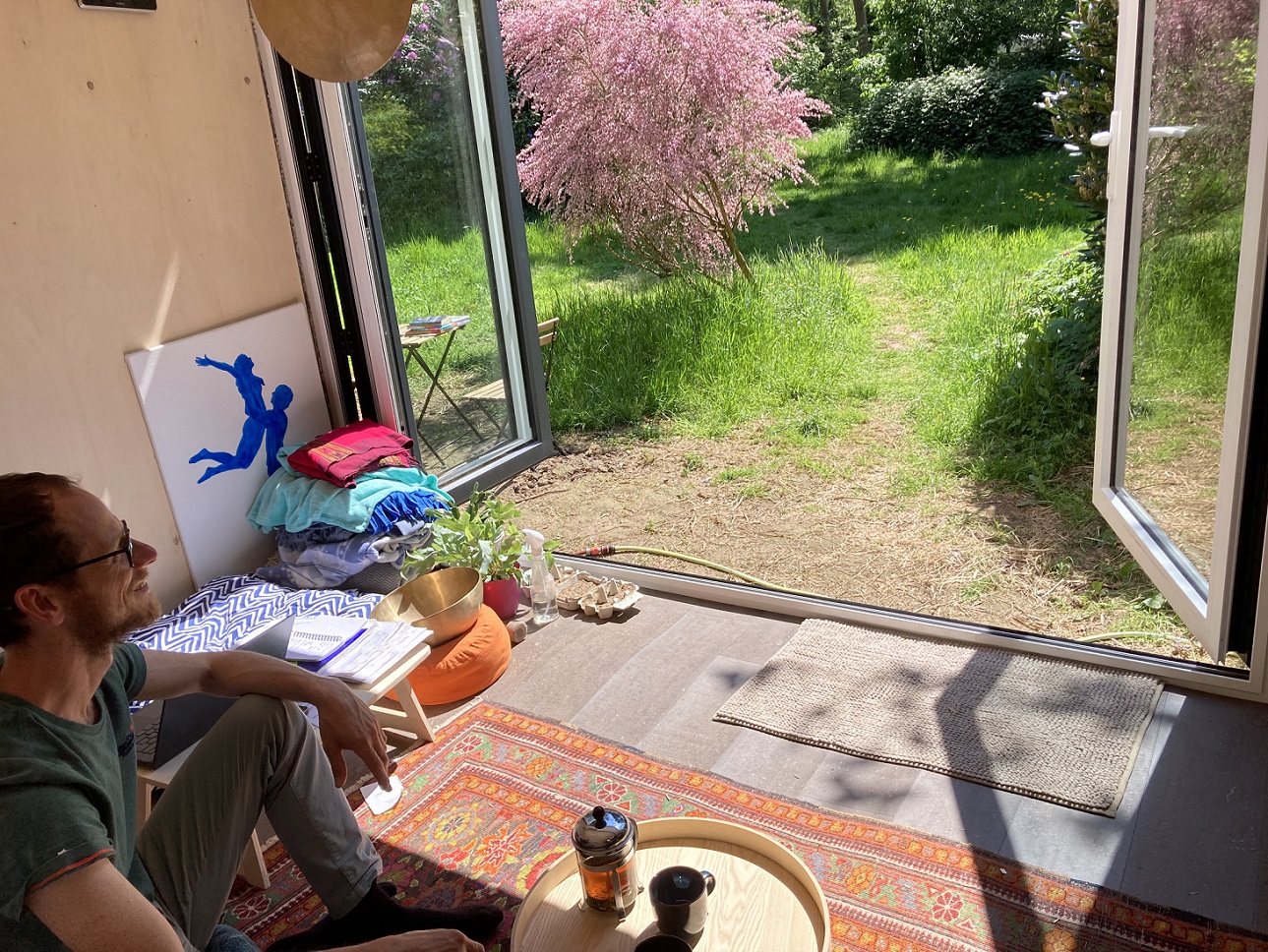 Olivier began learning about how to do it, in terms of surface, weight and height. "The biggest challenge is weight. It's 3.5 tonnes including 800kg of trailer, or 2.7 tonnes for the whole house," he recalls. "And when you add a 420kg cork/linoleum coated floor of 20 square metres, you are left with two-thirds of the authorised weight, which is not much, considering the weight of double-glazed windows, for example".
So he chose a self-supporting wood-framed structure, like in yurts, which allowed him to use thin plywood panels as inside walls instead of heavy oriented strand board (OSB). His walls are insulated with 10cm of Gramitherm hay, while the roof has local lamb wool. It helps to regulate humidity, a common issue in tiny houses. In winter, the difference between the outside and inside temperature is just 7-8° without any heating. When he needs some, he uses a 2kW electric additional heating device.
Since his tiny house can only be 4m from road to roof (including wheels), Olivier built a removable roof covered with a fully waterproof, swimming pool liner - but which includes three transparent domes to naturally light his two mezzanines.
His furniture is very light: a mobile kitchen with a gas stove flanked by a foldable board made of thick cardboard, a couple of well-placed thick cardboard shelves, a (silent) absorption fridge, a small dry toilet, two sliding cupboards on tracks, a small homemade wooden basin, and a large SlateLite-coated shower. The floors of his two 6.5 square metre mezzanines are "horizontal cupboards."
All in all, Olivier lives in 70 cubic metres, with his two kids half of the time. But more than half of his ground surface is "available for doing anything, from dancing to socializing, playing with the kids, working as a coach or doing nothing but listening to the sound of wildlife". He is not yet fully autonomous – he needs outside sources for energy, wastewater treatment and heating – but he is happy.
And while Olivier's decor may seem far from the glamorous tiny houses on Instagram, he is proud of his minimalism. "It's a return to what is essential. What makes your space busy makes your mind busy," he says. The price of his dream? €50,000 or so. If you discount the work he put in, it is still much less than any apartment he could have dreamt of. And he lives in the wild.
Affordable housing
Nicolas Van Moer, a carpenter and co-founder of B.A. Bois, a not-for-profit organisation based in Ottignies says conception is a crucial first step in the tiny house journey. His association not only rents a huge workshop and tools for wannabe tiny house builders, but also provides plenty of advice and training. He helped to launch about 15 projects since 2019. "The ideal situation is to build a tailor-made tiny house, because it's so tiny that everything should match the way you will use it," he says. In other words, your tiny house will reflect who you are.
Van Moer estimates the price range of a tiny house from €25,000 to €80,000, "depending on the share of DIY you put into it and the price of materials, as in every construction project," he warns.
Thomas van Riet from Tiny House Belgium in Destelbergen near Ghent says turnkey projects start at around €50-55,000. "But everything depends on the materials you choose and that's why the price quickly rises to €70,000," he adds. You also need to take account of possible rent of the land where your tiny house is located.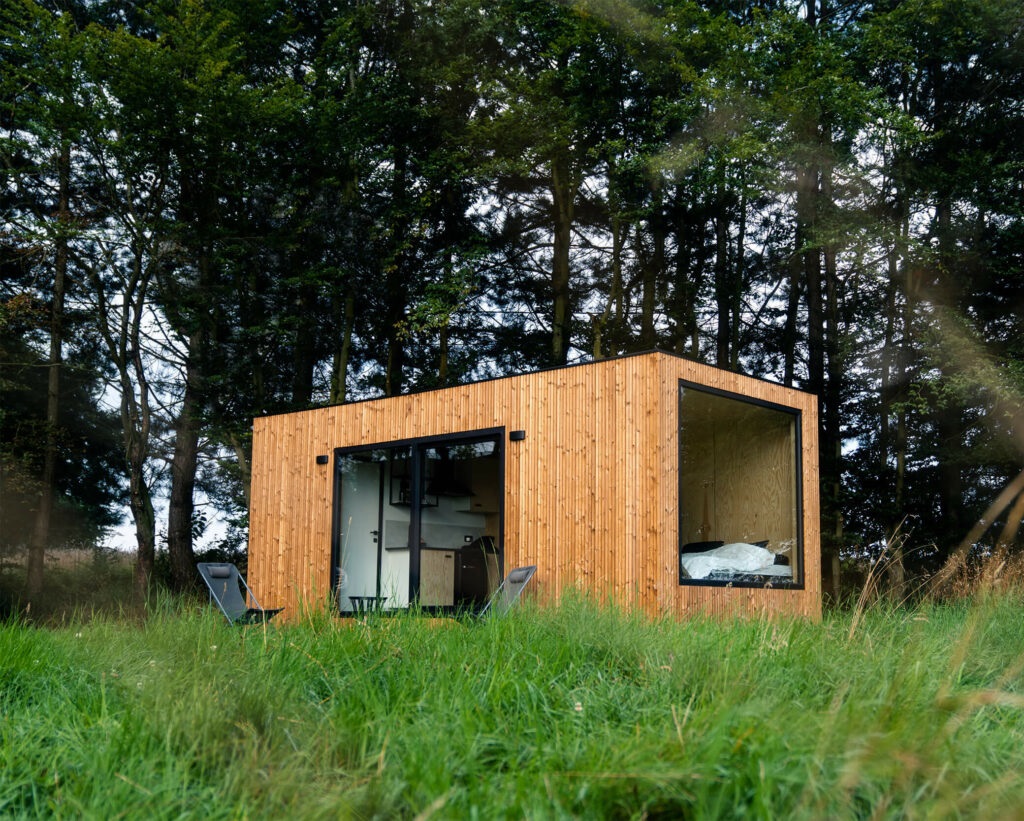 Reydams warns that there is a trade-off between the financial capacity of the future owners and the cost of tailoring the tiny house to their needs. For him, the ideal price of a tiny house is €75,000. "A turnkey project for less than €60,000 is a challenge," he adds. "You can cut prices to €50,000 but you will have to compromise on the quality of materials and the personalisation of the house". In other words, your tiny house will be more basic and the materials will be less natural. Or you build it yourself, like Olivier did.
"Time is money and you can save a lot of it by doing it yourself," Reydams says. You can also save on the commissions taken by the constructors if you buy your own materials. "But don't think reconditioning old material is always cheaper, it can turn very expensive if the quality of the second-hand material is not there," he adds. Having said that, prices are not the only challenge in Belgium. Law is also a hurdle.
Legal uncertainty
None of Belgium's three regions have a legal framework on tiny houses and their sister dwellings such as yurts, trailers or cabins. However, in Wallonia, thanks to a recent reform of the housing code, the tiny house has a legal definition. It must match at least three of the following characteristics: dismountable, movable, of reduced volume, lightweight, a limited surface area, self-made, without storey nor foundation, and off-grid.
Another angle could be to see it from the viewpoint of the permanence of living: touristic housing should be excluded, so not subject to the recognition of a legal address. But what about those who live permanently in touristic dwellings? Wallonia's planning law and territorial development code still need to be changed, but that's a start which has helped a lot.
Until there is a clear legal definition of this form of living, existing law applies. According to Nathalie Debast from the Association of Flemish Cities and Municipalities, "A tiny house is also a home and must meet quality standards," such as at least 18 square metres for a single person. You can only put a tiny house for permanent residence in a residential area and a maximum of one tiny house per plot, so it can't be in a nature reserve, in a forest or on a meadow. "Just because it is your own land doesn't mean you can just put whatever you want on it".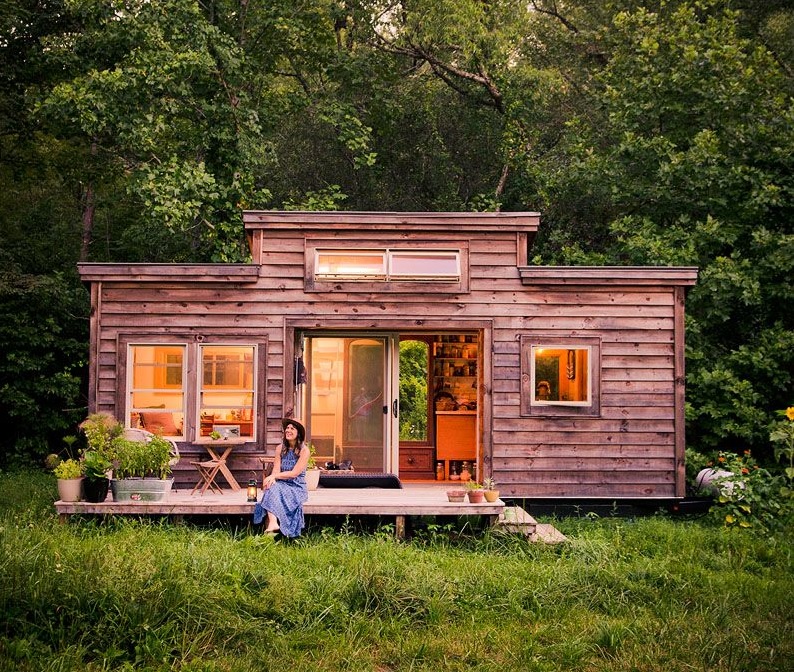 In other words, you have to request a planning permit, which is the responsibility of the local authorities: it's up to each mayor to decide what can and cannot be used as housing in the commune's territory.
This is a lesson that Maxime Bonaerts and his family learned to their cost. Returning from a year in Australia, he and his girlfriend decided to build and live in a tiny house next to his parents' house in Woluwé-Saint-Lambert. "We couldn't afford classic housing and we wanted to reduce our environmental footprint," he says.
After a year of hard work, their 16-square-metre tiny house was ready in September 2019. They had a baby a few months afterwards. But the commune harassed them to leave since 'light habitat' is not recognised by regional housing law. They pleaded with Pascal Smet, the Brussels State Secretary for Urbanism and Heritage, to adapt the regional planning rules to allow "these new types of housing which seek to be more ecological and affordable". But it was in vain: threatened with heavy fines, they were forced to leave.
Bonaerts, who now lives with his family in a flat in neighbouring Evere, is now helping the association Infirmiers de rue ('street nurses') to implement modular dwellings for homeless people on a lot owned by the region in Forest. "At first, it was impossible to get a permit but today it is. The dwellings bide by urban planning rules, everything is legal. And this opens all the doors," he says, proudly. Two such tiny houses are already built and four more will be implemented by the end of 2022 for at least two years of temporary occupation on regional lots.
In Flanders, new rules should be ready by 2024. Flemish Housing Minister Matthias Diependaele has encouraged people with innovative building projects not to wait until those rules are in place – and is even promising a website with tips and tricks for people who want to set up new projects today.
There will continue to be legal uncertainty for tiny house owners until Belgian authorities agree a common framework for lightweight housing. However, many are ready to take the risk now. For these tiny house pioneers seeking to reconnect with that which matters most, there is no way back.