Mark my words, people, it won't be long before a campaign starts for a blue plaque somewhere in Brussels to mark the relatively brief but memorable 'Belgian period' in the life and times of recently deposed British Prime Minister Alexander Boris de Pfeffel Johnson.
Maybe more than a plaque. Maybe a street or a whole square renamed. Not so much in his honour (ha!) but more to acknowledge his impact. And not on Brussels the city, but on Brussels the embodiment of a united Europe.
Or how about a small bronze statue, not unlike the legendary Mannekin Pis, but with a bigger belly and smaller protuberance, urinating on a tiny porcelain replica of the European Commission's Berlaymont headquarters?
It would, of course, be in a suitably dark corner of the capital. It would also, I believe reflect the renowned spirit of 'Belgitude' at its finest.
But I'm getting ahead of myself. This is supposed to be about the young Johnson's rite of passage as a 'foreign correspondent' posted to this city in 1989 by the Daily Telegraph.
And he was an extremely foreign correspondent. He was very proud of his Turkish ancestry, although I hesitate to suggest that these were the same kind of Turks as the Turks Johnson warned during the Brexit campaign would be pouring unwanted into the UK by now if we hadn't left the EU.
Johnson was not even born in his beloved, world-beating United Kingdom. Born, in fact in New York City, also the birthplace of Donald Trump. There are other similarities between the two. But, like I say, this is about the past.
Because by the time Master Johnson retreated across the channel in 1994 after his tour of duty in Brussels, he left in his wake, according to still-evolving legend, a mushy trail of bent bananas and curved cucumbers rotting amid the ruins of a failed European superstate.
So, let us zoom in on better days and particularly a fine Sunday in 1989 when my wife and I were lunching at his father, Stanley Johnson's, pleasant, detached villa in leafy Fort Jaco.
In the middle of a meal at a garden table, the crunch of car tyres on the gravel drive heralded the arrival of a visitor. "Ah," said Stanley, "That will be Al…."
Up to that point he hadn't mentioned his eldest son at all, to whom his family still refers as Al.
You can't call me Al
I'd briefly met all the Johnson kids at the same house a decade earlier when Johnson was a pupil at the European School in Uccle. Now, out of a taxi stepped a bigger, bulkier Alexander in baggy, crumpled beige shorts and a care-worn T-shirt, the whole vision topped by the now globally-familiar mop of haystack hair. His entirely uncrumpled wife, Allegra Mostyn-Owen – his ex by the time he left Brussels – followed serenely behind.
Stanley re-introduced us and Al chatted disarmingly about how exciting it was to be back and how daunting to be joining the elite Brussels press corps and how he hoped an old hand like me would show him the ropes.
This was breaking news. Although the Telegraph's current correspondent was leaving, speculation about his replacement did not include Boris Johnson because no-one had ever heard of him. The only blonde, blustery Johnson anyone knew in Brussels at that time was Stanley, who was a bit of a headline-grabber himself.
I'd interviewed Stanley when he was the Conservative MEP for East Hampshire and the Isle of Wight. He was a colourful character – author, conservationist, a bit of a joker – and my article for the Press Association national news agency included his jovial admission that he won his seat even though he wasn't from the Hampshire area, had no intention of moving there, and had never even been to the Isle of Wight.
"Actually, old boy, the only time I've seen the Isle of Wight is from the deck of the QE2 outward bound from Southampton to New York." he chuckled.
In my article, the quote was designed to highlight his sense of humour, but a big local paper in his constituency, the Portsmouth Evening News, turned the remark into a front-page drama about Johnson insulting his voters.
Stanley rang me as soon as the story appeared, not to complain, because he'd been accurately quoted, but to ask how to repair the reputational damage.
I suggested he should take a group of local journalists on a press trip to the Isle of Wight where he would make an enthusiastic speech about the delights of the place he had never bothered to visit before. The tactic worked: pictures of him posing and joshing with Wight residents and local dignitaries made him a local hero and turned a Johnson disaster into triumph. Is this all sounding familiar?
Anyway, back at the al fresco Fort Jaco dining table I looked across at Stanley, unable to conceal my surprise, and said, "Stanley – you never said that Al was coming here for the Telegraph. I didn't even know he was a journalist."
"Sorry old boy…didn't I mention it when I invited you to lunch? Must have forgotten…" he replied. "I just wanted you two to meet up as soon as he got here in the hope that you'd give him a push in the right direction..."
Italian for beginners
I never pushed him in any direction, I promise, except in the sense of driving him to Luxembourg and Strasbourg many times to cover the-then European Economic Community ministerial meetings and sessions of the European Parliament in Strasbourg. We must have discussed the EEC on those trips, but I don't recall the 25-year-old Johnson expressing any strong personal views about the European project.
I more remember him struggling on occasions to get to grips with an Italian phrase book, under pressure from his wife, whose mother was Italian.
It was quickly clear that Johnson was no typical reporter. After being sacked as a Times trainee for inventing a quote and attributing it to his own godfather in a story about a 14th century monarch and his gay lover (you really couldn't make it up) he landed a job as a leader writer at the Daily Telegraph – and still in his early twenties.
He had a flare for opinion pieces and columns but little of the diligence required for the daily grind of straight news reporting. Johnson tackled routine press conferences and news stories adequately enough, but he told me early on that that Telegraph editor Max Hastings had sent him to Brussels "to see how reporters operate" and that his next role would be a desk job in London as an assistant editor.
In the meantime, Hastings gave him a long leash. He was rarely, if ever, reined in when there was a backlash against his bizarre interpretations of Brussels news events. I can't recall the Telegraph ever printing a correction to a ludicrous Johnson story from Brussels even when it was glaringly obvious that it was far from accurate.
Other British journalists despaired of the occasional late-night calls from their news desks asking why they had missed a great Telegraph 'scoop' that had just appeared in the first edition. The answer was generally the same: because these scoops were, at best, wilful distortions or clunky misunderstandings, or at worst, fanciful cocktails of half-thought-through ideas lacking any shred of verifiable truth.
Still, you had to laugh, and never more loudly than when the Telegraph ran a front-page Johnson story claiming that the European Commission's Brussels headquarters was going to be blown up by the end of 1991 because it was riddled with asbestos. The symbolism delighted Eurosceptics, but the Berlaymont, long-since modernised and asbestos-free, still stands.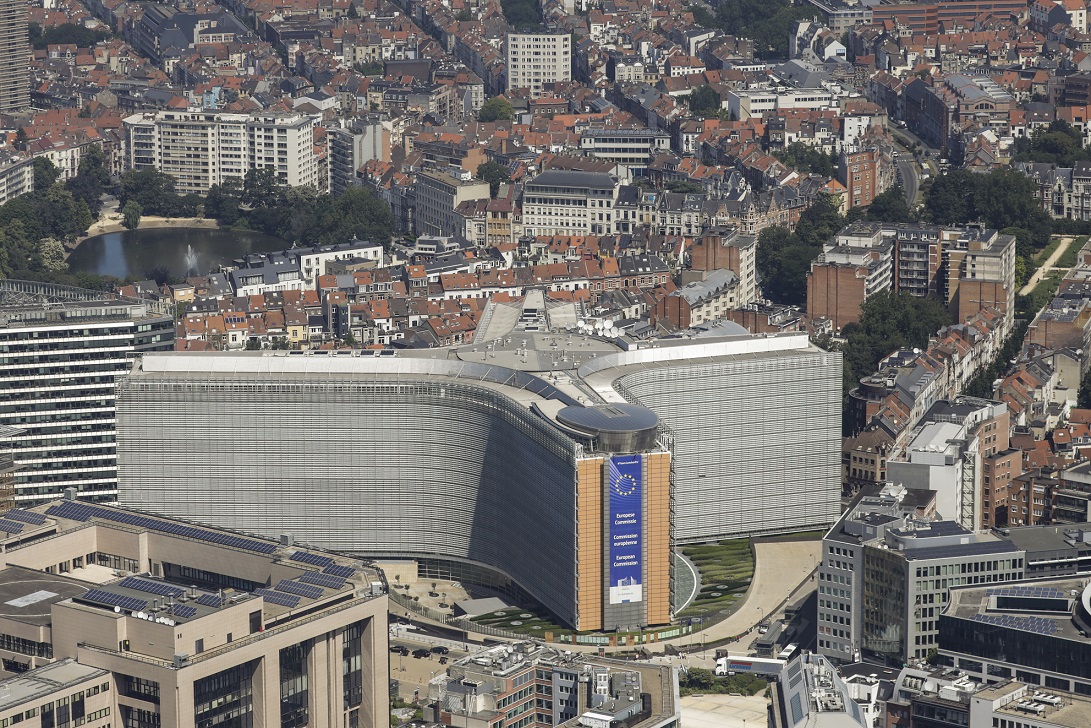 The day after that gem appeared, I congratulated Johnson on his vivid imagination. I also suggested that the one thing you really wouldn't do when removing a massive city building filled with potentially lethal asbestos dust was to blow the thing up.
He nodded slowly and then grinned and said something like: "Ah!…Oh cripes! Well- spotted…hadn't thought of that!" But he never explained where the bonkers idea came from or how he persuaded the paper to run it.
The great prawn cocktail war
Let's be clear. Boris Johnson did not invent Euroscepticism, not even close. But he was encouraged by his paper to play fast and loose with it.
Europhobia had been lurking in the British-EU relationship since membership of the Common Market in 1973. It positively flourished from 1979 when Prime Minister Margaret Thatcher declared, "I want my money back" in protest at the disproportionate size of Britain's membership fees due to vast EU farm subsidies for the French.
That was six months after I arrived in Brussels, and her battle occupied much space in all British newspapers for years until she finally won a British budget rebate deal in 1984. Then in 1988 in a speech in Bruges, she ignited the issue of creeping EEC powers and the threat of a European "superstate".
By 1990 she had turned the architect of closer EU integration, Commission President Jacques Delors, into a bogey man. This was long before Johnson's 1992 Sunday Telegraph story carrying the headline 'Delors plan to rule Europe'.
And meanwhile, behind the serious, grown-up, political Euroscepticism reflected in the media, trailed the more joyous, often genuine but hardly original, "Yes Minister" stories of tangled-up EU bureaucracy, impenetrable institutional jargon and the inevitable cultural clashes between nations which often put a spanner in the works of European deal-making.
The Brits were often prominent among the troublemakers, if not leading them, and Johnson had fun with these stories. We all did. We all wrote about bent bananas and curved cucumbers and so on (the truth, involving harmonised trading and quality rules which the Brits have just as much as anywhere else, is quite boring).
But Johnson's free pass from his editorial bosses meant such tales appeared more often and more prominently in the Telegraph. And they frequently failed the ultimate test – credibility.
These days, joyously, lists of these Euromyths and their background veracity are available online, on the European Commission website and elsewhere. They even include an explanation of a storyline in the BBC's television comedy series 'Yes Minister' in 1984 in which the Commission forces the UK to rename the sausage as an "Emulsified high-fat offal tube". The website solemnly states: "The Euro-sausage story is used as an amusing but fictional example of a Euromyth."
This is the world Boris Johnson walked into in his baggy shorts and T-shirt that summer's day in 1989. He embraced it, embellished it – and often abused it. Some 30 years later, he is still abusing it.
My own example is the prawn cocktail crisps story. The truth was fun, harmless, easy to understand and made a good, non-controversial story: the EU was updating its food additive rules and the member states had to send a list of safe, permitted food flavourings. Somehow the UK list accidentally omitted the additive that gives prawn cocktail crisps their distinctive taste.
The omission meant prawn cocktail crisps would be banned, but the oversight was quickly spotted and rectified, although not before food lobby groups alerted journalists of a prawn cocktail crisis. When reports of such a ban started circulating, EU Internal Market Commissioner Martin Bangemann, held a major press conference to explain that there was no ban.
He grinned and said something like: "Of course, I am not banning your prawn cocktail flavoured crisps. I have never even heard of such things. But if that is what you British like to eat, please then carry on!"
Johnson would have been at that press conference. But he must have forgotten because today he cites the 'prawn cocktail war' with Brussels (which he exposed, apparently) as a good reason for Brexit.
He has even claimed that he was so frustrated about the UK being told what to do by "nanny in Brussels" that, "I remember once I rang the official who was actually responsible for banning the prawn cocktail flavoured crisp."
Poetry and GTVs
I remember adjudicating a poetry reading contest in Kitty O'Shea's bar between Boris Johnson and the Times' Brussels correspondent Michael Binyon. As I recall, Michael asked me to ensure that his rival wasn't cheating by hiding volumes of poetry on his lap under the table. If my memory serves me well, the Times man won.
I also remember sitting next to him on a flight to an EU summit during which he invented a new quiz which involved us taking turns reading a passage from the Maastricht Treaty and the other one guessing which Article it was from. Yes, he did happen to have a copy of the Treaty with him (who didn't in those days?) and no, the quiz did not have a commercial future: I think we abandoned the idea before the drinks trolley arrived.
What else? Johnson once asked my advice about his plan to buy a red sports car to save his marriage to Allegra. I said it was a sweet idea but not very romantic. I suggested he try a bunch of flowers and/or throwing away his collection of faded white shirts with incredibly worn collars.
He decided on a very second-hand red Alfa Romeo GTV, which didn't do the trick and didn't last long, just like his first marriage. But it looks like he's still wearing the same shirts.
One more note about the ex-Prime Minister's "Belgian Period". Having spent a few years attacking 'Brussels', the symbol of a creeping European superstate, his valedictory in the Telegraph ended with an interesting, if bitter, observation on Brussels the city: "It all happens in Brussels" he wrote. "However, one weighs up the costs and benefits of 'pooling' sovereignty, the European Community is run from the Belgian capital. Never mind that the decisions are partly British – the geographical location of power is not trivial."
On that note, and in line with my prediction at the start of this article, I hereby formally launch a campaign for a Johnson memorial in this city – even if it's just a modest blue plaque on the house he rented, bearing the inscription: "Here lied Boris Johnson 1989-1994".
That house was in Rue Van Campenhout. Within spitting distance, appropriately enough, of European Commission headquarters.