Thirty years ago, anyone cycling in the almost totally car-centric Brussels was seen as having a few screws loose. When I first started cycling in the capital in 1996, I was known as 'the girl with the bicycle'. I lost count of the times people asked me why I did it and how brave I was.
But slowly and surely things have changed. The city is starting to adapt itself to pedal power, with more bike lanes and more zones where cars are restricted – most recently, on August 16, when a new scheme to limit through traffic in the city centre came into force. There are also more rental arrangements in the capital, including Villo!, eVillo! (for electric bikes), Swapfiets, Blue-bike and Billy Bike (shared electric bikes) and as a result, more cyclists.
There are many reasons behind this switch, from the urgency of the climate crisis, shifting politics, and a growing appreciation for cycling as both a leisure form and commuting tool. Indeed, according to official Belgian government figures, 49 percent more employees took advantage of a tax-free bicycle allowance in 2019 than in 2014.
However, much credit is due to grassroots groups that have campaigned tirelessly to promote cycling. They include cycling organisation Pro Vélo, celebrating its 30th anniversary this year, as well as GRACQ (Groupe de Recherche et d'Action des Cyclistes Quotidiens) and Fietsersbond, which respectively campaign in French-speaking Belgium and Flanders.
"In 1992, when Pro Vélo was founded, cycling in Brussels and in Wallonia required courage and stubbornness. Every trip was an act of militancy and the rare cyclists that existed were a dying breed," Christophe Winkel, head of Pro Vélo Brussels says. "Thirty years later, our city has really changed. The paradigm of 'all about the car' has eased little by little in favour of calmer towns and urban areas reworked in favour of the inhabitants and their quality of life."
Each passing year sees better cycling infrastructure, more cyclists and above all improved safety for these riders. "Brussels is one of the European cities that has seen cycling increase the most, with 14 percent more cyclists per year for more than 20 years," Winkel says.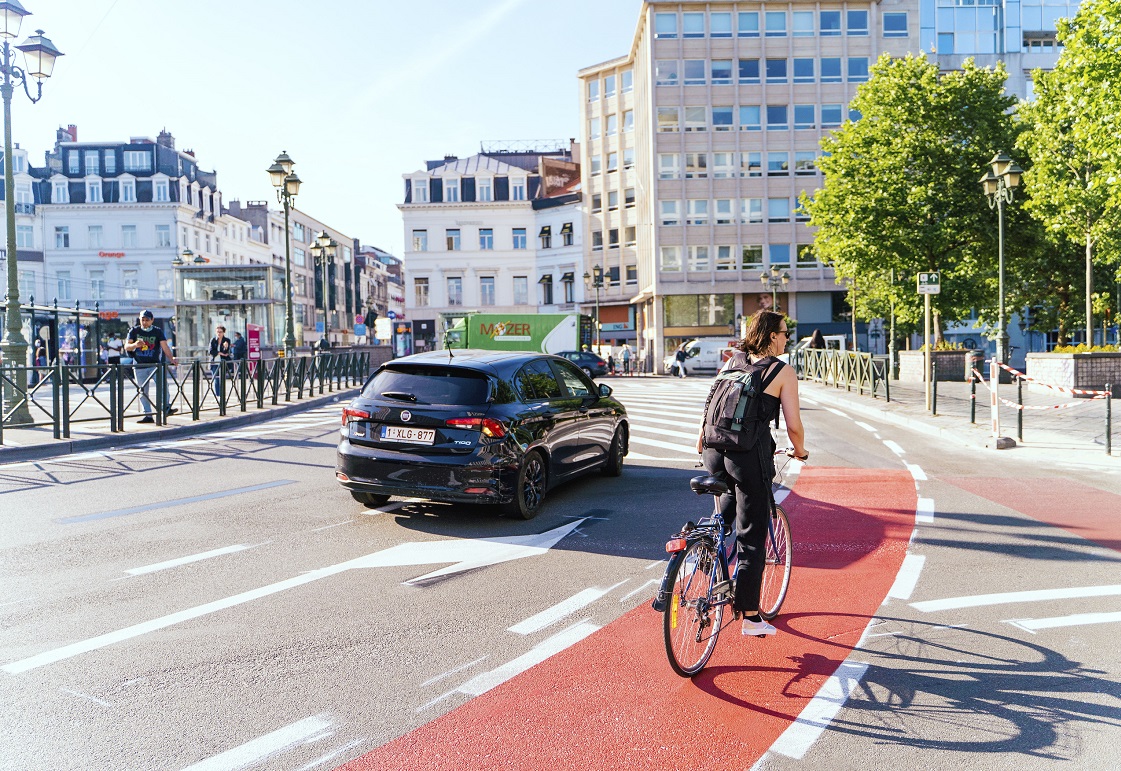 Winkel also notes the growth in female cyclists. "There is a direct correlation between the level of cyclability of a city and the proportion of female cyclists in that same city," he says. "The more a town's cyclability rises – in terms of comfort, infrastructure, safety, cyclist numbers – the more this difference translates into more cyclists. In 2008 only 21 percent of cyclists in Brussels were women, compared to 42 percent today."
Political push
The political climate has evolved too. Elke Van den Brandt, who became Brussels region Mobility Minister in July 2019, says the car-centric habits of the past are now seen as unacceptable. "In the 1980s and 1990s, the roads that were built for cars gradually filled up with car traffic, which led to difficulties for walking and cycling freely. It became almost impossible," she says.
Some of the change came from the regional government, and Van den Brandt credits the work of predecessors Bruno De Lille (now general manager of Dutch educational organisation Sint-Goedele Brussel) and Pascal Smet (now Brussels Urbanism and Heritage Minister) for fighting to recover public space for cycle paths. "In addition, electric bikes, and then family bikes in a hilly city like Brussels made cycling more accessible to less athletic people or for more professional use," she says.
Van den Brandt insists that all road crossings must be secure for cyclists to feel safe on a bike route. "Even though 90 percent of the journey has nice bike paths, I'm not going to let my son cycle to hockey if he has to cross a dangerous intersection. The whole city must become cycle-friendly if we want cycling to be a solution for everyone," she says.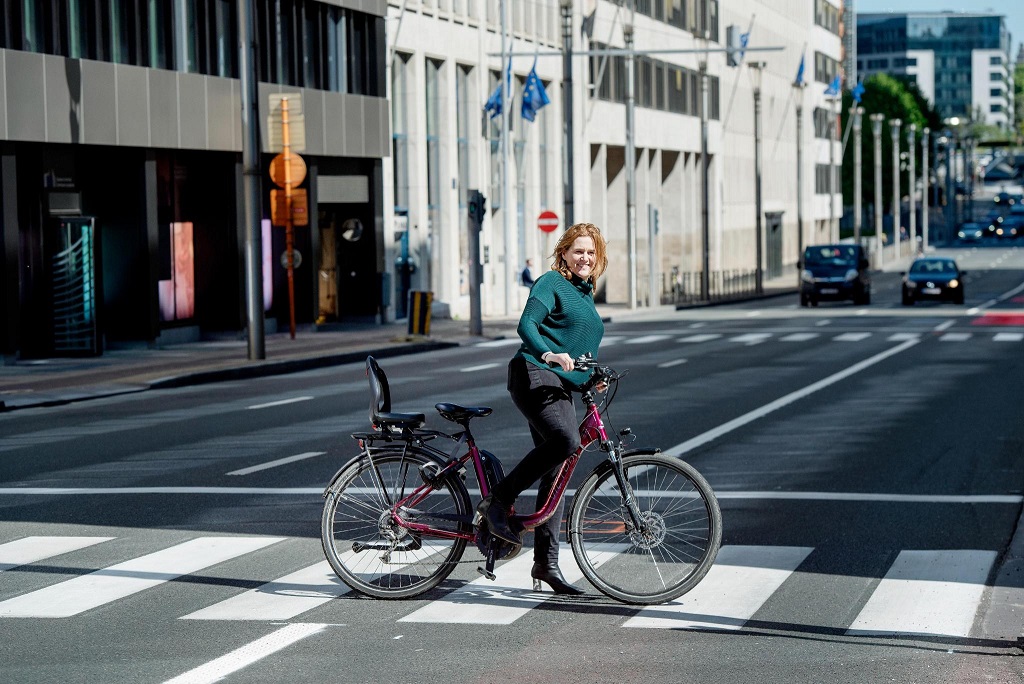 She hails the "huge progress" that has been made, notably finalising the bike paths in the Brussels inner ring (the 'petite ceinture'). "This allows you to cycle very safely and very comfortably from all points of the city centre. It's awesome," she says.
She also singles out the four-lane Rue de la Loi, where there was, "the creation of a very symbolic cycle path. We had many federal ministers opposing it, but now it is the busiest cycle path in the region."
More recently, Van den Brandt adds, the temporary redevelopment of the Montgomery roundabout means there is now a secure route through a previously complicated passage towards the whole east of Brussels.
If you build it…
Florine Cuignet, who is responsible for policy in Brussels at cyclist group GRACQ, highlights the cyclable inner ring road. "It is the result of constant calls from cyclists saying it was essential to reallocate car space to cyclists and pedestrians," she says.
She also points to 'Ville 30', launched in 2021, after a ten-year campaign by GRACQ: Brussels now has a 30km/hour limit on all but the biggest roads. "The initiative needs more work in terms of controls and punishments, but this reversal of the speed regime is already proving very positive in terms of road safety," she says.
Cuignet adds that other "little improvements," like one-way streets except for bicycles, marked cycle routes (enabling cyclists to go from Brussels Midi Station to the Louise district without encountering steep hills), and bike parking like secure boxes have made cycling easier.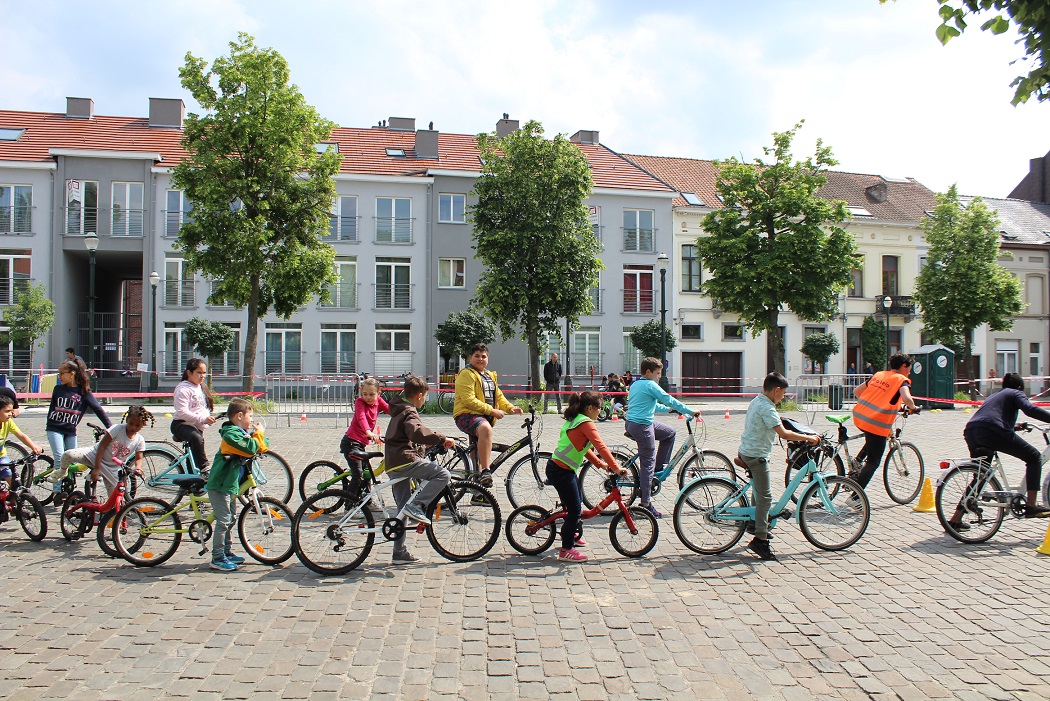 Electric bicycles have also helped make cycling more popular, she says. "Thirty percent of bikes used in Brussels had electrical assistance in 2021 compared to 20 percent in 2019." But she warns their popularity has a cost. "Electric bikes are a special target for bike thieves."
Delivery bikes, while helping to make cycling more visible, have not always been welcomed by other cyclists as their riders so often ignore road safety rules - but Cuignet says this is also due to their precarious working conditions.
Still, the biggest change regarding cycling in Brussels is the mentality shift, Cuignet says. "While 30 years ago, people who cycled were seen as a handful of eccentrics, the bicycle is now recognised as a mode of transport in its own right, and one which has an undeniable role to play in building the Brussels of tomorrow. The great diversity of people who commute by bicycle really illustrates this evolution," she says,
Van den Brandt also highlights the attitude shift with "different elements, little by little, returning cyclists to the Brussels landscape." And she says policies are moving too. "We are still working on reducing car speeds to create better cohabitation with other modes of transport, setting up bike parking, training to teach children and adults to ride their bikes properly. The path is long, but we believe we will get there," she says.
As well as changing cycling policy, and the increase in electric and family bikes, Van den Brandt highlights the pandemic, which allowed Brussels to quickly install 40km of cycle paths at a time when people wanted to leave their homes more to play sports and discover new places. "This made them use their bicycle in their daily lives. In two years, we have seen the number of bicycle trips double," she says.
….they will ride
Indeed, the European Cyclists' Federation CEO Jill Warren says that Brussels is one of the standout European cities in implementing Covid-related cycling enabling measures during the pandemic. It acted quickly, in line with its existing Good Move mobility plan, to cut car traffic by 24 percent by 2030, which includes low emission zones and a road safety strategy aiming for zero deaths and no serious injuries. "These included pop-up cycle lanes, traffic calming and a default 30 km/h speed limit, all of which led to more cycling and increased road safety, which we recognised with our ECF Road Safety Award this year," Warren says.
Van den Brandt accepts that while the situation has greatly improved, many improvements are still needed to make cycling in Brussels as commonplace as it is in the Netherlands, or even Flanders. "I heard a Dutch person say in the Netherlands, 'Everyone rides a bike and no one says they're a cyclist like they do here, everyone brushes their teeth, but no one says I'm a tooth brusher.' This is where we want to go. Cycling should be a means of transport that is easy, practical, safe and obvious," she says. "And you will see, the more cyclists there are, the safer the infrastructure will be, and the more people will begin to find it normal to ride a bike, just like brushing their teeth."
Despite many improvements, Brussels has not yet made the mental shift towards thinking instinctively about biking. One example is the Flemish STOP principle, which the Brussels region also adopted. This is a hierarchy between different modes of transport with the most durable – pedestrians (Stappen) – at the top, followed by cyclists (Trappen), public transport (Openbaar vervoer) and cars (Privevervoer).
GRACQ's Cuignet says this principle is rarely applied in practice, given that traffic flow or maintaining a maximum number of parking spaces still takes precedence over the safety of cyclists, or the quality of cycling infrastructure. "It is still very difficult to get out of this car culture: Brussels suffers from a huge pressure of motorised traffic, whereas paradoxically, more than half of Brussels' households do not own a car!" Cuignet says. She adds that insecurity linked to the amount of traffic, combined with insufficient safe cycle infrastructure, are the main obstacles to anyone considering taking up cycling.
More work is also needed to convince 'cyclists of tomorrow'. Cycling must be made more accessible to families, children and adolescents, with financial aid offered to people who cannot afford to purchase a bicycle. And the infrastructure network is still spotty: given the many black spots that persist in the city, including Place Meiser, Schuman, Place Liedts, Louise and Sainctelette.
Squaring the cycle
Then there are the bêtes noires of all cyclists, bike thieves. This is a growing problem and Cuignet says there were more than 4,500 declarations for bike theft in 2020 – without counting innumerable non-noted thefts – with only 5 percent of thieves caught. Bike insurance policies are also getting stricter, and more than 8,000 Brussels residents are on a waiting list to get secure bicycle parking in, say, a box).
"Bike theft is a nightmare," Van den Brandt agrees. "An estimated 30 percent of cyclists who have suffered a theft of mainly an electric bike do not buy one anymore. It is a political priority."
The Brussels regional government is working to combat this on different levels. "As most people in Brussels do not have a garage, we absolutely must create covered parking spaces for bicycles everywhere," she says, pledging to work with the Brussels' public transport system (STIB/MIVB), the Belgian railways (NMBS/SNCB) and the private sector.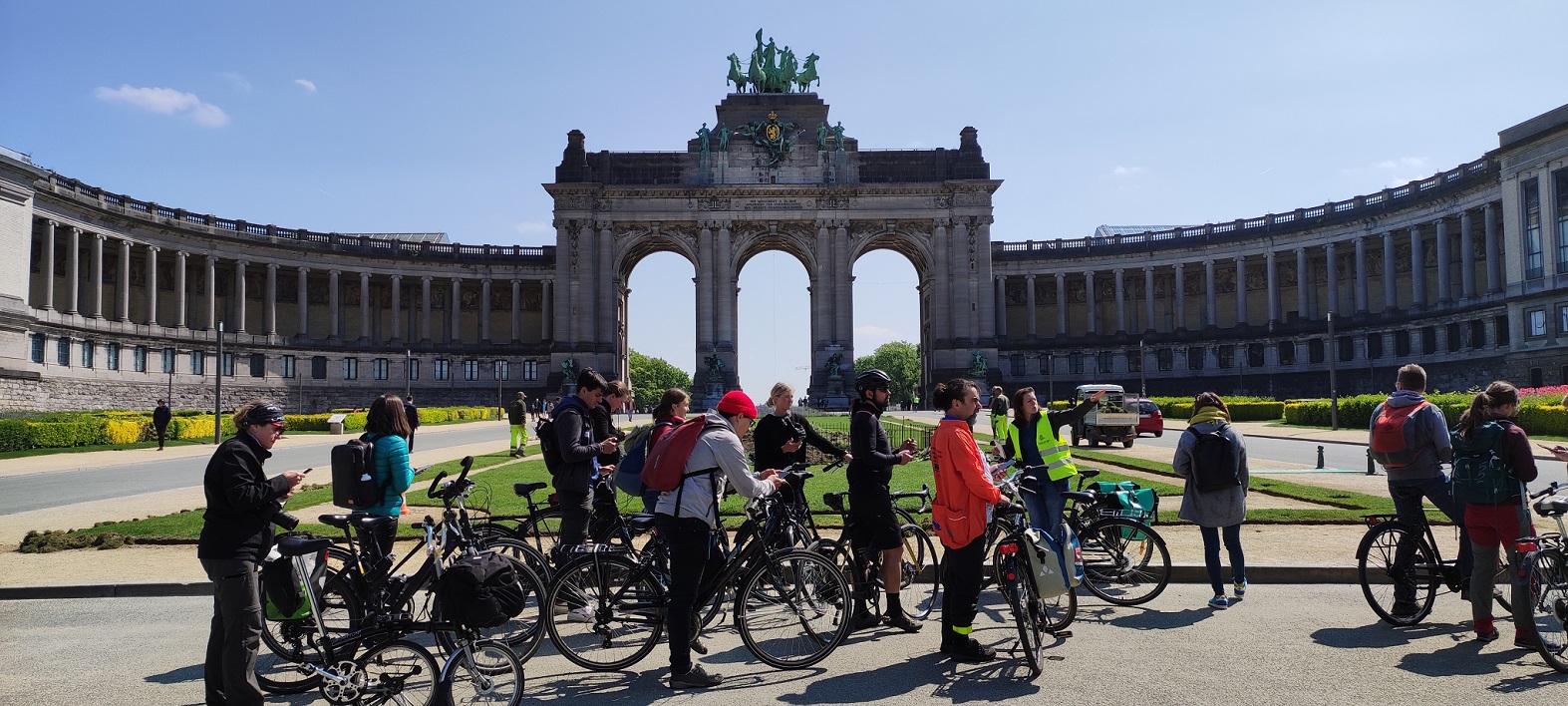 Other initiatives include installing bicycle racks, raising awareness with bike sellers and encouraging new cyclists to buy stronger locks and install a wheel chock lock. Finally, there is better labelling: the mybike.Brussels scheme offers cyclists non-removable stickers to put on their bikes, deterring thieves and giving police a better chance of finding stolen bicycles.
There is also progress in making cycling safer not only in Brussels but in other parts of the country, with over €400 million earmarked for the development of cycle highways in Belgium's Recovery and Resilience Plan.
The Belgian federal government's 'BE CYCLIST' plan 2021-2024, launched in September 2021, the country's first national bicycle strategy, is also seen as significant. Each federal minister will contribute to the 52 measures, including encouraging commuting by bicycle, combating bike theft, more bike-friendly road safety rules, and studies on cycling mobility.
The BE CYCLIST plan has no budget, set deadlines or quantified targets, but it fits in well with the Brussels-Capital Region's Good Move mobility plan for 2030. It remains to be seen if the measures can be implemented: many Brussels residents and political personalities oppose these changes. But the momentum is with the cyclists, who are now looking at smoother rides across Brussels. As Van den Brandt says, "Every day, more people in Brussels get out of their cars and hop on to their bicycles."