Erik De Vlaeminck was a European cycling superstar. In the early 1970s, the man from East Flanders would swagger up for races wearing an ankle-length, fur-lined leather coat, his straggly dark locks topped with a wide-brimmed fedora hat. He was the greatest cyclo-cross rider the world has ever seen. The nearest thing small-town Belgium had to a rock god.
All professional cycling is torture, yet cyclo-cross is at the Spanish Inquisition end of it: a wet winter slog up and down slippery hills, through dank, dark forests where springy roots and concealed rocks can send you flying headfirst over the handlebars and into a tree-trunk. When the going gets too tough to pedal, the riders carry their bikes on their backs. Cyclo-cross is like running a bone-freezing marathon across filthy terrain, hauling an awkward load, with the chance to fall over and shatter your collarbone as a bonus. Even those who are good at the sport consider it insane.
Erik De Vlaeminck was very, very good at cyclo-cross. And also, perhaps, a little unhinged. Between 1966 and 1973 he won the World Championships an unequalled seven times. De Vlaeminck had the power and stamina of a warhorse. He could surge up sharp, sodden gradients as if he had a steam engine for a heart and steel pistons for legs.
Aware that his rivals were following his racing line, De Vlaeminck sadistically plotted the hardest course, knowing anyone that followed him would destroy themselves. They were Greek sailors; he was a siren.
As well as strength and guts, cyclo-cross demands great skill. On treacherous surfaces littered with debris, potholes and slippery mould, a rider must control his bike like a champion jockey does a horse. De Vlaeminck's bike handling was so silky it was said he could ride along a steel railway rail for a kilometre without once slipping off. He could bunny-hop so high he could clear steeplechase hurdles; turn, lift and spin his Flandria bike as if it was Margot Fonteyn and he was Rudolf Nureyev.
One time, in the rutted Flemish slush, his handlebars cracked in two. Yet he still won the race, steering with just his right hand, waving the shattered half above his head with his left. Even one-armed he was better than everybody on Earth.
Merckx on road, De Vlaeminck on mud
Erik De Vlaeminck grew up poor in a caravan on the outskirts of the East Flanders town of Eeklo with his younger brother, Roger. While Roger would win the one-day classic Paris-Roubaix four times and become cyclo-cross world champion in 1975, most seasoned observers thought Erik was the better rider. Unlike Roger, Erik barely competed in races on the road. He had tried but had been driven to an almost psychotic fury by his inability to get the better of the greatest road man of that, or any other era, Eddy Merckx.
The bourgeois, reticent Merckx did not ride cyclo-cross, though. The sticky soil and sleet, and the chill winds that howled in off the North Sea or down from the Siberian wastes and could literally freeze a rider's shoes onto the pedals held no attraction for The Cannibal. In winter he kept fit by riding his bike on rollers in the garage of his centrally heated suburban Brussels mansion.
Free from Merckx's great shadow, Erik De Vlaeminck rode fearlessly and ferociously through the northern European winter. Rivals such as the tall Italian Renato Longo, Rolf Wolfsohl of Germany and Switzerland's Herman Gretner were crushed like beetles. At the 1970 World Championships, De Vlaeminck was so much better than everyone else, he lapped the second-place rider, Berten Van Damme.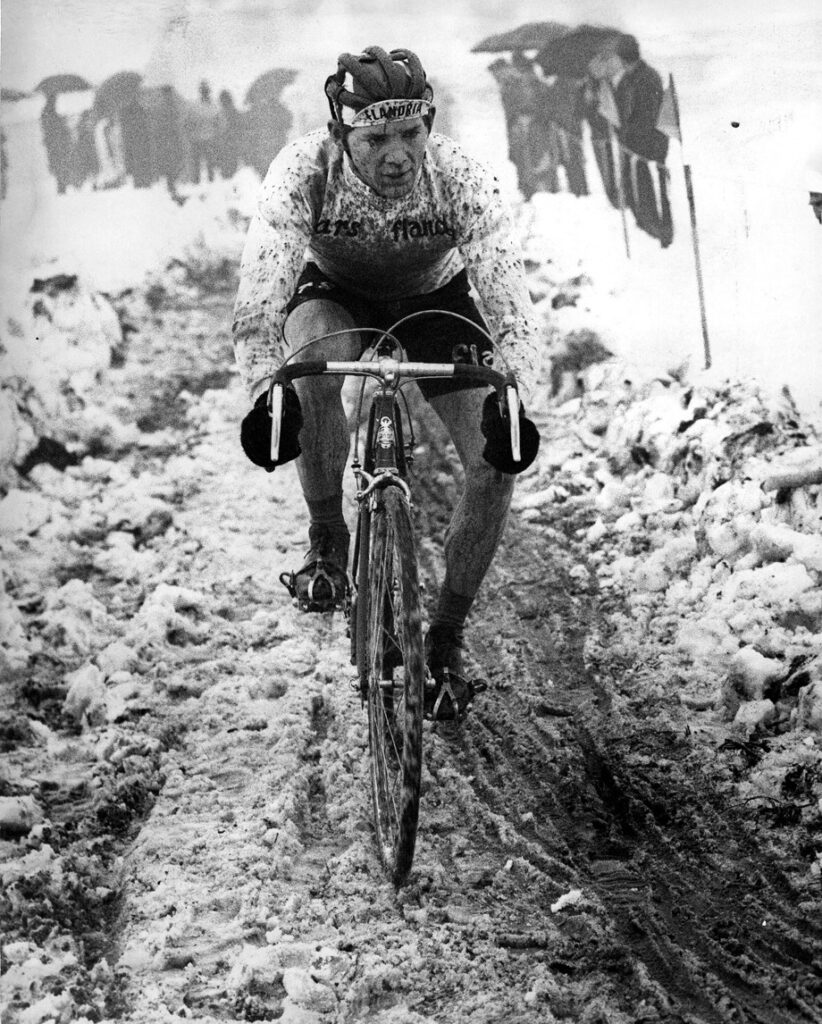 Not all the fire that burned inside Erik De Vlaeminck was natural. He shovelled down amphetamines at a rate that would have shamed a Bank Holiday Brighton beach-fighting Mod. In 1974, aged 28, addicted, he served jail time for falsifying medical prescriptions and fleeing the scene of an accident.
When he came out of prison, the Belgian cycling authorities were allegedly so alarmed by his lifestyle, they only granted him a racing license one day at a time. De Vlaeminck struggled for form and fitness. He drank heavily. He couldn't seem to handle the ups and downs of the everyday world the way he did a bicycle.
After a bronze at the World Championships in 1977, De Vlaeminck quit riding, and slowly turned his life around. In the 1980s he became perhaps the best cyclo-cross coach in history. He ran the Belgian national team from 1989 to 2002, nurturing young talent and almost single-handedly turning Belgium, or at least Flanders, into the sport's greatest powerhouse. Since 1998, riders from Flanders have won the world title 15 times and dominated the podium, winning all three medals on five occasions.
Hands up for Wout
During that period, cyclo-cross has become so crazily popular amongst the Flemish that when the World Championship was last held in Belgium in 2017, over 80,000 fans crammed into the course at Zolder. They drank an ocean of beer, sang along to some of the worst Europop ever devised – because cyclo-cross is the one sporting event on earth where you are guaranteed to hear 'Hands Up (Give Me Your Heart)' by Ottawan – and watched their current idol, Wout Van Aert, strike from the front to lift the title.
Belgian fans are noisy and passionate. Sometimes they can get out of hand, especially when it comes to their neighbours in the Netherlands. At Oostmalle in 2017, Flemish fans attempted to slow the progress of Dutch rider David Van der Poele by waving giant Lion of Flanders flags in his face. At Zolder in 2016, they pelted Lars van der Haar with plastic beer glasses, most of them still full of beer. Mainly though, they are cheery and boisterous, a great roaring throng of men and women in anoraks proclaiming their allegiance to Toon Aerts, Laurence Sweeck or Jelle Camps, necking powerful ale, and jigging up and down to the beat of Duck Soup's 'Barbra Streisand'.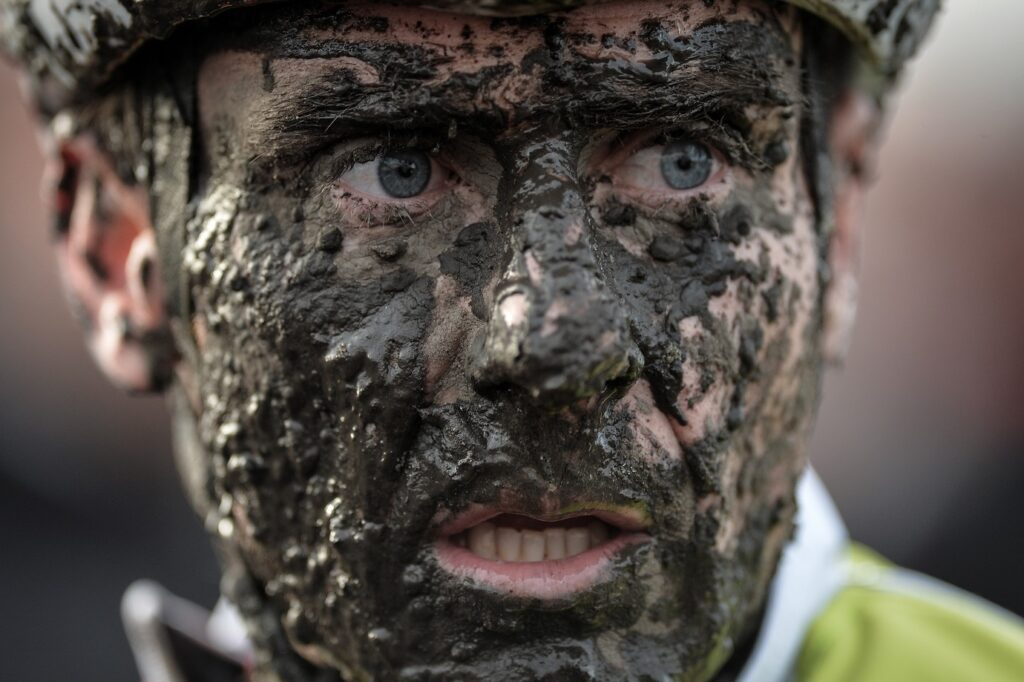 Though Belgian men have won the cyclo-cross world title almost twice as many times as those of any other nation, they have not always had a tight grip on the sport. Cyclo-cross was invented by a French army private named Daniel Gousseau. Back at the tail-end of the 19th century, Gousseau took to riding his bike over the same cross-country courses his officers tackled on horseback. Soon several other infantrymen had joined him in the pursuit. Gousseau began organising formal cyclo-cross races and, in 1902, launched the French national championships. Belgium was the next country to embrace the new sport and organised its own national championship for the first time in 1910. It was won by Philippe 'The Basset Hound' Thys from Anderlecht, who would go on to become the first rider to win the Tour de France three times.
The popularity of cyclo-cross gradually spread throughout Europe. The first International Criterium – precursor to today's UCI World Championship – was held on the outskirts of Paris in 1924. It was won by a Frenchman, Gaston Degy, who nonchalantly rode some of the laps with a cigarette in his mouth.
The French continued to dominate the race, which drew many of the best road riders from the big stage events. Costumes in those days tended to be eccentric with many competitors wearing plus fours, thick polo-necked jumpers, gauntlets and leather motorcycle helmets held in place with heavy chinstraps. When it poured with rain – as it often does in northern Europe in winter – the heavy woollen clothes would soak up the moisture like camels' humps until every rider was carrying a small pond with them as they plugged their way through the sludge.
In 1950, the first cyclo-cross World Championship was held. It was won by Frenchman Jean Robic, a tough, tiny fellow with a face like a crab-apple who was known as 'The Hobgoblin of Brittany Moor'. After that, riders from France, Italy and Switzerland ruled cyclo-cross until 1966 when Erik De Vlaeminck burst on the scene.
Think Harry Styles with mud
When De Vlaeminck made his mark as a coach, Belgian success flowed for the Flemish. Mario De Clerq, Erwin Vervecken and Sven 'The Cannibal from Baal' Nys became national heroes. And not just to cycling geeks and sports fans, either. In Belgium, cyclo-cross is popular with women as well as men, with the young and the old. In Flanders you see teenage girls wearing t-shirts with Wout Van Aert's face where there otherwise might be Harry Styles or Ariana Grande.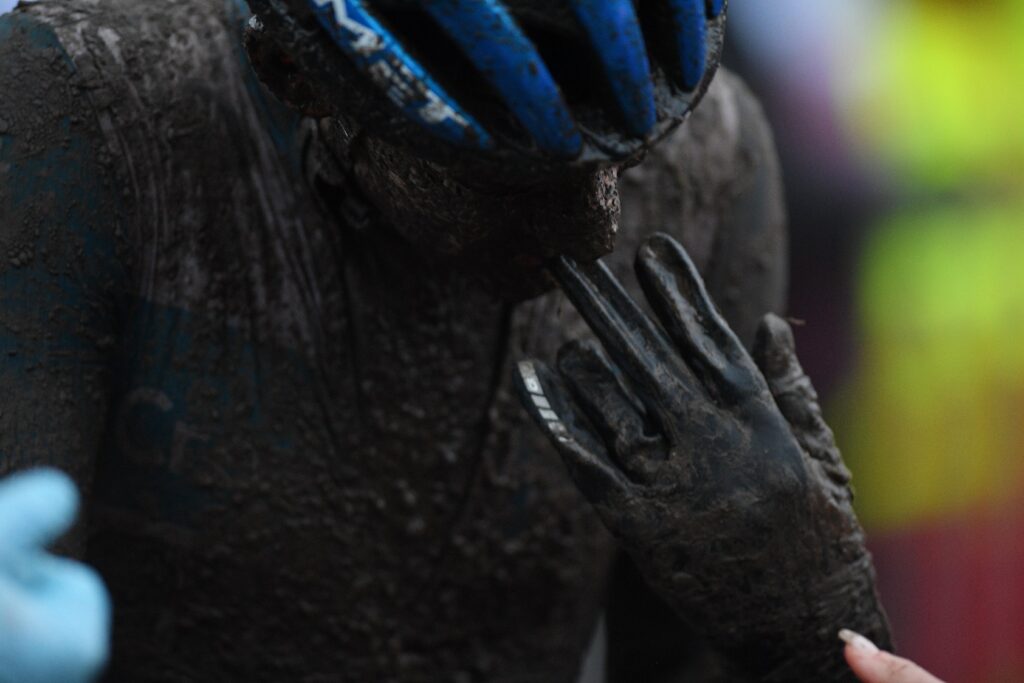 Born in Herentals near Antwerp, Van Aert was UCI World Champion in 2016, 2017 and 2018, and won the UCI World Cup in 2016, 2017 and 2021. When he began riding in summer road races, most of his fans thought he was lost to cyclo-cross forever. The major road teams pay their stars a fortune and, in the past, would not let them ride in cyclo-cross because it was too hazardous.
Johan Museeuw – one of the best Belgian cyclists of the 1990s – had been a junior cyclo-cross champion and only really started riding on the road to keep himself fit for the winter. Even when he was a pro at the top of his game with the Italian Mapei team (cycling's equivalent of Manchester City), he would still talk wistfully to journalists about the day when he could quit the warm roads of Tuscany and go back to humping a bike up the through the frozen, wooded hills of wintry Flanders.
Much to the delight of Flemish cyclo-cross fans, however, Van Aert has been allowed to continue riding cyclo-cross – despite his spectacular success on the road that includes winning Milan-San Remo (2020), 2020 Olympic Road Race silver medal, Amstel Gold Race (2021), the Tour of Britain (2021), nine individual Tour de France stages since 2019, and the Tour de France points classification this year.
So too has Van Aert's archrival, Mathieu 'The Sniper' van der Poel. Cyclo-cross World Champion for the past three seasons, Van der Poel was also born in Flanders, but he rides for the Netherlands. His father Adri is Dutch. Adri van der Poel was also the cyclo-cross World Champion back in 1996 (coincidentally the last time the Belgians did not have a rider in the medal slots).
The battle between Van Aert and Van der Poel is one of modern sport's classic rivalries, cycling's answer to Ronaldo v Messi or Ali v Frazier. If both men stay fit, we have years of it still to enjoy.
Sadly, Erik de Vlaeminck, the wild man-turned-teacher, is no longer around to watch. Beset by Parkinson's and Alzheimer's, he died in Eeklo aged 70 in 2015. But his spirit lives on in today's cyclo-cross riders, who still relish the mud, sweat and tears.