It's been two years since the attacks that made Molenbeek-St-Jean infamous. The Brussels borough was portrayed as a staging ground for ISIS operations throughout Europe. It was painted as a jihadi hotbed with no-go zones, and despite police headquarters for the Brussels West district being literally a stone's throw away from the most notorious of these "no-go zones", many media outlets kept repeating this obviously false claim. But using crime and misery as a frame of reference belied a more nuanced reality.
That's not to say that the area is faultless. Molenbeek has always had its challenges. One can track a fundamental break in the social contract between institutions and local residents to as far back as the 1990s. Some of the people I spoke with referred to youths growing up at that time as a lost generation. But things were getting better. The second and third generation of immigrants in Brussels began to explore their identity and find their footing. Brahim Abdeslam, one of the Paris attackers, was an electrician by training and owned a cafe-snackbar. These realities also defy common stereotypes. It came as a complete shock to the local community that the petty troublemakers hanging around Café Les Beguines would become terrorists.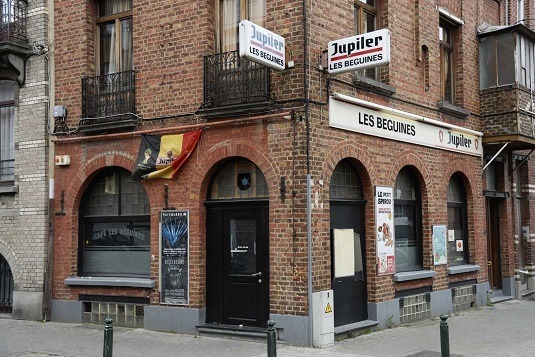 The former bar owned by the Abdeslam brothers who took part in the terrorist attacks in Paris in 2015.
Any statistician will tell you that you cannot extrapolate from a sample size of 80, the number of radicalized individuals currently thought to be linked with foreign terror groups living in Molenbeek, to account for the behaviour of 100,000, the population of the borough. Yet many people still perceive the area as socially disparate from the rest of Belgium.
I'll be honest, I was also guilty of this. The extent of my misunderstanding became a lot clearer to me during an interview with Steffi De Baerdemaeker of Cavaria, an LGBTQI rights activist and schoolteacher in Molenbeek. She was telling me about the bestselling kids book Lou, a book revolutionizing pedagogical approaches to diversity in Dutch-speaking lower schools. The book features a highly diverse cast of characters, among which a homosexual couple with a child. My immediate reaction was that it would inevitably face censure from immigrant communities for the inclusion of homosexual characters.
The teachers and staff at Steffi's Molenbeek school had shared the same concerns. They sent out a note to parents informing them of the new approach. There were no protests, angry letters, or pitchforks. In fact, only one person even responded. A curious parent came in to ask for clarification. The benign request soon devolved into a discussion about the school's plumbing problems, and the parent, a plumber by trade, left his card before leaving.
The scrutiny Molenbeek was placed under after the attacks had some consequences for the people living there. The cabinet of the interior minister Jan Jambon, of the far-right Flemish Nationalist party N-VA conducted a sweeping door-to-door search of 11,000 homes and over 1,000 non-profits, as part of what became known as the Plan Canal. The Plan Canal was devised without any communication with local government (or the department of the interior). Even the name Plan Canal was already being used by an urbanisation project green-lit by the Brussels' minister-president dating back to 2013, causing its fair share of confusion.
The effectiveness and legality of these searches are questionable. At face value they are prohibited by the Belgian constitution, and they resulted in barely any arrests and even fewer charges being filed. Police presence has also increased, and a lot of people are happy to see these institutions taking a renewed interest in the area. The issue is complicated however, with a recent survey indicating that 90% of residents still had at least some distrust towards politicians (it's important to note that this isn't far off the Belgian average).
Perhaps more importantly though, the negative press elicited a strong reaction from locals who were weary of their hometown being painted as an unlivable "hellhole". The subsequent mobilization by residents of Molenbeek, specifically younger people, has been astonishing.
Cultural space and cafe the Brass'art, spearheaded by Mohammed Ouachen and operated by a team of dedicated volunteers, ranging in age from 18 to 60, just announced this January that they would carry on for at least nine more months. Since opening two years ago, under the childhood home of Brahim and Salah Abdeslam, the space has put on over 90 events ranging in style from panel discussions between lawyers and dramaturges, to stand-up comedy. The Brass'art has become an unmissable point on Brussels cultural map.
Mohammed, a volunteer/organizer, tells me about one memorable night over the summer that saw 150 people show up for a performance of blues from Niger. They fanned out across terrace on the charming Place Communale. Our conversation is interrupted by a young man selling freshly roasted almonds and peanuts. "You can go up to anyone and talk to them in Molenbeek", he tells me. A couple at another table chimed in with something to that effect and beckoned me over. I spent the rest of the evening chatting with strangers over warm nuts and mint tea, though my usual order at the Brass'art is a Papegaai, a delicious hoppy Belgian beer that you don't run into that often. Mohammed tells me that the local police were shocked when they first heard that they would be serving alcohol. A couple months later, during Ramadan, the cops were invited for beers and happily obliged. These types of experiences contradict the long list of misconceptions about the area.
Culturally speaking, Molenbeek is now bustling. Cultural centres are sprouting up everywhere. Youth interchange projects are creating cultural exchanges between young residents and people from all over the world. The museum scene is also multiplying with the Mima modern art museum, and the Momuse. Hidden architectural gems like the abandoned Cité Diongre, the first major work of the architect who designed the famous radio tower at Flagey, are nestled in-between the residential areas. Molenbeek is in the grips of a cultural renaissance, and the less attention the mainstream pays to it, the stronger it gets. Most remarkable is that these movements are largely grassroots movements. A lot of these initiatives are precarious, many closing shortly after opening, but not only has this not discouraged people from getting involved, it seems only to spur them on.
Sport has been one of the main engines for keeping kids 'off the streets'. There are individual success stories, like that of Mohammed Boulef, who by the age of 23 was a world champion kickboxer and thai kickboxer, that are emblematic of this new exceptionalism. The Académie Jeunesse Molenbeek tells another tale of exceptionalism. The brainchild of Omar Tizguine, and a group of friends, it was established in 2004 in response to discrimination from other clubs. There is nothing above a U14 team at the club, yet attendance has since skyrocketed. Hundreds of kids attend training sessions. That is almost as remarkable as the fact that the academy's first goal is to create decent citizens. The children are disciplined and train as a team. This has led to multiple titles, national titles, and in 2016 international scouts were made aware of the academy when their U12 won a tournament in Spain against teams from the Real Madrid academy and Barcelona's famed La Masia. The academy recently had a funding application approved by Francoise Schepmans, Molenbeek's mayor.
Jean Yves Kitantou of the Collectif des Béguines, a non-profit currently setting up a community centre in the old Café les bégunines, owned by the Abdeslam brothers, was adamant about the positive shift. "Molenbeek is still an area with a lot of issues", he told me. "Unemployment levels are very high, especially youth unemployment, but it's also the youngest commune in all of Belgium, which opens up a lot of opportunities."
Elisabeth, one of the organizers at the Brass'art mentioned drug use as one of the issues she faces daily living in Molenbeek. It's emblematic of the continuing societal issues, she says. There are personal and institutional problems in Molenbeek. The area is not without its shortcomings but things are looking better. 2017 saw a 14% reduction in crime figures, and while this is a step in the right direction, positive momentum is being generated by initiatives that create opportunity, and these are a more significant step on the road to rehabilitating Molenbeek's image.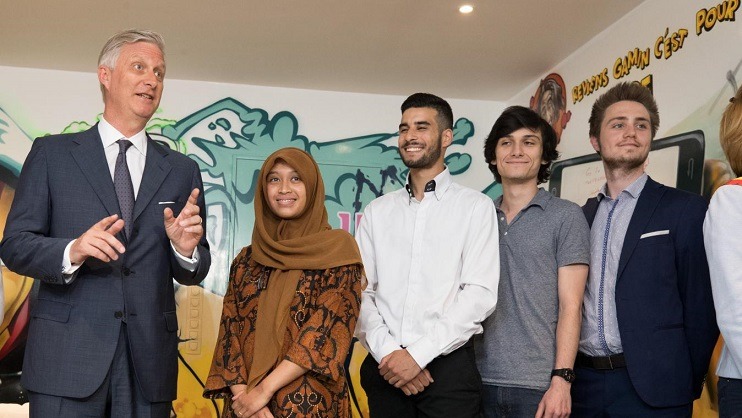 King Philippe of Belgium at a visit to Molengeek. The incubator has received support from the Belgian government, the European Commission and Samsung. It is a coworking space for entrepreneurs as well as a computer programming coding school.
A critical problem facing the community is jobs. Youth unemployment is incredibly high. Almost everyone I spoke to mentioned the Molengeek incubator, a project that has attracted support from the European Commission, the Belgian government, with strong backing from deputy prime minister Alexander De Croo and Samsung, who have financed the creation of a coding school for young people and has already opened a second branch in Padova, Italy. This is one of many initiatives devised by locals and finally getting support from the government that is starting to turn the tide. Molengeek has been a runaway success, but lots of other start-ups are also finding Molenbeek ideal for their businesses. Perhaps you've had a beer from Brasserie de la Senne, Brussels fastest growing brewery. It is also based in Molenbeek and will soon be moving closer to the canal.
Early indications are positive, and if a multi-faceted approach can be maintained then Molenbeek can pull itself back from the brink. The biggest challenges lie ahead though, with a population that has been systematically alienated for over two decades, lacking faith in the institutions that ignored it until it was too late, things will need to be managed very well. That coupled with the fact that Belgium and the world at large chooses to see the borough as unsaveable adds a new dimension to the task at hand. Acts of cultural suppression, including the headscarf ban in schools in 2009 and aggressive violations of personal privacy and property, created a cultural gulf among many young people, and this has to be bridged again. This will not happen if we insist to continue portraying this unique and vibrant community in such a negative light.
By Alexandre D'hoore