"Alain! Alain! Alain!" shout four women from a gondola during their haute cuisine dinner on The View, also known as the Giant Wheel in Brussels. They are singing the praises of the Michelin-star chef and owner of the eponymous Maison Alain Bianchin restaurant in Overijse, who is preparing a multi-course meal for them to enjoy while riding the wheel. Dinner on the Wheel is an extreme sport for foodies, literally taking diners to new heights under a star-filled sky.
Belgian Dimitri Delecaut came up with the idea one night over drinks with friends. He tested the concept several times in Namur and Brussels before formally launching it at the Wheel on Place Poelaert in the capital in September 2021. It debuted with eight Michelin-starred chefs and sold out within a month to 1,000 people as a novel option for dining out during the Covid pandemic.
Delecaut repeated it in Brussels in 2022 with five chefs: in addition to Bianchin, the celebrity chef line-up included Viki Guenes, Yves Mattagne, Giovanni Bruno and Arnaud Delvenne. The 2023 line-up for Brussels September 7-14 has yet to be announced but is expected to be just as impressive.
The experience begins at 8pm in a pop-up tent, rain or shine, next to the Giant Wheel with a glass of bubbles and little bites. Diners then board the wheel for five courses (two appetizers, starter, main course and dessert) with wine pairings, which are delivered in shifts when their covered gondola passes the makeshift kitchen at the bottom. S
ous chefs double as waiters and move plates from their staging area to each gondola while the star chef orchestrates the production on site. The wheel moves slowly, turning only 10 times over two hours due to food service. Around 10:30pm, diners return to the tent for Grand Cru coffee and macaroons, ending their adventure by midnight.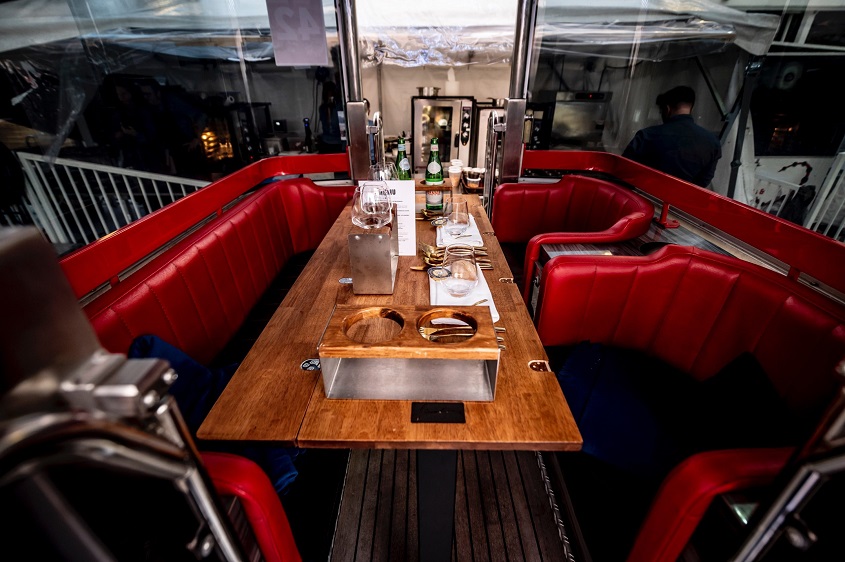 Each cabin seats two, three or four people with 2022 prices ranging from €650 to €1,000 per gondola (€250 per person for a table of four or €325 per person for a table of two). A VIP dinner with a three-Michelin-star chef like Guenes is priced higher, including cocktails, bottomless glasses of wine and complimentary parking. Brussels' Giant Wheel has 22 gondolas, including a VIP one, and another that accommodates wheelchairs.
Dinner on the Wheel is a challenge for chefs, who prepare most of the dishes in their restaurants and then transport them to the Wheel for careful reheating and food styling. The timing of each course must also align meticulously with the rotating wheel.
Menus are created based on space and equipment restrictions on site but are still at high standards. For example, Bianchin's 2022 menu featured sweet potato mousse with pumpkin seeds, jalapeno pepper, mussel sorbet, celery and Agastache herb; celeriac origami with tahini sauce, black garlic, tamarind gel and blood lime; rolled sole filet stuffed with fresh herb paste with a butter-miso sauce; and cheesecake filled with a compote of figs and honey drizzled with a fig-port sauce.
Lofty dining experiences help revitalise the restaurant sector post-pandemic, promote haute cuisine and connect chefs to new customers, Bianchin says. Like all restaurateurs, he struggled during Covid, so he welcomes new opportunities. "Michelin stars are magnificent but without customers, there are no stars," he says.