Michel Penneman is a busy man. The interior designer has been successfully shaking up hotel codes for more than 20 years, including the multi-award-winning Pantone, the Zoom, Vintage, Hygge and Yadoya hotels. "Every new project is a blank canvas where anything is possible," he says. His latest creation is the luxurious 159-room Le Louise Hotel Brussels – MGallery, which comes complete with a courtyard and garden.
But right now, he is also working on a very personal project: renovating his beautiful, rambling villa in a particularly leafy part of Uccle. For Penneman, combining a new office and a home for his blended family is a fantastic opportunity. And he does not even mind a bit of moving mess: with the office space currently amassing papers and piled-up boxes. "A small amount of chaos is fine. I want to live in a house that is vibrant, not clinical," he says.
Penneman, who graduated from Saint-Luc architectural school in Saint-Gilles in 1988, has always excelled in creating exciting, colourful designs, as seen in his signature Pantone Hotel, on Place Loix, Saint-Gilles. Designed for the Pantone company in 2010, it featured bright, primary colours from the glass-panelled exterior to retro 1960s plastic 'ball' chairs and modular furniture in the lobby. With Penneman again heading the design team, the building is now wonderfully renovated and renamed the Scott Hotel. Opened last November, it has a glamorous 'Roaring 20s' atmosphere with a nod towards the F. Scott Fitzgerald era.
Penneman and his team of three interior designers and one architect are based in Brussels – opening first near the Ixelles lakes, now in Uccle, – but a third of his work is overseas. Their new projects include apartments in Paris, Brussels and London, four hotels, a rooftop terrace café/restaurant and the Tadao Poke Bar, soon to open in Waterloo.
Penneman is now pouring his energy into a former factory transformed into a co-living/co-working space on Avenue Emil de Béco, Ixelles where ten people can sleep; a new hotel near Brussels Midi Station with 55 rooms and a high-quality 100-room hotel in Brest, Brittany, with a large restaurant, sauna, swimming pool and bar.
This is in addition to more classic hotels: a 140-bed establishment with a lobby and restaurant in Evere and another Accor-branded property on the Grand Place. Penneman's office is also in the running for a special – currently secret – project for one of Brussels' most famous buildings.
All this demands careful planning and organisation, and Penneman cannot do it all. He designs the project, while his team, as well as six or seven independent experts, takes care of the work.
Keeping track of multiple commissions is a daily challenge: "We need to design a project I like that pleases the client, matches his/her budget and has a realistic deadline," says Penneman. "Actually, although you have to say no to people only wanting to spend €1,000, funds are not the biggest sticking point. I have worked for people with not much money," he adds. The true challenge is to convince the client that they may need to change their plans – for example, if the furniture they want just does not fit the space.
Even more important, he explains that some architectural projects – not his own – fail when people end up living in the architect's dream instead of their own. "People must feel at home. But not my home," he says. This is one reason that before starting a personal project, Penneman, a proud dad of 12-year-old twins, always talks to the children of the house about what kind of home they would like to live in. "I like to find out their interests and hobbies, so they feel they have also helped to build something," he says.
Buildings and bureaucracy
The relationship between the project and its surroundings is also key, Penneman says. In a shop, the design of its key product should be reflected in the space. And every project has its central theme. For example, it was photography for the Zoom Hotel, Saint-Gilles: his team held a competition for photographs of Brussels. "Some 400 people sent entries and 40 were chosen for the bedrooms and 30 for the lobby area. Then we invited all the participants to the opening evening and to enjoy a night for free in the hotel," he says.
Good relations with both his team and the client are also essential, especially when renovation works can drag on for years: "Maybe it's because I'm getting older, but I cannot collaborate with people who do not respect their workers and do not say hello in the mornings," he says.
Turning to the interior design challenges of working in the capital, progress on projects is already hampered by the energy crisis, skyrocketing gas and electricity prices and long delays for materials.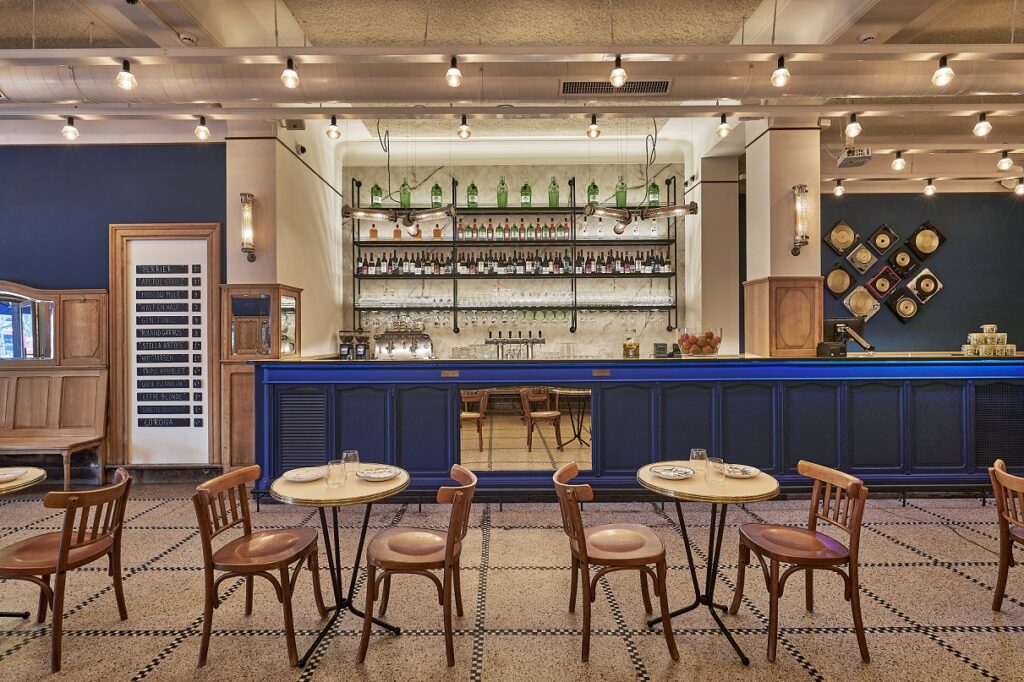 Then there is bureaucracy. Penneman is well aware that interior designers must comply with a range of European Union fire, building and construction regulations and procure totally fire-resistant materials.
In 2016, Brussels was the first capital to mandate the construction of new passive buildings, whose energy consumption is 90 percent lower than a conventional building. "This greatly impacts the work of architects, who, adapting to new norms, are now working towards zero energy buildings," he says. "For my part, the new ecological rules always push us to look for new materials that have very low toxicity, little or no glue and, if possible, are carbon neutral. Even though this is often more expensive for the customer, our clients must be open to these new principles."
Environmental concerns have prompted Penneman to use scrap materials. He singled out the impressive ROTOR Deconstruction, a Brussels cooperative company, active since 2014, in the recovery and resale of materials and finishing elements.
Meanwhile, the COVID-19 pandemic, which forced Brussels into a lockdown in March 2020, had some benefits for interior designers and architects. "The shutdown accelerated the renovation of many hotels because, as most decided to close, there was time. I took advantage of this," Penneman says.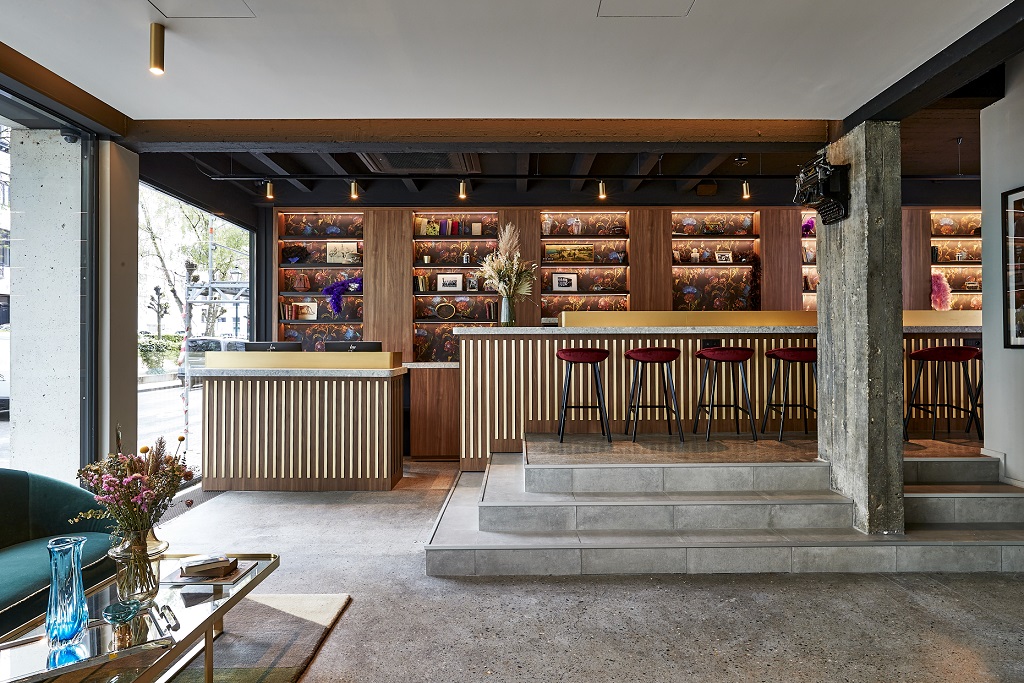 Post-pandemic, the popularity of boutique hotels in Brussels like the Scott has continued to rise. Increased home working has arguably diminished the necessity for huge conference hotels, and Belgians seem keener to stay close to home. Intimate with close attention to detail, Penneman's boutique hotels tell a story with a central theme: Urban Yard is all about nature, the Hygge oozes Danish cosiness and Yadoya is resolutely Japanese.
He also welcomes how the pandemic influenced the move towards building fewer offices in the capital. "There will be more flexibility, as we can see with co-working, co-housing, co-living and so on. The world is changing and so is the way of working," he says.
Repurposing factories
Penneman enjoys working on private projects, solving client problems and making interior design fit their needs. But he prefers public projects, which allow for more freedom. One favourite was the 'Hall of Time' high-end watch retailer in the Steigenberger Wiltcher's Hotel, Avenue Louise 71. "I knew nothing about watches, but with nice clients who taught me everything about them, we achieved a high technology project with a hidden closing showcase and dynamic lighting," he says.
Another highlight was the redesign of a TGV train part factory in Halle, outside Brussels. Penneman revamped the interior so there were quiet places for accountants in an open plan area and a restaurant that everyone could eat in, instead of separating office and manual workspaces. He was also praised for a hospital project in Ixelles featuring energising bright lighting in the morning that was reduced to provide a calm environment in the evening.
When he was younger, Penneman was more attracted to Art Nouveau and Art Deco, for which there are wonderful examples across the capital. He still loves the "subtle and discreet decoration of the Art Deco period", but now finds 1960s and 1970s architecture more exciting. His three Brussels favourites are the ING Marnix offices by the Trône metro station and the striking Glaverbel and CBR buildings on Chaussée de la Hulpe in Watermael-Boitsfort.
"The ING Marnix, designed in 1960 by Gordon Bunshaft from Chicago's Skidmore, Owings & Merrill (SOM) architectural office was very advanced for its time and with a good aesthetic balance," Penneman says. As for the stunning natural stone and glass circular Glaverbel Building (André Jacqmain, 1963), "the quality of materials, the carpentry, the colours, inside and out, are amazing," he says. And the sci-fi, Brutalist, concrete, honeycomb-patterned CBR building (Constantin Brodzki and Marcel Lambrichs, 1970) is "really crazy".
Buildings aside, Penneman says he admires furniture designed by the Bauhaus, the school founded in 1919 in Weimar by Walter Gropius with other big names, including Marcel Breuer and Mies van der Rohe. "It is the aesthetics, rationality, ergonomics and mastery of new materials," he says. He also praises Italian and Scandinavian design, for example, Denmark's Arne Jakobsen, often called the father of modern design with his egg-shaped chairs and iconic door handles.
In the next five to ten years, Penneman, now 58, would like to focus on more personal projects: "I could perhaps buy and renovate more apartments and work a little less," he says with a smile. "It depends on the nature of the projects, but so far, I have been lucky. I don't see my work as a job but as part of my life. I have a great chance to do what I love. I see every new project as a chance to learn something, to begin a new journey."