Hooligans disturbed Saturday evening's Belgian Women's Cup final in Malines, before and during the match, according to the Mechelen-Willebroek police.
The much-needed rise of women's football in Europe, unfortunately, also means that we can expect football's less palatable side – hooligans.
In the Belgian Women's Cup Final in Mechelen on Saturday between Anderlecht and Standard Liège, one of Belgian football's fiercest rivals in the men's game, was spoiled by trouble in what should have been an exhibition football match in the women's game.
Trouble in the stands
Four policemen, two police dogs and a football fan were injured because of disturbances by the hardcore contingent of supporters, predominantly made up of men.
Some 950 Anderlecht fans and about 600 supporters of the other finalists, Standard of Liège, travelled to Mechelen for the match, according to the police.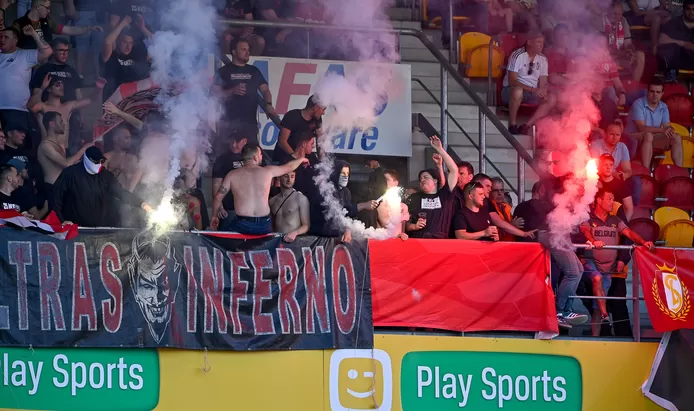 They included about 80 hardcore Standard fans, who arrived by train from Liège and were escorted to the stadium by police.
During the match, hooligans continually lobbed firecrackers at the police. "Two dog handlers and their dogs were injured," police reported. "The inspectors suffered from tinnitus while their dogs were traumatized." Two other police officers sustained head wounds and bruises.
One Standard fan fell from the top of a spectator stand and was taken to hospital.
There was also a football game happening
In the game itself, Anderlecht won the match by 3-0, giving the Brussels-based club its eleventh Women's Cup.
The Brussels side scored three goals in the last twenty minutes, with Wijnants breaking the deadlock in the 70th minute. Ouzraoui Diki added another goal in the 85th minute and Wullaert finishing off their rivals a couple of minutes later.
Anderlecht are also top of the table in the Women's Super League.
https://www.youtube.com/watch?v=2nRHduplkMU