With people in parts of the country still a long way from being recovered from last week's flooding, the Royal Meteorological Institute has issued a warning of more heavy rain today.
"From 24/07 14H until 25/07 03H: Heavy thunderstorms are expected in the province. Intense rainfall, hail storms, heavy gusts of wind or lightning strikes can cause widespread troubles or damages. Be careful and follow the instructions of the responsible authority," the warning reads.
Rain may be light in the morning, gathering force in the afternoon and culminating in storms more numerous and more intense. Rainfall could be heavy in some areas, with some hail expected in places.
On Sunday, the day will start dry but cloudy, and some heavy rain could fall in the afternoon, but nothing like as intense as today.
The warning covers all parts of the country aside from the coast and West Flanders province (see graphic).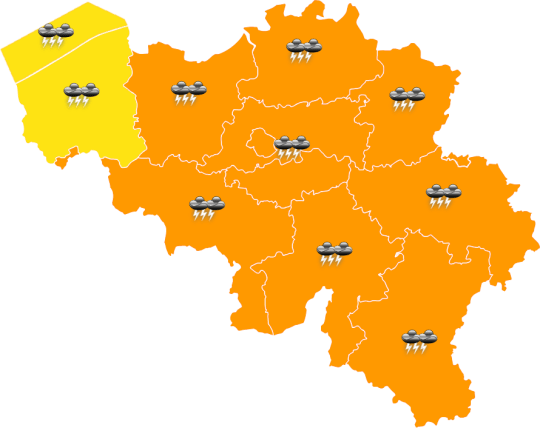 Clearly, the new storms will particularly affect those regions hit by last week's flooding, where a massive clean-up operation has begun, and where some people have only just begun to put their lives and property together, while other have lost everything.
In the meantime, 20 workers from the Flemish branch of the Red Cross arrived in Wallonia yesterday to help out, and today will see the arrival of 30 volunteers from the 13,900 who signed up online to help in some way.
The home affairs ministry has activated the supplementary emergency number 1722, intended to be used for situations where there is no danger to life, and reserve the usual emergency number for urgent cases.
Their task will mainly be to hand out hygiene packages and rain protection in advance of the bed weather in the worst-affected towns of Pepinster, Chaudfontaine and Trooz.
Yesterday, the governor of Liege province and the municipalities of the Vesdre valley called on the population to be particularly careful in the face of the weather expected today and tonight.
"Anyone who has the possibility of residing outside the disaster zone during this period is invited to do so," said governor Hervé Jamar in a press release.
For others, the advice is to follow the situation via the media, and to take up a position on an upper floor if possible.
"It is advisable, in particular, to bring all valuables upstairs," Jamar goes on.
"It is important to secure (in a high place) vehicles parked on the road. In any event, the presence on the road or in the public spaces is strongly discouraged."
The message was being relayed by the municipalities of Baelen, Chaudfontaine, Dison, Eupen, Fléron, Jalhay, Limbourg, Olne, Pepinster, Spa, Theux, Trooz, Verviers and Welkenraedt.