Yesterday's severe weather caused further damage along the banks of the Meuse river in Dinant, reaching to the provincial capital Namur – an area already affected by the flooding the week before.
At the same time, locations in Antwerp and Walloon Brabant provinces were also affected.
The bad weather crossed Belgium from the north, in Antwerp province, where Zandhoven, Nijlen, Lier were worst-affected. The town of Temse in East Flanders also caught the tail-end of the storm, with flooded streets as a result.
The storm then crossed Flemish Brabant and reached Walloon Brabant, where the places most affected were Wavre, Chaumont-Gistoux and Walhain, where there was mud up to 1.5m deep.
In Namur province, Dinant suffered perhaps the worst flooding, although there are present no reports of casualties, according to mayor Axel Tixhon (cdH). Four people had to be evacuated from their homes and found shelter elsewhere. Streets were flooded and cars carried away. Many houses suffered light to severe flooding.
"It was brief but very violent," said Tixhon.
One witness described the scene to Het Laatste Nieuws. The man is a resident of Dinant and had been shopping in the centre.
"When I came home the water was already running several centimetres deep down the hill," he said.
"This is a steep street that ends at the Meuse, so that happens often. But less than five minutes later I saw the water rise fifty centimetres in our street. It was then that I noticed a dozen cars being dragged down by the current. The power of that water was enormous. I barely managed to get inside."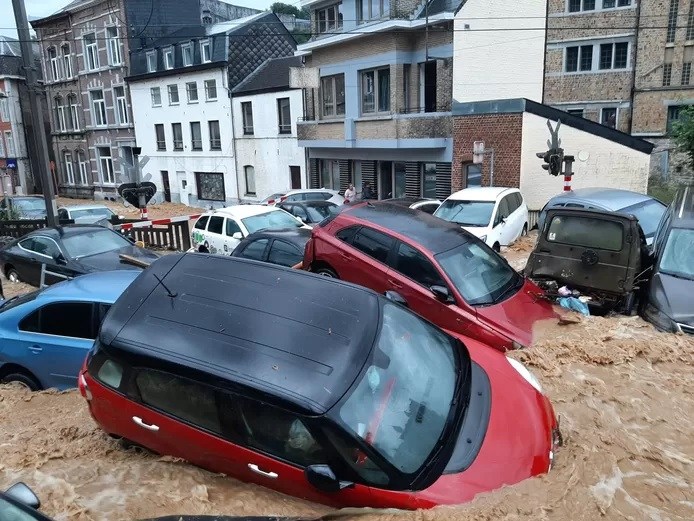 The railway line crosses the street, and the cars came to a stop against each other at that point.
"The chaos was enormous. All the basements have been flooded and in many cases also the ground floor. Just like in Liège, it will take a long time before everything is restored," he told the paper.
Meanwhile the Royal Meteorological Institute (RMI) has issued a code yellow alert for the whole country. In the second half of the afternoon the weather will become unstable, with heavy showers and here and there thunderstorms.
That weather is forecast to continue into the evening, gradually dying away in most areas, with the exception of the most westerly parts of the country.
Monday will begin cloudy, with the possibility of storms, intensifying in the afternoon and including some hail and gusting winds.