After weeks of threats and lack of any real dialogue to avert the war, Russia started a large-scale invasion of Ukraine on Wednesday night. Find developments from Thursday 24 February here. The latest updates appear highest on the page.
This article covered the events in Ukraine on Thursday 24 February. For the latest developments on Friday 25 February, click here.
Russia is carrying out airstrikes on locations across Ukraine and Russian troops are also invading the country on three fronts: the east, the Crimean Peninsula and neighbouring country Belarus.
So far, dozens of Ukrainians have been reported killed and even more injured, according to the Ukrainian authorities. Numerous Russian soldiers are also said to have been killed. While there is no official confirmation, international media are reporting hundreds of deaths.
Heavy damage to Zmiiniy Island, communication lost [21:10]
Infrastructure of Zmiiniy Island was destroyed after shelling by ship artillery, the State Border Guard Service of Ukraine (SBGSU) announced in an update of the situation.
They said that communications with border guards and soldiers of the Ukrainian armed forces has been lost, but that the last information relayed that Zmiiniy Island was captured by Russia.
"It should be noted that the SBGSU together with the Ukrainian armed forces and the National Guard of Ukraine continues to fight actively against enemy," the update reads.
Ukraine: 'Lost control over several areas in the south' [19:05]
Ukraine is said to have lost control over certain areas in the south of the country, report regional authorities in the Kherson region, which borders the Crimea Peninsula. The region of Henichesk is reportedly also no longer in Ukrainian hands.
It is feared that Russia will also invade Odesa, a major port city on the Black Sea. Additionally, Ukrainian sources say that the Russians have also gained control of a canal and a hydroelectric power station.
Cinquantenaire Park lights up in colours of the Ukrainian flag [18:29]
As in France and Germany, one of Belgium's most emblematic monuments (the Arcade in the Cinquantenaire Park in Brussels) will be lit up in the colours of the Ukrainian flag on Thursday evening, in support of the Ukrainian people.
🇺🇦 Brussels tonight. In solidarity with the people of Ukraine. pic.twitter.com/ELupMTpKR9

— Alexander De Croo 🇧🇪🇪🇺 (@alexanderdecroo) February 24, 2022
"This is a symbolic action, in the heart of Europe, in support of the Ukrainians under attack from Russia," said Foreign Affairs Minister Sophie Wilmès in a press release. "In addition to this message of solidarity, Belgium will, in close cooperation with its European partners and allies, take concrete actions to continue supporting the Ukrainian people and to respond to the aggression from Moscow."
In the meantime, the Ukrainian flag was hung out as a symbol of solidarity with the Ukrainian people at Rue de la Loi 16, at Prime Minister Alexander De Croo's cabinet, his spokesperson tweeted.
🇺🇦 Aan de Wetstraat 16 werd de Oekraïense vlag uitgehangen als symbool van verbondenheid met het Oekraïense volk. pic.twitter.com/3Z78WniVgr

— Tom Meulenbergs (@tombrgs) February 24, 2022
Russian ambassador summoned pre-EU summit [17:11]
Russia's ambassador to the European Union, Vladimir Chizhov, was summoned on Thursday to explain Moscow's actions to bloc leaders hours before an emergency Brussels summit.
After insisting a fortnight ago that there would be no attack on Ukraine this month, Chizhov was warned to expect severe sanctions imposed by EU leaders at talks starting at 20:00.
His spokesman in Brussels, Sergey Kovalevskiy, did not immediately respond to The Brussels Times' approach for comment.
Alleged 'terrorist event' at Chernobyl [16:33]
Ukrainian advisor Mykhailo Podoliak alleges that Russian troops have committed "a terrorist act at the Chernobyl nuclear power plant in order to cause an environmental catastrophe."
Russian forces trying to seize Chernobyl, says Ukrainian President [16:35]
Since 15:00, the fighting is continuing along the entire line of contact, but a breakthrough was prevented, reports the Ukrainian Joint Forces Operation. Now, the battles are going on near the settlement of Pishchevyk.
Russian forces tried to break through the defences by using 16 tanks. The Joint Forces Operation used the NLAW anti-tank missile system and destroyed three enemy tanks.
Російські окупаційні сили намагаються захопити #Чорнобильську_АЕС. Наші захисники віддають життя, щоб трагедія 86-го року не повторилася. Повідомив про це @SwedishPM. Це оголошення війни всій Європі.

— Володимир Зеленський (@ZelenskyyUa) February 24, 2022
Translation of tweet by Ukrainian President Zelenskyy: "Russian occupation forces are trying to seize the Chernobyl Nuclear Power Plant. Our defenders are giving their lives so that the tragedy of 1986 does not happen again. Reported this to [the Swedish Prime Minister]. This is a declaration of war to the whole of Europe."
Crowds of protesters gather in central Brussels and outside Russian embassy [16:20]
Numerous protests calling for Russia to desist from its military offensive took place in Brussels on Thursday.
At 14:00 hours, the European Confederation of Syndicats (CES) convened on Schuman roundabout, at the heart of the European institutions, Belga News Agency reported. Alongside those coming from Belgium, demonstrators also joined from France and the Netherlands.
Around 14:30, a large crowd gathered outside the Russian embassy on Avenue De Fré in the Brussels neighbourhood of Uccle. Dozens of protesters bearing placards and flags voiced their objection to the Russian attack.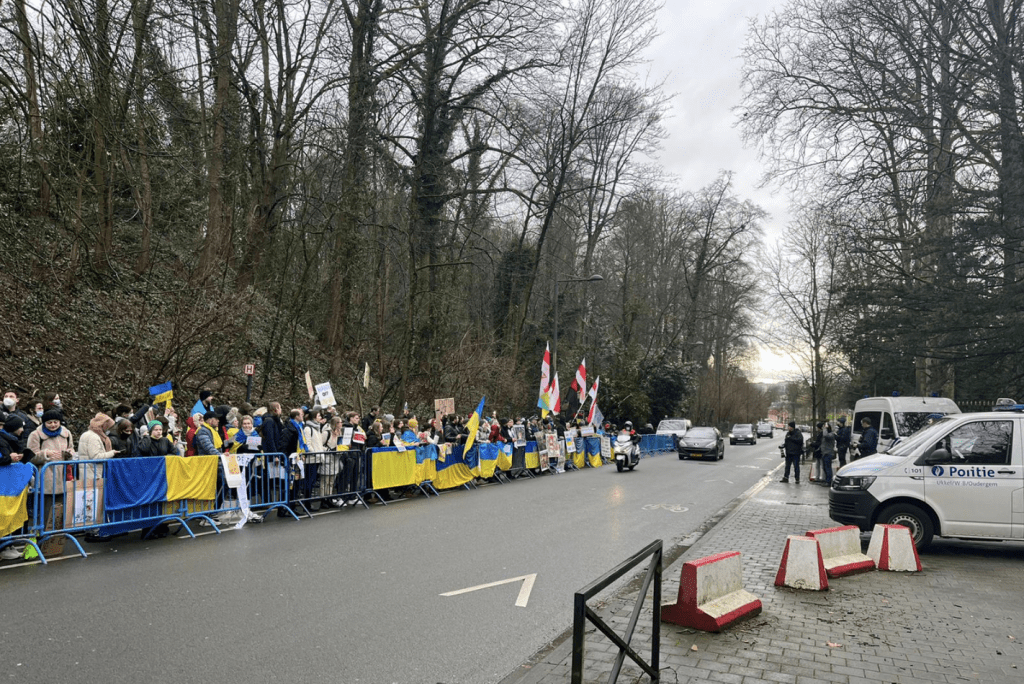 Von der Leyen: 'Ukrainian refugees welcome' [15:56]
"We have worked for weeks to be prepared, hoping for the best but preparing for the worst. We have – with all the frontline member states – explicit contingency plans to welcome and host immediately those refugees from Ukraine," said European Commission President Ursula von der Leyen on Thursday.
Ukrainians fleeing within the borders of their own country will also be able to count on European support, she said. "Humanitarian aid in terms of shelter and all the necessities people who are internally displaced immediately need."
An additional emergency financial assistance for Ukraine, on top of the €1.2 billion already approved, is also available. "Preparedness is fully alerted and we hope that there will be few refugees, but we are fully prepared for them and they are welcome."
In the meantime, Belgium's State Secretary for Asylum and Migration Sammy Mahdi, who had a telephone conversation with European Commissioner Ylva Johannsson on Thursday morning, "urgently" asks for European coordination of the reception of Ukrainians.
De Croo: 'Attack on freedom' [15:17]
"Today, we are experiencing one of the bleakest moments since the Second World War. After the difficult peace-building in the Balkans in the 1990s, we thought that peace in Europe had been definitively established," Belgian Prime Minister Alexander De Croo said in the Chamber. "Today, nothing seems further from the truth."
He spoke of "unprecedented Russian aggression" towards "an innocent Ukraine," and underlined that Russian President Vladimir Putin was not new to this. De Croo underlined that "many brave Russians" were "brutally beaten, poisoned and murdered" after taking to the streets against "the autocracy and kleptocracy of the Russian President."
"Today, Putin is extending his aggression to 45 million Ukrainians. Whether they speak Russian or Ukrainian matters little to him," he said. "What bothers Putin is that Ukrainians are free citizens. That Ukraine is a free country. A country that makes its own choices, and yes, a country that looks to the West. Putin's attack is an attack on freedom."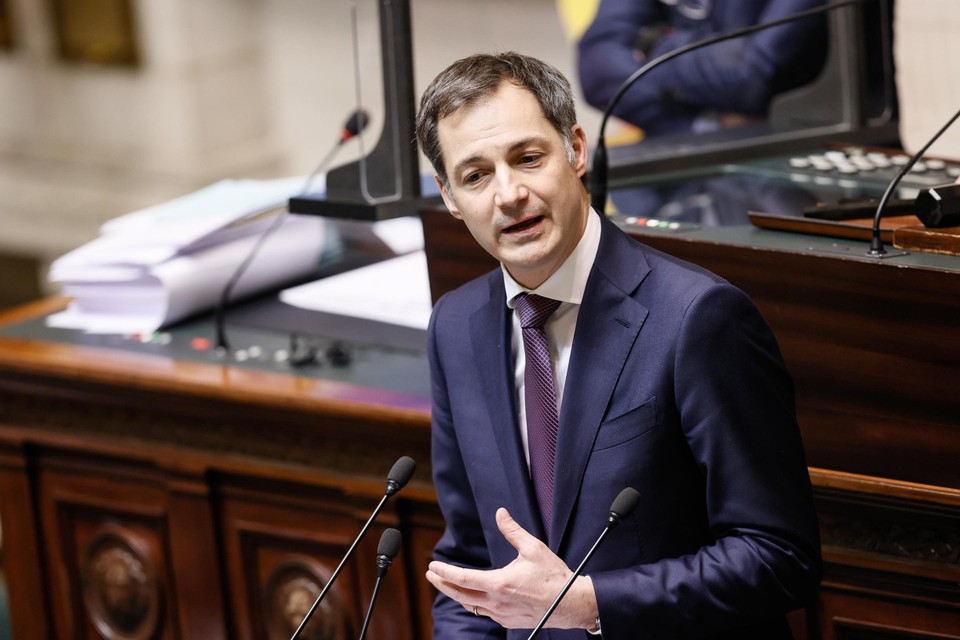 For him, "the time for gradual sanctions" is over. "If we do not do this, Putin will not stop after he has subjugated Ukraine. We are doing this to weaken Russia's industrial and military complex."
"These sanctions are situated in various domains," De Croo explained. "First, financial sanctions. We have to cut Russian banks and state companies off from the international money markets. In addition to banks and companies, more people from the political and economic elite must be put on the sanctions list – from the Russian oligarchs to the club of kleptocrats around Putin."
"The sanctions package will also have to focus on technology that Russia needs to keep its economy and military activities going," he said. The full speech (in Dutch and French) can be watched here:
LIVE. Verklaring van de Eerste Minister over de Russische invasie van Oekraïne / Déclaration du Premier ministre sur l'invasion russe de l'Ukraine https://t.co/twbXpHupEl

— Alexander De Croo 🇧🇪🇪🇺 (@alexanderdecroo) February 24, 2022
Ballistic missiles launched [15:00]
Four ballistic missiles were launched from the territory of the Republic of Belarus towards Southwestern direction (towards Ukraine), reports the Commander-in-Chief of the Armed Forces of Ukraine.
European Council condemns Belarusian 'involvement' in Ukraine invasion [14:35]
The European Council issued a statement at midday on behalf of all its members condemning Russia's military action in Ukraine as well as Belarus for its "involvement" in this aggression.
EU leaders called on Belarus to "respect its international obligations". President Alexander Lukashenko's regime has been particularly at odds with the EU since it condemned rigged presidential elections and the repression of the opposition.
Lukashenko said on Thursday that Belarus was not participating in the invasion, but Russian troops are operating from Belarus, and in recent days, Lukashenko and Russian President Vladimir Putin have emphasised their willingness to cooperate militarily.
Another insane video of a helicopter attack on Hostomel, just outside Kyiv. All the helicopters came from the territory of Belarus. pic.twitter.com/E0iovH83wg

— Tadeusz Giczan 🇺🇦 (@TadeuszGiczan) February 24, 2022
The Council confirmed in their joint statement the intention to impose "additional restrictive measures" against Russia. The European response will be coordinated with "neighbours and international partners, including NATO and the G7, whose leaders will meet shortly."
Ukraine severs diplomatic relations with Russia [14:13]
The state of Ukraine officially severed diplomatic relations with the Russian Federation, President of Ukraine Volodymyr Zelenskyy announced in a briefing at the Office of the Head of State.
"This morning has gone down in history, but this story is completely different for our country and for Russia. We have severed diplomatic relations with Russia. Ukraine is defending itself and will not give up its freedom, no matter what Moscow thinks," he said.
"For Ukrainians, independence and the right to live on their land according to their will is of the highest value. Russia treacherously and self-destructively attacked our state in the morning, just like Nazi Germany did during the Second World War."
He said that from today, Ukraine and Russia are on different sides of world history, because the Russian Federation is on the path of evil.
Volodymyr Zelenskyy called on all Russian citizens who have not yet "lost their conscience" to come out and protest against the war with Ukraine.
NATO announces 'additional steps' [13:42]
NATO is taking "additional steps" to protect member states of the military alliance following Russia's invasion of Ukraine. "We have decided, in line with our defensive planning to protect all Allies, to take additional steps to further strengthen deterrence and defence across the Alliance. Our measures are and remain preventive, proportionate and non-escalatory," reads an announcement following Article 4 consultations.
Meanwhile, diplomats report that the leaders of NATO member states will hold a video conference on the war in Ukraine on Friday. "Ground forces and additional air defence will be deployed in the eastern flank of the Alliance, as will additional maritime assets," a diplomat told the French news agency AFP.
Belgium opens call centre for people with family in Ukraine [13:00]
Following the Russian invasion of Ukraine, the Foreign Affairs Ministry has decided to open a call centre for those with Belgian family or relatives in Ukraine can call 02/501.40.00.
On Wednesday, it was announced that there were still 223 Belgians and their close relatives in the country. Belgium's Foreign Minister Sophie Wilmès called on Belgians to leave the country, because evacuation cannot be guaranteed, she said.
Naar aanleiding van de ontwikkelingen in #Oekraïne heeft de FOD Buitenlandse Zaken zijn callcenter geopend.

📞 Als u Belgische familie of verwanten in Oekraïne heeft, kunt u bellen naar 02 501 40 00. pic.twitter.com/jcPPbbDD4c — 🇧🇪 Belgium MFA (@BelgiumMFA) February 24, 2022
Special bank account for raising funds to support Ukraine military [12:47]
The National Bank of Ukraine opened a special fundraising account to support the Armed Forces of Ukraine, a decision they say was set in force "due to martial law in Ukraine, the armed aggression of the Russian Federation, and the danger to the state independence of Ukraine."
The special multi-currency account (UA843000010000000047330992708) was announced by the Chairman of the National Bank of Ukraine Kyrylo Shevchenko in a video address on Thursday morning.
Internet, cell phone service in Ukraine could be interrupted [12:31]
Ukraine's State Service of Special Communication has called on cell phone and internet companies not to disconnect users, even if their accounts show a lack of funds.
"Communication is essential in the current situation in Ukraine. As of now, operators are recording heavy loads on the networks, so communication interruptions are possible," the office said in a statement, adding that cell phone users should make phone calls and exchange messages when necessary, and use SMS messaging in the event a call cannot go through.
Ukrainian President calls on citizens to take up arms
Ukrainian President Volodymyr Zelenskyy has called on Ukrainians to defend their country from the Russian invasion, during a briefing at the Office of the Head of State on Thursday. He stressed that the Ukrainian servicemen need the support of citizens and that anyone who wants a weapon and is prepared to defend the country, can have one.
"We have an army of powerful people. Our population is also a powerful army. So support our military," Zelenskyy said, adding that the provision of weapons to all citizens who want to defend Ukraine's sovereignty has already begun.
Central Train Station in Kyiv, Ukraine is flooded with people who are trying to escape from the city after Russian Military attack. pic.twitter.com/gdUBOTidaN

— Aditya Raj Kaul (@AdityaRajKaul) February 24, 2022
Everyone with combat experience and can help defend Ukraine has been asked to go to the appropriate centres, and the Ministry of Internal Affairs will involve veterans as well. Additionally, the President also called on citizens to join the donation of blood for wounded defenders.
"They came to our land. Ukraine is under attack from the north, east and south. Attacked from the air. Protection works. Today, the army and national solidarity are the mainstay of Ukrainian statehood," added Zelenskyy.
European Parliament condemns Russian invasion
The European Parliament issued a statement condemning Russia's military attack on Ukraine, and announced an extraordinary plenary session for next Tuesday.
"Ukraine is an independent and sovereign nation and its territorial integrity is non-negotiable. The invasion is unjustified and illegal," the statement reads.
"It is a threat to European and regional stability, as well as to the rules-based world order. The attack targets our model of democratic society. It cannot go unanswered."
Spoke to President @ZelenskyyUa as he organises defence to the military attack from Russia.

I reassured him that we are working non-stop to provide as much support as possible. Will discuss with other G7 leaders and at #EUCO later today. Russia will pay a heavy price. — Ursula von der Leyen (@vonderleyen) February 24, 2022
The European Parliament Conference of Presidents was convened by President Roberta Metsola on Thursday morning in order to discuss its response to Russia's invasion into Ukraine.
They expressed support for "an unprecedented European and international response, including new and severe sanctions that will ensure the Kremlin will be held accountable for its actions."
This article was last updated on 24 February at 21:22.