Since Russia started its full-scale invasion of Ukraine on Wednesday night, Russian troops have invaded more areas across the country. Follow the most important developments here. The latest updates appear highest on the page.
According to a statement by the Ukrainian armed forces on Saturday, Russian fighter jets have carried out attacks in Sumy in the northeast, Mariupol in the south and Poltava in the east.
In the capital Kyiv, buildings, including flats, have been hit by missiles, as shown in a video shared by the foreign affairs ministry. Civilians are resisting the attacks on the capital, resulting in intense street fighting and bursts of gunfire being heard.
Russia attacks and kills civilians in Ukraine. Our army continues to defend our territory and every civilian. 🇺🇦 resists and strives for peace. The world must stop Russian war criminals.#StandWithUkraine!

📍Kyiv, Residential Area, building near Maternity Hospital and Schools. pic.twitter.com/JGNUQUGulX — MFA of Ukraine 🇺🇦 (@MFA_Ukraine) February 26, 2022
Pro-Russian separatist fighters have reportedly advanced a total of 25 km into Ukrainian-controlled territory.
In its latest intelligence update, the British ministry of defence wrote that Russian forces are not making the progress they had planned, as they are suffering from logistical challenges and strong Ukrainian resistance. They are reportedly also sustaining casualties and a number of Russian troops have been taken prisoner.
Russian banks removed from SWIFT [23:30]
The European Union and its partners announced further economic measures in response to Russia's invasion of Ukraine.
In a statement, the leaders of the European Commission, France, Germany, Italy, the United Kingdom, Canada, and the United States also condemned Putin's war of choice and attacks on the sovereign nation and people of Ukraine.
"We are resolved to continue imposing costs on Russia that will further isolate Russia from the international financial system and our economies," European Commission President Ursula von der Leyen stated.
These measures include the removal of several Russian banks from the Society for Worldwide Interbank Financial Telecommunication (SWIFT), the world's largest global interbank payment system acting as an intermediary and executor of financial transactions between banks.
"This will ensure that these banks are disconnected from the international financial system and harm their ability to operate globally. Cutting banks off will stop them from conducting most of their financial transactions worldwide and effectively block Russian exports and imports," von der Leyen said.
Russia's central bank's assets will be paralysed, in essence meaning Putin will lose access to his so-called war chest, according to the statement. Von der Leyen added that the EU and its partners are working to prohibit Russian oligarchs from using their financial assets on their markets.
Specifically, the EU commits to taking measures to limit the sale of citizenship—so-called golden passports—that let wealthy Russians connected to the Russian government become citizens of EU member states.
Protests in Brussels and other cities [16:35]
Protests against the attack on Ukraine took place in several cities across the world, including in Brussels, where thousands of people took to the streets in the centre of the capital and chanted "Putin, go home" and "Stop Putin, stop the war."
Related News
Some 4,500 protesters were believed to have gathered on the Boulevard du Régent, Ilse Van de keere, a spokesperson for the Brussels-Capital/Ixelles police, confirmed to The Brussels Times.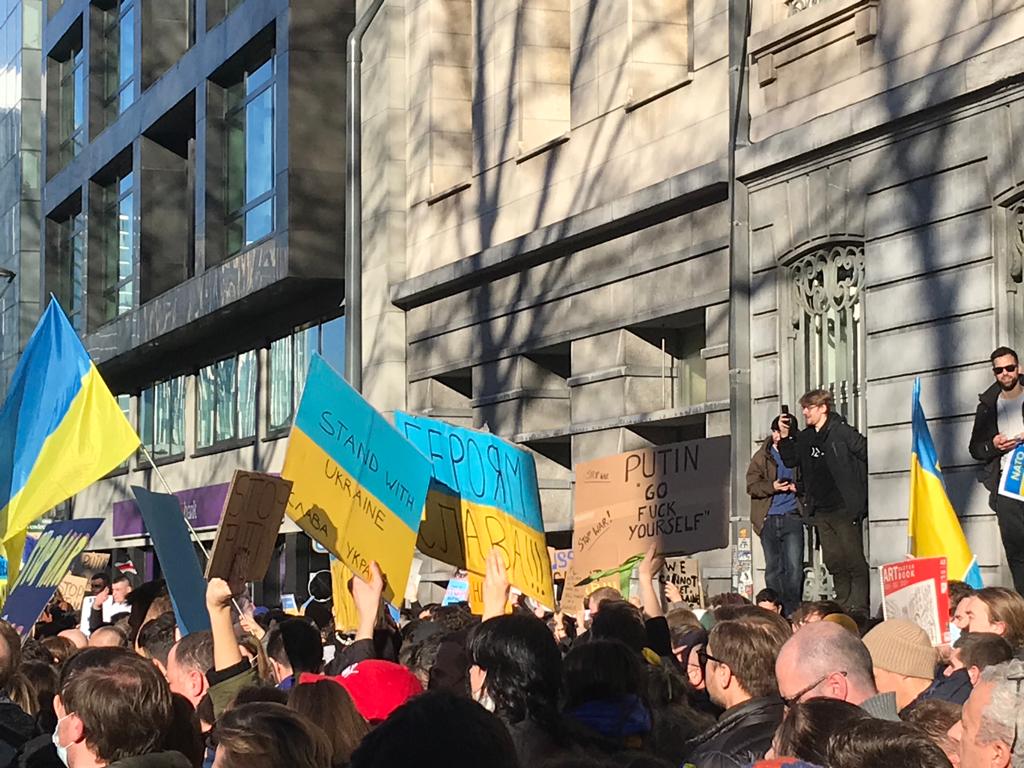 Ukrainian flags were omnipresent, as well as protest signs with slogans such as "Close the airspace, save our families", "Putin, hands off Ukraine" and "Ukraine is Europe."
Van de keere said that the demonstration remained peaceful and that people have started to slowly disperse.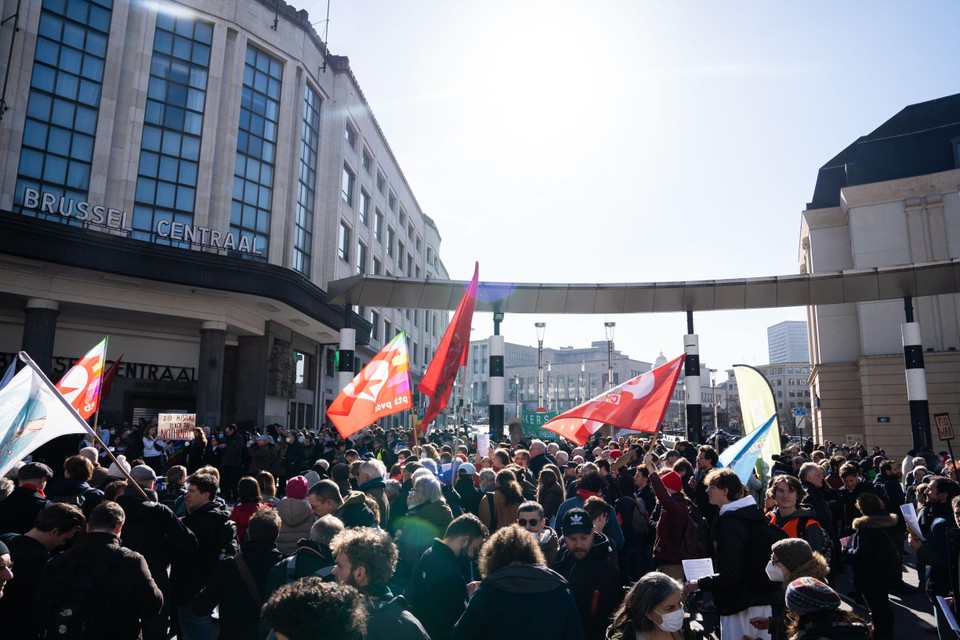 Protesters took to the streets of Russia's St. Petersberg on Friday night, even after the police reportedly arrested thousands of anti-war demonstrators during demonstrations the previous night.
In Russia, protests continue despite reports of 1800 arrests and state intimidation. These are the scenes in St Petersburg last night, protestors rally to say no to war. We stand with Ukraine, we stand with the Russian peace movement #FreeUkraine

🕊✊ pic.twitter.com/9QLqifsnHC — Another Europe 🧡 (@Another_Europe) February 26, 2022
According to NGO Human Rights Watch (HRW), at least 1,858 people who took part in protests against the war in Ukraine were arrested in 57 Russian cities.
Belgium sends soldiers to Romania [14:35]
Belgian Prime Minister Alexander De Croo confirmed on Twitter that the country will be sending 300 soldiers to be deployed in Romania as part of the Navo Response Force to Russia's invasion of Ukraine.
Belgium assumes its responsibility within NATO Rapid Response, of which elements were activated yesterday. In the current phase, 300 Belgian soldiers will be deployed in Romania.

The Navo Response Force is under the command of General Wolters, Supreme Allied Commander Europe. pic.twitter.com/yX7mPjz0XI — Alexander De Croo 🇧🇪🇪🇺 (@alexanderdecroo) February 26, 2022
Stop Russian invaders 'by all means' [14:20]
The Ukrainian army has called on the population to stop the Russian advance by any means possible. "Cut down trees, build barricades, burn tyres. Use whatever you have at your disposal," a statement published by the Ukrainian news agency Unian read.
The army also invites citizens to make Molotov cocktails. "The invaders must understand that they are not welcome here and that at every corner they will find resistance. Together towards victory."
Meanwhile, the Kremlin has accused Ukraine of scuppering a truce by refusing negotiations.
"Yesterday (Friday), expecting negotiations, the Russian president ordered a halt to the advance of Moscow's main forces," Russian presidential spokesman Dmitry Peskov said. "Since the Ukrainian side refused negotiations, the advance of Russian forces resumed today," he added.
Curfew in Kyiv [13:50]
The mayor of the Ukrainian capital Kyiv, Vitali Klitschko, announced that a tougher curfew would be put in place because of the Russian invasion, warning that anyone on the street between 17:00 on Saturday and 8:00 Sunday morning would be treated as an enemy.
"For a more effective defence of the capital and the safety of its inhabitants, today, 26 February 2022, the curfew will be in force from 17:00 to 08:00. This curfew will be in force until the early evening of 28 February," he said on Twitter.
Увага! Задля більш ефективної оборони столиці та безпеки її мешканців від сьогодні, 26 лютого 2022 року, комендантська година діятиме з 17:00 до 08:00. Такий час комендантської години запроваджується до ранку 28 лютого.

— Віталій Кличко (@Vitaliy_Klychko) February 26, 2022
Klitschko also announced that the capital's metro had been turned into a refuge for residents and would not be providing transport services for the time being.
Belgium sends protective equipment to Ukraine [13:20]
A convoy with military protection such as helmets and orientation material for Ukraine's Defence ministry is on its way to the country, Belgian Prime Minister De Croo confirmed.
The army is also drawing up lists of the weapons that could be offered to Ukraine as was requested by Foreign Affairs Minister Sophie Wilmès.
Oekraïne heeft België gevraagd grote hoeveelheid brandstof te leveren voor bevoorrading Oekraïense troepen. Ons land gaat op die vraag in. Het gaat in totaal om 3.800 ton brandstof.

België zal Oekraïense leger ook bevoorraden met 2.000 machinegeweren. Verdere analyse loopt. — Alexander De Croo 🇧🇪🇪🇺 (@alexanderdecroo) February 26, 2022
Tweet translation: "Ukraine has asked Belgium to supply large quantities of fuel to supply Ukrainian troops. Our country has agreed to this request. It concerns a total of 3,800 tonnes of fuel. Belgium will also supply the Ukrainian army with 2,000 machine guns. Further analysis is underway."
The weapons that could be sent — which mainly consist of discarded stock that was ready for destruction — are being tested.
Ukraine 'intercepted Russia's plan' [12:20]
Ukrainian President Volodymyr Zelenskyy said on Saturday around noon that the country had "broken Russia's plan" on the third day of the invasion of Ukraine, and called on Russians to tell Vladimir Putin to stop the war.
"Kyiv and key cities around the capital are controlled by our army. The occupants wanted to block the centre of our state like in Donetsk. We broke their idea," he said in a video he published on Facebook.
Meanwhile, the former Russian president and current deputy chair of the Russian Security Council Dmitry Medvedev said that the invasion in Ukraine will continue despite Western sanctions, said on the VKontakte social network.
"The military operation to protect the Donbass will be carried out relentlessly until all our goals are achieved. No more and no less," he said, calling Western sanctions "political impotence resulting from the inability to change Russia's course".
He added that the Kremlin, in retaliation of sanctions imposed by Western countries, will seize money that foreigners and foreign companies have deposited in bank accounts in Russia.
198 Ukranian deaths in war so far [10:45]
In total, almost 200 people have lost their life in Ukraine. At least 35 people, including two children, were wounded in fighting in Kyiv on Friday night, according to a report by the mayor of the Ukrainian capital Klitschko said early on Saturday morning.
Minister of Health of Ukraine Viktor Lyashko about the losses among the civilian population.

"Unfortunately, according to operative data, we have 198 dead at the hands of the invaders, including 3 children, 1,115 wounded, including 33 children.#War #WARINUKRAINE #War pic.twitter.com/NTG0J1tw3m — SSSCIP Ukraine (@dsszzi) February 26, 2022
Local authorities warned of fighting in the streets on Saturday morning and called on residents to remain calm and cautious.
"If you are at home, don't go to the window, don't go to the balcony," Ukrainian authorities said. Many residents spent the night in bunkers, basements and other underground shelters.
A 20-storey building was hit by a missile. Videos posted on social networks show a tall building with a gutted facade and debris lying in the street below.
Kyiv, our splendid, peaceful city, survived another night under attacks by Russian ground forces, missiles. One of them has hit a residential apartment in Kyiv. I demand the world: fully isolate Russia, expel ambassadors, oil embargo, ruin its economy. Stop Russian war criminals! pic.twitter.com/c3ia46Ctjq

— Dmytro Kuleba (@DmytroKuleba) February 26, 2022
Several tens of thousands of Ukrainian citizens — mainly women and children, as well as men who are not old enough to fight in the Ukrainian army — have fled to Poland since the launch of the Russian offensive in Ukraine.
"In the past 24 hours, 35,000 people have crossed the Polish border," Polish Interior Minister Pawel Szefernaker said on state TVP on Friday evening.
The latest tally stated that the Ukrainian army had inflicted "heavy losses" on the Russian army. Some 3,500 Russian soldiers have been said to be killed and 200 captured since the start of the Russian invasion of Ukrainian territory, however, these figures could not be independently verified.
An analysis of its own damage in a statement from state special communications service highlighted that sub-units of State Special Communications Service were one the first to take the hit from Russia.
It added that Russian occupiers struck the Joint Command Post of the Joint Forces Operation "Chasiv Yar" in the province of Donetsk Oblast, during which a government communications centre was destroyed and various officers were injured or killed.
Meanwhile, Russia said it has "decommissioned" some 800 Ukrainian military objects since the war began, however, this too has not yet been verified.
'Will not drop our weapons,' Ukraine president says
In a video shared on his social media channels, President of Ukraine Zelenskyy urged his citizens not to believe any false news about him asking the Ukrainian army to surrender. He pledged to fight as Russia's invading forces are nearing his office.
"I am here. We will not lay down any weapons. We will defend our state because our weapons are our truth," he stated in a video on Saturday morning.
Не вірте фейкам. pic.twitter.com/wiLqmCuz1p

— Володимир Зеленський (@ZelenskyyUa) February 26, 2022
In an earlier video on Friday night, he had told the nation that "we must withstand tonight" as he warned of an impending Russian assault in Kyiv and other cities across the country.
Belgium to support Ukraine where possible
On Wednesday, the National Security Council decided that Belgium will send military protection material to Ukraine. However, weapons are not included, as Belgium needs them to be able to fulfil its commitments within the NATO framework.
By Friday, Belgian Foreign Affairs Sophie Wilmès said she wanted Defence to draw up a list of the weapons that Belgium could send to Ukraine. During a call with the country's Foreign Affairs minister Dmytro Kuleba, Wilmès emphasised Belgium's "readiness to evaluate our capacity to meet his country's needs."
During our call, I assured my Ukranian colleague @DmytroKuleba of Belgium's support, of our solidarity with the suffering Ukrainian people, but also of our readiness to evaluate our capacity to meet his country's needs. 🇧🇪🇺🇦 pic.twitter.com/4ckmN1R69r

— Sophie Wilmès (@Sophie_Wilmes) February 25, 2022
During the Foreign Affairs Council in response to Russia's invasion of Ukraine on the same day, the Council formally adopted the second sanctions package against Russia and partly Belarus, targetting financial institutions, certain exports in the energy sector, transport and dual-use goods.
Meanwhile, Ukrainian President Zelenskyy said this conflict highlighted it is time to close the "long-standing discussion once and for all and decide on Ukraine's membership in the European Union."
It is a crucial moment to close the long-standing discussion once and for all and decide on Ukraine's membership in the #EU. Discussed with @eucopresident further effective assistance and the heroic struggle of Ukrainians for their free future.

— Володимир Зеленський (@ZelenskyyUa) February 26, 2022
Coverage of the previous days can be found here, while the latest coverage as of Sunday can be found here.
This article was last updated on 26 February at 23:30.