More than half of Belgian citizens believe that the current political system should be changed, with four in ten people stating that putting political power in the hands of one person could improve how national affairs are managed.
A recent poll titled "Bye-Bye, democracy?" by French-speaking broadcaster RTBF and La Libre Belgique aimed to guage people's vision of Belgium and its institutions and how well these function.
Of the various findings, the standout result was the fact that almost 40% (39.5%) of those surveyed strongly agree or agree that the concentration of power in the hands of a single leader would result in Belgium being run more efficiently. Last year, 37% of respondents were in favour of a single leader.
Interestingly, this option is especially popular among young people (18-34 age group), with 47.8% in favour.
While this doesn't necessarily amount to a public longing for dictatorship — although 11.3% of Belgians stated they are in favour of a dictator — it does highlight the frustrations felt about the current fragmented political system in the country (see here to understand just how complicated it is).
The current federal system divides Belgium into different smaller states (regions and communities), meaning that power is decentralised among smaller semi-autonomous states.
Changing current system
Fewer than one in three (29.5%) of those surveyed think that the current system generally works well as it is. Among older people (55-64 year-olds), this figure is as low as 20%, meaning 80% feel a change is required.
Over half of people living in Belgium (57.9%) want to change the current (parliamentary) democratic system by replacing it with another democratic system, such as the direct election of representatives or a winner-take-all system.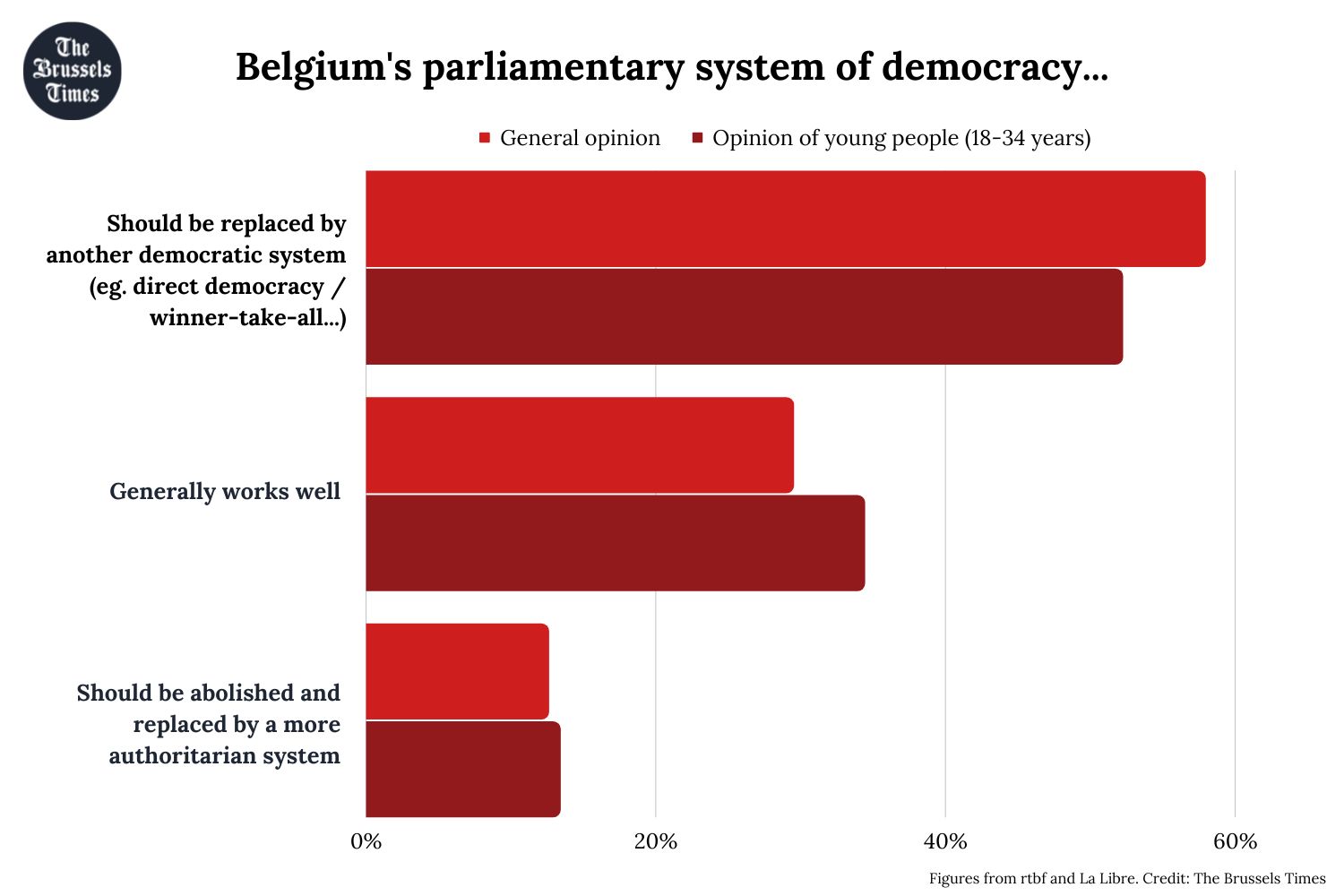 Meanwhile, 12.6% believe that the current parliamentary system should be replaced by a more authoritarian system. This figure aligns with those who indicated that they are in favour of a dictator. Almost one in five respondents (19%) feel that today's political situation is tending towards a dictatorship.
Yet although some believe we need a change to the present arrangement, what exactly this could look like was unclear, with no clear preferences between a coalition of parties, a citizens' assembly, a panel of experts or even a single party holding power.
In the run-up to the elections that will be held in 2024, this uncertainty about the current government has left many unsure of how they will vote: more than half (54.2%) of respondents said they are still undecided on who to vote for.
Who influences daily life, and how can this be done?
When asked about the top three things that people feel their decisions most impact or influence their daily life, the political world clearly has the upper hand, with 81.6% of respondents putting governments and parliaments as the main arbiter of their civic liberties and obligations.
However, people increasingly feel that the power of governments and ministers is declining. Dissatisfaction dominates even more so than in 2021 when looking at the responses to the statement "governments and ministers no longer have any real capacity to improve my daily life, they can hardly change anything" (63.3% agreed or strongly agreed compared to 59.7% in 2021).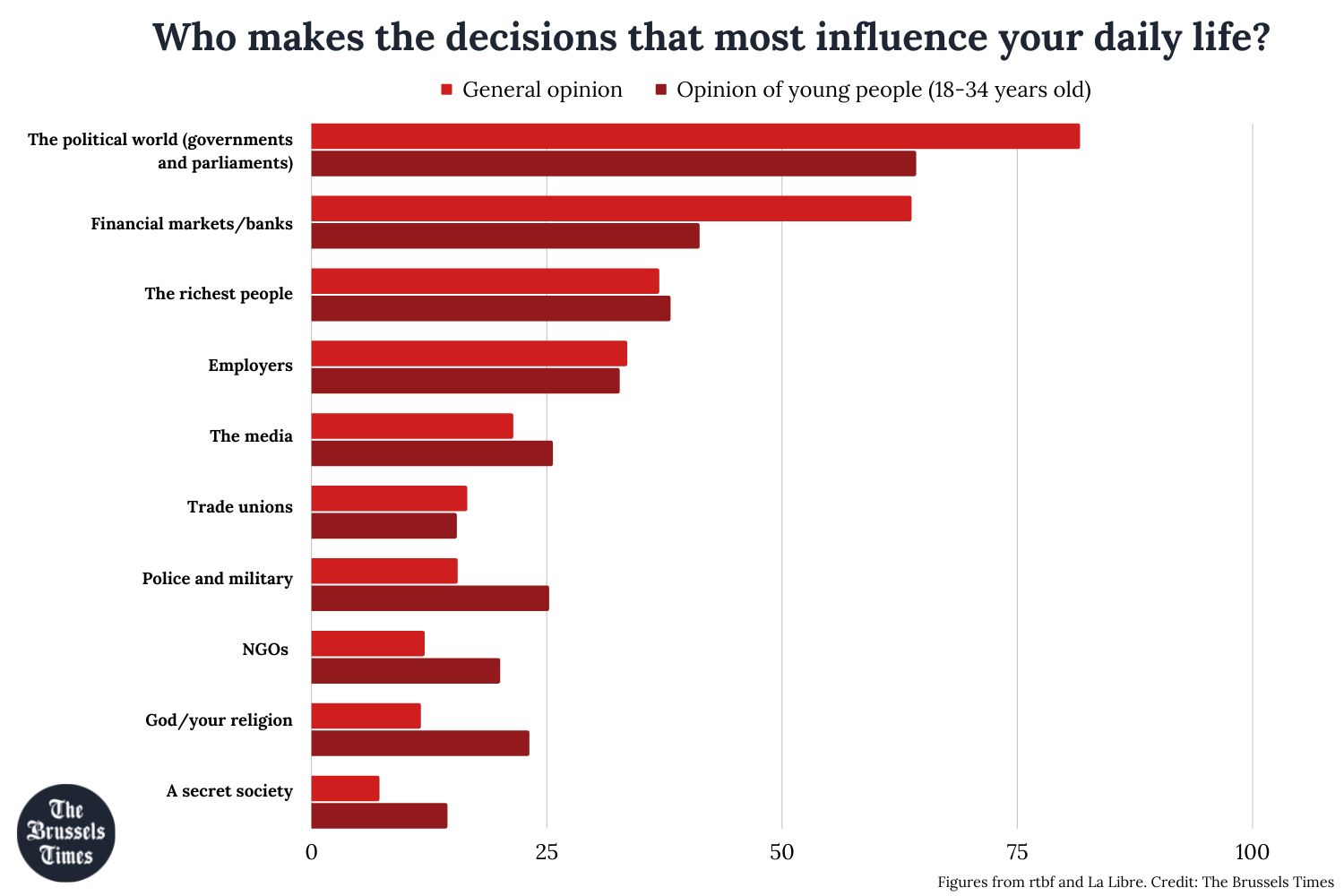 Meanwhile, "financial markets and banks" were included in the top three of 63.7% of respondents. 36.9% of people chose "the richest people," making it the third biggest influence.
Employers, the media, trade unions, the police and the army, NGOs, God/religion or a secret society were also among the top ten. Strikingly, almost 15% (14.6%) of the 18-34 year-olds surveyed put "God and religion" as the element that most influences their daily life; for one in four, this is one of the three elements that most influence their lives.
When it comes to the exact influence or impact the state should have, the survey showed that, during crises such as the pandemic (when public freedoms were restricted) many people (60.6%) think it is normal for politicians to do so in order to "safeguard the collective interest."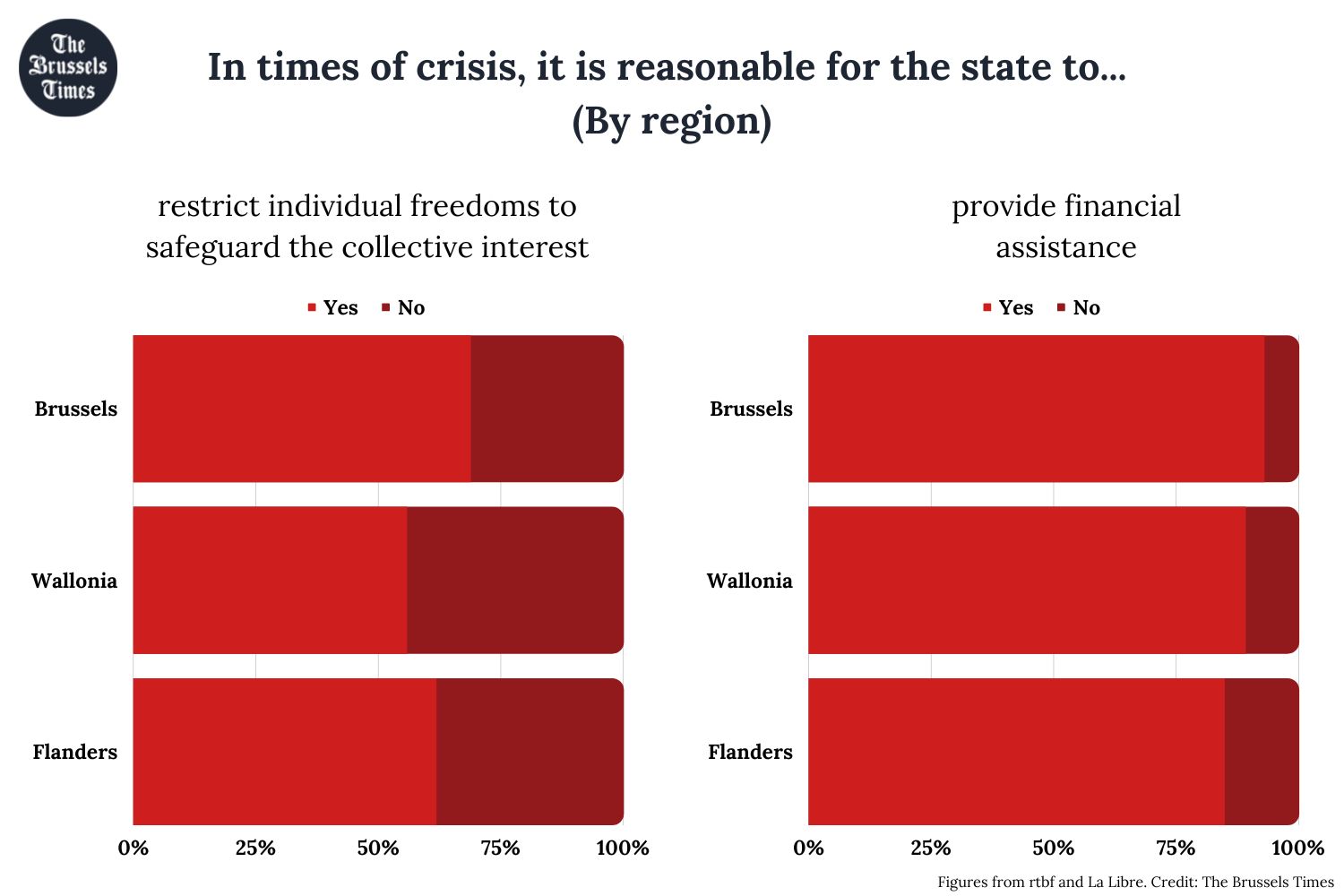 Surprisingly, this figure is even higher among young people (61.7% agreed) and in Brussels (68.8%), where people are more accepting of limits to their personal freedoms.
When it comes to intervening during crises such as the current energy and cost of living crises, 87% of Belgians polled agreed that the state should give people financial aid to help them. Fewer 18-34-year-olds are of this opinion (78.7%), while inhabitants of Brussels, at 92.9%, are most in favour of state intervention.