A large majority of Spanish MPs on Wednesday predictably rejected a motion of no confidence put forward by the far-right Vox party against the coalition government led by centre-left Prime Minister Pedro Sanchez.
After nearly 14 hours of parliamentary debate that began on Tuesday, 201 MPs voted against the text and 91 abstained. The motion, which was doomed to fail, was supported by only the 52 Vox MPs and a former deputy from the centrist Ciudadanos party, who now sits as an independent.
To present the motion, launched two months before the local and regional elections on 28 May and nine months before the legislative elections scheduled for the end of the year, Vox had chosen an outsider and former communist, Ramon Tamames.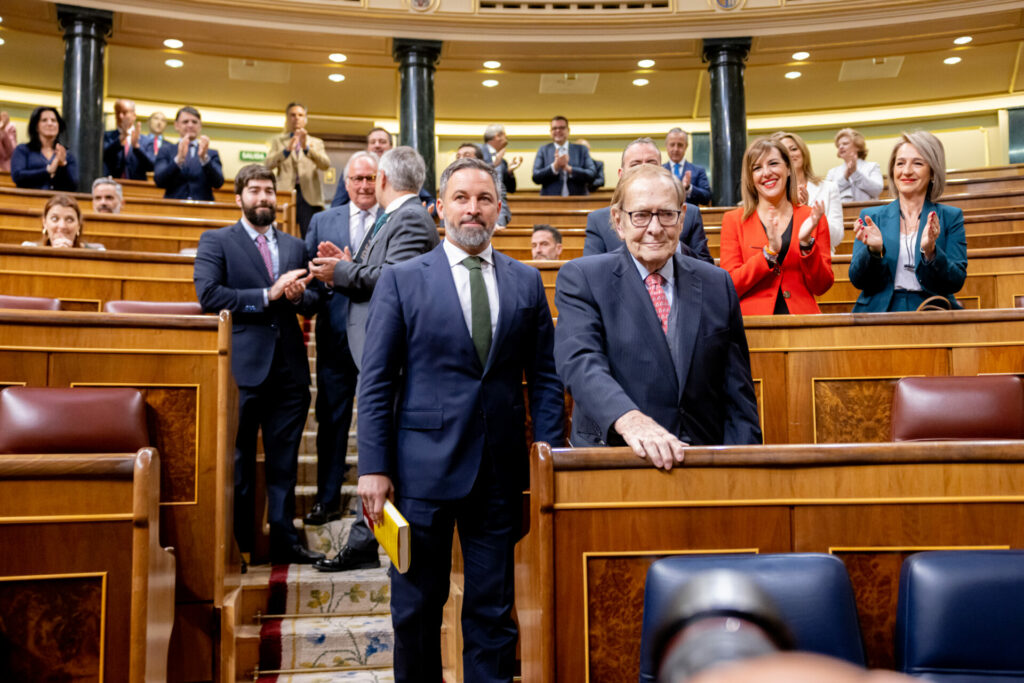 An opponent of Francoism, for which he spent time in prison, Tamames was a figure in the Spanish Communist Party after the end of the Franco dictatorship in 1975. In recent years, the 89-year-old prominent economics professor has made a sharp turn to the far-right.
Tamames had justified the motion on Tuesday by the need to defend the Spanish "nation" in the face of the coalition government formed by the Socialists and the left-wing Podemos, also supported in parliament by Catalan or Basque independence groups.
"We will not vote for this motion out of respect for the Spanish people, but we will not vote against it either, out of respect for you, Mr Tamames," Cuca Gamarra, the number two in the right-wing Popular Party (part of the EPP in the European Parliament), said before the vote to justify the PP's abstention.
In a previous failed no confidence vote put forward by Vox, in October 2020, the PP had voted no.
"The traditional right…is always moving a little closer to the far-right," Pedro Sanchez stated in front of the deputies, accusing the main opposition party of abstaining because it "knows that it will need Vox to govern" in the future.
The country's third-largest political force, since it entered parliament in 2019, Vox now governs with the PP in a regional administration, northern Castilla y León, and is hoping to force the conservative party to enter a governing coalition after the parliamentary elections if they win a majority together.
But Vox's ultra-conservative stances, particularly on abortion, has embarrassed the PP in recent months as it seeks to distance itself from the far-right group.