As host to the EU institutions, NATO and over 200 foreign missions, Brussels is used to its fair share of scandals. But arguably nothing could have prepared it for the political and diplomatic storm that was about to hit the city at the end of last year.
It all started on December 9, which happens to be International Anti-Corruption Day. It was late on a Friday afternoon and I was working from my home in the Brussels suburbs. I had just dialled into what I thought would be my last meeting of the week. Fittingly, as it turned out, my call was with Alice Stollmeyer, the director of Defend Democracy, the NGO whose mission is to defend democracy against foreign, domestic and technological threats. I'm on the organisation's supervisory board, a voluntary role I've taken on in addition to my day job as director of Transparency International EU (TI EU), the Brussels office of the global movement against corruption.
At 16:02, a message popped up. My deputy and head of policy Nick Aiossa wrote, "What the hell is this about?" linking to an article from Belgian news weekly Knack. "World Cup: 16 homes searched in European Parliament corruption investigation" read the headline. I scanned the article. A former MEP, several parliamentary assistants, and a high-ranking trade union official had been targeted by a Belgian police investigation into organised crime, corruption and money laundering.
Belgian authorities said an unnamed Gulf state, reportedly World Cup host Qatar, had engaged in behaviour "that went beyond classic lobbying" to secure more favourable treatment by EU policymakers (it later emerged that Morocco and Mauritania were also alleged to be involved).
I relayed the news to Alice and we carried on with our meeting. What we'd just heard was big news, but the story was just breaking, so it could wait.
That all changed two hours later when the real bombshell hit: European Parliament Vice-President Eva Kaili had been arrested as part of the criminal probe. Large amounts of cash had been seized, as well as computers and mobile phones.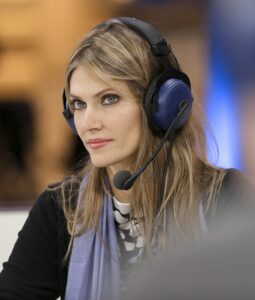 Leaked accounts of the investigation read like a who's who of Brussels diplomatic landmarks: one person arrested with a suitcase full of euros at the Sofitel on Place Jourdan, a clandestine meeting with foreign officials at the Steigenberger Hotel on Avenue Louise, a fake NGO serving as a money laundering hub, headquartered next to the British ambassador's residence on prestigious Rue Ducale.
It quickly became clear that the European Parliament was not just dealing with the latest in a long series of lobbying scandals. It was facing the biggest crisis in its 43-year history as a directly elected institution. This was, by any measure, a scandal of epic proportions.
The next morning, we issued a strongly worded statement. "While this may be the most egregious case of alleged corruption the European Parliament has seen in many years, it is not an isolated incident," we said, noting that over many decades, the Parliament had allowed a culture of impunity to develop, with a combination of lax financial rules and controls and a complete lack of independent (or indeed any) ethics oversight. "In many ways, it has become a law unto itself," we said.
From then on, our phones didn't stop ringing. A media storm erupted. It felt like the entire world wanted to get our take.
Malign actors?
At the opening of the Parliament's monthly plenary session in Strasbourg the following Monday, President Roberta Metsola went on the offensive. "The European Parliament, dear colleagues, is under attack. European democracy is under attack. And our way of open, free, democratic societies are under attack," she said. She spoke of "enemies of democracy…malign actors, linked to autocratic third countries" who had "weaponised NGOs, Unions, individuals, assistants and MEPs."
Metsola's powerful rhetoric was well received by her fellow MEPs, many of whom were still reeling from the news of one of their peers being arrested and jailed.
But by laying the blame squarely on "malign actors" she diverted attention away from the Parliament's own role in enabling the unfolding scandal. The Parliament's ethics rules are woefully inadequate and notoriously unenforced. Those who took part in the alleged bribery scheme did so because they thought they could get away with it.
In the wake of Metsola's foreign interference speech, we set out to persuade MEPs of the urgent need to put their house in order. That means adopting some long-overdue reforms, including better protection for whistle-blowers, strengthening and enforcing the MEP code of conduct, tightening controls on the disbursement of MEP allowances, forcing third-country governments to follow lobby transparency rules, as well as the creation of an independent EU ethics body.
Much to our relief, and somewhat to our surprise, many of these proposals found their way into the Qatargate resolution adopted by the Parliament on December 15. Progress, at last, it seemed.
But with the glare of the world's cameras gone, a small but powerful minority of MEPs began to do what it does best: obstructing the reforms that had only just been unveiled.
Qatargate did not point to systemic issues, these MEPs argued: it was just a case of a few rotten apples. And no, the problem was not a lack of enforcement of MEP ethics rules: rather, it was a lack of transparency in the way NGOs are funded. A two-year lobby ban for former MEPs? Unreasonable: we won't be able to find a job when we leave. Full transparency on who MEPs meet with? Unacceptable: that infringes the freedom of the mandate.
Parliament backpedalling
So here we are, four months on. The Parliament is backpedalling, and the reform process is stalling. In the meantime, a steady trickle of new revelations reminds us that the stench of corruption left by Qatargate will not simply go away. A European Commission Vice-President and Director-General allowed themselves to be fêted by Qatar in the run-up to the World Cup. MEPs accepted, but failed to declare in time, luxury trips paid for by shady foreign governments – until the publicity surrounding Qatargate forced them to own up. A Spanish MEP is found guilty of harassing her staff but still gets to keep her job. Qatargate may be unique because of its scale and magnitude, but as an ethics scandal, it's far from being a one-off.
This should be a wake-up call. If the institutions fail to act, there will be consequences. With the next European Parliament elections just over a year away, there's now a real danger that a steady drip of revelations, together with a failure to enact effective reforms, will be the dominant narrative of the campaign. The result could be angry voters and empowered populists. And for that, the Brussels institutions will end up paying the price.