When talking about environmental impact and the climate emergency, we probably picture greenhouse gases and pollutants being spewed into the atmosphere.
But how often do we stop to consider the solid structures around us? Sure, in times of exorbitant energy prices we might be more aware of the need to insulate. Yet to truly comprehend the environmental impact of construction, we need to think about the enormous environmental cost of the materials used.
Buildings are linked to significant material-related environmental impacts, consuming approximately 30–50% of available raw materials, according to OECD figures. The United Nations Sustainability Framework explicitly identifies building materials as a major source of environmental damage "…through depletion of the natural resource base, degradation of fragile eco-zones, chemical pollution, and the use of building materials harmful to human health."
The extraction and processing of raw materials are associated with significant environmental impacts, including contributing to approximately half of global greenhouse gas (GHG) emissions, according to EU figures.
Ecological projects around the world
The replacement of raw and polluting materials with more sustainable and often recycled materials has been at the heart of many recent projects in cities around the world, each as surprising as the next.
Last month, the Almere bridge near Amsterdam made headlines for not using any concrete. Instead, the structure was entirely composed of flax fibres and bio-resin. Sensors were installed to assess the bridge's strength over time, including its ability to withstand weather and vibration. This innovative project was the brainchild of Thibault Roumier of French company Eco-Technilin.
The bridge is constructed of layers of flax that are far lighter than conventional materials but have similar strength, as well as being sustainable.
Another alternative material in construction is linen. Widely used in the textile industry but also in the automotive and sports industries, linen uses far fewer resources than other materials and grows in many regions, giving it great potential for use in the construction sector.
Always with the aim of opting for more ecological and sustainable materials, others take inspiration from plants. Already in fashion, apple leather or grape skin is starting to be used as an alternative textile. It is entirely conceivable that one day you may come across a piece of furniture or glasses frames composed of used fruits or vegetables.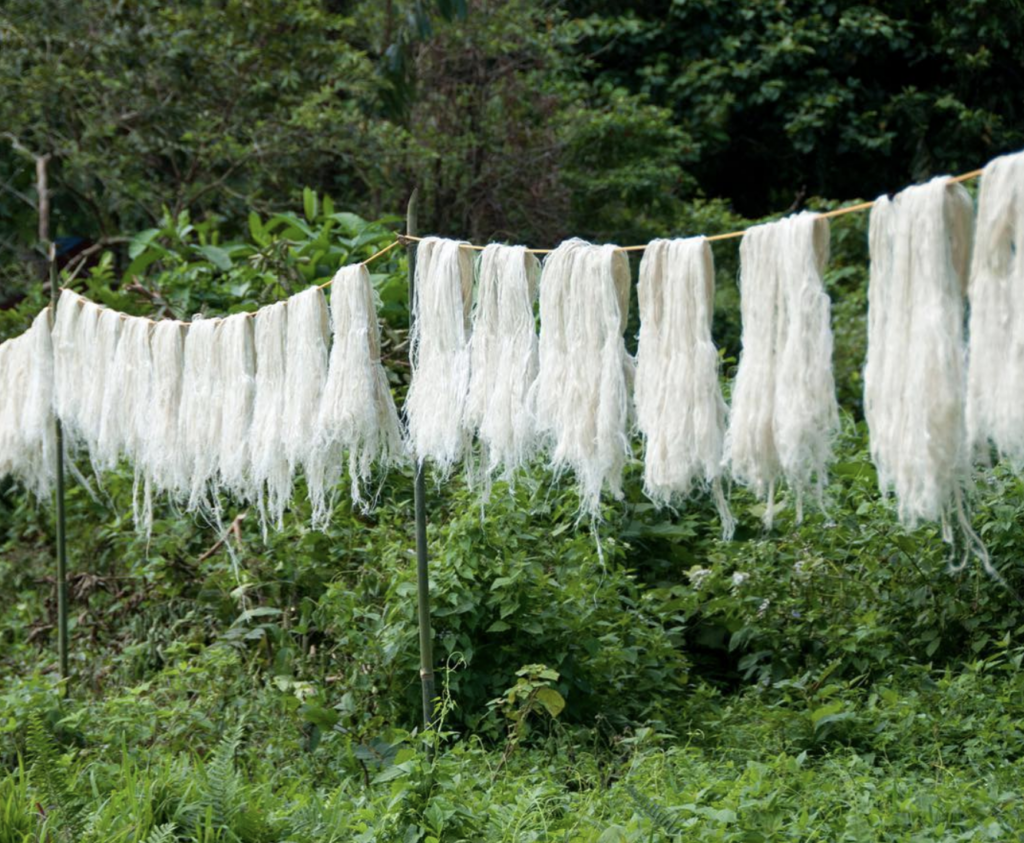 Potato peelings & cocoa fibres
Two English graphic design students imagined furniture coverings with panels designed entirely from potato peels. The goal is to offer an environmentally-friendly alternative to medium-density fibreboard while limiting food waste. For their final university project, the students turned the idea into a real business in 2019. Their "Chip[s] Board" range, remains on the market today.
In addition to furniture coverings, the company now offers eyeglass frames made from potato peelings as well as a range of pure or fibre-reinforced translucent bioplastics for fashion and interior design.
Related News
Elsewhere, work on the "Cacao Eco Village" in the city of Pedernales in northwestern Ecuador should begin this year. This ecovillage project was designed by Italian architect Valentino Gareri, who imagined buildings designed from cocoa fibres and constructed by 3D printers.
Carried out in collaboration with the chocolatier Muze and the Avanti association, the project plans to set up a cocoa processing plant in order to "design new ethical cocoa-based products which compensate for the carbon footprint". The future houses of the ecovillage will also have a rainwater collection system on the roof, as well as natural ventilation.