AHF Europe programmes apply a people-centered approach regionwide, providing HIV prevention, testing and care services. Inclusive models have proven highly efficient and robust for care in peacetime and during crises. The best example of AHF's resilience is the provision of services in Ukraine, where the programmes not only continued but have increased since the start of conflict, allowing more patients to receive lifesaving HIV treatment and care.
The discussion was underpinned by the idea that health does not know borders or cultural or gender differences – it is cross-sectoral and requires attention from multiple policy dimensions. In healthcare provision, positive, inclusive services and a welcoming atmosphere greatly impact a person's perception of healthcare systems. The better the perception, the more likely the person is to return to the same setting regularly.
What follows is a summary of the three discussion topics of the debate. They were in part informed by AHF Europe's work in the region over the past 15 years and the lessons of providing services during the ongoing conflict in Ukraine.
Health provision in the times of war – continuity of care in Ukraine
The discussion was moderated by leading Lithuanian journalist and champion for Ukraine's cause, Mr. Andrius Tapinas, who had proven by his own initiatives the success involving non-governmental organisations in operational responses by collecting funds for various materials that have been sent to Ukraine repeatedly.
An honorable debate invitee, Ms. Maryna Slobodnichenko, Deputy Minister of Health of Ukraine for European Integration, reminded attendees that Ukraine's health resilience relies on several key factors, including European support, engaged Ukrainian doctors and a united Ukrainian people. Ukrainian doctors have not stopped working since the first day of the war but are strongly supported by their communities, allowing them to continue at this high pace. However, several medical gaps cannot be filled by goodwill, and there are severe shortages in the field of prosthetics and rebuilding health facilities. Offensive attacks have damaged one of six healthcare facilities.
The European Commission's Health Emergency Response and Preparedness Authority (DG HERA) reminded participants that the Commission has been channeling private medical donations to Ukraine and supporting child vaccinations. Moreover, Ukraine became eligible for DG HERA's funding and could, for example, receive MPOX vaccines acquired by the EU.
Another Commission's Directorate-General for Neighbourhood and Enlargement Negotiations (DG NEAR) added that numerous diagnostic kits have been delivered to Ukraine. Funds have also been reallocated and new projects have been signed – the latest worth 8 million euros.
According to AHF Ukraine Country Program Director Dr. Yaroslava Lopatina, when the HIV/AIDS-affected populations moved west at the beginning of the war, the systems were overstretched. These regions have not been equipped for large patient numbers, and AHF Ukraine quickly stepped in. Partnerships with local health institutions were established, and human, information and financial support started to flow to support continuity of care.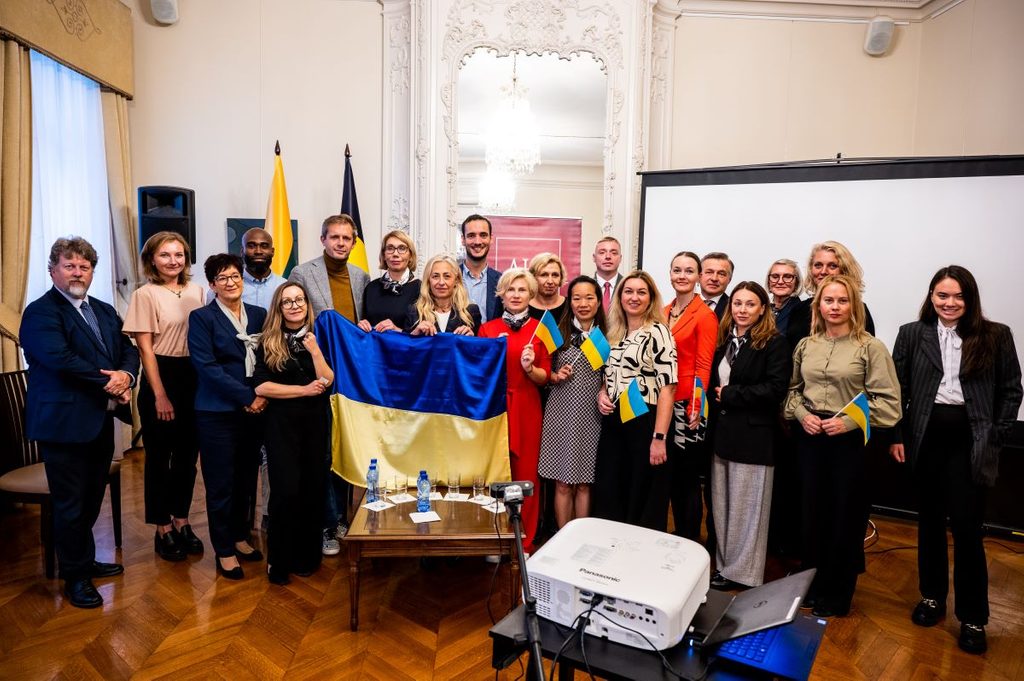 Mental health – even more important in the times of crisis
The mental health of the crisis-affected society and its health workers was flagged by several speakers and the audience. According to Ukraine's Deputy Minister of Health, people are driven by the mission and work tirelessly. The professionals who felt they could not cope with the circumstances left the country while the people remaining are focused on their goals. To support the mental health of workers and populations, Ukraine launched the project 'How are you' – inviting people to openly share how they feel and communicate their emotions and mental struggles.
This June, the EU launched a mental health strategy to support populations in critical situations. It offers a comprehensive, prevention-oriented and multi-stakeholder approach to mental health and provides 1.23 billion euros for new initiatives.
The AHF Ukraine team partnered with German Charité University to prevent medical and non-medical health workers from burnout and applied suggested practices. However, according to Dr. Yaroslava Lopatina, we should not expect people to have a healthy mental state when every day is another threat to their families and themselves. Only stopping the war could resolve the issue considerably.
In the community for the community
Dr. María del Rocío Hernández Soto, General Manager of primary care District Aljarafe- Sevilla Norte and President of the Spanish Society of Managers in Primary Health Care, highlighted that working in the community for the community is the approach used in the region under her supervision that proved to be efficient against various shockwaves, such as emerging diseases and migrant populations.
During the war and the COVID-19 outbreak, official communication channels were ineffective. Therefore, the proximity to care, knowledge of the patients and their families or the social situation allowed for continuous service provision.
DG HERA's Civil Society Forum is its 'eyes from outside advising on where to put the focus', according to representative Anne Simon. On the other hand, Andrew Williams from DG NEAR admitted that cooperation with NGOs from outside of Europe is better established, and it should be further built as an important resource of knowledge and expertise.
Lithuanian Deputy Permanent Representative to the EU Jurga Kasputiene highlighted that civil society in Lithuania has been extremely active in supporting Ukraine and spared no expense in mobilizing support, adding to active national political and financial actions considerably.
AHF Europe Policy Director Indre Karciauskaite closed the event by urging for preparation for future crises and calling for solidarity and the integration of lessons learned in favor of stronger health systems in Ukraine and across the European Union.
By now, we are sure that more crises will come, and it is our responsibility to build crisis-proof health systems. Today's legal instruments in place and under negotiation, such as the EU Global Health Strategy, the Pandemic Accord, pharmaceutical legislation and the European Health Union package, should be better implemented in favor of the people and respond to their needs, not to political interests.
Indre Karciauskaite, AHF Europe Policy Director