Jan Vertonghen, defender in Belgium's national football team for over 15 years and record holder for the number of games with the 'Red Devils', said the team has to work on many aspects of its game ahead of the World Cup in Qatar.
Belgium lost at home against the Netherlands (1-4) at the King Baudouin stadium on Friday, in their first group game of the League of Nations.
"Obviously I'd rather it happened now than later in the campaign. We're a good team but we still have to work a lot to achieve our goals. All the pieces of the puzzle have to fit together if we want to be a great team. Losing at home against an opponent of our level, it's not good. But the World Cup is still a long way off," the Benfica defender told Belga News Agency.
There are three games left for the 'Red Devils' to reverse the trend before the World Cup begins in November.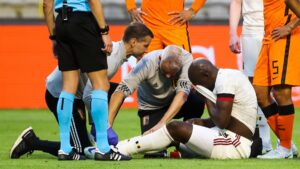 "I'm happy because we have the opportunity to raise the bar. Everyone was naturally disappointed, we are not used to this kind of defeat," he added.
"The first 20 minutes were good but our plan, which was to free up Romelu Lukaku on the right, was thwarted by his [injury] exit. The Netherlands then took control of the game. They put us under pressure and often found the free man. We will have to analyse this defeat," said Vertonghen.