How well do you know your Belgian football? Here's a quick quiz question to test your knowledge: can you name the top three all-time highest goal scorers for the country, in the right order?
Most fans would probably get Romelu Lukaku (68 goals at the time of writing) and Eden Hazard (33). Two out of three correct.
But who's the other? Kevin De Bruyne? Marc Wilmots? Paul Van Himst? Wrong, wrong, and wrong again.
The pictures have surely given the game away. RSC Anderlecht's Tessa Wullaert is number two on the list, with 65 goals in 106 international appearances, including five hat-tricks. And she could overhaul Lukaku's record when she captains the Red Flames at Euro 2022 this summer.
The 29-year-old has also been on fire for her club side this season, netting 36 times for the Mauves, more than twice her nearest rival, as Anderlecht clinched the league and cup double for the first time in almost a quarter of a century.
If that's not enough, Wullaert is a three-time winner of the Golden Shoe, awarded to Belgium's best player, runs her own GRLPWR (girl power) football academy, has just launched a GRLPWR swimwear collection with Antwerp designer Sarah Michaux, and released her first book, Vrouwenvoetbal. She also benefits from a raft of commercial endorsements from Adidas, BMW, Herbalife Nutrition, Strong Supplies, BioSil and SipWell.
We catch up at Anderlecht's impressive Neerpede training complex on the outskirts of Brussels. It's not the first time we've met. Back in 2019, I compiled a report on the future of women's football, World At Her Feet, ahead of the World Cup in France. Wullaert, then playing for Manchester City, was an obvious person to involve.
As well as winning plaudits for her performances on the pitch, she was also attracting attention off it, campaigning for better pay and conditions for female players. Wullaert helped launch the report and used the opportunity to insist that football needed to raise its game and do more to narrow the enormous gender gulf in professional salaries.
So, it's no surprise to discover that she has the letters GRLPWR tattooed at ankle level on her left foot. "It's pretty much my trademark," she says. So too is her single-minded attitude to her job. She is ultra-professional and, if your standards don't meet hers, watch out.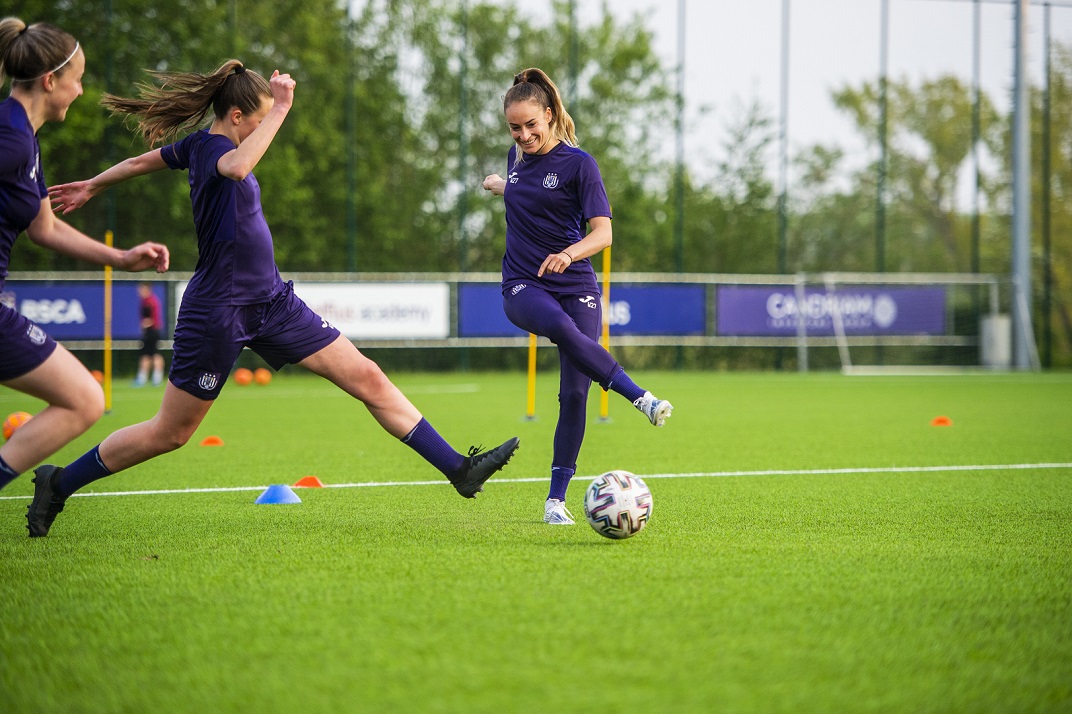 At Neerpede, Wullaert meets us on the first-team pitch, greeting me with a friendly smile and kiss. After a photo session with a ball and a ginormous Super League 2022 Champions trophy, I start by asking why she left Manchester City in 2020 after a two-season spell in which she won two domestic Cup competitions and twice finished runner-up in the English Super League.
It turns out, she missed her family and her boyfriend, Mathias. "Then in March, Covid came," she says. "For me, it was actually like a gift. I was stuck in Belgium and I couldn't go back to Manchester. It made me realise that I was at my happiest at home – and then we started talking with Anderlecht."
She knew the Anderlecht well, after a previous spell with the Mauves in 2012-2013. "I actually had to convince them that I really wanted to play back in Belgium because they didn't believe me. But I said, 'this is my decision and I'm 100 per cent sure'. Two years on, we've won two more championship titles," she says.
That wasn't obvious at the start of the season, with the team failing to gel at first. "We changed our coach, we lost some players, new players were coming in, some youngsters as well, so it was hard to adapt to all of that," she explains. "The other teams were stronger as well this year. But during the play-offs, we showed we were the best team and could perform under pressure."
Wullaert hit five goals in the play-off against KRC Genk. Her best match of the season? "It's hard to say. I think my goals were more important this season than last when we scored 100 times. This year was a lot more difficult. I was really happy I could contribute to the win. But my best game? I actually have no idea!"
So how does she rate Belgium's chances at Euro 2022 in July? "It's only the second time we've qualified for the tournament. In 2017 we got kicked out after the first round. We lost our first game against Denmark because we were stressed," she recalls. "We played as well as them, but they scored and we didn't." Although the Red Flames then beat Norway 2-0, they went out of the competition after losing 2-1 to the Netherlands, which meant finishing third in their group.
Their first game in this campaign is against minnows Iceland in Manchester on July 10. "If we can beat them and maybe draw against Italy, we might survive the first round," she says.
Still, it doesn't sound like she fancies Belgium's chances against their second Group D opponents, France, who they face at Rotherham's glamorous-sounding New York stadium four days after the opener. The Red Flames' final first round tie, with Italy on July 18, takes place back at Manchester City's Academy Stadium, where Wullaert knows every blade of the grass from her time there. A good omen, perhaps?
Belgium warms up for the tournament with friendlies against England, Northern Ireland, Austria and Luxembourg. An opportunity for Wullaert to close in closer on Lukaku's record?
"Well that depends on what he does of course," says Wullaert, referring to the men's upcoming Nations League fixtures against the Netherlands, Wales and Poland. "For us, it's always more difficult than for the men's team. They were the number one top-ranked team in the world so are one of the best teams in every game. We are ranked 25th, so for us, and me, it's more difficult to score."
So what comes next for Wullaert, after the Euros? Her contract with Anderlecht runs for another season but several suitors are circling, including, if rumours are to be believed, Real Madrid, Atlético Madrid and Paris Saint-Germain. The Mauves want her to stay but they won't stand in her way if she receives the right offer.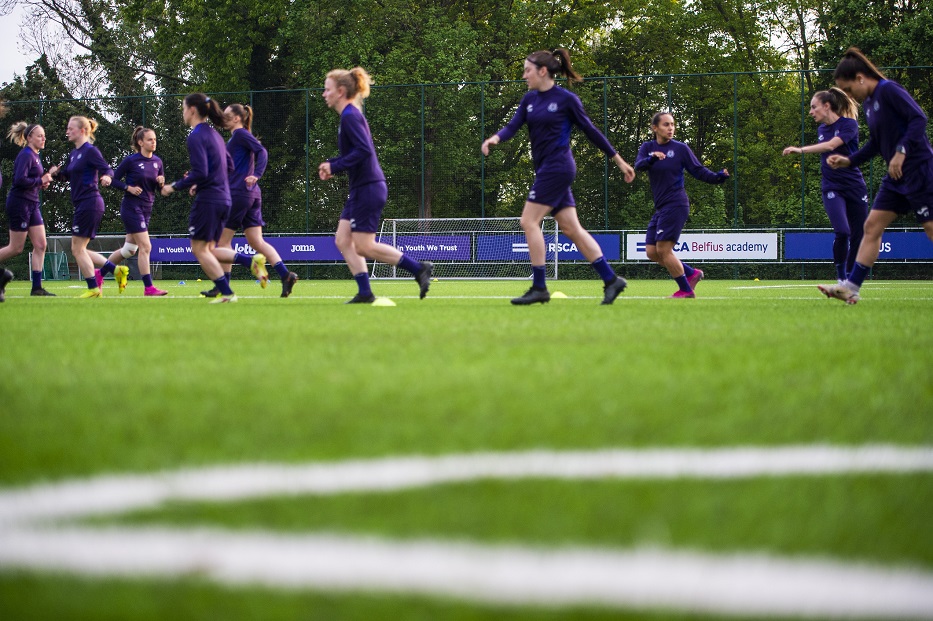 "I told the club that I first want to get the Cup, the double for the team, and then we'll see what happens," she says. "We've had offers from different countries and, for me, it's about making the right decision and finding the right balance between maybe going abroad or staying."
Partner Mathias followed Wullaert when she joined Manchester City but found it hard to settle and returned to Belgium. Is he happy about the prospect of upping sticks again?
"No, he'll stay here," she says. "He loves his family, he loves his friends and he plays football too (as an attacking midfielder for Zwevegem Sport in the Second Provincial League), so he will definitely not come with me this time. It will be a long-distance relationship again. He will be sad, of course, but I will make the right decision for my career – but also for us."
Any move from Belgium won't just separate Wullaert from her partner and family. It could also mean a long separation from her other special friend – her dog, Jean-Marie, seen regularly on his owner's Instagram account.
A mass of curls, her cuddly canine is named after Jean-Marie Pfaff, the former Belgium and Bayern Munich goalkeeper, famous for his blond locks and Flemish reality TV show, The Pfaffs. "He's just over a year old and he really helps me relax," she declares wistfully.
Train hard, win easier
There's just time for a couple more questions before Wullaert joins the squad for their training session. The women train five times a week, almost always in the evenings because most are students or have day-jobs. Striker Amber Maximus has to fit training in around her job as a nurse, for instance.
Wullaert is one of three full-time female pros, along with fellow Red Flame Ella Van Kerkhoven and Romanian midfielder Ştefi Vătafu. Like many clubs, Anderlecht is having to tighten its belt due to the impact of Covid on revenues. However, CEO Peter Verbeke has made it clear that the €750,000 a year budget for the women's team will not be touched.
The atmosphere at training is friendly, with plenty of banter and laughter as the team's Argentinian assistant coach Miguel Atilio leads warm-up exercises. The squad is then split into three groups for their drills, starting with attackers versus defenders where the aim is to keep the ball from your opponents for as long as possible with quick, slick passing. It requires concentration and the banter quickly subsides.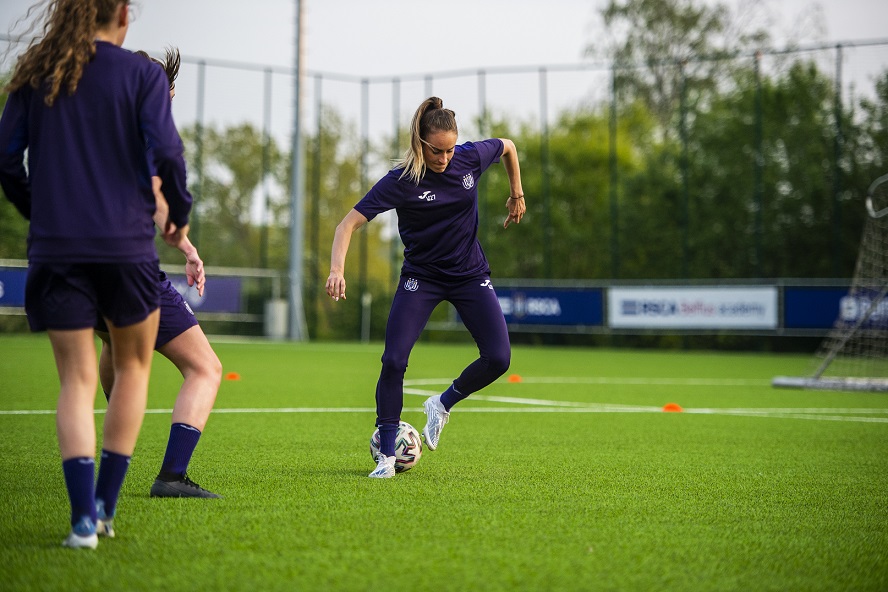 The session is overseen by coach Johan Walem, who made 180 appearances for the Mauves and was capped 36 times for Belgium, in one of his last training sessions before his planned departure (his successor next season is Dave Mattheus). Physio Charlotte Neesen and team doctor Kris Vollon are also on hand, helping us pinpoint players amid a mass of identical ponytails.
Wullaert looks sharp and focused. Like all the best players, she always seems to have more time on the ball. Her technique and movement are exquisite. A lean machine, she looks younger than her 29 years. Earlier, I'd asked her how long she sees herself playing at the top level. Her mid-30s, perhaps? "I'll continue as long as it's my job and as long as I find pleasure in it. So 35, 36, 40, who knows? We'll see," she smiles.
Football-mad family
Wullaert grew up in a football-mad family at Wielsbeke, West Flanders. Mum Joke and dad Franky first met through the sport – her maternal grandfather Rafael was her dad's trainer – and they passed their love of the beautiful game to the next generation.
She was kicking a ball in the playground from the age of five and recalls sitting on the table as Rafael laced her trainers. Joke also enrolled her in dance school, but Tessa preferred to show off her nifty footwork on the pitch. She started out in boys' teams at KFC Wakken, Ingelmunster and Harelbeke, where she now lives.
Not all the boys' parents were happy that Wullaert kept their sons on the bench. But she soon switched to the women's game and went straight into the first team at Zulte Waregem. She joined Anderlecht when she was still in high school and, at 17, received her first international call-up. Three years later Wullaert signed for Standard de Liège Fémina and won the player of the season award in the BeNe (Belgium and Netherlands) League.
She juggled football with a work internship but soon realised she couldn't give 100 per cent to both. After gaining her diploma in tourism management, she turned professional at 22, joining German side Wolfsburg.
It was her first time living away from home and Wullaert admits to shedding a few tears. "It was tough, but it made me a better player," she says. After three years at Wolfsburg, winning two Bundesliga and three Cup titles as well as playing in the Champions League, she was ready for another step up, moving to Manchester City, before returning to Anderlecht in July 2020.
Along with partner Mathias, 30, an account manager at Waregem-based CEOs 4 Climate, her biggest fans remain dad Franky, a bus driver for De Lijn, and mum Joke, who works as a nurse at a local hospital and prison. Younger brother Jarne, 23, is also a talented striker, playing for SC Wielsbeke in the 1st Provincial League.
Clinching the double
A few days after our interview, I watch Anderlecht in action in their season finale, a clásico encounter against historic rivals Standard de Liège Fémina in the women's cup final on May 14. There's a cracking atmosphere at the match, played in bright sunshine in front of several thousand noisy fans at KV Mechelen's Achter de Kazerne stadium. For over an hour, underdogs Liège frustrate Anderlecht and even twice threaten to take the lead.
But in a game-changing second-half substitution, coach Johan Walem sends on Sakina Diki Ouzraoui and makes a tactical switch, moving Wullaert from the left wing into the centre. It's a masterstroke, ensuring Wullaert pulls the strings.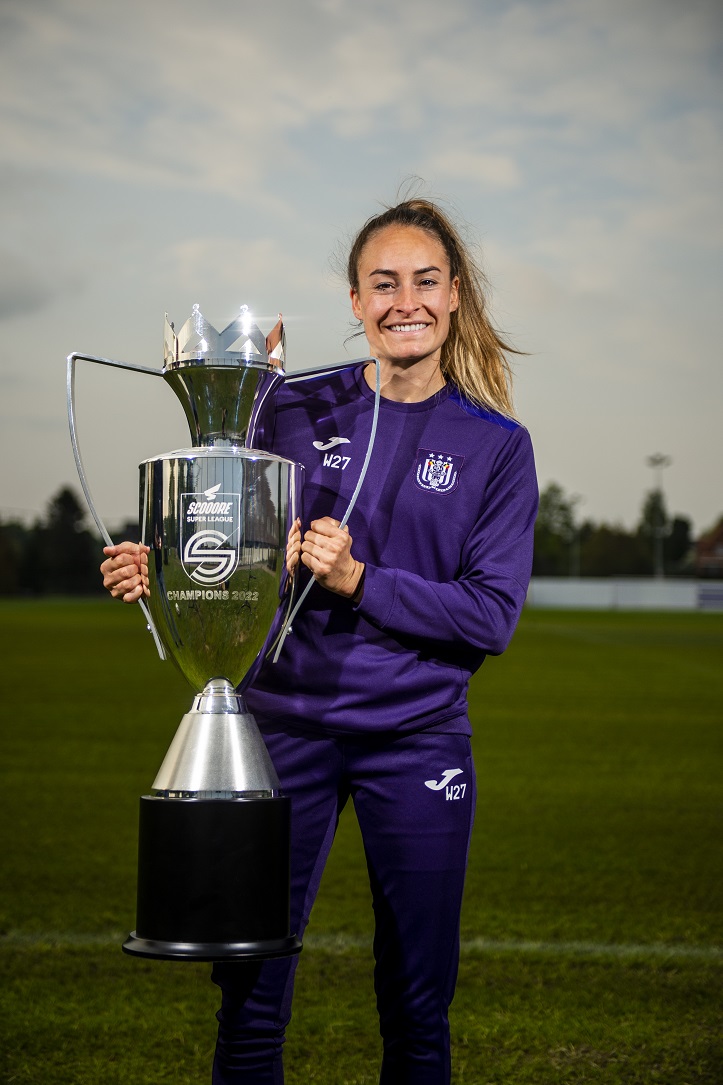 The breakthrough comes in the 70th minute as Wullaert feeds Sarah Wijnants, who makes no mistake with a shot into the bottom-left corner. With five minutes to go, Wullaert is again the supplier, squaring a perfect pass to Diki Ouzraoui, who makes it 2-0. Wullaert, in what could be her swansong with the club, gets on the scoresheet herself in the 87th minute, racing through and beating off challenges from two defenders before slipping the ball past Standard's keeper. With the result beyond doubt, Walem brings on Amber Maximus for Wullaert for the final moments, allowing the Queen of the Mauves to receive a well-deserved show of appreciation from the fans.
After the 3-0 victory, Wullaert is inevitably asked about her future, amid rumours that Paris Saint-Germain are now in pole position among her admirers. She's giving nothing away. "I'm going on a plane trip," is all she'll say.
---
The women's game
Tessa Wullaert's new book, Vrouwenvoetbal, co-written with Flemish journalist Pieter-Jan Calcoen, is part autobiography and part the story of the women's game over the past century-and-a-half.
However, women may have been playing football for much longer than that: Chinese women played a similar sport, known as cuju, during the Han Dynasty over 2,000 years ago.
The book dates the birth of competitive women's football in Europe to May 9, 1881, when teams representing England and Scotland played at Hibernian's Easter Road stadium in Edinburgh. A local newspaper reported that the women were "neatly dressed" in baggy trousers, shirts, caps and high boots. Scotland won 3-0. Three weeks later the teams faced each other again in Glasgow but were forced to flee after a second-half pitch invasion (they're nothing new).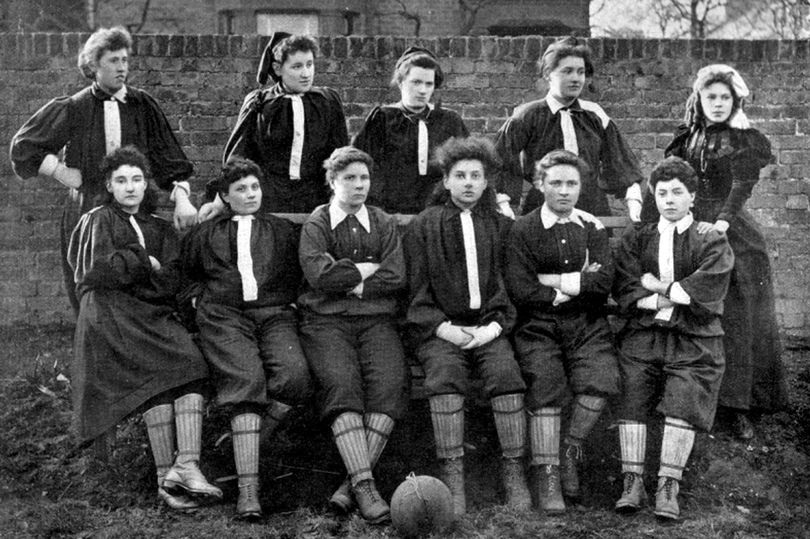 During and immediately after the First World War, women's matches attracted big crowds. On December 26, 1920, 53,000 fans filled Everton's Goodison Park to watch the Dick, Kerr Ladies FC, formed by workers at a Lancashire ammunition factory, defeat St Helens 4-0.
The attendance record for a women's club match stood for 99 years. It was finally beaten in March 2019 when nearly 61,000 fans saw Atlético Madrid take on Barcelona at the Metropolitano stadium in the Spanish capital. The record was broken again in April this year when 91,648 watched Barcelona's tie with Wolfsburg in the women's Champions League semi-final at the Camp Nou.
The main reason the original attendance record stood for so long is that women's football was banned for decades in many countries. In December 1921, the English Football Association (FA) prohibited women from playing on its pitches, asserting that "football is quite unsuitable for females and ought not to be encouraged". Belgium, France, Germany, the Netherlands, Spain and Brazil brought in similar bans.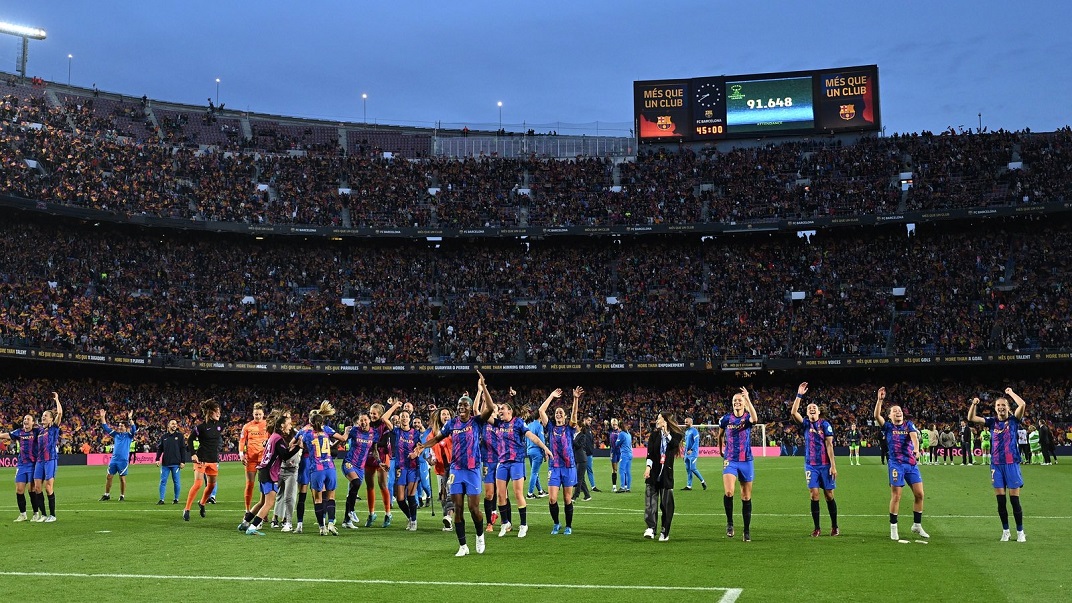 Women, however, continued to play, on non-sanctioned fields. Despite the restrictions, the first women's club in Belgium, Brussels Femina, was founded in 1921. Women's teams competed in Belgium until the Second World War.
In 1970, Italy hosted the first unofficial women's world championship, with Austria, Denmark, England, Germany, Mexico and Switzerland taking part. European football governing body UEFA encouraged its members to end their restrictions on women.
The English FA finally lifted its pitch ban in 1971 and other countries followed. The Royal Belgian Football Association set up a structure for women's football the same year, with Vlug Op Wemmel (later becoming Wemmel Dames 71 and Brussels Dames 71) among the first to sign up. In 1993, Brussels Dames merged with Anderlecht. They have won the title eight times since.
The Belgian women's team made its international debut in 1976, beating France 2-1, and took part in European Championship qualifiers for the first time in 1984.
More girls and women than ever now play football in Belgium and the country's FA aims to double the number of female registered players to 80,000 by 2026, with the help of inspiring training schemes like Wullaert's GRLPWR project, aimed at girls between the ages of 7-11 and 12-16.
But women are still far from being on a level playing field with their male counterparts. Launching Vrouwenvoetbal at Anderlecht's Lotto Park stadium, Wullaert revealed that she knew of youth teams where girls are forced to make way for boys in the gym.
A lack of equality is obvious in the professional game, too. Anderlecht's women play their home games in different stadia. Salaries, even for full-time pros, rarely come close to men's wages. TV rights revenues for women's football are minuscule. Apart from big occasions such as cup finals, women's club football in Belgium tends to attract crowds in the hundreds rather than thousands.
Wullaert hopes greater coverage during the Euros and next World Cup can further raise the profile of women's football. And as a role model for the women's game, she takes her responsibilities seriously, on and off the pitch, never shying away from promoting the sport she loves. "People who think they wouldn't like women's football end up surprised by our level of technique. We have a lot of passion and play great football," she says.