On Saturday, Remco Evenepoel was a comfortable leader in the last mountain stage of Spain's 77th "Vuelta ciclista a Espana". – the last before Sunday's final finish in Madrid. The 22-year-old Flemish Brabançon, barring an accident, will put his name on the list of winners of the Spanish equivalent of the Tour de France.
With the young Beligan cyclist being almost certain to win the Tour of Spain on Sunday, Brussels decided to pay tribute to Remco Evenepoel's success on Saturday evening by illuminating the Grand-Place entirely in red, for the colours of the Vuelta.
Brussels Mayor Philippe Close paid tribute to Evenepoel on Twitter. "REMCO! REMCO! REMCO! Tonight, the Grand Place will be completely illuminated in red! And tomorrow, meet in front of the Stock Exchange in front of the giant screen for the last stage!", wrote the mayor of the City of Brussels on Saturday evening.
In the race on Saturday, Evenepoel burst into tears at the finishing line, clearly very moved but also expressing joy in his post-race interview with the organisers.
"I don't know what's going through my head," he stammered.
"It's been a lot of good for my head and my body. After all the hard work and also after all the bad comments about my person last year, I get this win. I responded with the pedals. It's the first Grand Tour where I started in perfect health. I came here in the best possible conditions. I am very happy with this final victory, the first for the Wolfpack and the first for a very long time for Belgium."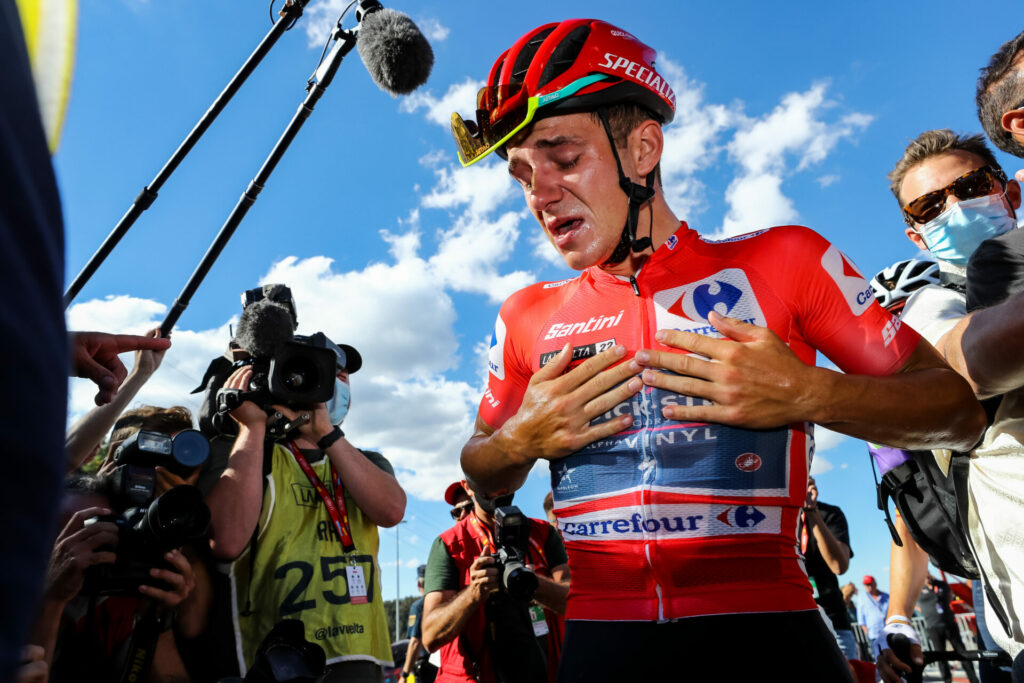 Evenepoel had a difficult night before the race: "I was very nervous this morning," he admitted.
Related News
"I hadn't slept well. I knew in advance that it would be a difficult course, but I survived. I knew what awaited me. I wasn't thinking about the stage victory today, I just wanted to follow today. I believed in my abilities and I'm very happy."
"It was the most important day of my career and it became the best day of my life. It was a very good year, with victories in Liège-Bastogne-Liège and in the Clasica San Sebastian as well. I never could have imagined that. And this winter, I'm also going to get married. It's the best year I could have hoped for."