Belgium's football squad, the Red Devils, have been enjoying a purple patch over the past decade. Their 'golden generation' were World Cup quarterfinalists in Brazil in 2014, third in Russia in 2018, and until recently, had spent four years at the top of the FIFA rankings. Going into the 2022 World Cup in Qatar, this could be their best chance of winning football's most coveted trophy.
Coach Roberto Martinez is optimistic that his squad can go all the way. The team is stronger than four years ago, he says, but he accepts not everyone shares this opinion. "There are probably eight national teams that, on their day, can beat anyone. We are part of those eight," he says.
I meet Martinez in the staff restaurant at the team's new €16 million, state-of-the-art headquarters in Tubize, 25km south-west of Brussels, straddling Wallonia and Flanders, which includes eight pitches and a VAR (Video Assistant Referee) studio to view slow-motion replays. Wearing his coaching kit, the 49-year-old Spaniard looks relaxed and fit.
But he is facing scepticism about whether Belgium can go further than before. The Belgian press now suggests the golden generation has become the olden generation, and that, despite being number two in the world rankings, the Red Devils will have their work cut out in Qatar.
The term 'golden generation' was first used to salute the Belgian team that finished fourth at the 1986 World Cup in Mexico, losing 2-0 to eventual champions Argentina, with Diego Maradona scoring both goals. Captain Jan Ceulemans and keeper Jean-Marie Pfaff were selected in the All-Star Team of the finals.
Current Red Devils captain Eden Hazard, 31, has distanced himself from the golden generation tag, saying today's team will only truly merit the accolade when they win trophies.
But Martinez politely disagrees. "The term means achieving something that's never been achieved before. That's the way I see it. Mexico 86 is always the one that comes up and you can learn a lot from the mentality and the way that they went about their games."
Martinez was uneasy about the golden generation tag when he took over from Marc Wilmots as Red Devils coach in August 2016, but he feels the players deserve it now. "They've been four years number one in the world, 2018, 2019, 2020 and 2021, right up to December. This is the work of a generation," he says.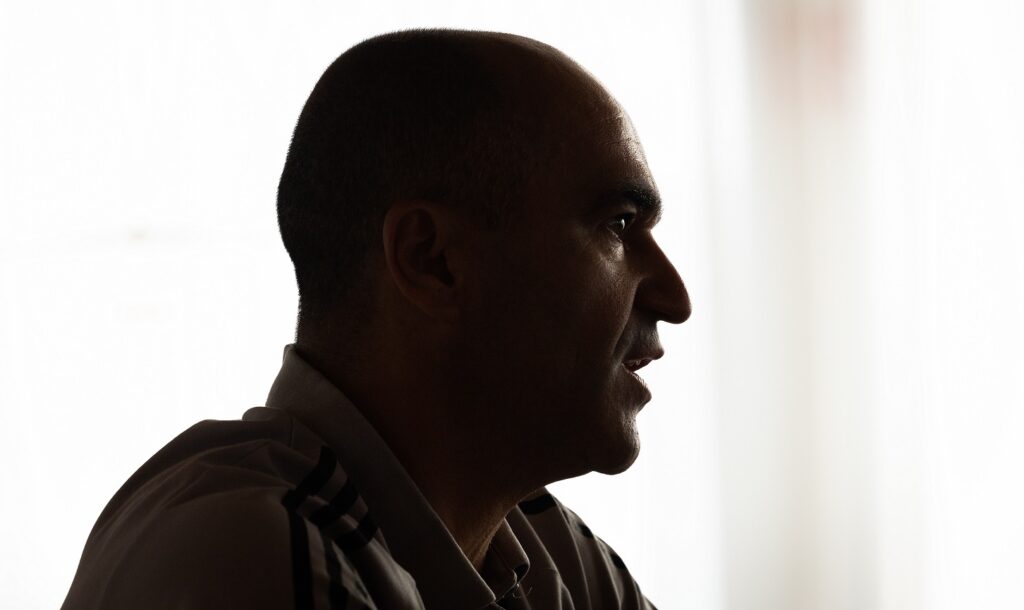 For the first time, the World Cup is being held in winter rather than summer, against the backdrop of widespread questions about Qatar's suitability as host country. Its selection in 2010 took place amid a swirl of corruption claims and the desert kingdom's human rights record, in particular its treatment of migrant workers and anti-gay laws, has received widespread condemnation.
But Martinez is focused on the football. He is aware that critics say Belgium is going backwards, only reaching the quarterfinals of the Euros last year and semi-finals of the UEFA Nations League this summer. He expects "a lot of surprising results" in Qatar because, unlike in a summer tournament, the players will arrive in the middle of the season in peak condition.
Occupational Hazard
He still has to respond to concerns about his squad. That includes Hazard, who has hardly kicked a ball this season at Real Madrid and suffered a host of injuries since joining the La Liga champions from Chelsea in 2019. He played in last summer's delayed European championships but was far from his best.
Martinez leaps to his talisman's defence, insisting he is fully fit. "He doesn't miss any training session," he says. "And his commitment to the Red Devils is immense. He knows that this is his opportunity in the tournament to be himself again and we're going to give him everything we can. We have a stronger team with a sharp Eden Hazard, that's the reality. In the Euros, he was playing with pain. Now he's pain-free."
As Martinez notes, Hazard won the league in France, in England and then, became the centrepiece of Real Madrid. "This is a landmark for a Belgian player," he says.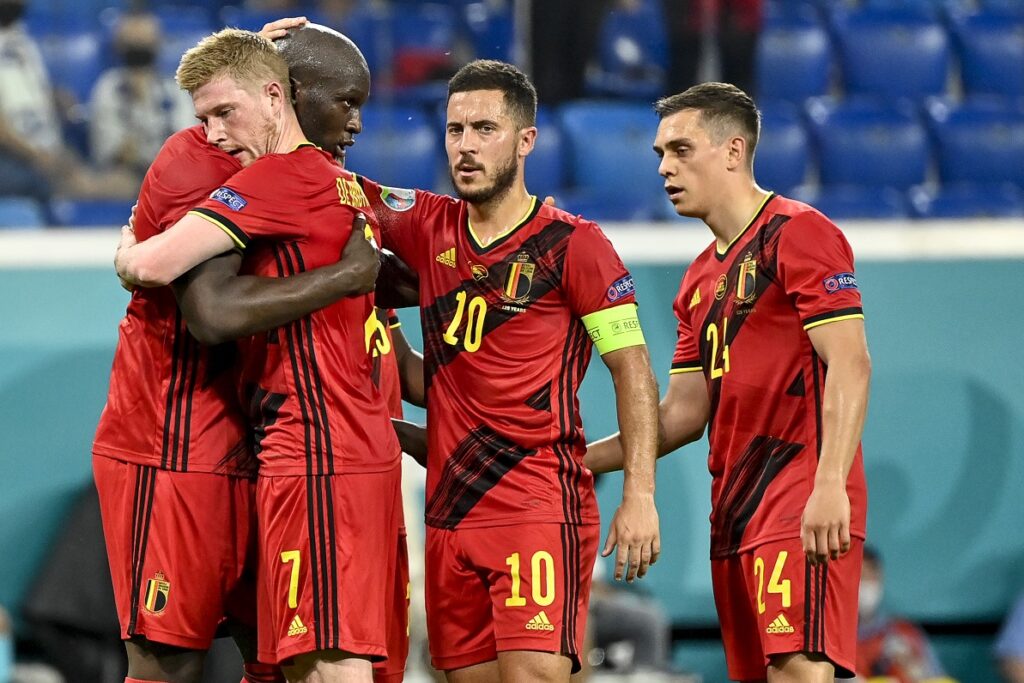 But has Hazard been distracted of late? Footage emerged of him dancing at the Bloody Louis nightclub in Brussels' Avenue Louise, two days before Belgium's 1-0 defeat by the Netherlands in the Nations League. Martinez admits he had a conversation with the captain but "that's something that'll stay between him and me."
There have also been concerns about the form of stalwart defenders Toby Alderweireld, 33, and Jan Vertonghen, 35. Once again, Martinez, an ex-defensive midfielder himself, stands by his men. Alderweireld has handled the pressure "really well" since joining ambitious Antwerp. "He became captain, he became someone that is a leader."
Vertonghen, who played alongside Alderweireld at Tottenham, is now at Anderlecht, who recently sacked coach Felice Mazzu after a disappointing start to the season. Could Anderlecht's problems could affect Vertonghen's chances in the World Cup? "In a positive way," Martinez says. "He takes responsibility. As a player, you can say, 'OK, well the coach got it wrong.' Or you say, 'well, I'm part of the project, so I should have been better.'"
Over the hill?
Martinez rejects insinuations that his central pairing is over the hill. "We need to stay away from suggesting that if Toby or Jan have a bad game, it's 'because they are too old,'" he says. "No, they have a bad game because they're allowed to have a bad game. Every player can have a good game and a bad game, not because they're old. Every time you have a bad game and every time you have a good game it's because you're an experienced player."
Besides, Martinez adds, playing for the national team is not the same as playing for your club. "In the national team, we play with different players and we get different types of opposition," he says. "The games are very, very different. What is good is that they're match-fit. They play games, they play minutes, and from a mental point of view, I've seen a real mature aspect, that they look after the players around them and the young players. That's what we have to take into the World Cup. I expect that from them. They are captains within the group."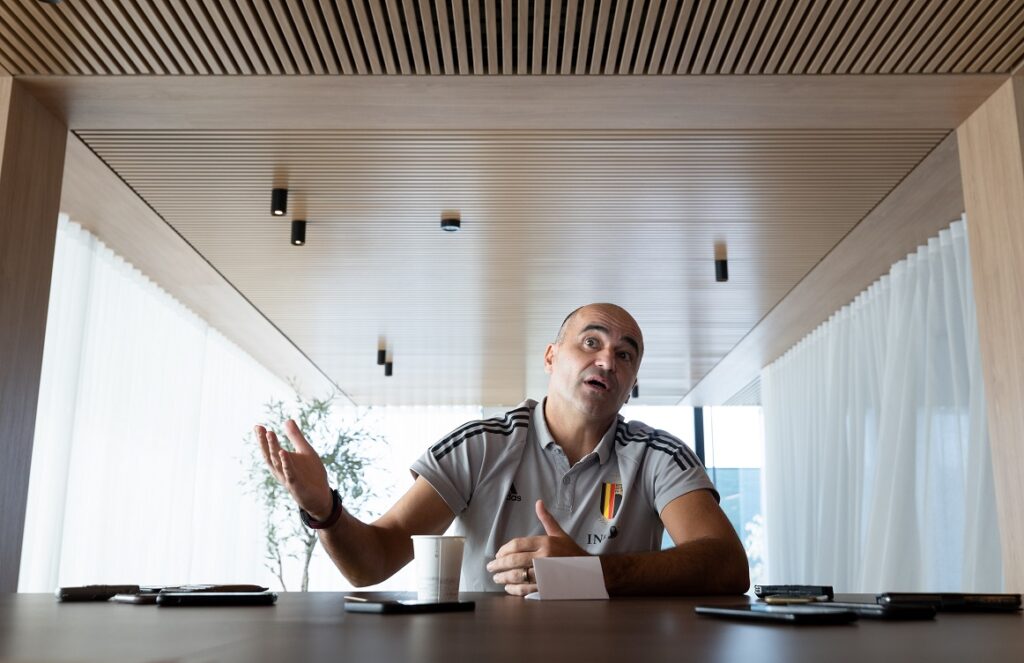 At the other end of the field, there are questions about Belgium's apparent lack of attacking options. First-choice striker Romelu Lukaku, the country's all-time leading scorer, has missed two months this season with a hamstring injury – although he made an immediate impact on his return with Inter Milan last month, scoring in a 4-0 win against Viktoria Plzeň, a result which took Simone Inzaghi's men into the last 16 of the Champions League.
"Just to see him with a smile, being able to make an impact straight away, it shows you he was free in his head," says Martinez. "As a striker, the first thing you want is to be involved in an attacking play and scoring a goal. People underestimate how strong Rom is mentally. I saw him the first time when the injury happened. He was totally focused. He told me 'I want to get back.' I knew he'd be fine."
Yet doubts remain that the big man has made a full recovery, with Inzaghi later forced to rest him again. So who steps up if Lukaku is not available? Divock Origi and Charles De Ketelaere, both of AC Milan, are not at his level, even if Martinez says 21-year-old former Club Brugge star De Ketelaere is "well ahead of what I expected" in his development, while Michy Batshuayi of Fenerbahçe looked out of sorts in his last game for Belgium.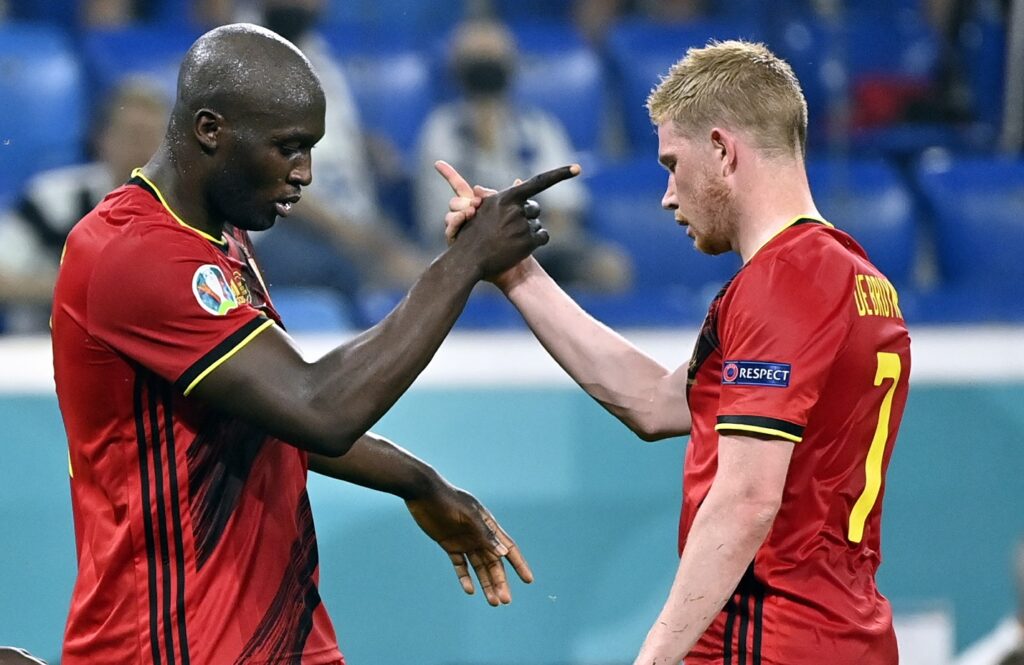 Still, the coach agrees that no one can match Lukaku. "Every team has players that there's no like-for-like replacement for," he says, equating Lukaku's impact to Lionel Messi with Argentina, as a unique force of nature.
"This is what happens in football," he says. "In our case, we know the level that Thibaut Courtois is reaching, we know the level that Kevin De Bruyne is reaching, we know the level that Romelu Lukaku is reaching, so we need these players fit. If these players cannot play, then we have to find a solution, but you cannot replace them like-for-like. It's impossible. Because of their careers, their experience, their qualities, they are too influential for us. So, if we lose one of these players, we need to change the way of playing."
Fierce competition
A big positive for the Red Devils ahead of the tournament has been the form of Brighton's Leandro Trossard, which has not gone unnoticed by Martinez.
"I think that Leandro has grown immensely," he says, pointing to how Trossard netted a hat-trick against Liverpool at Anfield, scored in Brighton's win against Arsenal, and even netted against Manchester City. "He's scored in all the big games in the Premier League. He's become a very important player for us. The next step is to be able to do that at international level. He's always in the big moments and that's what we need," Martinez says.
For the first time in a World Cup, coaches will also be able to use up to five substitutes, which changes the dynamic of the game. Not that Martinez is looking to make any excuses. "We are very strong with experience. And when I say strong, I'm not talking about the individuals. What I'm saying is, as a team," he says. "I think we can cope now better when players are missing than when we were in Russia when we had Thomas Meunier, for example, suspended. If let's say, Thomas Meunier doesn't play, Timothy Castagne can play, Alexis Saelemaekers can play, Thomas Foket can play."
The competition for places is fierce, he says, pointing to young players like Albert Sambi Lokonga at Arsenal, Amadou Onana at Everton and Roméo Lavia at Southampton, all vying to be on the plane.
"We'll use our experience, use our youth and have a very well-balanced squad," he says. "The commitment is there. Every player is super excited. Everyone is looking forward to it. We're going to Qatar with an incredible desire to be ourselves and to be very, very clear with the way we want to play and try to grow as a team."
Martinez's preparations begin with a friendly against Egypt in Kuwait City, two days before the month-long tournament opens on November 20. "To go to Kuwait and have similar weather conditions very close to where we're going to be, that will give us a good opportunity to adapt straight away."
But, before then, he faces the tricky task of trimming his list of 55 definites, probables and possibles into the final squad of 26.
"We've got a group of players that are there because of what they've done previously with the national team. If they're not injured, they're in the squad. That's maybe 13 players that give you a solid base," he says.
After that, he says there is a group of players who have already been Red Devils, who will be judged on their form. And then there is another group he always keeps an eye on: "Players that have got an outstanding attribute that will be very helpful in the way we want to play but have never played for the Red Devils."
Trimming the list
For more than a decade, the Belgian squad has been dominated by players based in England, with a few in the German, Spanish, French and Italian leagues. But Martinez insists he is not overlooking talent in the Belgian league. "In the 55 list, there are young players that impressed at youth level like Julien Duranville, like Mario Stroeykens [both Anderlecht], like Roméo Lavia. There are players that are doing really well at their club like Bryan Heynen [Genk], Maxim De Cuyper [Westerlo] and [Mike] Trésor [Genk]," he says.
Martinez also consults his assistant coaches, France and Arsenal legend Thierry Henry and former Belgium centre-back Thomas Vermaelen, on team selection. "Yes, we are in contact every day. We analyse the players on what they do in the national team, what we see in training, what we see in games. And then you've got, all the stats on the players, what they do at their clubs, the level of performances. It's at that point you make a decision based on what we need," he says.
Attitude is essential, including whether the players can get along with one another. "You're going to be together 24 hours a day and that's a big part of it as well. So the decision is always totally subjective, and with a good feeling, but it gets filtered by the data," he says.
I then throw Martinez a curveball. When he leaves work and goes to his home in Waterloo, does he shut the office door and leave everything behind – or does he talk tactics with his wife, Beth? Would he, for example, discuss with her whether he should play Eden Hazard from the start or as a sub?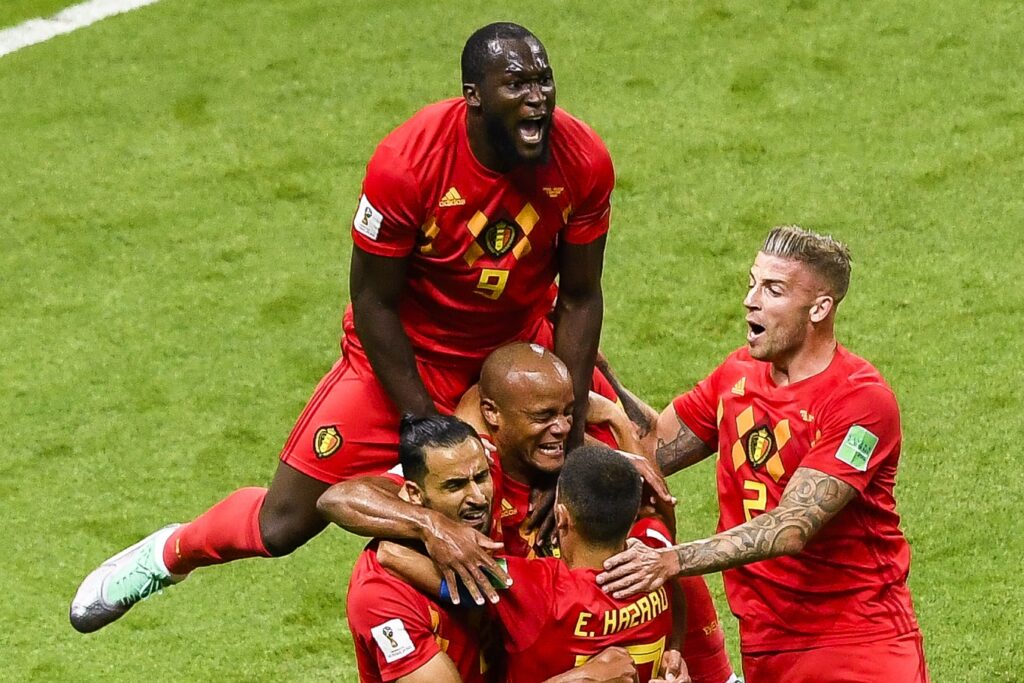 "You have to be careful because the wife's got very strong opinions, as you know," he replies, laughing. Then more seriously: "My work needs to be a passion and it's 24 hours a day. With the people that you love, there is always contact. But I think I learnt very early when I was a young coach not to involve wives in football matters!"
So, what is the best advice he's received from your wife? "She always says 'just don't doubt, don't doubt.' And she's right. I think sometimes as human beings, in the end, you get a hand-brake. The biggest hand-brake that we have is ourselves. So if you want to do something, do it," he says.
Martinez's contract is due to expire at the end of the year, so what does the future hold? "The only thing in terms of my future is the World Cup," he says. "But my day-to-day is like I'm going to be here for the next 50 years. That's the only way that I can work otherwise I wouldn't be doing my job correctly."
He feels he's a better coach than when he took over as Belgium's boss four years ago, too. "We had 50 games at international level since then. As they say, the old fox is not clever by being a fox, it's by being old, isn't it? You have to use your experience and learn from it and that makes you stronger," he says.
Will it be difficult to leave Belgium if his contract is not renewed? "I don't think that way, honestly. I came here for two years and six years later we're in a new building preparing for a new World Cup. That's the way you have to take football. Giving your all and expecting nothing."
---
Roberto Martinez's football CV
Playing career
1991-1994: Zaragoza B, Zaragosza (Spain)
1994-1995: Balaguer (Spain)
1995-2001: Wigan (UK)
2001-2002: Motherwell (UK)
2002-2003: Walsall (UK)
2003-2006: Swansea (UK)
2006-2007: Chester (UK)
Managerial career
2007-2009: Swansea (UK)
2009-2013: Wigan (UK)
2013-2016: Everton (UK)
2016-: Belgium
Home
Roberto and his wife, Beth, have two daughters: Luella, who will celebrate her ninth birthday the day before Belgium's opening tie with Canada, and three-year-old Safiana.
---
The reddest Devils
A giant portrait of Kevin De Bruyne and Romelu Lukaku dominates the staircase to the first floor of the Belgian FA's new headquarters in Tubize.
Provided they stay clear of injuries, De Bruyne and Lukaku will be two of the first names on the team sheet in Qatar.
De Bruyne, 31, who started his career at Genk, is one of the world's top players and is closing in on 100 appearances for Belgium. In October, the Man City playmaker made the final three in this year's Ballon d'Or award, behind Real Madrid's Karim Benzema and former Liverpool star Sadio Mané.
He has scored 25 goals for his country and netted 15 times for champions City last season, a personal best, picking up his fourth title winners' medal. He has a penchant for spectacular goals, and when he drops his shoulder to run at a defence, is nearly unstoppable.
His good friend Lukaku, 29, is Belgium's all-time top scorer with 68 goals in 102 appearances and the world's most expensive player based on cumulative transfer fees. The Antwerp-born powerhouse striker is among six Red Devils with over a century of caps (the others are Jan Vertonghen, Axel Witsel, Toby Alderweireld, Eden Hazard and Dries Mertens).
One worry for Martinez is that neither De Bruyne nor Lukaku have been firing on all cylinders this season. Pep Guardiola, De Bruyne's manager at Man City, recently admitted that he is "not playing at his best", while Lukaku, on loan at Inter after a disappointing second spell with Chelsea, has missed much of the start of the season due to a hamstring injury.
Towering goalkeeper Thibaut Courtois, 30, is in imperious form at Real Madrid. In May, he was named man of the match in the Champions League final, helping his side secure a 1-0 victory against Liverpool with nine saves. Voted seventh in this year's Ballon d'Or awards, Courtois complained that keepers rarely get their due in a modern game that requires them to be not just shot-stoppers, but also playmakers. He has a point.
With so many stellar names in the Belgium team, it's easy to overlook that 33-year-old Witsel is the country's second most capped player, with 126 appearances at the time of writing, behind Vertonghen, on 141 caps. Expected to provide the midfield engine alongside Youri Tielemans, the ever-reliable and versatile Witsel left Borussia Dortmund in the summer to join Atlético Madrid. He began his career with his hometown club Standard Liège and has also played for Benfica, Zenit Saint Petersburg and Tianjin Tianhai.
---
The danger men amongst Belgium's opponents
Belgium are drawn against Croatia, Canada and Morocco in Group F, with each side offering potential threats.
Croatia, beaten finalists in 2018, will likely pose the sternest test. They are widely, but perhaps wrongly, seen as an old team. Since the last World Cup, they have freshened up the squad. Luka Modrić, 37, winner of the 2018 Ballon d'Or, Ivan Perišić, 33, and Marcelo Brozović, 30, are the only players over 30 expected in the starting line-up. Evergreen Modrić remains a key man at Real Madrid, while Spurs wing-back Perišić and Inter Milan playmaker Brozović have shown that their age is no issue.
Other players to look out for in Zlatko Dalić's squad include young defender Joško Gvardiol, 20, a revelation at Leipzig; Chelsea's tough-tackling Mateo Kovačić, 28; Bayern Munich's Josip Stanišić, 22; and Hoffenheim's Andrej Kramarić, 31, one of the top scorers in the Bundesliga.
Canada returns to the World Cup for the first time in 36 years after clinching top spot in the CONCACAF (Confederation of North, Central American and Caribbean Association Football) qualifiers, ahead of the US and Mexico, and coach John Herdman believes his underdogs can cause a shock.
Former Gent striker Jonathan David, 22, part of the Lille squad that upstaged Paris Saint-Germain to win the French Ligue 1 title in 2021, is tipped to move to the Premier League after the finals, with Manchester United and Chelsea said to be vying for his signature. Bayern Munich midfielder Alphonso Davies, 21, is the most decorated Canadian male footballer of all time. Right winger Tajon Buchanan, 23, has made a strong impression since joining Club Brugge, while Porto's Stephen Eustáquio, 25, is also one to watch.
Morocco, who will have plenty of support in Belgium, are in a transition after their August firing Vahid Halilhodžić, the Bosnian coach who guided them to the finals. But new boss Walid Regragui has no shortage of talent at his disposal. Paris Saint-Germain's Achraf Hakimi, 24, is a pacy defender who likes to attack. Centre-back and captain Romain Saïss, 32, is powerful in the air and assured on the ball. His move to Beşiktaş in the Turkish Süper Lig left Premier League Wolves noticeably weaker.
Sevilla's Yassine Bounou, 31, is the current holder of the Zamora Trophy, awarded to the goalkeeper with the lowest goals-to-games ratio in La Liga (beating Thibaut Courtois to collect the award). Former Club Brugge midfielder Sofyan Amrabat, 26, now with Fiorentina, likes to press opponents and, if he gets the chance, is not afraid to strike from distance.
---
Belgium's fixtures
Wednesday, November 23:
Belgium v Canada
20.00 Belgian time, Ahmad Bin Ali stadium, Al Rayyan
Sunday, November 27:
Belgium v Morocco
14.00, Al-Thumama stadium, Doha
Thursday, December 1:
Croatia v Belgium
16.00, Ahmad Bin Ali stadium, Al Rayyan
The World Cup takes kicks off on Sunday, November 20, with an opening ceremony and match between Qatar and Ecuador.
The final will be played at Lusail Stadium on Sunday, December 18.