Ghislaine Maxwell was found guilty and sentenced to 20 years in prison on Tuesday, 28 June, for her role in a scheme to sexually exploit and abuse multiple minor girls with Jeffrey Epstein over the course of a decade.
According to the U.S. Attorney's Office of Southern District of New York, Maxwell assisted, facilitated and participated in Epstein's abuse of minor girls from at least 1994 up to and including 2004. She helped Epstein recruit, groom and abuse victims that were underage, the youngest among them was 14 years old.
"This sentence sends a strong message that no one is above the law and it is never too late for justice," Damian Williams, U.S. Attorney for the Southern District of New York, said. "We again express our gratitude to Epstein and Maxwell's victims for their courage in coming forward, in testifying at trial, and in sharing their stories as part of today's sentencing."
Testimony and trial
During the trial, evidence was offered through 24 witnesses over 10 days, centred on four accusers. Two of the accusers testified in court, while the two who did not still made statements during Tuesday's sentencing. They highlighted how the abuse impacted them and the role Maxwell played in it.
Maxwell herself spoke Tuesday, which was the first public remark she had made since her arrest in July 2020. She acknowledged the victimised women's pain and anguish, yet fell short of apologising or taking responsibility for her involvement.
Related News
The district stated that Maxwell attempted to befriend certain victims by making conversation and taking them on shopping trips, and later by encouraging them to accept Epstein's offers to pay for travel and/or educational opportunities. Maxwell also normalised and facilitated sexual abuse by discussing sexual topics with victims, being present when the victim was undressed and encouraging the victim to massage Epstein.
In some instances, Maxwell participated in the sexual abuse of minor victims. The victims were groomed and abused at Epstein's residences in New York, Florida and New Mexico as well as in London, England, where Maxwell resided.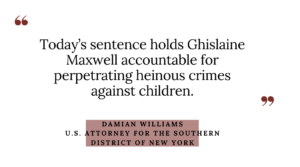 In the first seven years of the conspiracy, Epstein and Maxwell purposefully targeted vulnerable girls, typically coming from single-mother households and with difficult financial backgrounds. Starting from 2001, Maxwell and Epstein paid certain victims to recruit additional girls to be similarly abused by Epstein.
Details of the sentence
Maxwell was previously found guilty of conspiracy to entice minors to travel to engage in illegal sex acts, conspiracy to transport minors to participate in illegal sex acts, transporting a minor to participate in illegal sex acts, sex trafficking conspiracy and sex trafficking of a minor on 29 December 2021.
According to reports by the New York Times, federal prosecutors in Manhattan had recommended a 30-year sentence. Yet, in addition to her 20-year prison sentence, she was also sentenced to five years of supervised release and ordered to pay a $750,00 fine.
Maxwell's lawyers have said she will appeal her conviction.