In an e-mail to Twitter's entire staff on Thursday, the company's new owner Elon Musk announced that mass layoffs would take place on Friday. In response, employees have filed a class action lawsuit against the company.
According to the e-mail, obtained by the US newspaper The Washington Post, employees will be individually notified by email about whether they keep their job or not. Previously, sources informed the Bloomberg news agency that Musk wants to lay off some 3,700 of the 7,500 staff.
"Team, in an effort to place Twitter on a healthy path, we will go through the difficult process of reducing our global workforce on Friday," the companywide emails reads. This is necessary "to ensure the company's success moving forward."
The Twitter offices will remain closed today and all access badges have been temporarily deactivated "to help ensure the safety of each employee as well as the Twitter systems and customer data."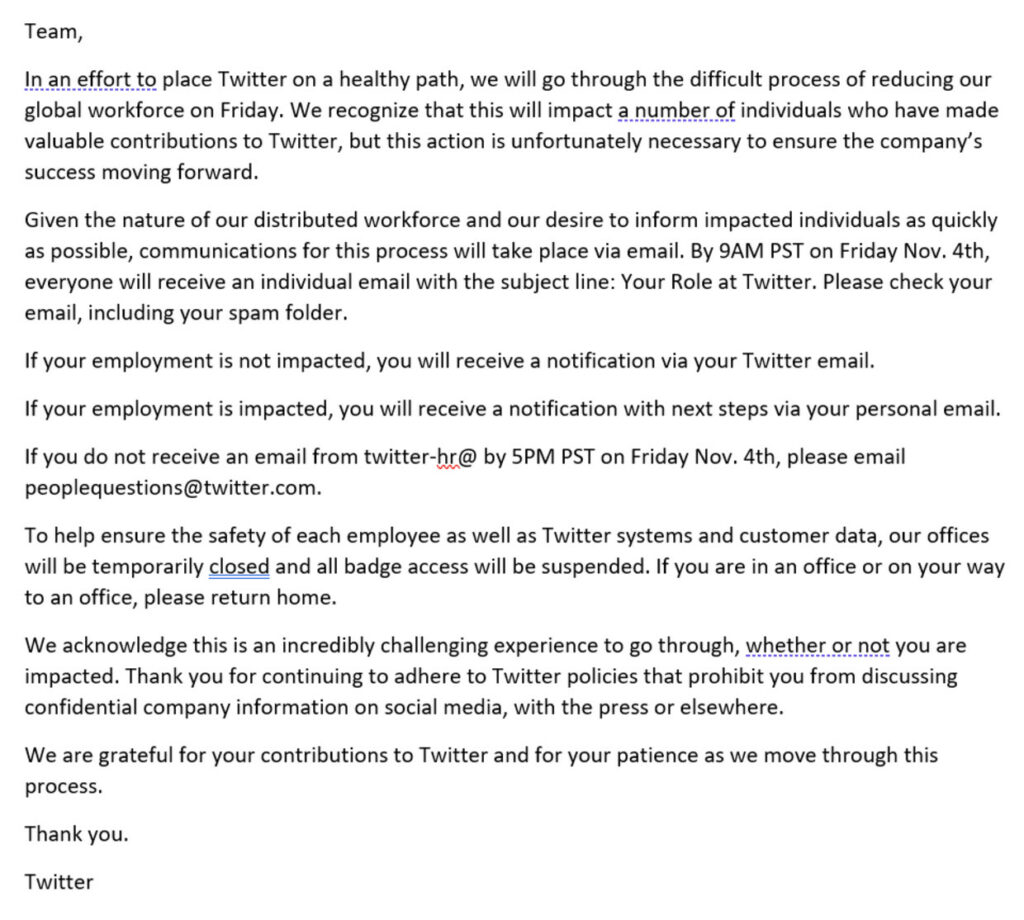 Since the news of the mass layoff leaked to the press, however, Twitter employees have filed a class-action lawsuit in the federal court of San Francisco, where the company is based.
The Worker Adjustment and Retraining Notification Act – known as the WARN act – prohibits large companies from laying off employees en masse without giving them at least 60 days' notice. Twitter staff accuse Musk of violating this law. The company has not yet responded to the charges.
On Thursday, sources reported to Reuters that Musk was told by advisers that the company needed to cut $1 to $3 million a day. He agreed to pay $54.20 per share just before markets plummeted and then spent months trying to get out from under the transaction, claiming that the company had misled him about the number of fake accounts.
Twitter then filed a lawsuit to force Musk to honour his agreement, after which Musk finally gave in.
Related News
The New York Times reports that Musk is not only under pressure to cut costs at the company he acquired last week but also needs to increase revenues. Plans reportedly include charging users for private messages and watching certain videos. On Tuesday, Musk also announced an $8-a-month subscription for users who want their account verified with a blue checkmark.
Previously, Musk also fired Twitter's entire board to become interim chief executive of the company himself.