Police violence, barricades, fires, and projectiles: the Place d'Italie district in the French capital of Paris was the scene of violent clashes between protesting French citizens and police on Saturday evening. Over 100 hundred arrests were made.
Saturday's mobilisation marks a third night of violence in the capital following the French Government's use on Thursday of an executive order – article 49.3 of the constitution – to force through the pension reform, meaning that the law was passed without a vote in parliament. The only way to block the law is through a no-confidence vote against the government, which is planned for Monday.
According to a report published on Sunday from the French Ministry of the Interior, there were 110 arrests made around the Place d'Italie. A total of 169 people were reported to have been arrested across France.
After the Paris police prefecture banned gatherings on Place de la Concorde and the Champs-Elysées on Saturday afternoon, tensions shifted from the 8th to the 13th arrondissement. At Place de la Concorde, 400 people were searched and 12 people were arrested, the ministry said.
"Due to serious risks of disturbance to public order and security…any gathering on Place de la Concorde and its surroundings as well as in the area of the Avenue des Champs-Elysées is forbidden," the prefecture had told AFP on Saturday afternoon.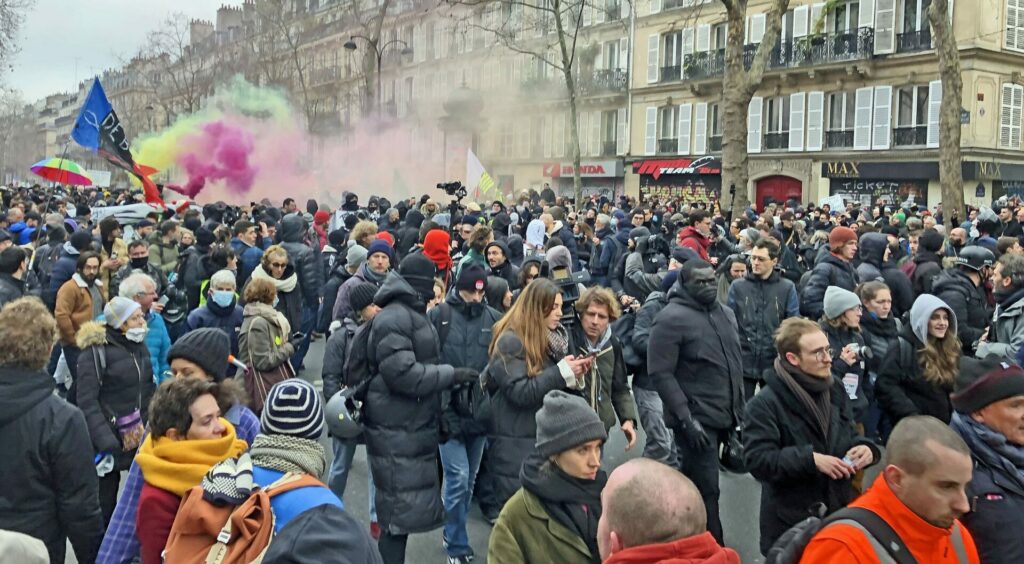 Eventually, tensions erupted in the Place d'Italie area, where, according to police estimates, 4,000 people marched towards the narrow streets of the Butte-aux-Cailles district.
Related News
Bin were set alight, billboard windows and bus shelters were targeted, and construction barriers were used to block streets, an AFP reporter noted.
At around 8pm, the police intervened, notably the Brigades de répression de l'action violente motorisées (BRAV-M), who deployed tear gas against protestors, according to AFP-TV on the scene. Police carried out many charges, with videos online showing various cases of police brutality, including one video of a group of police officers beating up a woman.
The police used tear gas and water cannon to disperse the protesters, and tensions had been stabilised returned by 22:30.
Rallies were held all over the country, in Brest, Nantes, Toulon and Montpellier. A new national day of action is also planned for Thursday.
Left-leaning union, the CGT, noted on Saturday that the country's largest refinery, located in Normandy (north-west) and operated by TotalEnergies, had been shut down.
French Industry Minister Roland Lescure hinted on Saturday that the government could retaliate by requisitioning agents.