Activists demanding a ban on private jets have disrupted Europe's biggest private jet sales fair, the annual European Business Aviation Convention & Exhibition (EBACE) in Geneva. All those involved have been in custody for nearly 24 hours.
Around one hundred climate activists supporting Greenpeace, Stay Grounded, Extinction Rebellion, Scientist Rebellion and other climate movement groups from 17 countries joined the protest action in Switzerland.
According to the latest reports, at least 102 climate activists have been detained for over 20 hours for participating in the peaceful protest. Organisations involved say they are "extremely concerned" for the well-being of activists and are calling for the immediate release of the activists.
During their arrest, instances of police brutality were also reported by Stay Grounded, with injuries and the use of pepper spray.
On Tuesday, climate activists peacefully chained themselves to aircraft gangways and the exhibition entrance in order to keep prospective buyers from entering the business event by Geneva Airport.
Protestors stuck giant tobacco-style health warning labels on the jets marking them as toxic objects and warning that 'private jets burn our future', 'kill our planet', and 'fuel inequality'.
Popping Champagne
The EBACE is Europe's largest – and one of the world's biggest – annual gatherings of business aviation industry stakeholders, hosted by American and European jet operators. Roughly half of the 10,000 visitors owns or operates a jet, Greenpeace believes.
"For over 20 years, Europe's super-rich have popped champagne behind closed doors at EBACE while shopping for the latest toxic private jets," said Klara Maria Schenk, transport campaigner for Greenpeace's Mobility for All campaign.
Apart from banning private jets, campaigners were also calling for an end to air miles schemes which reward frequent flyers, and demanding instead a tax.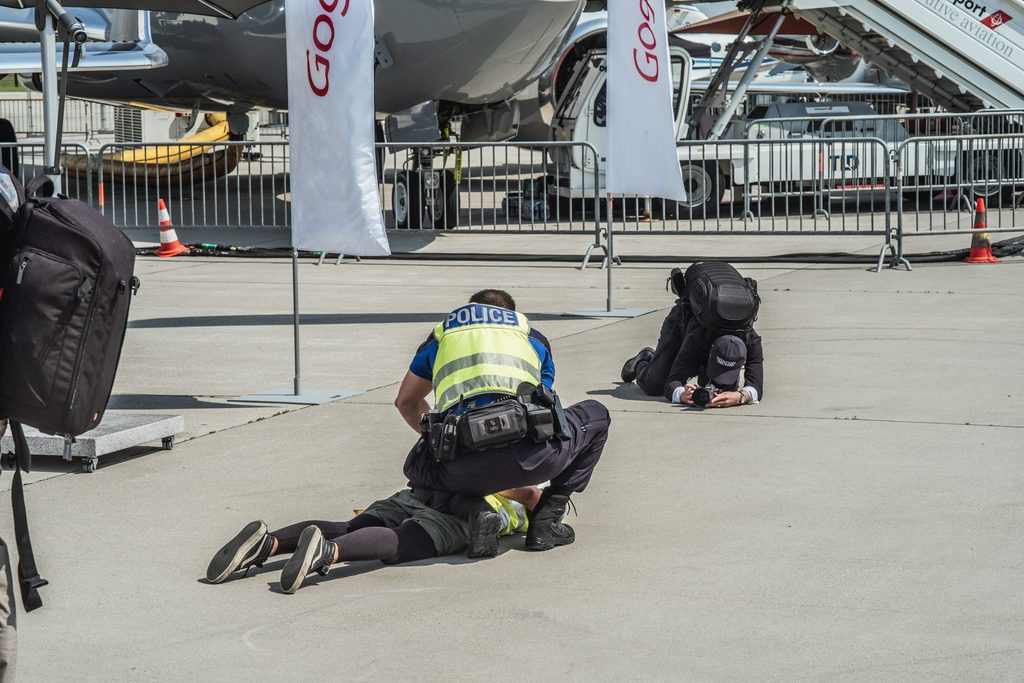 The action follows a series of protests against private jets, including at the Amsterdam Schiphol airport and actions as part of the Make Them Pay campaign, in the past months.
Sharp rise in private jet use in Europe
"Private flights produce about 10 times the CO2 of a commercial flight per passenger kilometre and cause disproportionate amounts of micro-particle pollution and noise, which are harmful to our health, wellbeing, environment and climate," Greenpeace said during their campaign.
Data from a study commissioned by Dutch environmental consultancy showed an "alarming increase in private jet flights" last year in Belgium. In 2020 a total of 2,794 flights departed from Belgium, while this figure jumped to 10,618 flights in 2022.
Belgium ranks eighth in the list of EU countries with the most private flights in 2022. At Brussels Airport alone, a 40% rise in private jet use was recorded last year.
The Belgian government announced last year a new tax on private jets, short-haul flights and old polluting aeroplanes in a bid to reduce air pollution levels.