National railway company SNCB and bus company De Lijn have warned that public transport will be suspended between 14:00 and 18:00 in large parts of Flanders and that no alternative transport methods will be organised.
As Storm Eunice is sweeping across Belgium on Friday afternoon, SNCB and De Lijn scrapped a number of trains, buses and trams due to the "unsafe" circumstances.
Around 17:30, De Lijn announced that it was halting all bus and tram traffic throughout the province of Antwerp, East Flanders and West Flanders until at least 18:30. "The resumption of full bus and tram traffic is on condition that the roads and tracks can be cleared."
#StormEunice #Antwerpen #OostVlaanderen #WestVlaanderen ⚠ In heel de provincie Antwerpen, Oost-Vlaanderen en West-Vlaanderen wordt het bus-en tramverkeer stilgelegd tot zeker 18u30.

ℹ https://t.co/lOKunhwEfz #Delijn #Eunice pic.twitter.com/0HG9n6WeMX — De Lijn (@delijn) February 18, 2022
Earlier on Friday, SNCB already announced measures to keep its staff and customers safe during the worst part of the storm. People have been asked to plan their journeys for before noon, and to stay inside as much as possible.
"In West Flanders, there will be no trains and in East Flanders, 90% of the traffic will be stopped. The cities of Ostend, Kortrijk, Bruges, Ghent, Antwerp and Mechelen will not be served. Traffic to the Netherlands will also be interrupted," an SNCB statement read.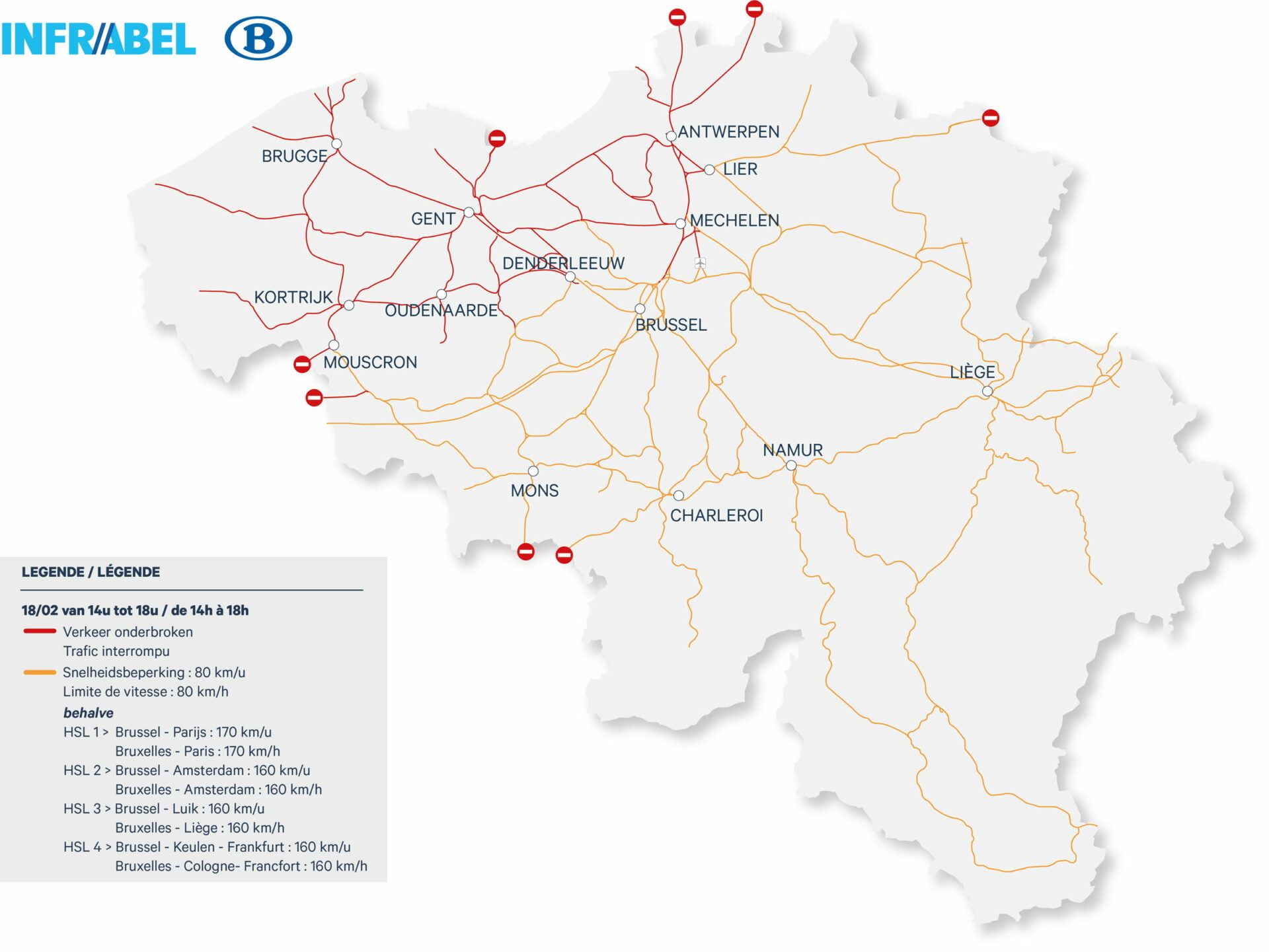 A speed limitation of up to 80 km/h will be implemented on the rest of the network and 160 km/h on the high-speed lines. It is hoped the train traffic will gradually resume in affected areas after 18:00.
Meanwhile, railway operator Infrabel intervention teams have been reinforced and are ready to intervene quickly in case of storm incidents, such as trees or branches on the tracks, the company stated. People living near tracks have been advised to tie up garden furniture and not to recover objects themselves if they end up on the tracks.
Disruption of other transport
In anticipation of the storm, certain flights from Brussels Airport to the United Kingdom (Manchester) and the Netherlands (Amsterdam Schiphol) were cancelled due to the situation in both countries.
According to Belga News Agency, the airport does not expect the storm to have too much impact, but if high winds do occur, ground handling could be temporarily interrupted, leading to potential delays.
Meanwhile, along the coast and for shipping, the Agency for Maritime Services and Coast (MDK) is taking several measures to ensure safety, including a general prohibition of incoming and outgoing shipping, meaning ships have to wait along the quay in the port or in the anchorage area at sea.
Related News
Ferries servicing the coastline and on the Scheldt may also be affected. On land, the harbour dams will be closed to pedestrians and cyclists.
Some schools in the most affected areas (East and West Flanders and Antwerp) have decided to close their doors this afternoon to give children time to get home safe before the storm hits.
Food delivery service Deliveroo has also announced that it will not send out couriers from 13:00 to 17:00 across the entire country, meaning it won't be possible to make orders via the platform during these hours.
Update: This article was updated to include De Lijn's decision to halt all bus and tram traffic until at least 18:30.