Following weeks of mounting tension on the global stage, Russia launched a full-scale invasion of Ukraine on Wednesday night, and has seized control of several areas in the south of the country. Follow the most important developments here. The latest updates appear highest on the page.
The latest coverage starting Saturday morning can be found here.
Ukraine was invaded from its border with Russia and Belarus and from the Crimean peninsula, first with airstrikes against various military targets and then using ground forces. Fighting progressed to the Chernobyl nuclear power plant and a military airport near Kyiv, which seems to be a key target for the Russian troops, by Thursday evening.
Ukrainian President Volodymyr Zelenskyy called the seizure of Chernobyl "a declaration of war to the whole of Europe." Explosions have already been heard during the night. Both Ukraine and Russia are reporting numerous deaths and injuries. According to the United Nations, about 100,000 people in Ukraine have fled their homes.
Large Russian army force nears Kyiv to 50 km, says UK intelligence [18:16]
A large Russian army force has approached the Ukrainian capital Kyiv to 50 kilometres from the city centre, the British Ministry of Defence announced on Twitter on Friday afternoon.
In suburbs in the north of the capital, there are said to be "sporadic clashes" between the two parties, which the Ministry is following up on.
Read below for an update from Defence Intelligence: pic.twitter.com/blwf1hv0bq

— Ministry of Defence 🇬🇧 (@DefenceHQ) February 25, 2022
Wilmès wants Belgium to send weapons to Ukraine, if possible [18:07]
Belgian Foreign Affairs Sophie Wilmès wants Defence to draw up a list of the weapons that Belgium could send to Ukraine, she told VTM News on Friday, before the start of a European Council of Ministers.
On Wednesday, the National Security Council decided that Belgium will send military protection material to Ukraine. However, weapons are not included, as Belgium needs them to be able to fulfil its commitments within the NATO framework. However, Wilmès repeated her plea to send weapons. "We have to do more, also in terms of military equipment. That is my conviction. We are examining this at the core level."
If Belgium were to be in a position to send weapons to Ukraine, it should do so, Wilmès said. "I do not know yet which weapons. We have asked Defence what is available, hopefully, we will get the results of this investigation as soon as possible."
Council of Europe suspends Russia [17:56]
The Council of Europe is suspending Russia as a member of the organisation, it decided on Friday afternoon. The Council of Europe was established after the Second World War to protect human rights and the rule of law throughout the continent.
As a suspended member, Russia remains obliged to abide by the Council's agreements, and Russians also retain the option of going to the Court of Human Rights in Strasbourg. "Suspension is not a final measure but a temporary one, leaving channels of communication open," the Council said.
Putin calls on Ukrainian military to take control [16:23]
In a televised speech, Russian President Vladimir Putin called on the Ukrainian military to "take power into their own hands," as that would make it "easier to reach an agreement."
"I once again appeal to the armed forces of Ukraine: do not allow neo-Nazis to use your children, women and elderly people as human shields," Putin said, adding that the Russian military in Ukraine acted "courageously, professionally and heroically."
Earlier on Friday, Putin told Chinese President Xi Jinping in a telephone conversation that he is prepared to send a delegation to Minsk for talks with the Ukrainian authorities, the Kremlin announced after the meeting.
Zelenskyy invites Putin for talks, Russia responds positively [15:38]
Ukrainian President Volodimir Zelenskyy has invited Russian President Vladimir Putin for consultations. The Russian president is prepared to respond, confirmed Kremlin spokesman Dmitri Peskov.
"I would like to address the President of the Russian Federation once again," Zelenskyy said on Friday in a video address published on his Telegram channel. "There is fighting all over the territory of Ukraine. Let us sit down at the negotiating table to stop the loss of life."
Putin responded positively to the proposal. He is ready to send a delegation to the Belarusian capital Minsk for peace talks with Ukraine, the Kremlin confirmed.
De Croo: 'necessary to close the net around those in power and the elite in Moscow' [15:24]
"The images we see from Ukraine catapult us back to the Second World War, to a time where civilians have to take shelter in bunkers, where civilians take shelter in metro stations and where cities are being shelled," Belgian Prime Minister Alexander De Croo said on Flemish radio.
He said that he is "particularly concerned" about the violence in residential areas, stressing that it concerns "serious violations of international law."
"Innocent civilian lives are simply being thrown to the wind here," De Croo said, adding that he is glad that the EU approved a new sanctions package on Thursday, but emphasised that they could have been tougher.
"It is necessary to close the net around those in power and the elite in Moscow as much as possible. The Ukrainians did not want this war, we did not want this war," he added. De Croo said that Russian President Vladimir Putin himself should be put on a sanctions list, as "he is clearly responsible for what is happening."
Accusations of war crimes after orphanages and kindergartens said to be attacked [13:46]
"Today's Russian attacks on kindergartens and orphanages are war crimes and violations of the Rome Statute," Minister of Foreign Affairs for Ukraine Dmytro Kuleba said on Twitter. "Together with the Office of the Attorney General, we are collecting these and other materials, which we will immediately transfer to The Hague. Responsibility is inevitable."
Сьогоднішні атаки РФ на дитячий садок і дитячий будинок є воєнними злочинами та порушенням Римського статуту. Разом з Офісом Генерального прокурора збираємо ці та інші матеріали, які невідкладно передамо до Гааги. Відповідальність неминуча.

— Dmytro Kuleba (@DmytroKuleba) February 25, 2022
At least 25 civilian casualties and more than 100 injured in Ukraine, reports UN [13:39]
At least 25 civilians have been killed in Ukraine so far, said the spokesperson for the United Nations Department of Human Rights, Ravina Shamdasani. More than 100 other civilians are also believed to have been injured, including by airstrikes. "But we are probably underestimating the situation," she added.
Additionally, more than 100,000 Ukrainians have left their homes and fled, according to the UN. Thousands of them have crossed the border into Poland, Romania and Moldova, among other countries. The number of refugees could reach five million.
In the meantime, the Chairman of the Ukrainian Verkhovna Rada (Parliament) Rusland Stefanchuk gave a statement, urging foreign authorities to close the sky over Kyiv and the Chernobyl Nuclear Power Plant Zone of Alienation "to minimise civilian casualties, save the lives of innocent Ukrainian children, women and the world from a new nuclear catastrophe."
Nuclear catastrophe imminent due to shelling near Chernobyl, warns Ukrainian MP [13:12]
Citing the world's humanitarian obligations in the Russian invasion of Ukraine, MP Dmytro Natalukha warned of the potential of serious nuclear disaster as Russians continue airstrikes around the nuclear power plant Chernobyl in their fight over the capital Kyiv.
"Russians have taken control of Chernobyl," Natalukha said in a video message. "Russia keeps firing artillery shots and airplane shots at our forces from the sky, very close to Chernobyl and there's a very, very huge risk that a missile will hit the nuclear plant itself. That one missile would be enough to start another huge nuclear catastrophe over all of Europe."
He advocated for an immediate no-fly zone over all of Ukraine or at least Kyiv, "not just to help Ukraine, but to help yourselves."
Russia ready to negotiate 'if Ukraine lays down its arms,' says Russian Foreign Minister [12:59]
Russia is prepared to enter into negotiations with Kyiv on the condition that Ukraine "lays down its arms," said Russian Foreign Minister Sergey Lavrov at a press conference on Friday, one day after the Russian invasion. "We are ready to negotiate, at any time, as soon as the Ukrainian armed forces answer our call to lay down their weapons."
Additionally, he also made it clear that he wants to get rid of the current government in Kyiv. "We see no possibility of recognising a government that oppresses its own people and uses genocidal methods as democratic," he is quoted as saying by the Russian news agency Interfax. "We want the Ukrainian people to be independent and have a government that represents full diversity." Lavrov also said there was no intention to occupy Ukraine.
Former EU Council President Donal Tusk criticises sanctions package: 'Pretended' [12:41]
Donald Tusk, former Prime Minister of Poland and also former President of the European Council, has strongly criticised Germany and other EU Member States for blocking one of the toughest economic sanctions against Russia, exclusion from the international Swift payment system.
In this war everything is real: Putin's madness and cruelty, Ukrainian victims, bombs falling on Kyiv. Only your sanctions are pretended. Those EU government's, which blocked tough decisions (i.a. Germany, Hungary, Italy) have disgraced themselves.

— Donald Tusk (@donaldtuskEPP) February 25, 2022
Swift stands for Society for Worldwide Interbank Financial Telecommunication and was founded in 1973 by a large number of banks from the US and Europe, with the aim of facilitating international payments. Currently, more than 11,000 financial institutions in over 200 countries are affiliated with it.
Simply put, Swift is an electronic messaging service for banks, through which confidential financial data, such as payments and share transactions, are sent and processed. Swift does not execute these payments itself, but ensures that banks can carry out international transactions among themselves in a standardised and secure manner.
"Swift is really a central hub in international payments," Koen De Leus, chief economist at BNP Paribas Fortis, told VRT. "If you do not have access anymore, then your international payments are just not going to be able to continue."
Ukraine lifts age limit for new soldiers [12:11]
The Ministry of Defence in Ukraine is appealing to the entire nation to help out in the war against Russia, and has eased the application procedures for new soldiers. "Only your passport and identification code are enough. There are no age restrictions. Today, Ukraine needs everything," it announced on Twitter.
✅Офіційна заява Командувача Сил ТрО Юрія Галушкіна:

‼️Сьогодні Україні потрібні всі. Всі процедури приєднання до ТрО спрощені. З собою мати лише паспорт та ідентифікаційний код. Вікових обмежень немає. Якщо у вас на місцях будуть проблеми, посилайтесь на цю офіційну заяву. — Defence of Ukraine (@DefenceU) February 25, 2022
Russians in Ukrainian military uniforms attempt to sabotage defence [11:21]
Ukrainian Deputy Defence Minister Hanna Malyar says Russian soldiers obtained two Ukrainian army vehicles near Kyiv, dressed themselves on Ukrainian uniforms and then tried to drive into the centre of the capital followed by a column of Russian military trucks.
"They are being neutralised," the statement said, and videos have surfaced on Telegram channels of dead soldiers in Ukrainian uniforms captioned with "saboteurs who drove in previously captured APU vehicles disguised as Ukrainian servicemen were shot and neutralised."
Russian army has lost some 450 people, estimates British Defence Minister [10:32]
While Russia announced that the "first day of invasion was a success" on Wednesday evening, the British Minister of Defence Ben Wallace told BBC Radio 4 that he doubts that is true, based on estimates by the British intelligence services.
"Our assessment as of this morning is that Russia has not taken any of its major objectives, in fact it is behind its hoped-for timetable," he said. This claim, however, is difficult to verify by independent media.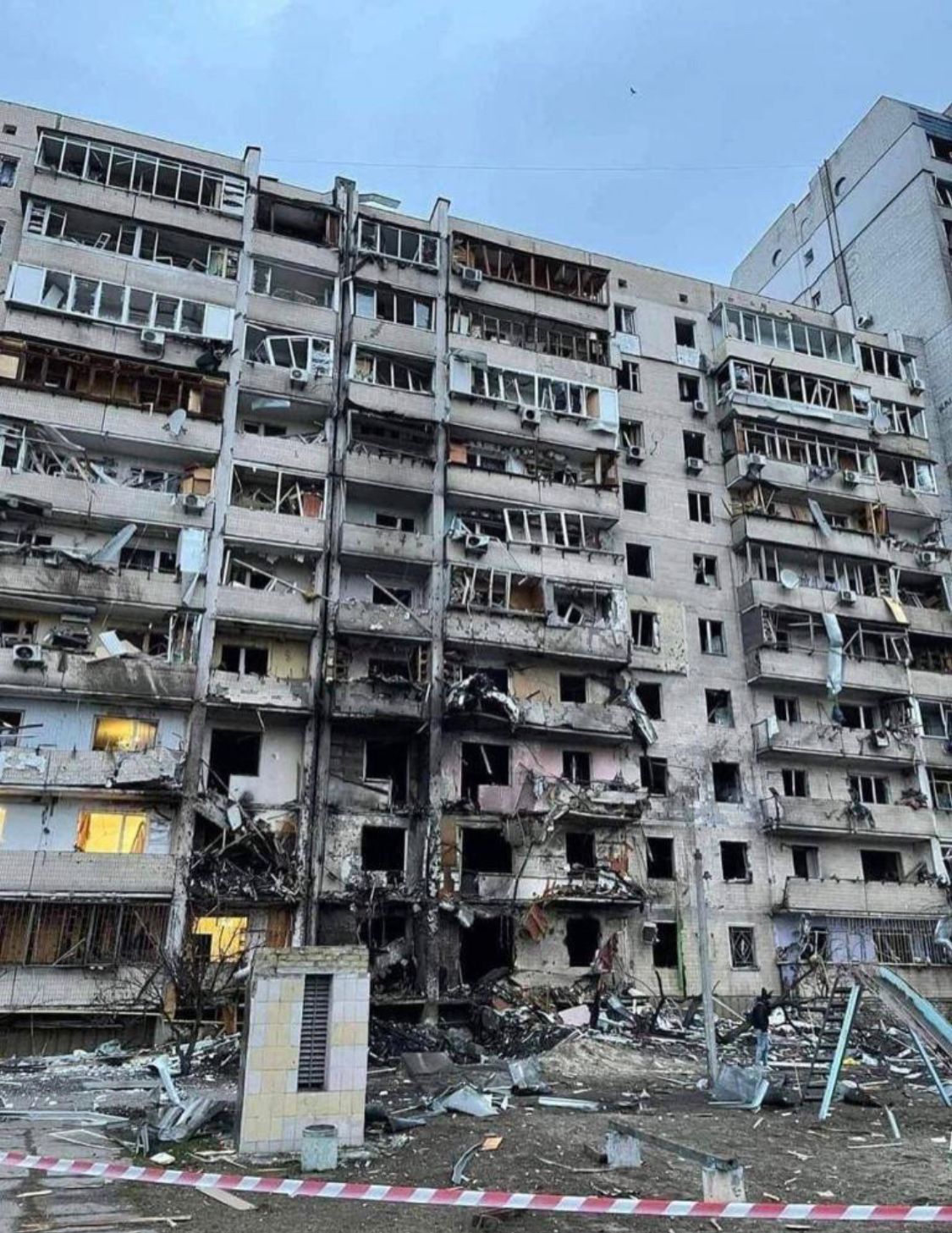 "They've lost over 450 personnel. One of the significant airports they were trying to capture with their elite Spetsnaz has failed to be taken. In fact, the Ukrainians have taken it back." However, new battles are reportedly taking place there now.
"The [Russian army] failed because Ukrainians fought back. It has failed because of Putin's ego, which thought he was a liberator. It has failed because of the lethal help Ukraine received to deal with Russian tanks and aircraft," said Wallace.
Fighting in the north of Kyiv [10:12]
Fighting between Ukrainian and Russian troops is ongoing in Obolon, a district in the north of Kyiv. The Ukrainian Defence Ministry is telling citizens to be careful and stay inside their homes, but also urged them to "make Molotov cocktails" to fight back, if necessary.
❗️увага

На Оболоні ворожа ДРГ. Просимо громадян повідомляти про пересування техніки! Виготовляти коктейлі «Молотова», знешкоджувати окупанта! Мирним мешканцям - бути обережними! Не покидати оселі! — Defence of Ukraine (@DefenceU) February 25, 2022
Cyberattack against Ukraine citizens [09:56]
The State Service of Special Communication and Information Protection of Ukraine (SSSCIP) warns that a phishing attack has started against Ukrainian citizens, whose email addresses are receiving letters with "attached files of uncertain nature."
Warning :warning: A phishing #attack has started against Ukrainians! Citizens' e-mail addresses receive letters with attached files of uncertain nature. The mass distribution of such messages to messengers may happen. #cyberattacks #Ukraine pic.twitter.com/YPvFH2oNk0

— SSSCIP Ukraine (@dsszzi) February 25, 2022
Russian military says 'first day of invasion is a success'
A spokesperson from the Russian Ministry of Defence reported that Russia has "successfully" achieved all its objectives for the first day of its invasion of Ukraine.
Dozens of people were killed in the fighting, and Russian forces destroyed 83 ground infrastructure facilities, four aircraft, four unmanned aerial vehicles and one helicopter, according to Igor Konashenkov, Russian Ministry of Defence spokesperson.
Ukrainian advisor Mykhailo Podoliak alleged that Russian troops committed "a terrorist act at the Chernobyl nuclear power plant to cause an environmental catastrophe," but no details have emerged confirming this.
With much of the south now in Russian hands, it is thought that the next move will be an invasion of Odessa, a major port on the Black Sea.
European response
In Brussels, 500 protestors took to the streets to demonstrate against the war, and the colours of the Ukrainian flag were displayed in Parc Cinquantenaire.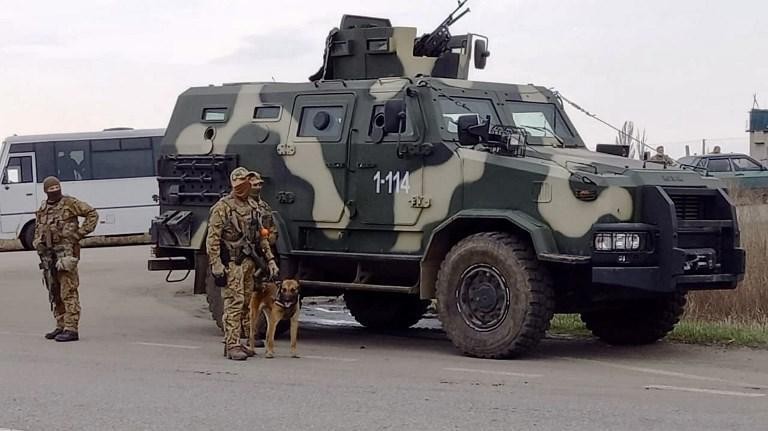 Europe has so far responded to the invasion with economic sanctions.
At a joint press conference with NATO Secretary-General Jens Stoltenberg and European Council President Charles Michel, European Commission President Ursula von der Leyen said "we are at a watershed moment."
In the heart of Europe, it's quite the symbol! The Cinquantenaire, lit up in the colors of the Ukrainian flag 🇺🇦, symbolizes our support to its people. In addition, Belgium continues to take concrete actions to show solidarity with #Ukraine and respond to Russia's aggression. pic.twitter.com/Uvqi1eiRab

— Sophie Wilmès (@Sophie_Wilmes) February 24, 2022
She explained that their togetherness represented proof of how closely the European Union and NATO are responding to Russia's declaration of war.
"President Putin ordered atrocious acts of aggression against a sovereign and independent country, and innocent people," von der Leyen said.
"We will hold Russia accountable for this outrageous violation of Ukraine's sovereignty and territorial integrity. What is at stake is not just Donbas, it is not just Ukraine. What is at stake is the stability of Europe and the whole international order, our peace order."
🇺🇦 Brussels tonight. In solidarity with the people of Ukraine. pic.twitter.com/ELupMTpKR9

— Alexander De Croo 🇧🇪🇪🇺 (@alexanderdecroo) February 24, 2022
A package of sanctions submitted to European leaders for approval targets financial, technology and economic sectors. "These sanctions will have a heavy impact," von der Leyen assured.
"Russia's economy has already faced intense pressure in recent weeks, and these pressures will now accumulate. These sanctions will suppress Russia's economic growth, increase borrowing costs, raise inflation, intensify capital outflows and gradually erode its industrial base."
Related News
A second series of sanctions aim to limit Russian industry's access to crucial technology, weakening their technological position in key areas.
Von der Leyen said the sanctions were coordinated closely with allies that include the United States, the United Kingdom, Canada, Norway, Japan and Australia.
"President Putin chose to bring war back to Europe," von der Leyen said. "In a determined and united response, the European Union will make it as difficult as possible for the Kremlin to pursue its aggressive actions."
European Council conclusions
The European Council released its conclusions on Thursday night, saying they condemn "in the strongest possible terms the Russian Federation's unprovoked and unjustified military aggression against Ukraine" and that Russia will be held accountable for its actions.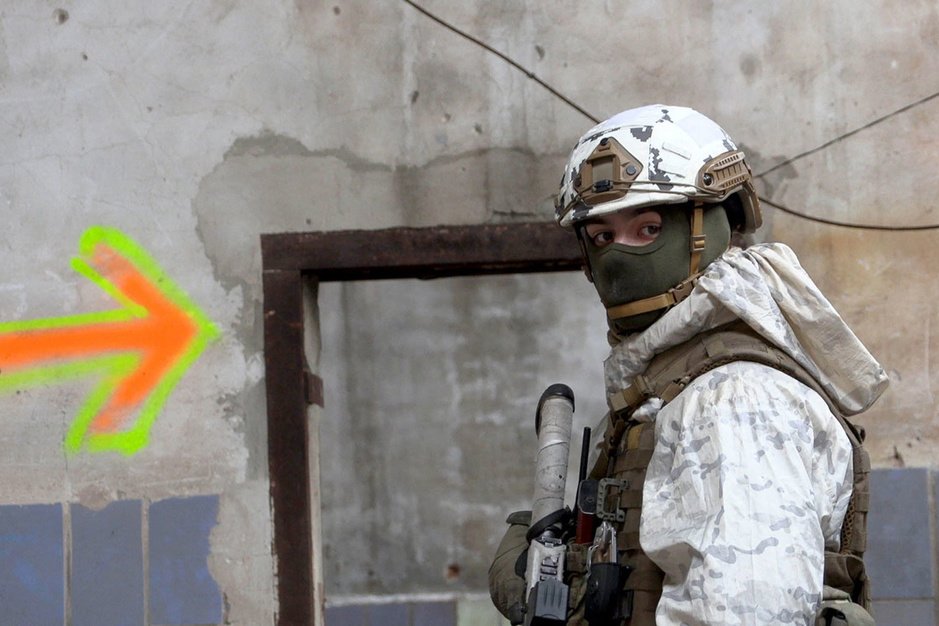 "By its illegal military actions, Russia is grossly violating international law and the principles of the UN Charter and undermining European and global security and stability," the statement reads.
"The European Council firmly believes that the use of force and coercion to change borders has no place in the 21st century. Tensions and conflict should be resolved exclusively through dialogue and diplomacy."
They said the EU will continue cooperating closely with neighbouring countries and "will continue strong coordination with partners and allies, within the UN, OSCE, NATO and the G7."
This article was last updated on 25 February at 16:44.