The streets of Brussels' city centre feel increasingly swamped for what seemed like the first time in forever. As the conversation around Covid-19 died down and measures lifted, it seems the capital's tourism sector returned to business as usual.
However, the pandemic continues to have a lasting impact on the city's travel industry, especially when it comes to the hotel sector, according to Jeroen Roppe, spokesperson for visit.brussels. Although there is a clear improvement since 2020, there is a long road of recovery ahead, he told The Brussels Times.
"We can clearly see that more tourists are coming to Brussels, not only Belgian tourists but also from our neighbouring countries. You couldn't help but notice this during the Easter holidays," Roppe said.
He explained that, although figures are going in the right direction, the hotel sector is still very far away from where it was in 2019, which was "an absolute record year for tourism in Brussels," according to Roppe. "As far as that sector is concerned, there is still a serious crisis."
Roppe added that, from all aspects of the tourism industry, the hotel sector is suffering the most in the aftermath of the Covid-19 crisis. "They were the first sector to be hit and were also the last to get out of the crisis," he said.
Recovery 'not for this year'
This was confirmed by Brussels Hotel Association (BHA) President Yves Fonck, who said that, on an annual basis, 2022 is "definitely not going to be on par with pre-pandemic 2019."
"In the first four months of this year, the number of bookings in hotels was still more than half of what it was in 2019. We won't be able to catch up in the coming months," he told The Brussels Times.
During the Easter holidays, occupancies were still down by 40% from April 2019. Especially during the first week, the situation was dire, and while the second week saw a big improvement and accommodations were as good as fully booked during the Easter weekend, this won't be a magic bullet.
"One super Easter weekend doesn't make up for a not-so-good April. We see positive signs and that is also what most hotels say, but that doesn't mean the crisis is over."
Domestic vs international travel
Fonck stressed that, when looking at other large cities across Europe, it becomes evident that some cities are recovering quicker than others. He explained that this is due to their attractiveness to domestic travellers. In Belgium, domestic travellers are less likely to travel to bigger cities, and instead head to the coast or the Ardennes for a short break.
"Bigger cities such as Paris, London and Berlin are recovering at a faster pace, whereas Amsterdam and Brussels, which depend on the international market much more, are slower to recover."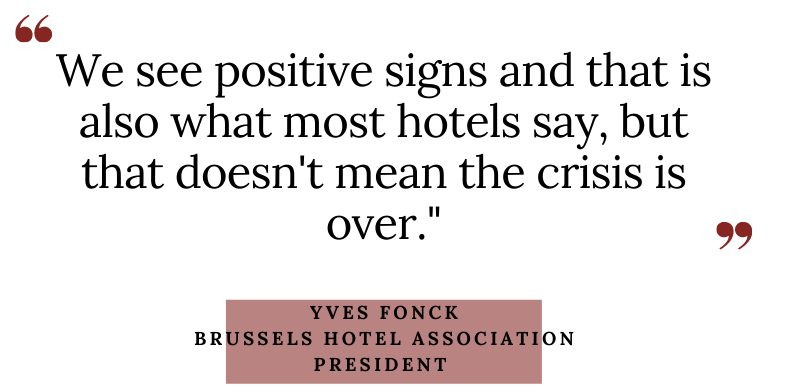 A big difference can also be seen between leisure and business travel. While hotel occupation rates during the weekends are already starting to lean towards levels seen in 2019, business travel is taking a much longer time to recover, mostly due to disparate policies among international businesses when it comes to travel for work and conducting meetings online.
"When I say that the turnover on an annual basis is still down by 50% compared to 2019, we see that, during the weekends, the occupation levels are just down by 22%, while the figure on weekdays is still 63% lower," Fonck said.
Getting back on track
Roppe stressed that, in light of the difficult road ahead for the tourism sector in Brussels, visit.brussels is doing "everything it can to promote Brussels at home and abroad together with the sector," particularly by highlighting the cultural offering of the city.
"The city has a very hip image abroad. If you look at popular culture figures like Angèle and Stromae, they are really associated with Brussels, so we are drawing on these opportunities."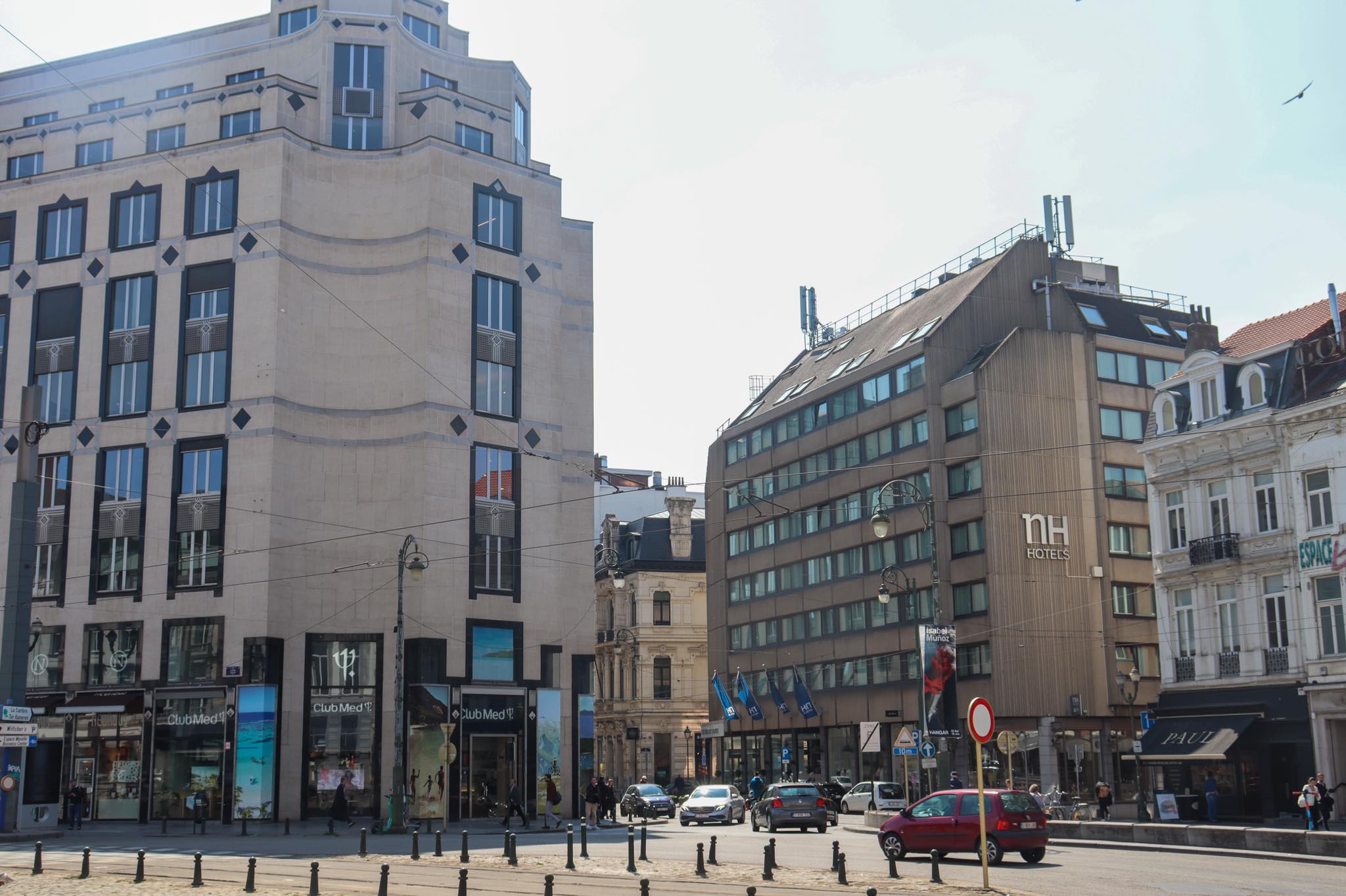 He also confirmed that, for professional tourism, there is a long road ahead. "Here too, we are helping by preparing businesses for a return to professional tourism and also supporting the organisation of hybrid events."
Earlier this month, the European Commission approved an €18 million scheme presented by Belgium to further support the tourist accommodation sector in the Brussels-Capital Region in the context of the pandemic.
"Any support is certainly welcome," said Fonck, adding that the previous support given by the federal and regional governments was the main factor that prevented the pandemic from dealing a fatal blow to the hotel sector in Belgium.
Related News
He stressed that the average turnover for hotels during the first 3.5 months of 2022 is still 51% below that seen in 2019. Fonck added that any form of financial support will most likely be used to carry out renovations of hotels, which were delayed for the past two years.
'Tired of complaining'
Fonck said that, despite the slightly discouraging figures for this year, he wants to set a positive tone. "We are tired of complaining and whining, we have been doing that for two years."
According to BHA, hotel occupancy rates will reach levels seen in 2019 in the course of next year. "That still does not mean that it will be the same immediately, it will be progressive." For some cities, the recovery will take until 2024, he added.
"One thing is sure, we will get back to the level we saw in 2019 one day, because we are still in a very important sector, but not this year, absolutely not."