The Port of Antwerp-Bruges will be the first in the world to start using a tugboat — vessels that manoeuvre other vessels — powered by combustion engines that burn hydrogen in combination with diesel in a bid to be more climate-friendly.
The "Hydrotug," developed by a division of the Belgian shipping company Compagnie Maritime Belge (CMB.TECH), is some 12 metres wide and 30 metres long and can store 415 kilograms of compressed hydrogen, eliminating emissions equivalent to 350 cars, and is expected to be operational from 2023 onwards.
"Recently, Port of Antwerp merged with the Port of Zeebrugge into one big organisation that aims to reconcile people, climate and economy," Port of Antwerp-Bruges Manager Operations, Rob Smeets, said.
"Our common goal is to become carbon neutral by 2050, by walking many different sustainability paths, such as carbon capture and storage, and efforts in hydrogen."
The engine of the tugboat, consisting of two BeHydro V12 dual fuel medium speed engines that can run on hydrogen and traditional fuel, will comply with the strictest standard, making them "the most emission-efficient engines on the market," a statement from the port read.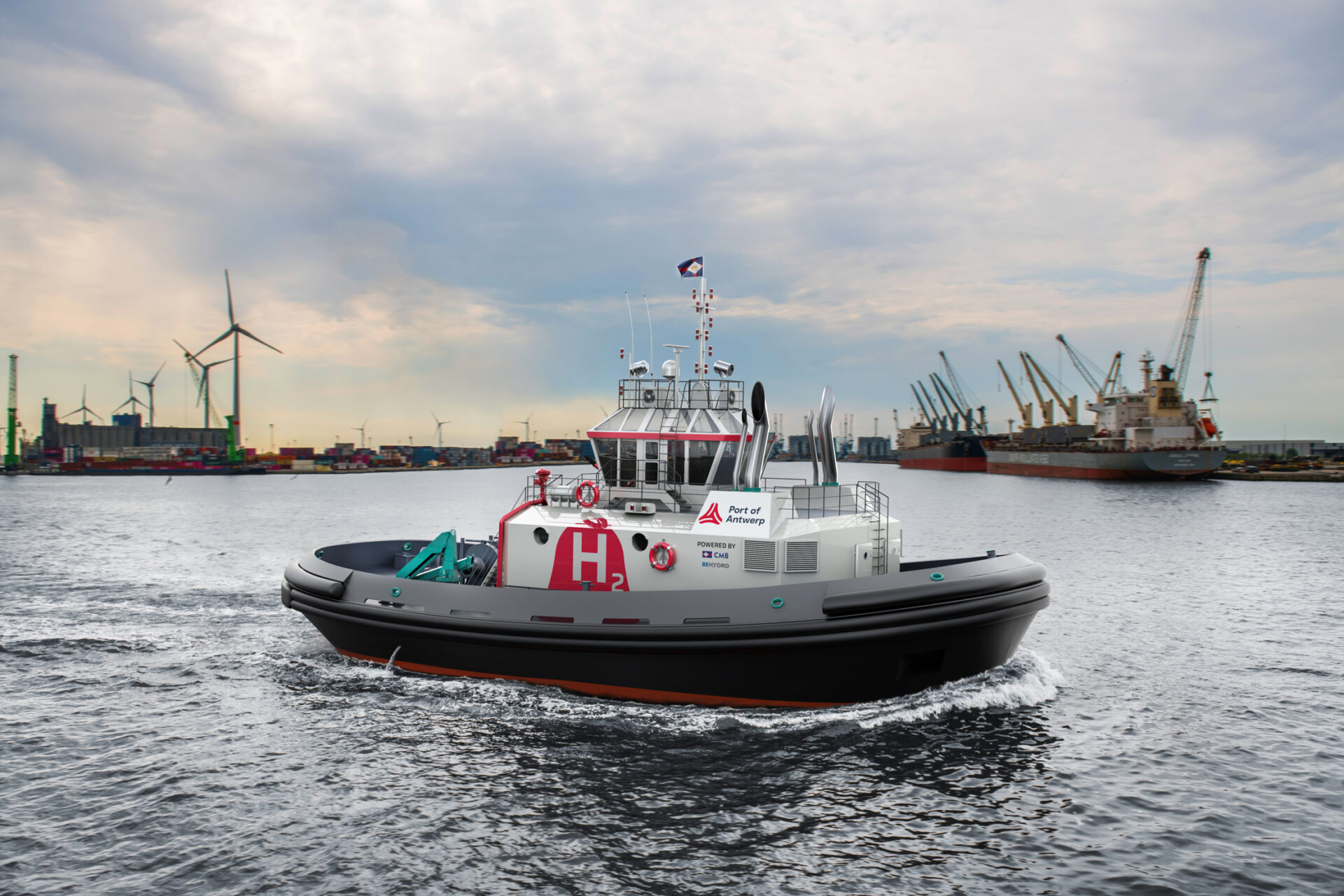 "We are delighted that Port of Antwerp-Bruges will be the first user of Hydrotug, the world's largest hydrogen-powered vessel. With this technology, we can significantly improve the air quality in ports and bring hydrogen technology to every port worldwide," CTO of CMB.TECH, Roy Campe, said.
A green port
The introduction of the Hydrotug is part of a large-scale greening programme for the Port of Antwerp-Bruges fleet.
"The unified port cherishes the ambition to become the energy gateway to Europe as a 'green port'. An important role in this is reserved for (green) hydrogen" said President of the Board of the Port of Antwerp-Bruges, Annick De Ridder, adding that this will help the port excel as the economic engine of Flanders.
Related News
By 2028, the merged port aims to have the first green hydrogen molecules on its platforms, and is working on a hydrogen pipeline between the two ports and towards the European hinterland to use as much renewable energy as possible.
"This hydrotug is a fantastic example of what our sustainable future should look like," Smeets said.