Despite the Covid-19 pandemic increasing health concerns, the number of employees who continue to work while ill has in fact been rising, a study by HR company Securex has found.
The systematic practice of going to work despite being ill (and therefore having reduced levels of productivity) is known is as presenteeism. The study found that one in seven Belgian employees continue to work while sick, Securex noted in a press release.
Before the start of the pandemic, this habit rose from 10% of employees in 2019 to 14.2% in 2021 – a 41% increase.
"The increase in telework due to the coronavirus has prompted more sick working," Heidi Verlinden, research project manager, said. "The increased workload due to corona, which Securex noted earlier, has increased both structural presenteeism and the risk of burnout."
Impacts of presenteeism
More than a third of those who systematically continued to work while ill experienced psychological problems such as stress and depression 12 months prior to the survey. For workers who did not work while ill, psychological problems were only experienced in one in six.
More than half of employees who work while sick complained of muscle, joint and bone problems, compared to 31% of employees who never work while sick.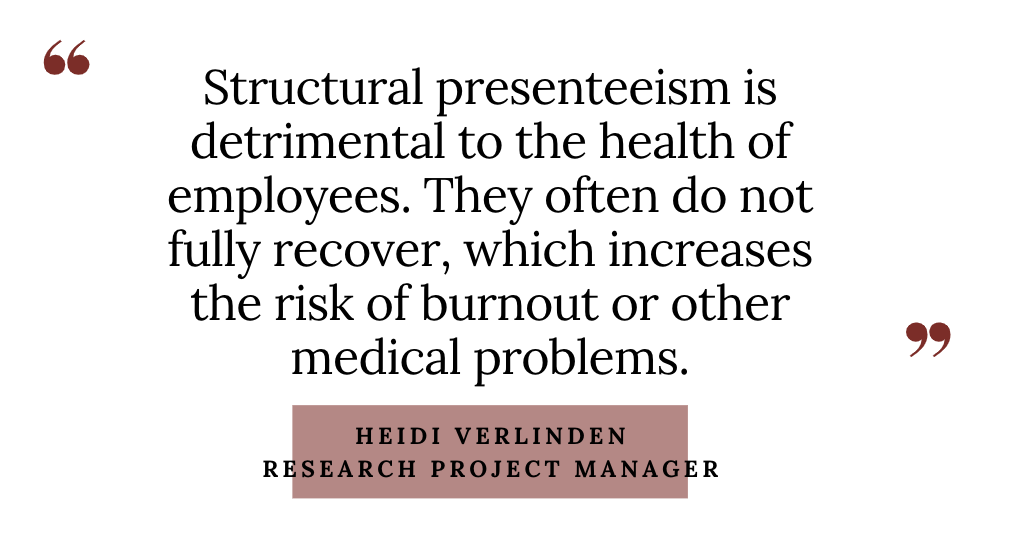 "It is in the interest of the employer and the employees that staff make a healthy choice. This has a positive impact in the short and longer-term," Elisabeth Van Steendam, manager of well-being, said.
Though telework has given ill employees a safe way to continue to work, the study found that half of the employees who telework while sick have never teleworked before. This means their efficiency is far below when they work in the office. Even those who had teleworked previously saw a decrease in productivity which was comparable to the productivity levels of them working in the office while sick.
Related News
When sick, employees work at 60.6% efficiency while ill compared to when in good health, the study noted. The study surveyed 1,500 Belgians from the labour market.
Why do more people continue to work?
Securex notes that the most common employee who falls victim to presenteeism is a higher-educated, private sector worker who works within a micro-company with up to five employees.
Those who continue to work often do so because they feel able to, especially with the popularity of teleworking. As well as, they do not wish to burden their fellow coworkers on whom their workload would fall on which they, in turn, feel guilty about.