After reaching 9.65% in June, the inflation rate in Belgium decreased slightly to 9.62% in July, however, it remains around four times higher than the same period last year.
In recent months, food inflation (including alcoholic beverages) has risen sharply, reaching 9.24% in July, skyrocketing from just 0.47% in November last year, and contributing 1.82 percentage points to inflation, according to the FPS Economy However, the hike in energy prices continues to have the biggest impact.
"The high inflation rate this month is, as in previous months, largely due to high energy prices. Energy inflation currently stands at 49.11%, contributing 4.34 percentage points to total inflation," a statement from the FPS Economy read. In June, this inflation was 55.99%, down from 56.80% in May.
When comparing the current inflation rate to that of the last ten years, it remained relatively stable and under 3% until the end of last year. It has since skyrocketed to 8.97% in May and almost 10% in June and July this year.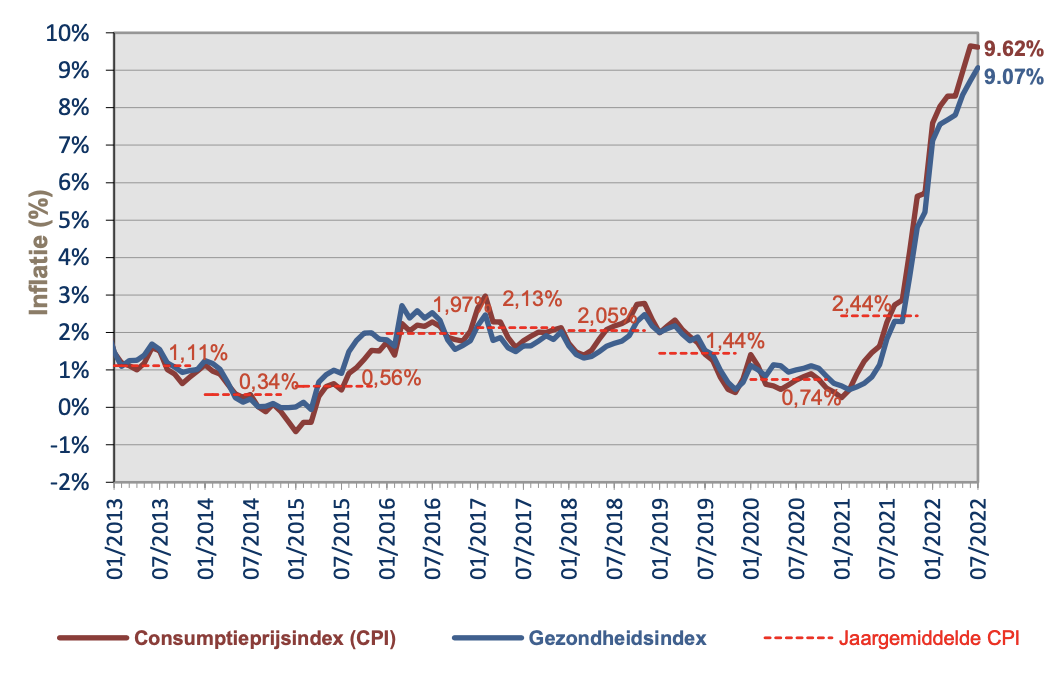 When looking at the specifics of the hike in energy prices, electricity is now 44.7% more expensive than a year ago, while natural gas is 97% more expensive than in July last year.
Meanwhile, the price of heating oil since the same period last year has risen by almost 70%, and motor fuels cost almost 30% more than a year ago.
What products are more or less expensive?
In July, the main price increases were due to the rise in holiday-related purchases — the price of airline tickets and hotel rooms increased by 42.8% and 14.4%, respectively — while the cost of fire insurance also rose, largely driven in Belgium by more expensive construction materials and the recent rise in the occurrence natural disasters.
Related News
The price of meat, electricity, dairy products, heating oil, vehicle purchases and road tax also remains high. Meanwhile, the drop in the price of motor fuels, city trips, alcoholic beverages and private rent had a decreasing effect on inflation.
Core inflation, which does not take into account the evolution of energy prices and of unprocessed food products, was 5.49% in July, compared with 5.07% in June.