The inflation rate in Belgium this month has increased to 9.94% – the highest level in 46 years – driven by energy and food prices which continue to skyrocket.
In August, inflation rose from 9.62% in July to 9.94%, levels last seen in 1976 when inflation stood at 9.96%.
At the time, this increase was largely driven by the massive hike in oil prices as a result of the Yom Kippur war between Israel and Arab states, which saw Arab oil-exporting countries led by Saudi Arabia declare an oil embargo. Now, the Russo-Ukrainian war, which has exacerbated the existing energy crisis, is the driving force behind the skyrocketing inflation.
"The high inflation this month, as in the past few months, is largely due to high energy prices. Energy inflation currently stands at 49.81% and contributes 4.43 percentage points to total inflation," a press release from the FPS Economy read. Last month, this stood at 49.11%, contributing 4.34 percentage points to total inflation.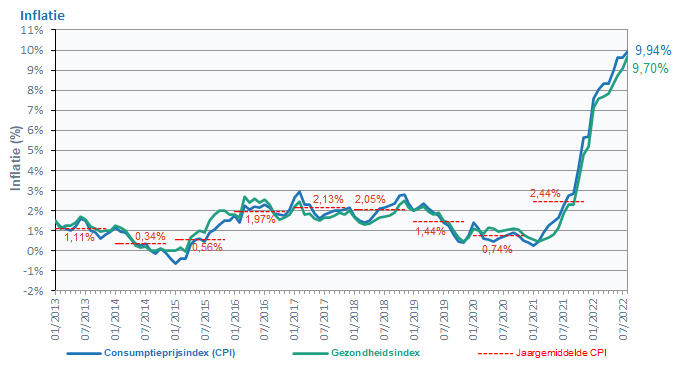 By comparison, total inflation in Belgium this time last year stood at around 2.5%. Electricity is now 57.2% more expensive than a year ago; natural gas is 106.9% more expensive than last year in August.
Food prices are also continuing to rise in Belgium, with inflation for food (including alcoholic beverages) climbing to 9.71% from 0.47% in November last year. Inflation for oils reached 21.3%, compared to 3.6% in November, while inflation for fish now sits at 13.2%, up from -0.4%.
Related News
Aside from food and energy, inflation was driven by price increases for clothing, confectionery, alcoholic beverages, hotel rooms and body care products.
Meanwhile, motor fuels became 6.5% cheaper on average this month, and the price of heating oil, after levelling off over 12 months, fell by 8% on average. Fruit prices also fell, by an average of 2.8%.