The number of employees in Belgium with a company car has increased by 7% since the start of 2019. But while the figures in Flanders and Wallonia are on the rise, the share in the Brussels-Capital Region has fallen by 10.5%, figures from HR service provider Securex show.
At the start of 2019, the share of employees with a company car in Flanders (24.6%) and Brussels (25%) was similar. Since then however, Flanders' share has grown (27.3%) while Brussels' dropped (22.4%). In Wallonia, the share of employees with a company car has been consistently lower in the past three years, albeit with a 10.9% increase between early 2019 (18.4%) and mid-2022 (20.4%).
"It is clear that in Flanders and Wallonia, the company car is still a major asset for employees. The 'war for talent' undoubtedly plays a role here so company cars are more readily offered for recruitment and career interviews," said Heidi Verlinden, Research Project Manager at Securex, in a press release.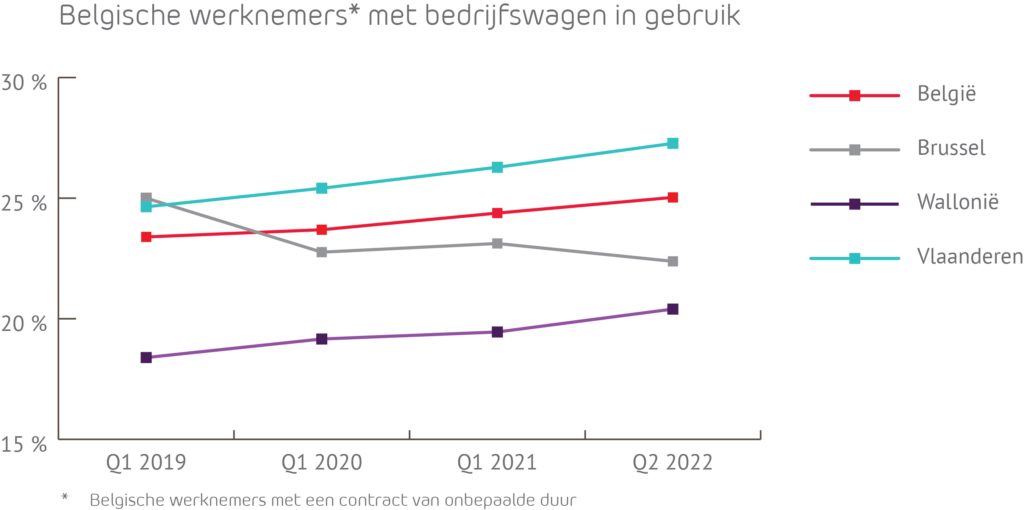 Given the scarcity of some professional profiles, many employers are searching more widely for candidates. In that case, a company car could persuade them to travel greater distances to work.
"In Brussels, the decline in company cars is partly due to the increased use of alternative means of transport and partial mobility," said Verlinden. "Of course, there are also disincentives, such as congestion and car-restricting circulation plans."
End of the road for fossil fuel?
At the national level, the share of company vehicles with a conventional combustion engine has fallen by 9% since the beginning of 2019 to 89.1% by mid-2022, with the steepest decline (-11.7%) recorded in Brussels.
Of all company cars in Belgium, 2.5% are electric. Regionally, Brussels comes out on top again with 3.8% of its company cars being electric, while companies in Flanders and Wallonia count significantly fewer (2.5% and 1.6%, respectively).
Related News
The share of electric company cars remains limited and there are still many more hybrid company cars in use: the latter category increased from 2% to 8.4% between 2019 and 2022.
"In terms of turning its fleet of company cars green, Brussels has the best score," said Verlinden, explaining that this is probably due to the presence of more international companies that anticipate the imminent changes more quickly, but also to the shorter distances and the presence of more charging stations.
"2023 could be the year of the big breakthrough for electric company cars," she added. "Hybrid company cars still have a head start, but the fiscal stimulation of charging stations and the gradual disappearance of tax deductions for company cars with classic combustion engines will change this."