International companies who refuse to leave the Russian market will be forced to support Russia's war against Ukraine by aiding in the mobilisation of conscripted soldiers, according to Business for Ukraine, a coalition of Ukrainian and international civil society groups.
Companies that have remained in the market currently employ around 700,000 people and control around $141 billion in assets in the country. Under current Russian regulation, these multinational companies will be forced to help conscript their employees into the Russian army through special mobilisation departments and human resources structures.
87% of these Russians hired by foreign companies work for multinationals from 10 major developed countries, including the USA, France, Germany, Switzerland, UK, Japan, Italy, Greece, China, and the Netherlands.
Russia's 21 September partial mobilisation law, Article 9 of Federal Law No.31-FZ, will mandate these companies to conduct military registration of their staff if at least one of their employees is liable for military service.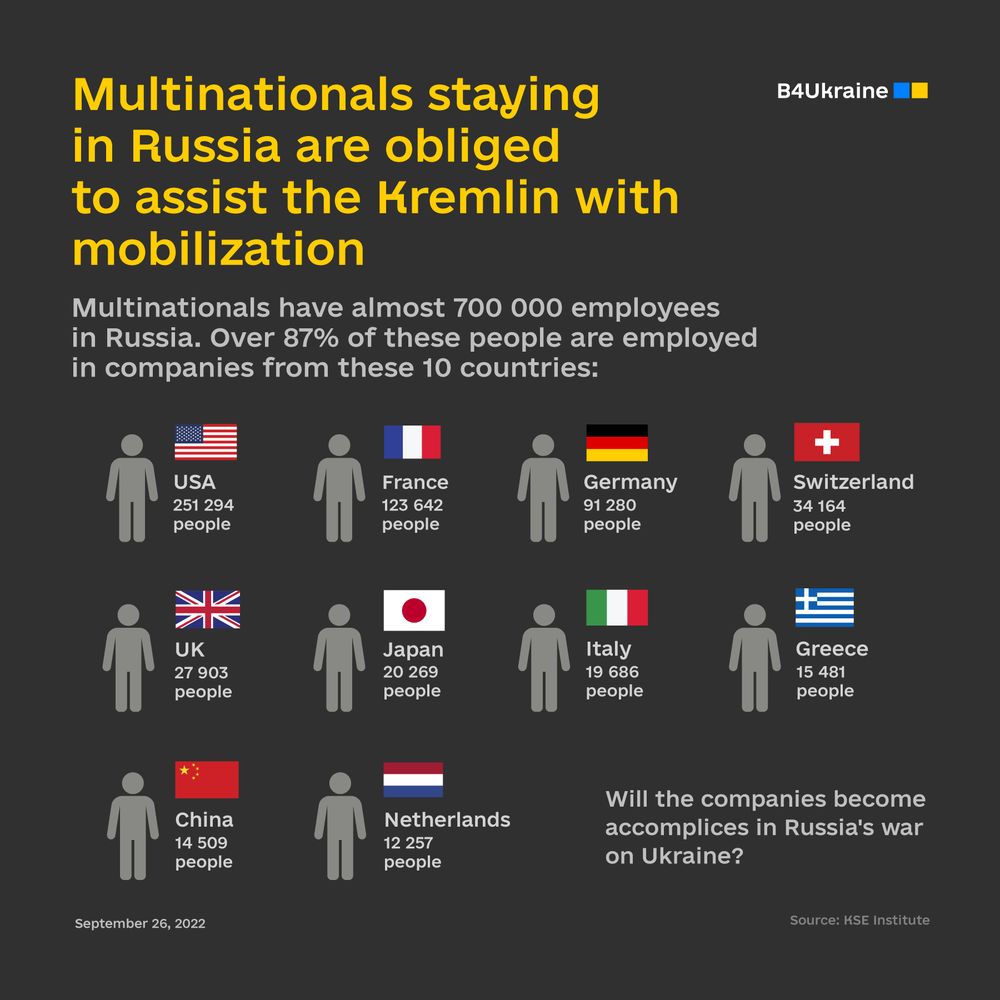 International companies must assist in delivering summons from the military to their employees, as well as in aiding to deliver equipment to assembly points and military units, as well as providing buildings, communications, land, transport, information, and other materials to the army.
This legislation will apply to all of the 1,610 international companies that are currently operating on a full or limited scale within Russia. According to an analysis conducted by the Kyiv School of Economics, US companies employ 251,294 people in Russia alone. Most employees of international companies work in the automotive, food and drinks, tobacco, retail, pharmaceutical, electronics, and other sectors.
"Putin's actions make the clearest demands on businesses to date: either support the conflict and be complicit in war crimes or leave Russia," says Tara Van Ho, Co-Director of the Essex Business and Human Rights Project at the University of Essex. "The impact is clear: foreign businesses need to cut their ties. This can result in significant losses for those businesses but the alternative is worse."
International companies join Russia's war against Ukraine
According to Russian media sources, businesses have already begun preparations for the possible mobilisation of their employees, including the creation of related departments. Companies do not have the right to refuse to partake in mobilisation.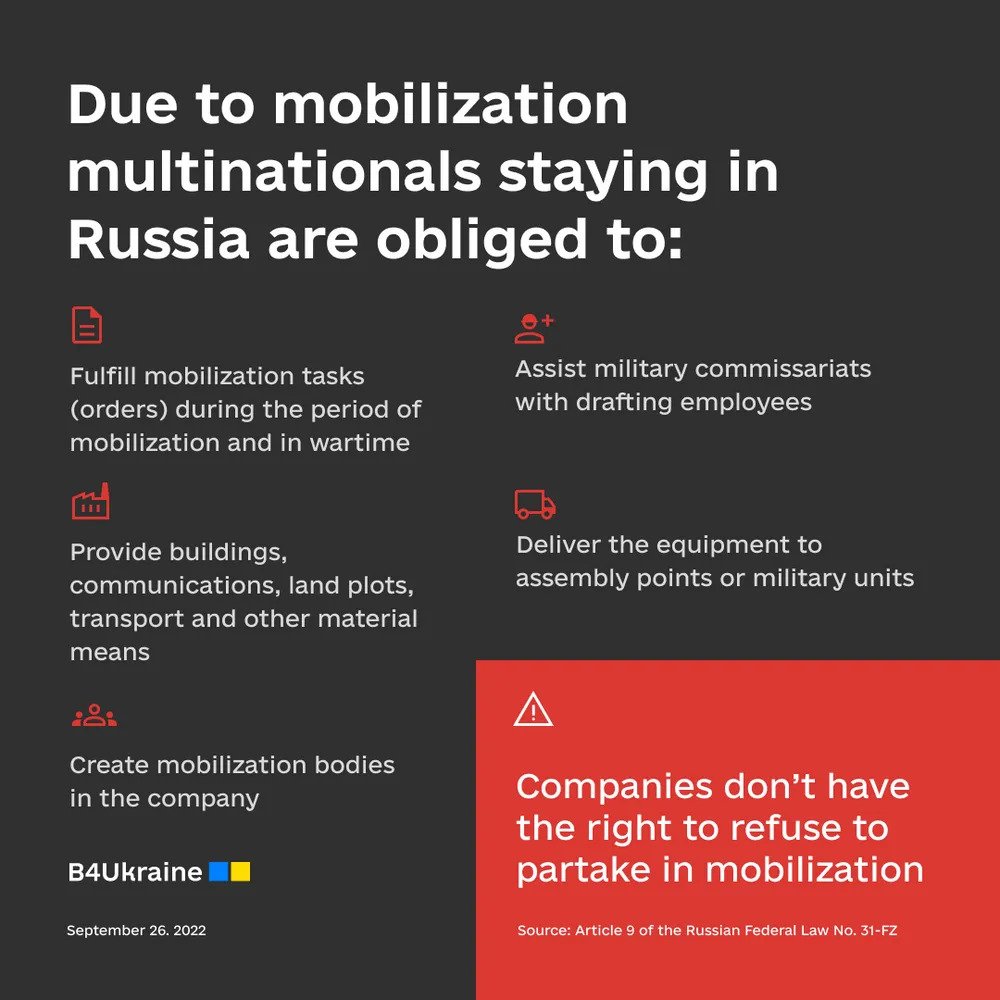 "So far, most of the multinationals operating in Russia have been indirectly involved in the war by paying taxes to the Russian state, contributing to the war economy. Now the Kremlin's mobilisation makes companies directly involved in conscripting the soldiers among their employees who will come to Ukraine to kill and occupy," said Nataliia Popovych, Founder of One Philosophy and WeAreUkraine.info.
International companies in Russia risk business and ethical values
As previously reported by The Brussels Times, companies who decide to remain in the Russian market, despite the moral implications, face numerous risks to their financial wellbeing.
As many as 47 of the world's largest 200 largest corporations with a presence in Russia are under threat from having their assets arbitrarily seized or expropriated by the Russian government, as was the case with Shell, Mitsui, and Mitsubishi's stake in the Sakhalin-II far-eastern oil project.
Related News
Even companies who decide to leave or partially-leave the Russian market are reluctant to speak out against Russia's invasion for fear of reprisal or burning commercial bridges for their planned return to the market. Many companies who have remained silent now risk actively becoming part of Russia's war efforts, sending resources and employees to the front.
"Regardless of whether a business is under sanctions, the international responsibilities for companies are clearly set out in the United Nations Guiding Principles on Business and Human Rights," noted Popovych. "It is an obligation for international companies to understand how their operations cause, contribute, or are linked to impact on rights-holders and the conflict itself."
According to data from the Yale School of Management, over 1,200 companies have publicly stated that they are voluntarily curtailing their operations in Russia to some degree, however money has over-promised, mothballed, or simply refused to leave the market.
Only one Belgian corporation has fully withdrawn from the Russia market, while four have suspended their operations, one has scaled back their operations, three are "buying time", and one is continuing with business as normal.
"How a company chooses to meet its obligations to protect and respect rights in Ukraine will define its reputation far beyond Russia for years to come," Popovych warned.
Despite international sanctions against Russian businesses, EU companies based within Russia still avoid penalty from European authorities. At a European Commission press conference on Thursday, a spokesperson stated that the EU's sanctions were not applicable outside EU territory.
"EU sanctions don't apply extra-territorially," he told The Brussels Times. "They apply inside the EU and its member states where they have a legal effect." That said, there are specific sanctions that may target individual companies. The Commission welcomed the initiative of numerous companies to quit the Russian market.
The Commission refused to comment on Russia's requirement for international companies to help in the Putin's mobilisation plans.