Belgium's latest asylum reception crisis has been ongoing for over a year now, resulting in thousands sleeping rough on the streets. Tonight, this includes 21 unaccompanied minors who were not given shelter.
Belgium's failure to fulfil its legal obligation to provide asylum seekers with shelter due to a chronic shortage of reception places has further deteriorated in recent weeks as asylum applications reached levels not seen since the migration crisis in 2015. The feared risk of even the most vulnerable people ending up on the street has now become a reality.
"Today, 43 minors applied for asylum, and 21 of them will likely not be taken in by Fedasil," Thomas Willekens of Vluchtelingenwerk Vlaanderen (Refugee Work Flanders), told The Brussels Times on Tuesday afternoon. These unaccompanied minors, the latest victims of the crisis, are aged between 16 and 18.
By 19:30 on Tuesday evening, Caritas International Belgium, a non-profit that normally focuses on helping victims of violence, natural disasters and poverty, confirmed that no shelter had been found for 21 unaccompanied minors. "They are sleeping on the streets tonight," the announcement on Twitter read.
When this was the case in the past, solutions were found. This time, however, the state agency for the reception of asylum seekers Fedasil is at the end of its tether. "Our places are very limited now," Lies Gilis, spokesperson for Fedasil, told The Brussels Times.
What preceded this situation?
Fedasil has been convicted almost 4,500 times for failing to provide shelter to asylum seekers – something they are legally entitled to. The inability to provide shelter has resulted in thousands of people, mostly single men, sleeping in the streets, as families and minors were given priority, until now.
The available places across its network are becoming even more scarce. "The closure of the Pointcaré centre last week further added pressure. The situation is very difficult now," Gilis said.
In recent weeks, Fedasil has only been handing out invitations to the most vulnerable people at the offices of the Immigration Department (DVZ), where the registration of asylum seekers has been taking place since August.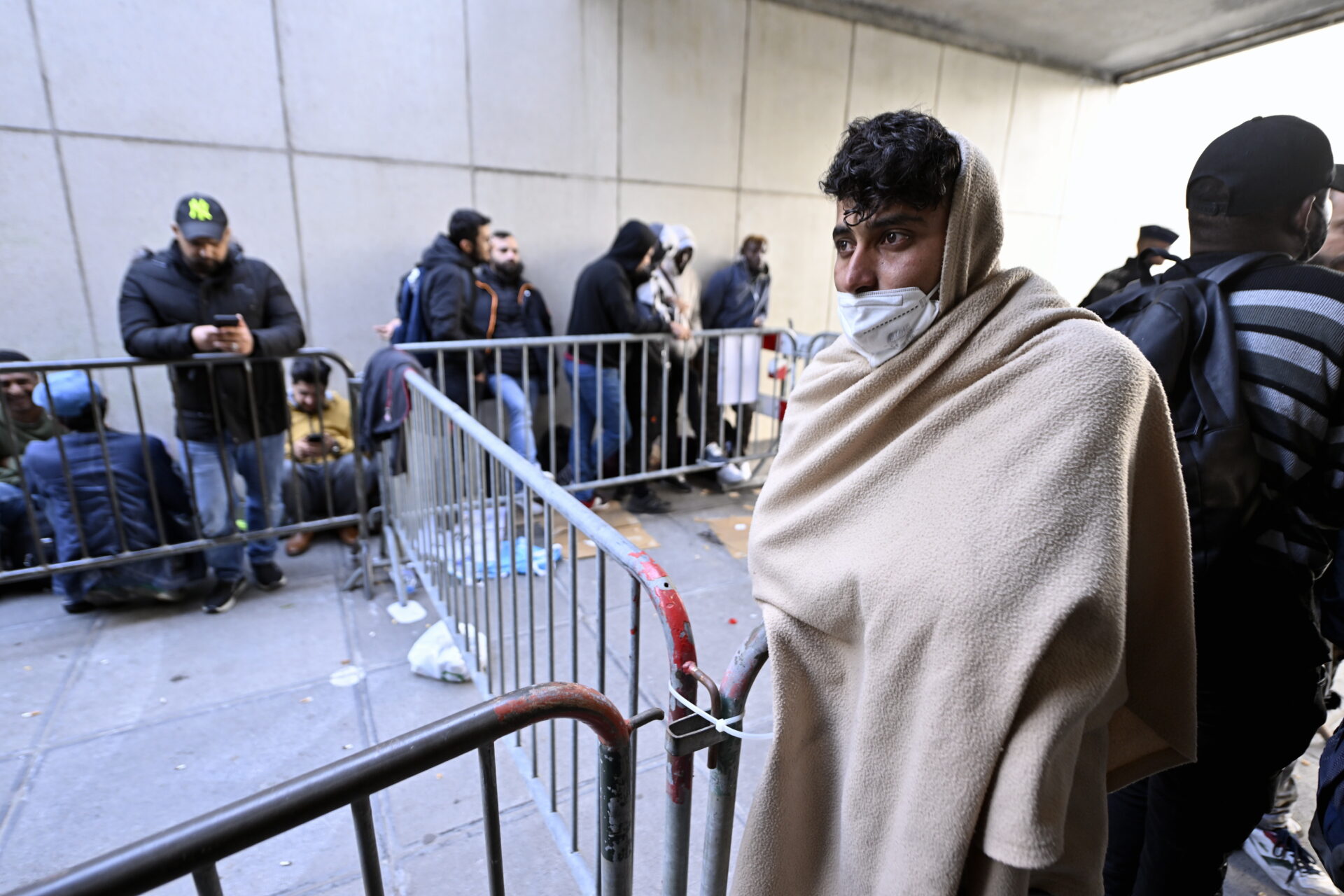 Le Petit-Château, Fedasil's reception centre in the heart of Brussels, closed its gates on Tuesday for security reasons. "Our centre is still functioning for people who already received an invitation for a sheltered place, but we have not been able to take people in from the streets like before," Gilis said.
Families are now being sent to the Ariane emergency centre in Woluwe-Saint-Lambert, operated by the Red Cross, rather than to Le Petit-Château.
Prioritising most vulnerable
In a statement on Tuesday morning, the Secretary of State for Asylum and Migration Nicole de Moor confirmed that Belgium is facing a very large influx of asylum seekers. "The sober reality is that with the current inflow, we, unfortunately, cannot accommodate everyone. The system is simply bursting at the seams of its operational limits. Within the capacity constraints we have, we give priority to the most vulnerable."
On top of the 31,000 places that already exist at the moment (and which are all already occupied), the capacity to provide shelter will reportedly increase, as de Moor is working with Brussels for emergency accommodation during the winter.
"But additional reception alone will not solve the situation. We must also ensure that more people leave the system," she said — without detailing how this can be done — adding that she will discuss ways with partners at the EU Council of Ministers for Home Affairs on Friday to improve the functioning of the Dublin system for a more balanced and fair distribution of applications.
Medical intervention
Médecins Sans Frontières (MSF) is setting up a medical intervention point at the Pacheco reception centre (the DVZ) to provide aid to people who are not given a sheltered place, the majority of whom are single men.
"Families and unaccompanied minors are currently still taken care of by Fedasil, but the men who have registered (or have not been able to do so) return to the streets, without access to housing and without medical assistance and/or psychological examination," said Nathalie Gielen, head of MSF's activities in Belgium.
Related News
Its team has identified "significant public health problems," such as tuberculosis, skin diseases and other infectious diseases. This is why, for a period of at least one month, MSF will intervene to identify medical needs and offer consultation to people with specific vulnerabilities.
"Once again, we will provide services that the Belgian State should. But faced with this human suffering, MSF simply cannot look on from the sidelines."