Despite the recent drop in energy prices on the international market, the cost passed on to consumers continue to drive a rise in inflation, which increased to 12.27% in October this year.
Last month, the inflation rate in Belgium reached 11.27%, the highest level recorded since August 1975. Now, it rose to levels not seen since June of that year — when inflation reached 12.50% — sitting at 12.27%, the latest figures from Belgium's statistics office Statbel showed.
"In other words, life was therefore 12.3% more expensive this month than in October 2021. What is so alarming about that? Inflation started rising sharply last year, in October," Employment Economics Professor Stijn Baert wrote on Twitter, adding that the figures approved by the Index Committee were the most shocking seen since he has been on it.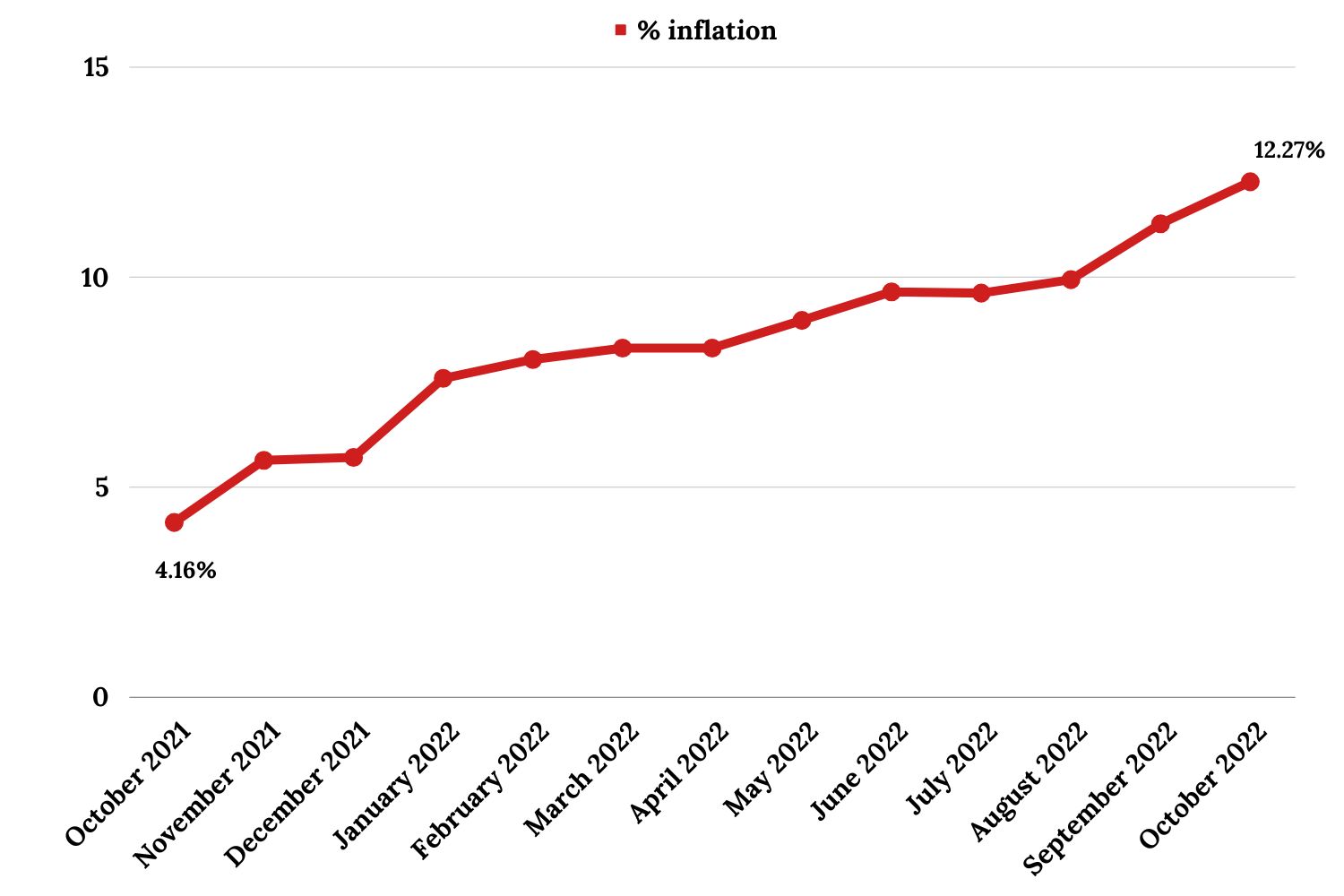 Even in October last year, the inflation rate in Belgium suddenly jumped from "fairly normal figures" to over 4%. "It is with that month that we compare today, and now we go another 12.3% over that," he explained. Life became more expensive in one month at the rate that prices normally increase in one year.
Energy prices continue to drive inflation hike
Statbel noted that the high inflation this month, as in previous months, is largely due to high energy prices. Energy inflation currently stands at 63.03%, contributing 5.95 percentage points to overall inflation.
This was confirmed by Baert, who noted that electricity became 12.5% more expensive in one month (84.7% more expensive than a year ago), while the price of gas increased by as much as 23% (130.6% more expensive than in October last year). "While international market prices are falling. Trimestrial contract adjustments at major providers are the culprit," he noted.
Food inflation has also risen sharply in recent months, standing at 12.30% this October, further contributing to the hike in inflation. Specifically, the price of meat increased by 3.6% since last month, while fruit and vegetables increased by 4.8% and 4.2%, respectively.
Meanwhile, the inflation based on the health index was 12.27% this month, up from 11.25% in September. This is the data used to calculate, among other things, the indexation of wages, social benefits and rents.
Further threat to companies
Baert stressed that the so-called "health index" is now as high as the regular index, further adding pressure to companies that were already feeling the financial blow from previous wage indexations.
"Now, our wages are adjusted in the short/medium term to reflect the 12.3% inflation rate. Sectors where this will happen in one swoop at the start of next year fear that the previously estimated 10% increase is an underestimate," he explained. Meanwhile, government wages and all kinds of benefits will rise by another 2%.
Related News
He concluded that, instead of stagnating, inflation is still picking up heavily. "The blow in terms of rising labour costs in January will be heavy for many companies. When their competitiveness is compromised and jobs are killed as a result, we are really in a purchasing power crisis."
The automatic indexation of wages to be in line with rising inflation has already spurred concerns that this will negatively impact the competitiveness of Belgian companies in certain sectors, and could see businesses currently operating in the country move abroad where the cost of labour is lower.