Despite numerous frustrations by pedestrians and politicians, in 2022 shared e-scooters and other micro-mobility solutions have become an important alternative to private cars in Belgium, data from the European mobility platform Bolt show.
Last year, the day that shared scooters were used the most was on 21 September, when a national demonstration took place across Belgium and public transport came to a standstill – illustrating that micro-mobility is often used as an alternative to a private car.
"2022 confirmed the importance of sharing initiatives in Belgium. We saw enormous growth and also added electric shared bicycles to our range," said Oualid Benhammadi, Bolt's micro-mobility Country Manager, in a press release.
Over the past year, the Brussels-Capital Region has been put under increasing pressure to roll out regional rules to regulate the use of scooters and prevent them from being scattered on the capital's streets.
To the moon and back
While a decree has already been approved at first reading in November, it still has to pass several rounds of consultation and a screening by the Council of State before it can come into force – which is expected to happen early this year.
In the meantime, several municipalities – including the City of Brussels, Saint-Josse-ten-Noode and Uccle – have stopped waiting for the regional go-ahead and have started creating their own drop zones and confiscating illegally parked scooters that are considered a hazard.
"We also see that policymakers are implementing changes in the field of regulation. Something that we strongly encourage so that there is clarity for providers and users," Benhammadi added. In total, Bolt's shared e-scooters covered 4,079,300 km in Belgium in 2022 – almost four times to the moon and back.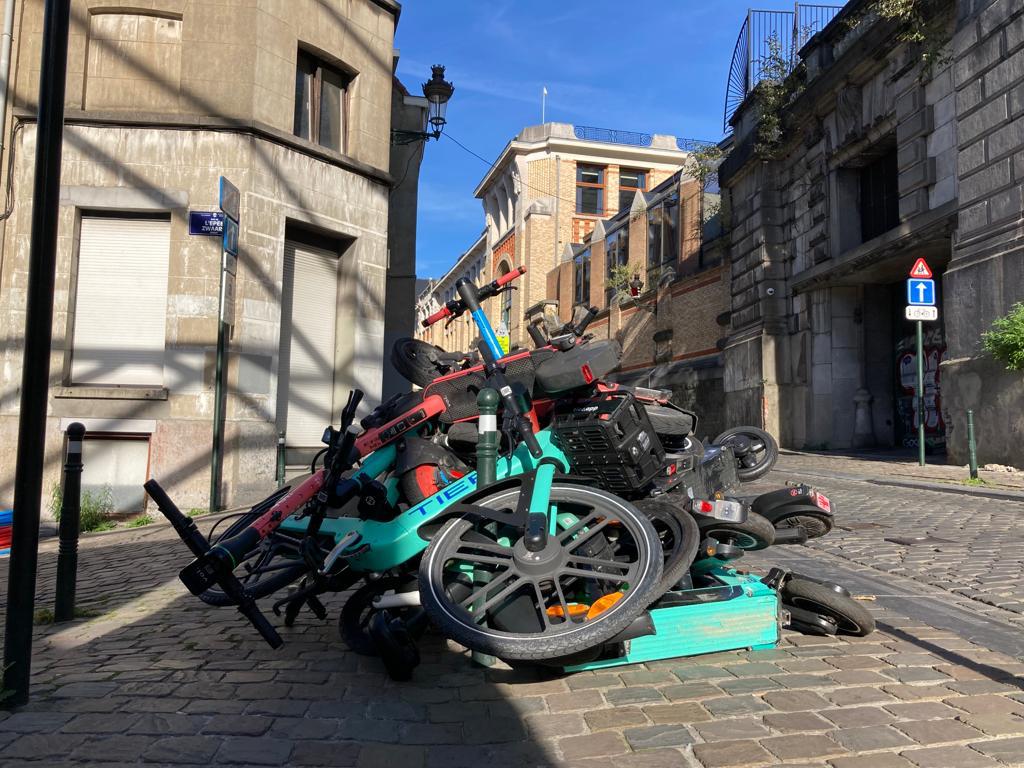 The company also calculated that the average distance covered by a shared e-scooter in 2022 was 1.7 km, showing that it is often used for the "last mile" distances between public transport and the workplace, or between a parking lot on the outskirts of the city and home.
There was one striking outlier: the longest ride taken on an e-scooter in Brussels last year was 39 km long. Taking into account the scooter's speed limit, this means that someone took a ride of more than an hour. Another person also took 1,184 rides on a Bolt shared scooter last year – averaging three trips a day.
Related News
Where people travel on their e-scooter depends a lot on the day of the week, the data shows: during the week, the scooters mainly make their way to the Shuman district in European Quarter. At weekends, users mainly find their way to the area around Brussels' central station.
Bolt also launched its Ride-Hailing service last year (similar to Uber), and found that users most often used the company's ride to get to Brussels Airport in Zaventem, just outside the Capital Region.
"Our journeys and users have increased every week, and we are well integrated into the smartphones of Brussels residents," said Laurent Pantusa, Country Manager Ride Hailing at Bolt in Belgium. "By offering various mobility solutions, we respond to the demand of the inhabitants of the cities in which we operate."