Brussels' relationship with e-scooters is a difficult one at best. As the popularity of the shared mobility option is growing, so is the misuse of the electric vehicles. A recent law has resulted in some improvements, but the major issue of reckless parking persists.
When walking through Brussels, especially the city centre, e-scooters in some places are strewn about to the extent that the pavement itself is no longer visible (hint: between Grand Place and Central station). This is to the extreme annoyance of pedestrians, and to the absolute detriment of the moveability of people with mobility issues.
"Problems linked to e-scooters such as speeding and people riding on pavements or with two people on one step were tackled at a federal level and are now prohibited, meaning we are going in the right direction," Arnaud Verstraete, the leader of the Green Party in the Brussels Parliament, told The Brussels Times.
"But the most prominent problem has always been the parking issue, and that has not yet been tackled," he added.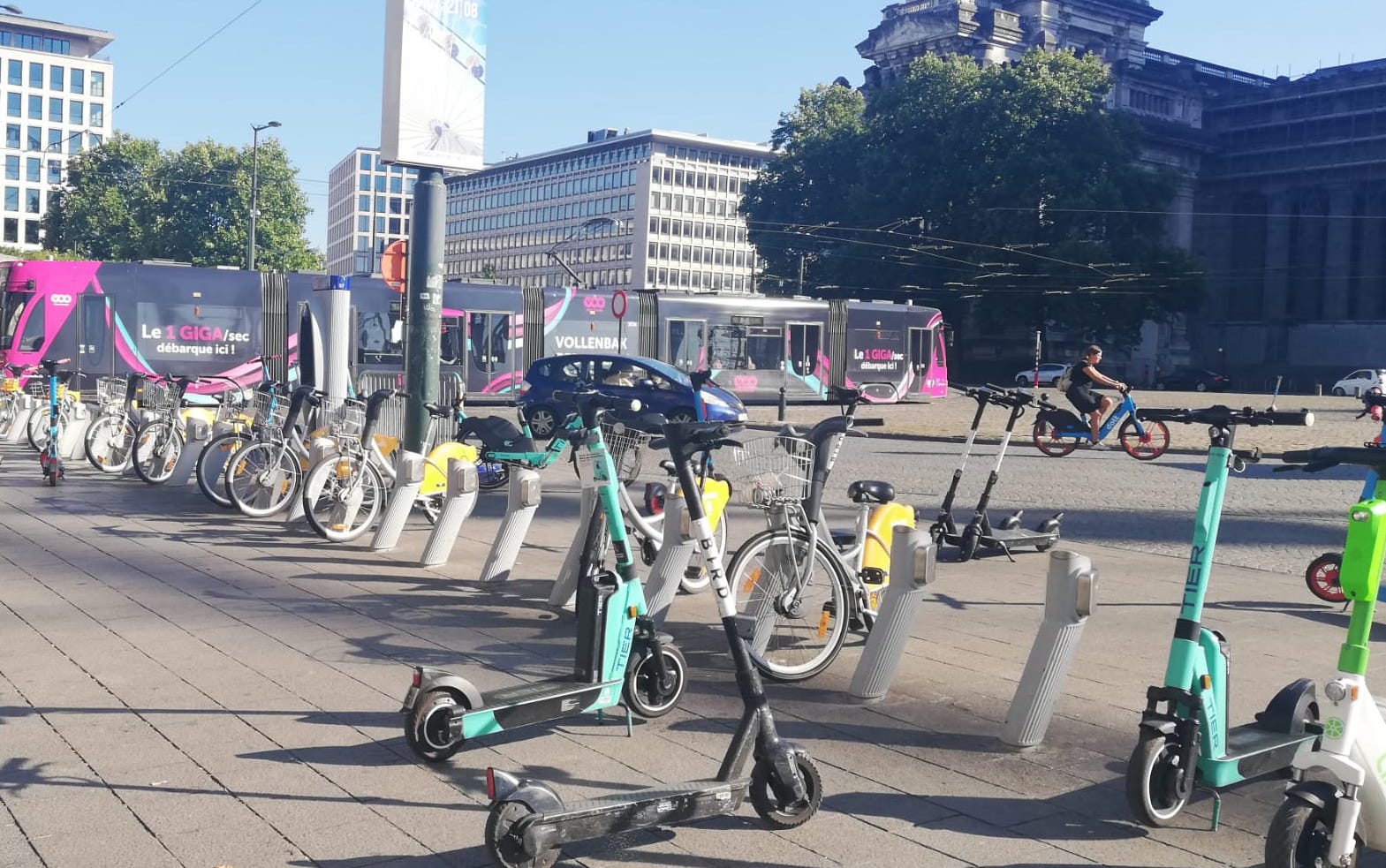 This is also the most visible issue, especially in bottlenecks where a large number of e-scooters are left lying around, such as at the Central station, the Bourse, and near Grand Place, all located in the City of Brussels, one of the region's 19 communes.
The solution to this problem already exists: drop-off zones. However, municipalities have been slow to put them in place.
Urgent solution needed
According to Brussels Mobility spokesperson Inge Paemen, there is a "greater awareness on the part of local authorities (both municipalities and police zones) on the issue of illegal parking."
They are the ones in charge of creating drop-off zones that clearly mark where e-scooters (both shared and those owned by individuals) can be safely stowed away.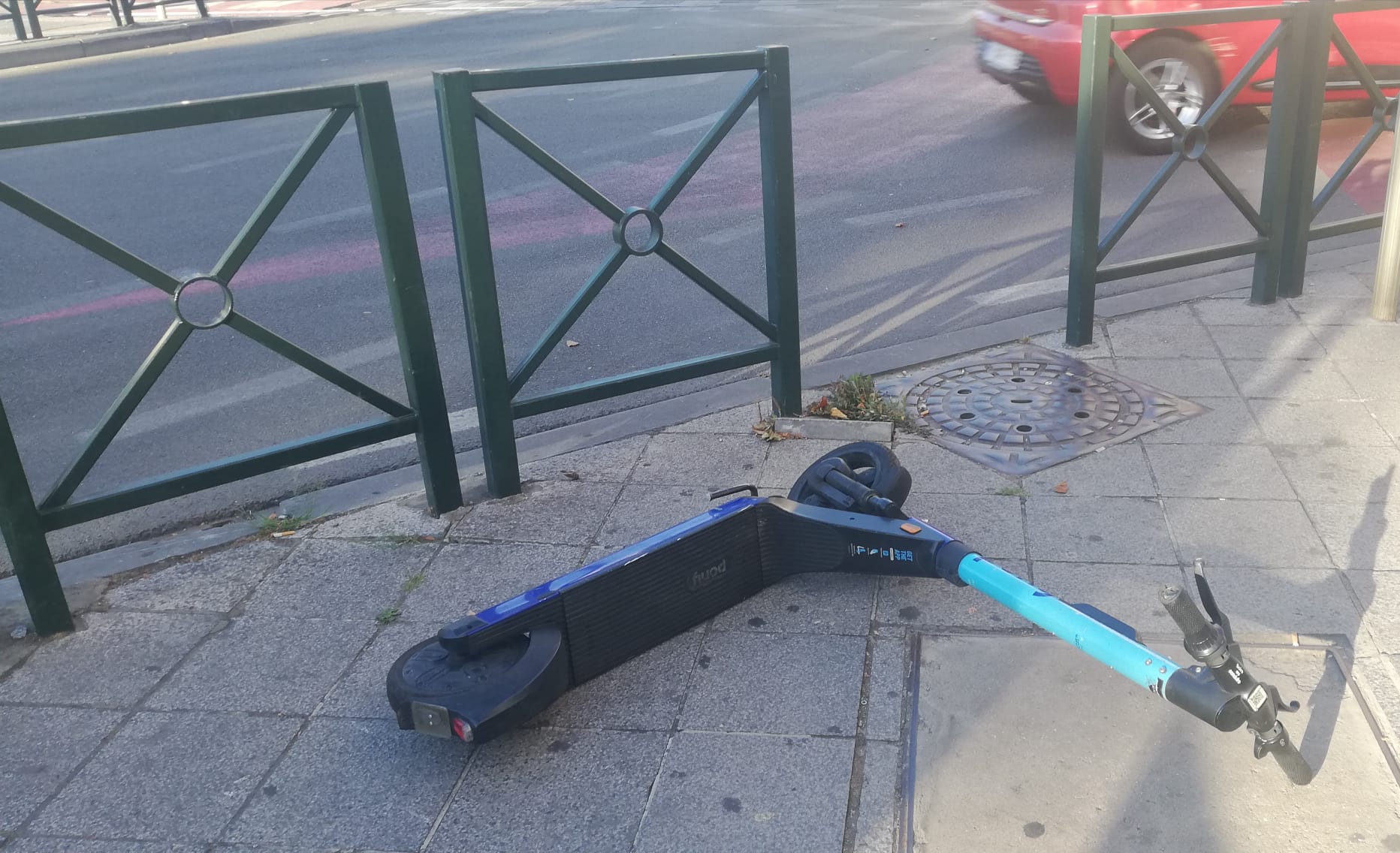 While the ordinance for this purpose has already been passed and some municipalities, such as Koekelberg and Evere, have already implemented these zones, putting parking zones across the region will be a lengthy process.
This was confirmed by Marie Thibaut, spokesperson for Brussels Mobility Minister Elke Van den Brandt, who said that the region is aware of the problem and that it is working with a private company to create simplified guidelines to help them construct these drop-off zones.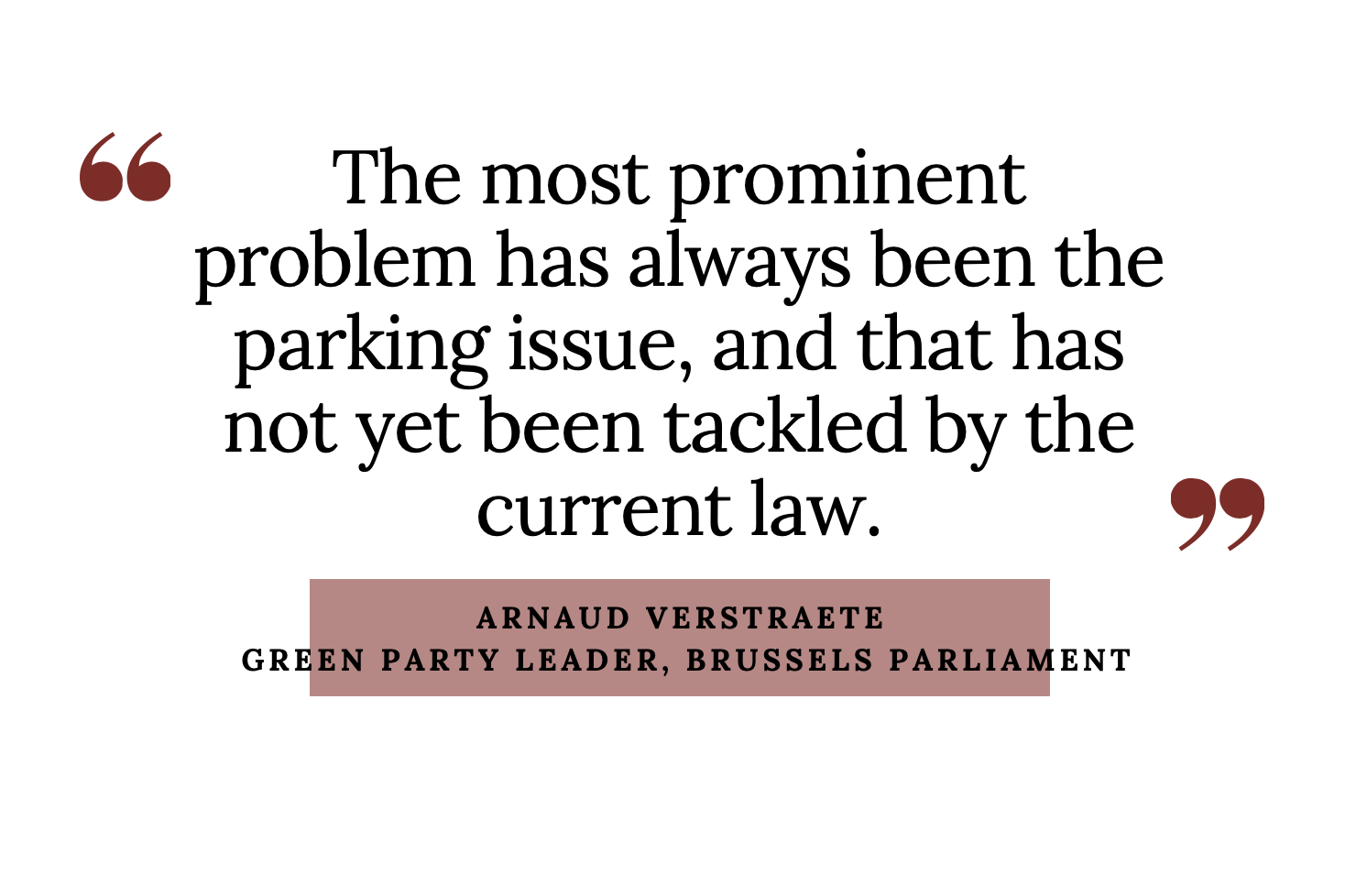 "It is taking some time, but it is definitely on the top of our list," she told The Brussels Times. The City of Brussels, where many of the bottlenecks are located, also confirmed to Verstraete that the wheels are in motion for drop-off zones to be created there.
At what cost?
Once created, these drop-off zones will be compulsory, meaning that a user will have to park them here and will only be able to terminate an e-scooter session once it is placed in the drop-off zone. Both commune workers and the police can enforce these rules as well, and can fine vehicles that are not left there.
"These fines for incorrectly parked vehicles can be handed out by municipalities to operators. These can be up to €400, meaning they help generate funds for communes which they can use to manage, coordinate and map out drop-off zones," Verstraete explained.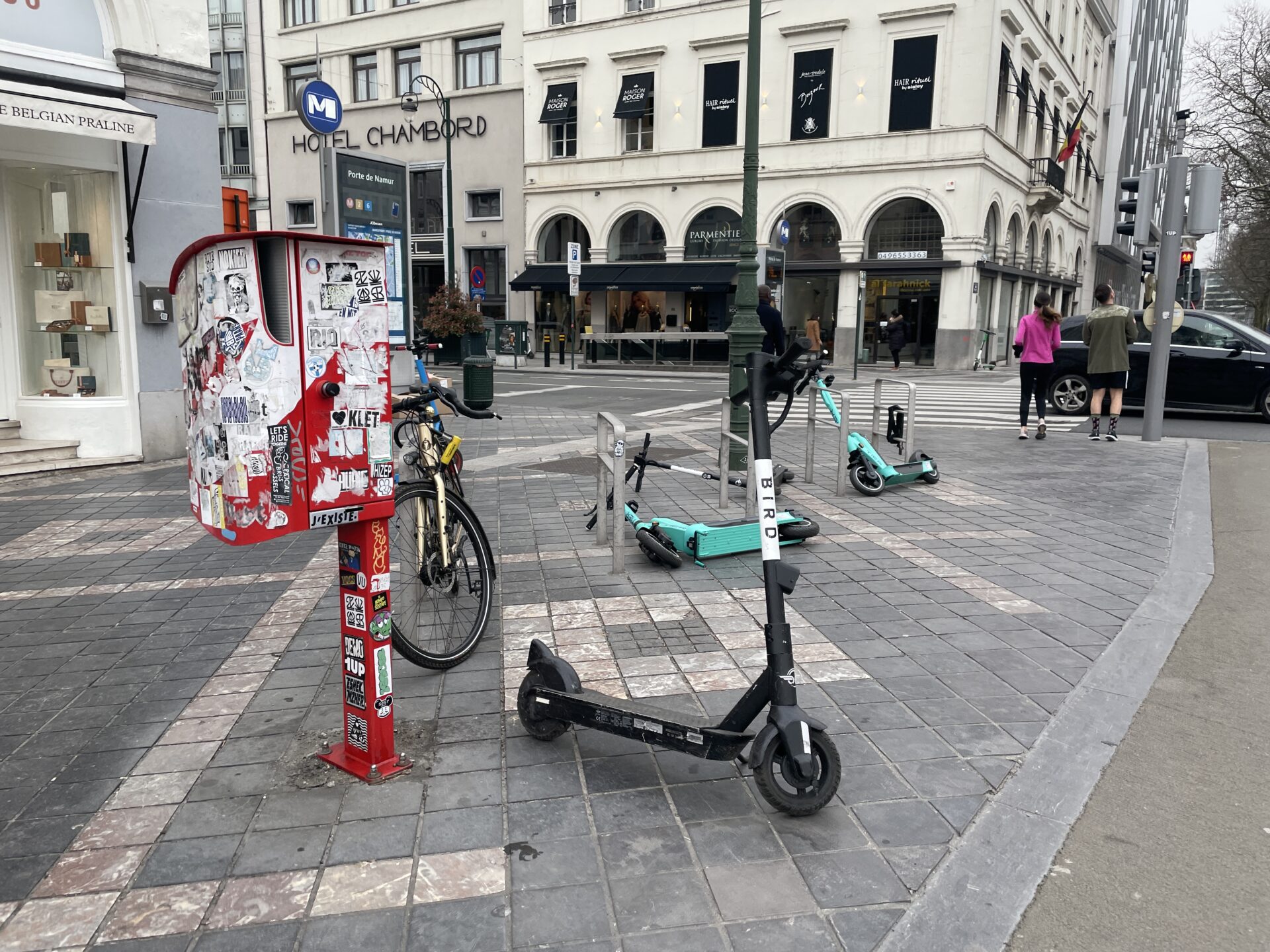 The Brussels government can also charge annual contributions per electric vehicle that is available to people in Brussels. "There are several operators with thousands of devices (including bicycles, scooters and mopeds) and they can charge between €0 to €100 per device," he said.
Municipalities can also receive help from the region to help create these zones. The implementation decree regarding what the parking spaces will look like is expected to be adopted in 2023 following consultation with the municipalities.
"Once these parking zones are in place, people will see that they create less hindrance, while those who like to use the e-scooters to move around will still be able to do so easily," according to Verstraete.
Enforcing other rules
From speed and age limits to a ban on riding with two, some rules regarding e-scooters have been in place in the region since 1 July, and are being enforced by the police. More than 1,000 fines have been handed out this year for people who endanger pedestrians while on e-scooters, Ilse Van de keere, spokesperson for the Brussels Capital Ixelles police zone, told The Brussels Times.
People who for example ride in pairs but aren't endangering others are not yet being fined, but are instead told what rules are in place. Especially in Brussels, where many e-scooter riders are tourists, many people are not aware of the new rules.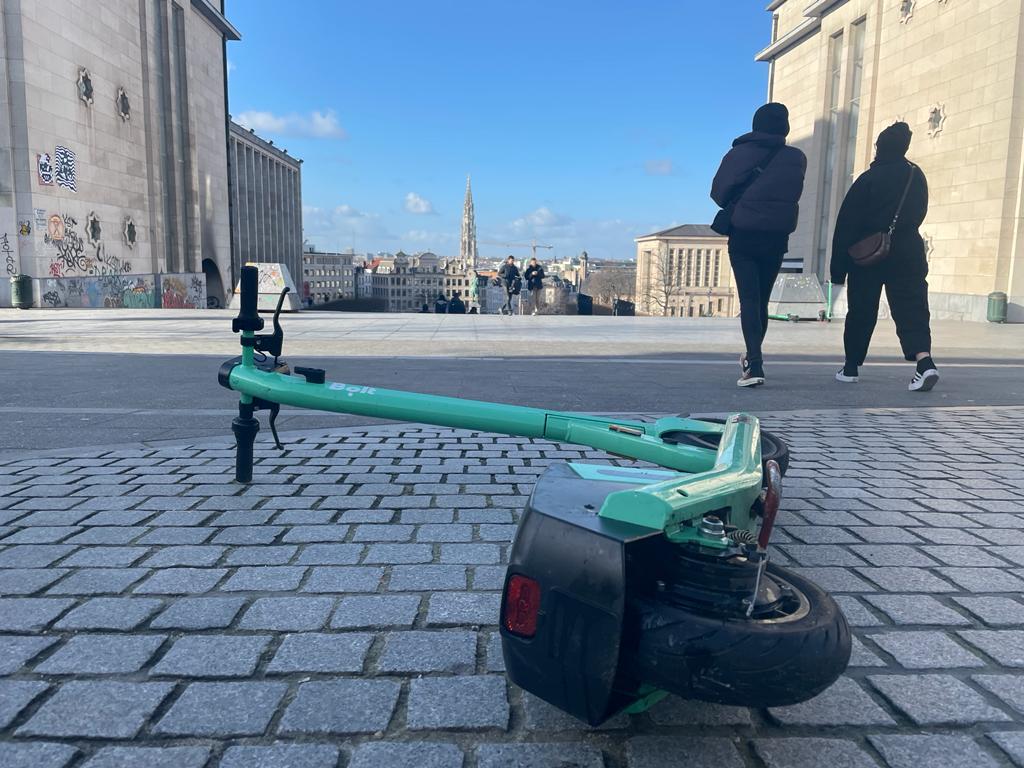 "Every time a new regulation is introduced, we do this in two phases: First, we focus on sensitisation, and then we go over to fining them. But we have to give people time to familiarise themselves with the rules," she said.
In some cases, the police warn people that they shouldn't ride with two on one e-scooter, and then catch them doing it multiple times in one day. "Then too, we hand out fines."
Related News
However, operators already indicate on the e-scooters what the new rules are, and the region also carried out a large-scale communication campaign together with Brussels Mobility on social media channels, targetting young people to make them aware of the new rules, Thibaut said.
"That excuse of ignorance can apply for a while, and there is a transition period of a few months, but after that, you have to enforce those rules and give fines, otherwise people will not adapt," Verstraete said.