Despite promises and measures to prevent fatalities, traffic deaths continue to rise in Belgium – particularly among vulnerable road users.
One pedestrian or cyclist was killed every two days last year, Vias traffic safety institute's latest Road Safety Barometer highlighted, based on figures from the federal police. In fact, the number of people on bicycles who died in a traffic accident rose to the highest level ever recorded, from 74 to 95.
"The number of deaths on our roads rose 8% in 2022 compared to 2021: 521 people were killed with one in three being pedestrians or cyclists," Vias noted in its report. The number of people injured in an accident increased by 9%.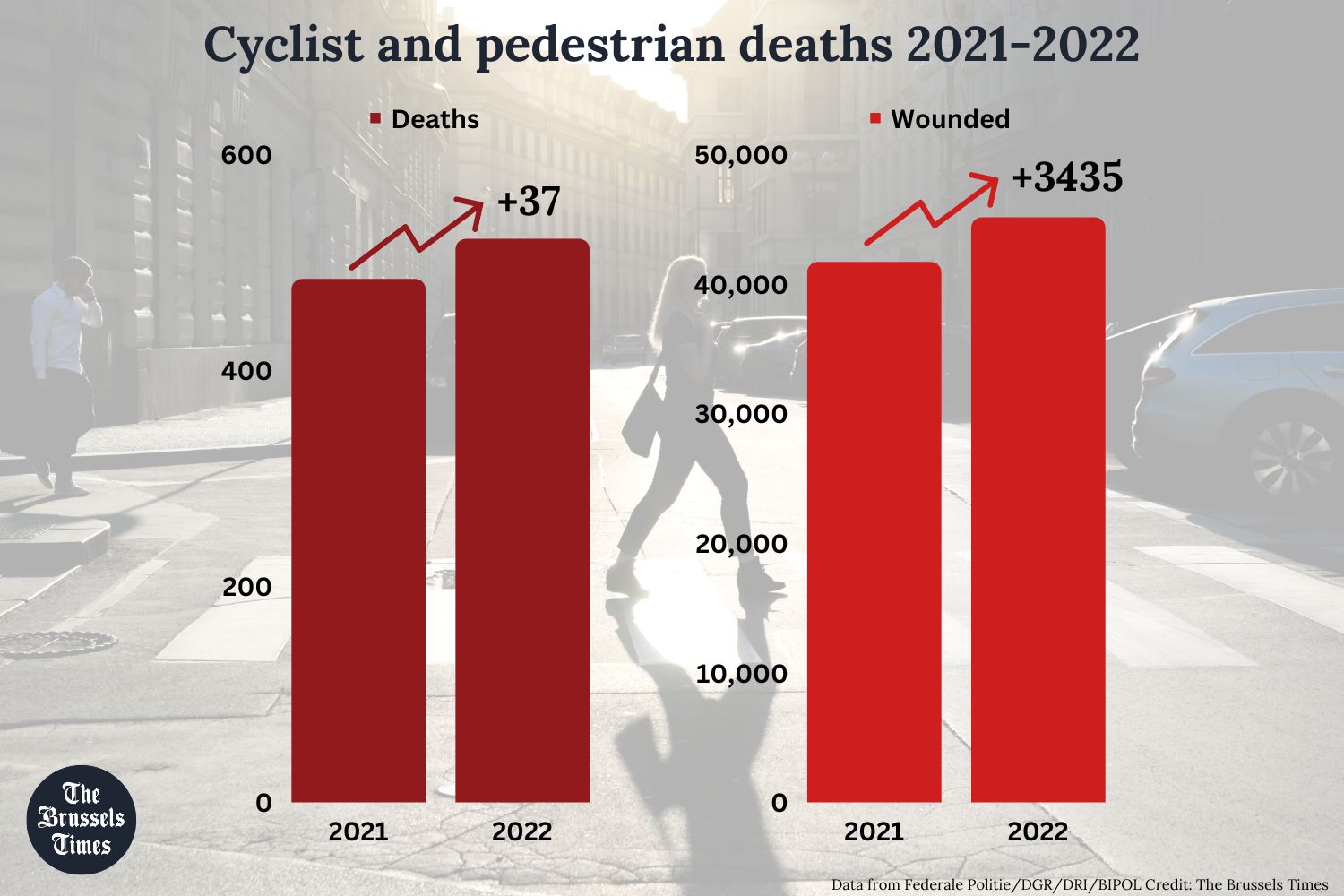 "These figures show once again that road safety in Belgium must improve. We cannot accept this rate of road deaths, these are tragedies each time for the families involved," Georges Gilkinet, Federal Minister of Mobility, told The Brussels Times.
"We must do everything possible to avoid these accidents and protect the most vulnerable and active road users."
A hopeless battle?
As highlighted in previous barometers, vulnerable road users continue to account for a large share of road deaths. A total of 95 cyclists died last year (up from 74 in 2021), while 80 pedestrians lost their lives (11 more than in 2021). Additionally, four people riding e-scooters died; overall, the number of accidents involving e-scooters is rising dramatically (+63%).
"These injury accidents are just the tip of the iceberg; in many cases, the police are not called in when someone on an e-scooters takes a fall," Vias noted, adding that the new rules that came into effect on 1 July 2022 have "not yet shown their effectiveness. Stricter enforcement of the new rules is needed to reverse the trend."
The repeated increase in the number of fatalities on the road is in dire contrast with the first inter-federal plan for traffic safety, titled "All for Zero," which aims to eliminate all traffic-related deaths by 2050.
Since this plan was announced, the number of deaths has only decreased once – only Flanders saw a 7% drop. In Brussels, which has set an objective of zero traffic deaths by the end of this decade, the number increased from six to 21. What was seen as an ambitious plan has now come to be seen as an impossible one.
Related News
Gilkinet noted that the plan aimed to combat the most dangerous driving behaviour: drink-driving, distraction behind the wheel or excessive speed. Measures such as faster revocation of driving licences in case of drug or alcohol use, harsher penalties in case of particularly high speed, and training for drivers with dangerous driving behaviour are needed.
His cabinet stressed the need for all levels of government to work together and invest in the necessary road infrastructure: "I hope the political courage will be there to adopt the concrete measures on the table. These statistics are not inevitable," Gilkinet concluded.