If you haven't given much thought to nitrogen, you would until recently have been in the majority. The gas was the consideration of chemists, climate scientists, and a few policymakers. Yet talk of this topic has now exploded onto national agendas and marked elections after becoming the target of EU legislation to reduce pollution.
Anyone around Brussels two weeks ago could hardly have missed the procession of 2,700 tractors that gridlocked the city. What might have been a novel sight for urbanites was for those taking part a serious protest against a policy that will severely curtail agricultural practices in Flanders.
The matter divided the regional government and although an agreement was subsequently reached that allowed governing parties to save face, the issue hasn't actually been resolved (many farmers would only settle if it's dropped entirely, which seems unlikely). In short, the proposed measures to cut emissions will entail closing the most polluting farms – an unpopular programme in a region whose identity is largely in the fields.
The same debate has animated Dutch voters, with yesterday seeing the highest turnout in 30 years as the Netherlands held regional elections. In a major show of dissatisfaction with the direction of the current administration, voters mobilised behind the three-year-old BBB party, a staunchly agrarian group that has been vociferous in its criticism of efforts to clamp down on nitrogen emissions.
Whilst I'll save the details for another day, the gravity of this tectonic success will reverberate beyond the Netherlands. Indeed, the nation's farming community has long been held up by far-right provocateurs as a victim of liberal left-wing conspirators weaponising an environmental agenda. Steve Bannon proclaimed that "The Dutch farmers' fight is our fight" as he whipped up pro-Trump anti-establishment fervour.
The government proposals – both in Belgium and the Netherlands – to (generously) compensate farmers whose practices are deemed too polluting to be brought within limits have been portrayed by polemicists as part of a "great replacement conspiracy" to grab land and turf-out native populations.
With Belgian elections taking place next year, expect to hear plenty more on this as nitrogen becomes the latest political battleground.
Belgium in Brief is a free daily roundup of the top stories to get you through your coffee break conversations. To receive it straight to your inbox every day, sign up below:
Mortgage loans in Belgium have hit record lows as rising interest rates and soaring inflation have made house purchases increasingly unaffordable for the vast majority of Belgians, l'Echo and De Tijd report. Read more.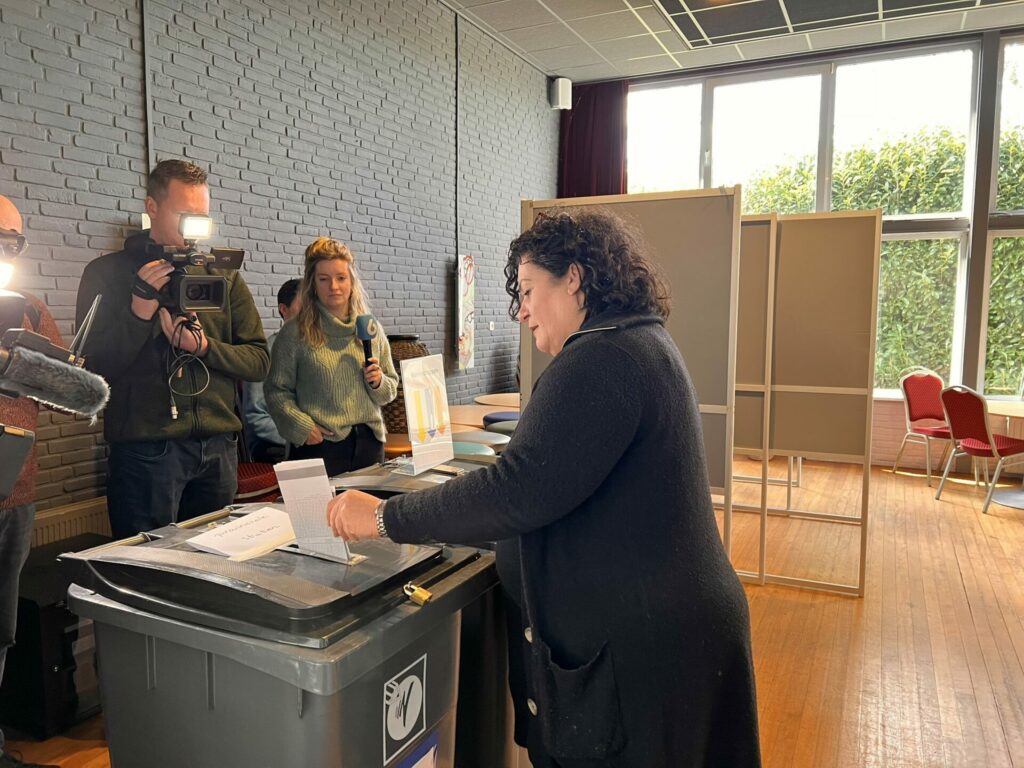 The Netherlands witnessed upset in Wednesday's regional elections as the new centre-right agrarian BoerBurgerBeweging party ("Farmer Citizen Movement") emerged as the big winner. In a shock electoral shift, the BBB party won 15 (of 75) seats in the Senate, the first official results show. Read more.
The 70 asylum seekers occupying the building that will become Belgium's future National Crisis Centre in Brussels will not leave until the national crisis plan is activated and they are guaranteed a permanent place in the Fedasil reception network. Read more.
Belgium's Ministry of Defence is set to provide Ukraine with 240 military trucks, De Standaard reports. The first vehicles are scheduled for delivery next week and will be used to ferry troops and equipment to the front in Ukraine's east. Read more.
IKEA has announced it will now use drones to control stocks and guarantee the availability of its products. Already in place in some IKEA stores in Belgium, the new system will be expanded with five drones installed in the Zaventem location, reports Sudinfo. Read more.
Belgians' happiness levels rose in 2022, with an average rating of 6.6 out of 10. The new data shows that people in Belgium are getting closer to the pre-pandemic levels of happiness (6.7), according to a survey conducted by Ghent University and the insurer NN Belgium. Read more.
It is nothing short of a miracle that the European Union actually functions when you stop and think about it. But much like Father Christmas, it only exists if you believe in it. Read more.