Pedestrians in Belgium report feeling less safe than those in any other country in the European Union, as well as in other countries internationally known for their bustling roads, according to new data sets from an international road safety survey published in June.
The data shows that the score of 6.7 given by Belgian respondents of the E-Survey of Road Users' Attitudes (ESRA) to grade their feelings of safety while walking on the street was the lowest number recorded in EU countries, matched only by pedestrians in Serbia.
The results stem from data gathered during a 2018 online survey simultaneously conducted in 32 different countries in which 35,000 road users participated, out of whom 1,985 lived in Belgium.
According to the survey's figures, Belgian pedestrians' low feelings of safety were only slightly higher than those reported by residents of Morocco (6.5), and significantly lower than pedestrians in India's traffic-heavy roads (7.2).
Lagging behind in Europe
The next-to-lowest scores among European respondents were given by pedestrians in Poland, who attributed a score of 7.0 to their feelings of safety on the street, followed by Greece at 7.1.
While the feeling of safety for pedestrians in those countries jumped up from 2015 figures (from 6.6 and 6.7, respectively) the indicators for Belgian respondents remained relatively stagnant from a previous score of 6.1.
By comparison, pedestrians in Switzerland attributed the highest score to their feelings of road safety (8.8), followed by Denmark (8.4), Sweden (8.3) and Finland (8.2), with the European average sitting at 7.7.
[caption id="attachment_59020" align="aligncenter" width="563"]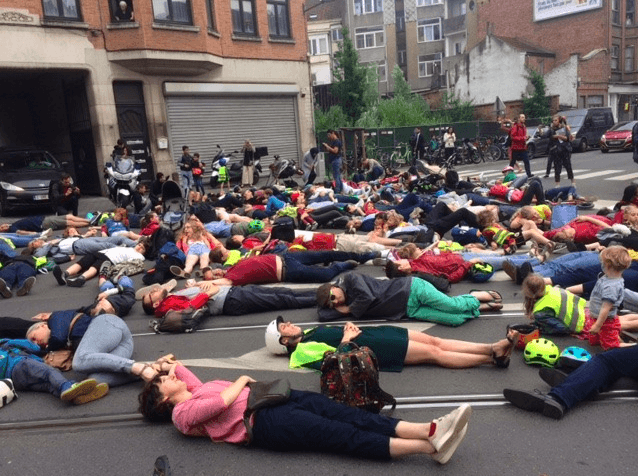 People protest a hit-and-run accident in Schaerbeek which left a 14-year-old severely injured. Credit: 1030/0 Facebook[/caption]
Second cause of road deaths
Out of the 615 people killed in road accidents in Belgium, 15.4%, or 95, were pedestrians.
The figures make deaths involving a pedestrian the second most common type of road fatalities after car crashes, which accounted for nearly half (46.8%) of the total deaths, according to 2017 data cited in the published study.
While no comprehensive data is available regarding the circumstances surrounding each of the pedestrian deaths, the figures reveal that both drivers and pedestrians are prone to knowingly breach road safety regulations.
A third of Belgian drivers polled admitted to drinking and driving; over a quarter said they texted while driving and more than half said they drove at speeds beyond the limit on both motorways and built-up areas.
Conversely, 71.5% of pedestrians said that they did not use a zebra path to cross a street even when one was nearby; nearly half (42.9%) said they crossed the road while the pedestrian light was read; more than half (55.5%) said they used their smartphone while they walked and 27.4% said they walked while wearing headphones.
Pedestrian safety 'hardly gets any attention'
Stef Willems, spokesperson for Belgian road safety institute VIAS, which led the survey, said that while cycling infrastructure is getting increased attention by policymakers, the same could not be said for pedestrians.
"Pleas are made to improve bicycle infrastructure. But safety for pedestrians hardly gets any attention," Willems told New Mobility, adding that wide and smooth enough footpaths could lead pedestrians to feel safer in Belgian streets.
Willems also argued for the reduction of the speed limit in residential areas and city centres to be reduced to 30 kilometres per hour.
"It may seem very slow for a driver, but slowing down can be the difference between life and death," he said.
The new figures come as residents in Brussels call on authorities to better implement road safety regulations and to undertake renovations to make roads and urban infrastructure safer for pedestrians.
In June, the fallout from a hit-and-run accident in Schaerbeek where a 14-year-old was severely injured by a driver with a revoked licence saw hundreds of people protest by organising a lie-in in the busy road junction where the accident took place.
After the incident, municipal authorities said they would go ahead with a plan, sketched out before the hit-and-run, to modify the pavement markings in the intersection in an attempt to improve the flow of traffic and increase safety.
Gabriela Galindo
The Brussels Times